With only 7 net carbs per serving, this creamy Fettuccine Alfredo sauce can be whipped up in minutes with shirataki noodles, crispy chicken thighs, and an option dollop of homemade pesto.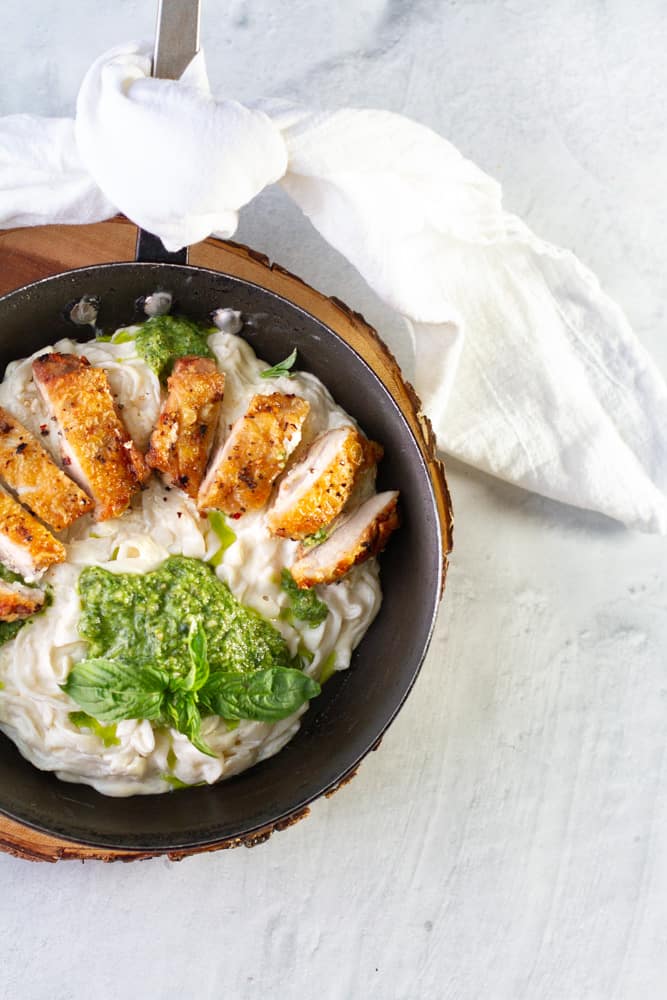 I am about 12 days out from my honeymoon and working this keto diet like a pro. Happy to say that with a combination of the diet, 4 days (per week) of working out and plenty of rest, I am down 5 pounds over a 10-day period. Not bad If I do say so myself.
I have been painfully strict in counting my macros before I eat, so much so, that my husband makes fun of how my once hot plate goes completely cold in the wake of my macro counting. It's so bad that I unintentionally count his macros and he isn't even on the diet.
But no matter how determined I am, I can't get rid of the cravings I have from time to time. This week I was craving pasta – I mean really bad. I couldn't get Fettucine Alfredo off the brain, so I decided to make a keto-friendly alfredo sauce. Traditional alfredo sauce is made with a béchamel which includes all-purpose flour an obvious no-no on keto. So I switched up the game and made cream dense alfredo sauce that can stand up to any traditional version.
Once I got the sauce down I went searching for pasta alternatives for a Keto Diet. As you would expect options like cauliflower and zucchini noodles rose to the top. While I love both of these options, I knew I wanted to push a bit further in my research. So I picked a few packs of Shirataki noodles.
Shirataki noodles are made from glucomannan flour, a type of fiber that comes from the root of the konjac plant. The noodles have a translucent appearance similar to rice noodles but are slightly more gelatinous to taste. They are a great substitute for traditional noodles, are extremely low in calories, and have several health benefits.
All good news right? But in the spirit of full transparency, one thing you need to absolutely know is that shirataki noodles stink, at least at first. They're packaged in fishy-smelling liquid, which is actually plain water that has absorbed the odor of the konjac root. Once you rinse them under fresh, running water and cook them the odor goes away.
When I first opened the package of noodles I damn near threw out the whole bag. Surely these noodles had spoiled. But after reading the packaging, rinsing thoroughly for a few minutes under the faucet and cooking them with the sauce, the odor magically disappeared. And I was left with a deliciously hearty bowl of fettuccine alfredo that was deceivingly low-carb. I felt like a winner – like I had hacked a bona fide world mystery. These noodles are a serious game changer and may extend the life of this keto diet for me.
I can't wait to try other recipes with these noodles like mac and cheese or spaghetti and meat sauce. Whooo I can't wait. But until then I want you to give this recipe a try. It's so good, keto-diet or not. And if you do as I did and add a dollop of pesto sauce on top, you will die and go to heaven – I guarantee it.
Why Does This Keto Fettuccine Alfredo Recipe Work?
Apart from being so damn delicious, it makes the keto diet exciting and enjoyable, but not if you are lactose-intolerant.
For one, all the ingredients used in this dish are keto complaints, which means it will help you stay in ketosis. It also is healthy for your gut, and it will aid quick metabolism.
Secondly, it is very flexible; even if you are not on a ketogenic diet, you can enjoy this with regular pasta. You can use more or less cream and cheese based on your own preference.
What Are Shirataki Noodles?
The word Shirataki is Japanese for white waterfalls. Yup! These noodles are long, white (translucent actually), and tiny as waterfalls. They are made from the root of konjac yam and are primarily composed of water and glucomannan fiber, making them incredibly filling, low in calories, and digestible carbs. They are suitable for your gut health as they make your good bacteria happy. Indeed, they are a great low-carb alternative to pasta. They are also popularly known as konjac or miracle noodles.
Usually, they come in dry or wet, soft gelatinous forms. When they come in wet forms, they are packaged in containers containing water, and they can last for up to a year. The smell of the water could easily kill flying insects… just kidding, but it really isn't pleasant. In this case, you just need to rinse the noodles thoroughly with running warm water to get the smell out, and they would be ready to use in the Fettucine Alfredo sauce.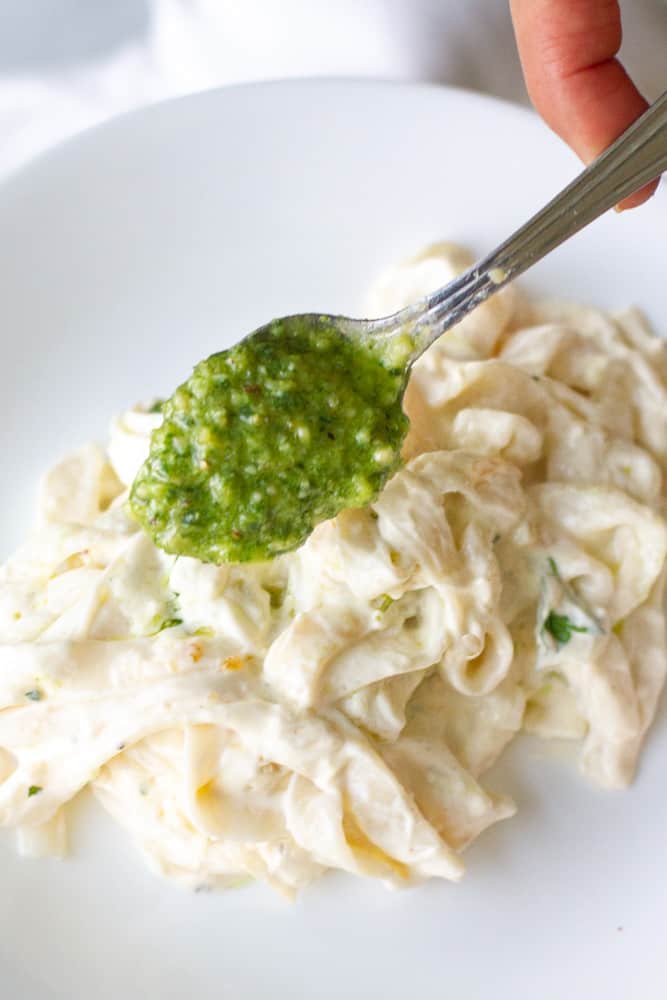 What Alternative Noodles Can Be Used?
Zucchini noodles: You probably have had this before. It is one of the healthiest low-carb options available. You can make them using a spiralizer to cut the zucchini into noodles.
Low carb or keto pasta: Now, I don't trust this one simply because there are several brands out there that try to sell themselves as naturally low-carb pasta brands, but you and I know that there has to be some untold story behind all that. For me, I'd like to stay off the preservatives, fillers, and ingredients I can't understand. But, if you've been eating the keto pasta, you can use it in this Fettuccine Alfredo recipe.
Palmini noodles: They are made from a plant called Heart of Palm. They are low in carbs and calories, and they are a perfect substitute for the shirataki noodles.
Tofu Noodles: They are very similar to the shirataki noodles, only that they are a blend of glucomannan fiber and tofu. You can prepare them just as you would cook the shirataki noodles.
Seaweed pasta: This would give your Fettuccine Alfredo a sea-like flavor; they are made from seaweeds that have been harvested, rinsed, and dried. This makes them a great source of minerals, especially iodine. They are believed to contain 30% carb content of wheat pasta. To cook them, simply boil for 5 – 15 minutes until you are satisfied with the softness… skip the salt. Or you can just steam them for 20-30 minutes.
Other noodles you could try are cauliflower noodles, spiralized vegetables, and eggplant lasagna.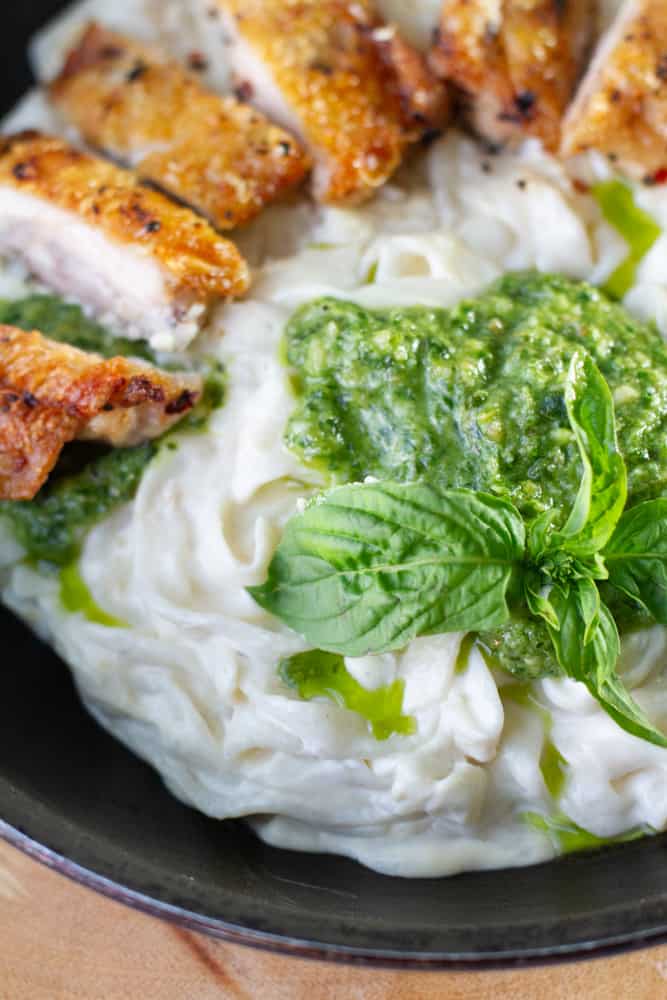 How To Store Alfredo Sauce?
You can freeze any leftover Alfredo sauce for up to 2 months, but please don't do that; the sauce is made of dairy products, which may reduce in flavor or quality the longer they remain in the freezer. So it's better to store your Alfredo sauce with the intent of using it up within a week or 2.
Here's how to store your Alfredo sauce:
As soon as you are done preparing the sauce, leave the extra to cool down a bit before you freeze it.
I'll recommend you to refrigerate the sauce (while it is still in the pan) for up to 30 minutes so that it can cool safely.
Once the sauce is cold and ready to store, pour it into freezer bags or airtight containers. If you are using freezing bags, make sure it's not more than 1-inch thick so that it can freeze quickly.
You should label your containers or storage bags with the date of preparation and time limit for consumption. This will also help you stay organized.
Usually, you would find curds or lumps (because of the cream and cheese) once you take it out of the freezer, this is nothing to worry about. It will not affect the sauce's freshness and consistency; all you need to do is preheat the frozen Alfredo sauce at about 160 degrees and do a little bit of stirring to break up the lumps.
Please note that once you preheat your Alfredo sauce and eat it for the second time, you can't freeze it for the second time.
Can I Use Store-Bought Fettuccine Alfredo Sauce Instead?
I know you want to cut out cooking time and just have your food sitting in front of you but hear this, most of the canned sauces you will see are not keto-approved. Let's say that you find one that screams low-carbs; please consider the preservatives and fillers present in the product. Apart from making this Fettuccine Alfredo keto complaint, you also want it to be healthy and nourishing for your body.
What Sides Go Well With This Alfredo Recipe?
I see you would like to pair this up with something delicious; here are some of my suggestions:
Keto Garlic Bread
Low-carb Spicy Roasted Broccoli/Eggplant
Oven Roasted Vegetables
Keto Butter Sprouts
More 30 Minutes or Less Recipes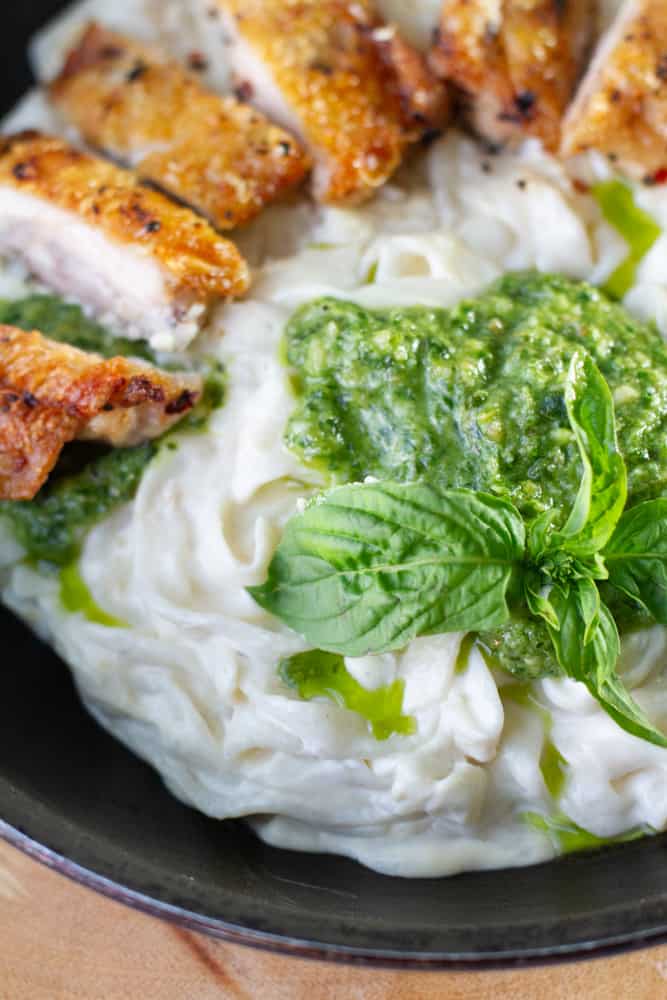 Ingredients
Crispy Chicken:
2

teaspoons

salt

1

teaspoon

black pepper

4

chicken thighs

bone removed

1

teaspoon

red chili flakes
Fettuccine Alfredo:
2

tablespoons

unsalted butter

5

cloves

garlic

minced

6

oz.

cream cheese

sliced

1 ¼

cup

heavy cream

¼

cup

Parmesan

grated, plus more for garnish

½

teaspoons

kosher salt

½

teaspoons

white pepper

16

oz.

Shirataki Fettuccini noodles

rinsed
Optional
chopped

parsley

garnish

4

tablespoons

pesto sauce
Instructions
Crispy Chicken:
In a bowl combine salt, pepper and chili flakes. Evenly season chicken on both sides, add to a skillet skin side down and cut heat up to medium-high and cook for 8 minutes without touching. Turnover and cook for 4 minutes on the other side, remove chicken and sit to the side. Let rest for 5 minutes then slice.
Fettuccine Alfredo:
Prepare noodles as instructed on packaging and set aside.

In a sauce pan over medium heat, melt butter and cook garlic for 15 seconds. Add cream cheese, heavy cream, parmesan, salt and white pepper and cook until cream cheese has melted about 5 minutes. Add noodles and coat evenly.

To assemble add pasta, dollop of pesto (optional), chicken and garnish with parmesan and parsley, serve immediately.
Notes
Shirataki Noodles: follow package preparation instructions to rinse thoroughly under running water for a few minutes. Then set in a paper towel to dry off excess water.
Nutrition
Serving:
4
g
|
Calories:
812
kcal
|
Carbohydrates:
10
g
|
Protein:
27
g
|
Fat:
74
g
|
Saturated Fat:
36
g
|
Polyunsaturated Fat:
6
g
|
Monounsaturated Fat:
21
g
|
Trans Fat:
1
g
|
Cholesterol:
280
mg
|
Sodium:
1955
mg
|
Potassium:
385
mg
|
Fiber:
1
g
|
Sugar:
2
g
|
Vitamin A:
2430
IU
|
Vitamin C:
2
mg
|
Calcium:
211
mg
|
Iron:
1
mg
*Nutrition information is a rough estimate.
**The equipment section above contains affiliate links to products I use and love. As an Amazon Associate I earn from qualifying purchases.