This velvety and moist 7Up Pound Cake is made from scratch with a hint of flavor from the citrus soda. You can find this amazing recipe along with several other delicious desserts in the Grandbaby Cakes Cookbook.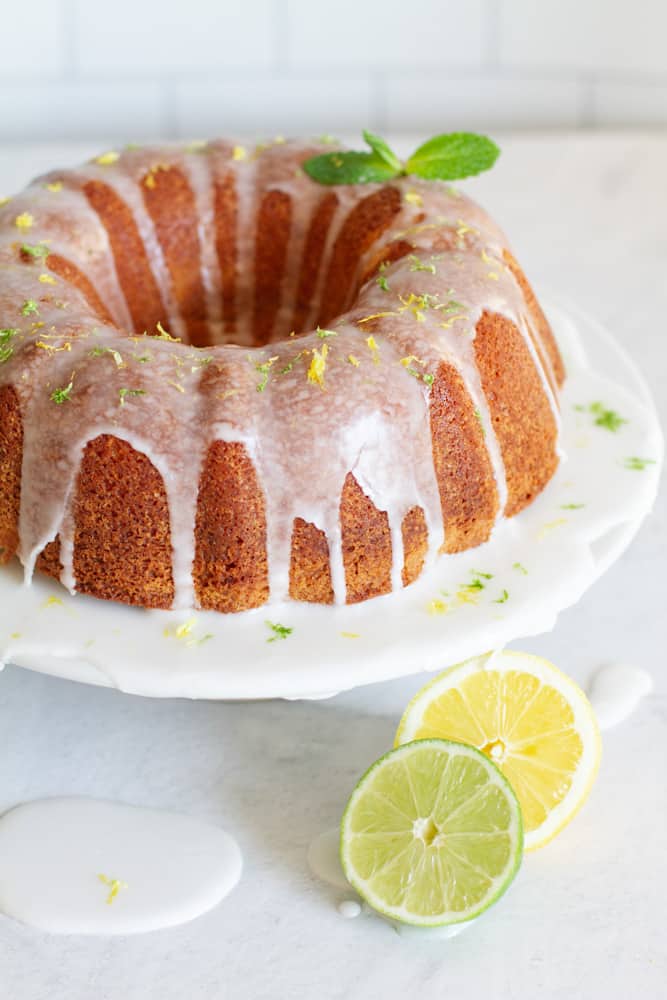 Today marks my second review of my 3-part series highlighting black cookbook authors. This next book, Grandbaby Cakes is authored by my friend Jocelyn Delk Adams of the namesake blog Grandybaby Cakes. First off let me just say that Jocelyn alone is a gem with an amazing heart and rising star in culinary landscape. I just love seeing her win – she makes me excited to be in this space at this time. So, if you don't already, I highly suggest you follow her blog.
On another note, her book is a beautiful collection of vintage family recipes, stories and pictures that will make you feel like you know her and are a part of her family. As a cookbook collector and self-proclaimed snob, I appreciate the amount of work and transparency that is evident in the quality of its production.
From layered cakes to sheet cakes; cupcakes to holiday cakes (and everything in-between) Grandbaby Cakes is filled with all the cake recipe inspiration you need. But beyond the recipes, Jocelyn narrates the story of her upbringing, heritage, and family traditions that drive who she is today.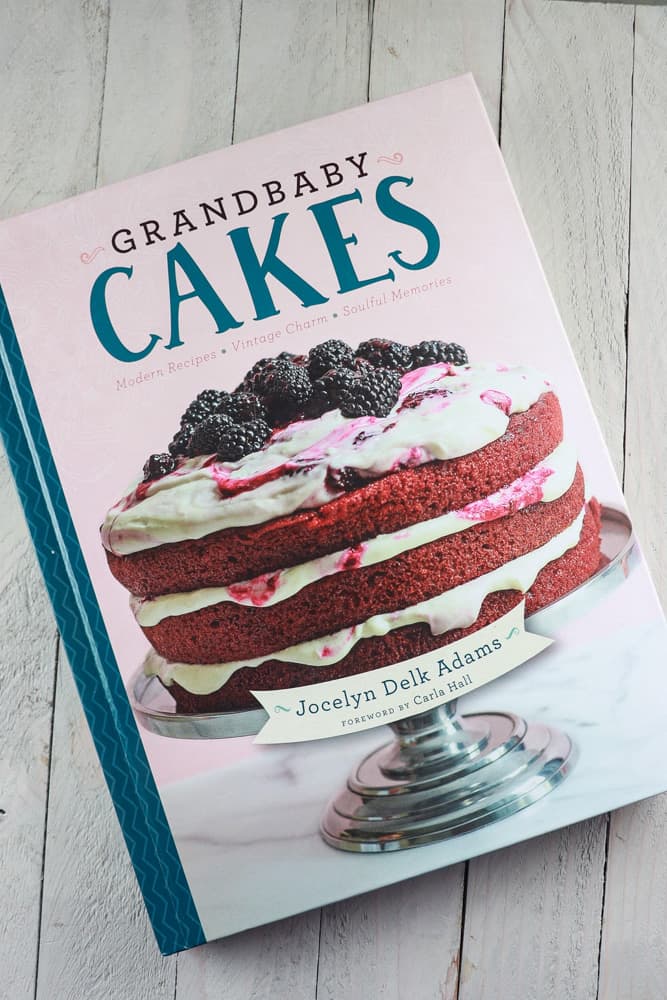 As she recounts her family kitchen memories throughout the book you soon realize that the break out star is Jocelyn's grandmother, more leisurely know as Big Mama. As a matter of fact, this recipe for 7-Up Pound Cake was passed down to Jocelyn from Big Mama and happens to be the first recipe Jocelyn learned to make.
The 7-up Pound Cake recipe has been in Jocelyn's family repertoire for decades and is the opening recipe for the book … it was hard for me to choose which cake recipe to make because there is so many amazing options. But all of the factoids for this one recipe made is it much easier to decide – and I couldn't be happier with my decision.
As Jocelyn describes, "Mama's 7Up Pound Cake is a classic and decadent treat complemented by the subtle flavor of citrus soda. The juxtaposition of the crunchy crust to the moist inner texture makes the cake simply irresistible!" I truly couldn't have said it better. The cake's velvety soft inside is the perfect contrast to its crunchy sweet outside.
TIPS: USING THE RIGHT PRODUCTS
Here are a collection of tips from myself and Jocelyn regarding pulling this recipe off:
Use sifted cake flour
Scratch the baking powder – you don't need it
7up is the way to go – no substitutes
One of the ingredients for this recipe is cake flour which isn't always available depending on where you shop. However, cake flour is very simple to make. The proportions are 1 cup (minus 2 tablespoons) all-purpose flour to 2 tablespoons of cornstarch. Easily put, all you have to do is put 2 tablespoons of cornstarch in the bottom of a 1-cup measuring cup, then fill the cup as usual with all-purpose flour and level top. Sift the blend 4-5 times and you are good to go.
Another thing you may notice is that the recipe doesn't have a traditional leavening agent like baking powder or baking soda. The technique for extended creaming, "adds more air to the batter, giving it the lift, it needs." Never tried this technique before but it worked beautifully.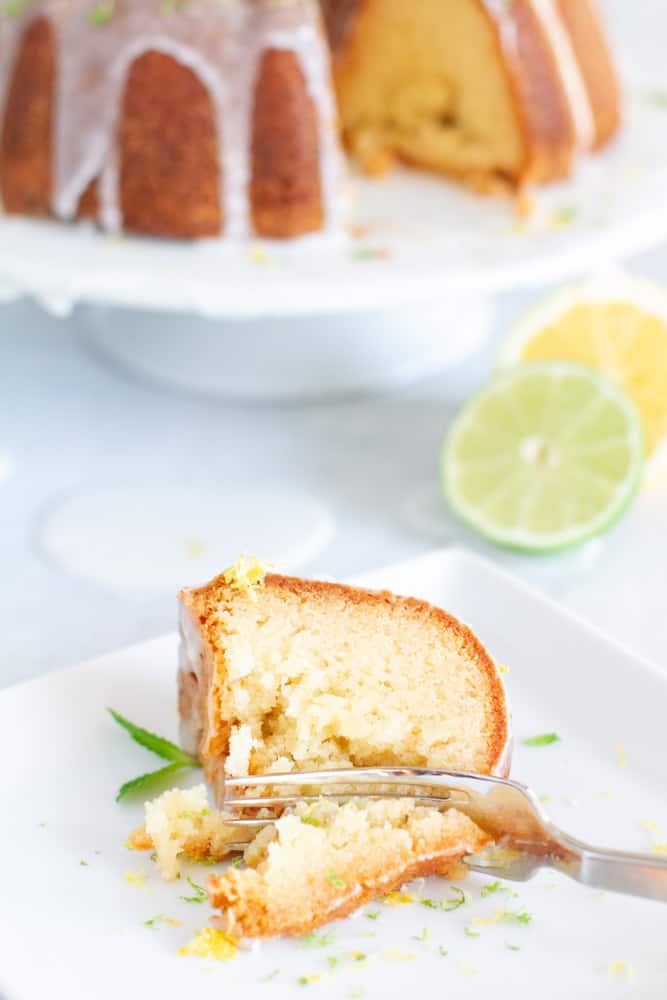 Finally, Big Mama insists that you use 7-up exclusively for this recipe; don't you even then about substituting with any other brand's citrus drink.
My expanding waistline doesn't leave much room for cake baking these days, so making this cake from scratch was a game changer for me. I enjoyed the entire process including reading Jocelyn's stories. I can only hope that one day when there is a mini me running around that I am able to pass down trusted family recipes and memories just like the ones in this book. I encourage you to try this 7-up Pound Cake recipe and check out the book if you don't already have it in your personal library.
What is 7up Cake?
A 7up cake is a Pound Cake that's key ingredient is, you guessed it, 7up! The Soda gives this cake a hint of citrus flavor.
Why 7up?
7up is used as a leavening agent instead of using baking soda or baking powder. The carbonation in the soda is what helps the cake rise. It also gives it a delicious citrus taste.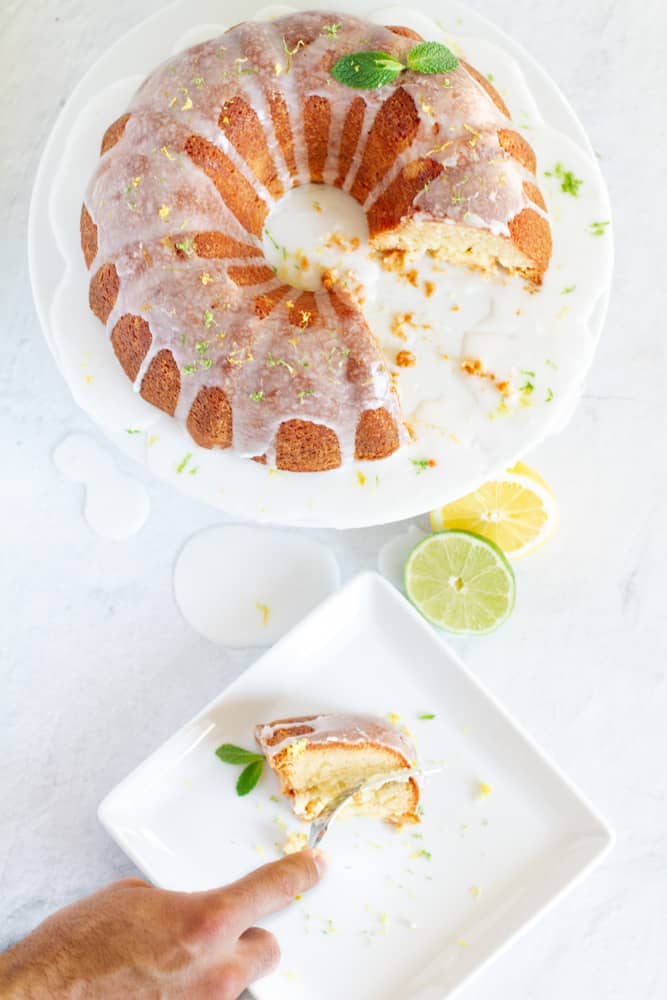 Tips for making pound cake?
Here are a few tips for creating a velvety and moist 7up Pound Cake. Make sure to use sifted cake flour. If you can't find cake flour, don't worry, it's relatively simple to make yourself consisting of all-purpose flour and cornstarch. No need to use baking soda or baking powder; the 7up will do its job. Speaking of 7up, do not use any other citrus soda brand 7up only.
Recipe variations?
If you are looking to make some adjustments to this recipe, I would suggest maybe trying out some other extract flavors like orange or vanilla.
What temperature should you bake a pound cake?
This recipe calls for the cake to be baked at 315° for approximately 1 hour and 20 minutes.
More Delicious Dessert Recipes
Still, craving more? Check out these dessert recipes next:
Ingredients
For the Cake:
1 ½

cups

unsalted butter

room temperature

3

cups

granulated sugar

½

teaspoon

salt

5

large eggs

room temperature

3

cups

cake flour

sifted

1/2

cup

7-Up soda

2

teaspoons

pure lemon extract
For the Glaze:
1

cup

confectioner's sugar

3

tablespoons

7-Up soda

1/2

teaspoon

pure lemon extract
Instructions
For the Cake:
Start by preheating your oven to 315°F.

Then liberally spray a 10-cup bundt pan with non-stick baking spray.

In your mixer bowl, add butter and beat for 2 minutes on high speed. Slowly add in sugar and salt beat on high speed for an additional seven minutes until very pale yellow and fluffy.

Next, add eggs, one at a time, combining well after each addition and scraping down the sides as needed.

Turn your mixer down to its lowest speed, and slowly add flour into batter in two increments. Be careful not to overbeat.

Pour in 7 Up and lemon extract, scrape down sides and mix until just combined and turn off mixer.

Pour cake batter into prepared bundt pan, and bake for 1 hour and 15 -20 minutes or until a toothpick inserted in the center of the cake comes out clean.

Cool in pan on a wire rack for 10 minutes, then invert cake on serving plate.
For the Glaze:
In a small bowl, whisk together confectioner's sugar, 7 Up, and lemon extract until it's pourable. Spoon over the cake and allow to harden.
Notes
!GLAZE:
I like a thicker glaze so I used 1 1/2 cups of confectioners sugar.
!CAKE FLOUR:
Also, if you don't have cake flour it's really easy to make. All you have to do is put 2 tbsp of cornstarch in the bottom of a 1-cup measuring cup, then fill the cup as usual with all-purpose flour and level top. Sift the blend 4-5 times and you are good to go.
!DECOR:
Finally I used a microplane to zest about 1 tablespoon of lemon and lime zest as decoration on the cake.
Adapted from Grandbaby Cakes (the cookbook); published with permission from Author.
Nutrition
Calories:
761
kcal
|
Carbohydrates:
123
g
|
Protein:
10
g
|
Fat:
27
g
|
Saturated Fat:
16
g
|
Polyunsaturated Fat:
2
g
|
Monounsaturated Fat:
7
g
|
Trans Fat:
1
g
|
Cholesterol:
132
mg
|
Sodium:
113
mg
|
Potassium:
93
mg
|
Fiber:
1
g
|
Sugar:
80
g
|
Vitamin A:
839
IU
|
Calcium:
27
mg
|
Iron:
1
mg
*Nutrition information is a rough estimate.
**The equipment section above contains affiliate links to products I use and love. As an Amazon Associate I earn from qualifying purchases.