I don't know about you, but I love pie! Especially ones that are made with homemade crust. This recipe for All Butter Pie Crust is all you need when making fruit, custard, or even savory pot pies. It's buttery, flaky and easily comes together in a food processor.
My favorite pie recipes are definitely ones that are made with homemade crust. Don't get me wrong, I will shortcut and use a good premade pie crust in a heartbeat when time is limited. But I can't deny the enhanced flakiness and buttery flavor when you can control the ingredients and method.
I learned how to make the perfect pie crust from my husband. I mean, he did win Chopped competing in a pie competition. So it's safe to say he knows a thing or two.  

I am so excited to share with you what I learned to make my favorite pie crust recipe! The best part about this recipe is that it's surprisingly easy to make when you let the food processor do most of the dirty work.

All Butter Pie Crust Ingredients
To make this insanely delicious homemade pie crust, you will need the following:
All-purpose flour.

This is the best flour to use for pie crust. For a gluten-free option, make sure to use gluten-free all-purpose flour. 

Unsalted butter.

Cold unsalted butter works best for this recipe, but if you can't find any and have to use salted butter, make sure to leave out the additional salt.

Ice water.

For a really flaky pie crust, cold ingredients are key. Make sure to use ice-cold water in this recipe for the best results.

Apple cider vinegar.

This might sound strange, but it plays a huge role in tenderizing the pie dough and getting a beautifully flaky pie crust.

Sugar.

Using a small amount of granulated sugar helps enhance the flavor of the pie crust and helps to turn it golden brown.

Salt.

This won't make the pie crust salty (don't worry!), but it will help to enhance the delicious buttery flavor.
How to make this butter pie crust recipe?
The idea of making a homemade pie crust might seem a little scary, but it's way easier than you think. All you have to do is follow these steps: 
Add flour, sugar, and salt to a food processor.

Pulse 3 times, add cold butter and pulse 6 more times until no large chunks of butter remain.

Slowly pour the water and vinegar

into the food processor at low speed. Continue mixing until you start to see a ball form. 

Set the pie dough onto a lightly floured surface.

Cut into 4 even pieces, then stack on top of one another. Press down until flat, then repeat the cutting and stacking process 2-3 more times.

Cut the pie dough in half and form each half into a disk.

Wrap in plastic wrap and refrigerate for at least 2 hours, but overnight preferred.

Unwrap and roll out the pie dough

onto a lightly floured surface. Carefully place it in a pie plate and press it into the crevices. Leave approximately 1" of dough hanging over the edges and cut off any excess. Tuck the hanging dough down into the lip of the plate and press down. Do this all the way around the pie plate, crimping the edges of the dough to your preferred design. 

Poke the dough with a fork

around the base and sides, then add pie crust back to the fridge for 30 minutes—Preheat the oven to 425 degrees.

In a small bowl, whisk together an egg and heavy cream.

Brush the mixture across the edges of the pie crust. Then, transfer to the oven and bake uncovered for 10-15 minutes.
Tips for making All Butter Pie Crust:
Here are some of my top tips to help you make this homemade butter pie crust:
For the best results, I highly recommend refrigerating the pie crust for at least 4 hours, but preferably overnight, before cooking.

Not sure how to tell when your dough has formed? When you turn off the food processor, the mixture should look very granular, like sand. If you press it with your fingers and it sticks together, the dough is ready.

Use a bench scraper (or knife) to cut your butter into ½" pieces, then place them in the freezer for 10 minutes to freeze. This is way easier than freezing the butter and then cutting it, trust me! 

While a food processor is the most efficient way of forming your dough, you can use a stand mixer or whisk by hand. Keep in mind, these methods will take longer than forming the dough in a food processor.
All Butter Pie Crust FAQs
Here are the answers to some of the most frequently asked questions about this pie crust recipe:
What happens if you add too much water to the pie crust?
Adding too much water to the pie crust can lead to more gluten formation than you want, causing the pie crust to become tough and unpleasant. As long as you follow this recipe, you should end up with that perfect pie crust that you've been dreaming about; buttery, golden, flaky crust!
Why does the butter need to be cold?
It may not seem super important, but your butter must be cold before using it. This prevents the butter from melting when you mix it into the flour, which helps to achieve a perfectly flaky pie crust.
What is the best type of flour to use for pie crust?
When it comes to homemade pie crust, you want to use flour that isn't too high in protein. All-purpose flour is my go-to flour of choice; however, gluten-free all-purpose flour works just fine if you have a gluten intolerance.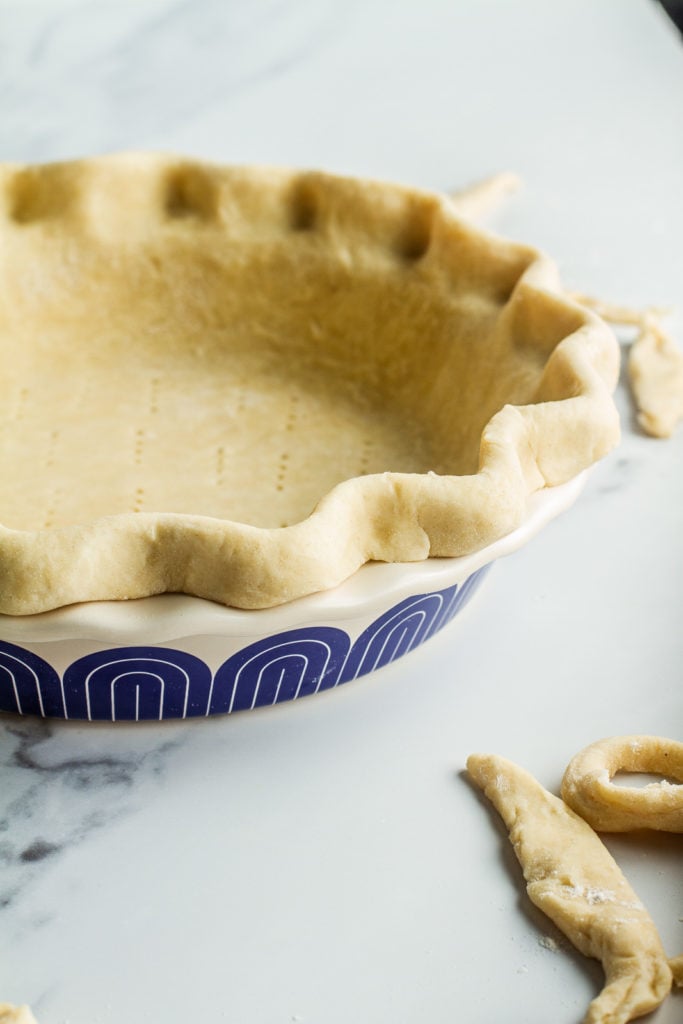 Why add vinegar to pie crust?
Adding vinegar to pie crust is one of those cool scientific tricks that truly leads to better results. A small amount of vinegar slightly inhibits gluten formation, which helps to tenderize the pie dough and get really flaky results.
I hope you enjoyed this pie crust recipe, please share it with your friends and family. And don't forget to give me some five-star love down below. And if you have any comments or questions, leave them below too, and I'll be sure to get back to you as soon as possible.
Ingredients
2½

cups

all-purpose flour

plus more for dusting

2

tablespoons

sugar

1

teaspoon

kosher salt

16

tablespoons

cold unsalted butter

2 sticks chilled & cut into ½" pieces

1

tablespoon

apple cider vinegar

8

tablespoons

ice water

more as needed
Nutrition
Calories:
2840
kcal
|
Carbohydrates:
263
g
|
Protein:
34
g
|
Fat:
185
g
|
Saturated Fat:
116
g
|
Polyunsaturated Fat:
8
g
|
Monounsaturated Fat:
47
g
|
Trans Fat:
7
g
|
Cholesterol:
482
mg
|
Sodium:
2363
mg
|
Potassium:
400
mg
|
Fiber:
8
g
|
Sugar:
25
g
|
Vitamin A:
5598
IU
|
Calcium:
107
mg
|
Iron:
15
mg
Equipment
*Nutrition information is a rough estimate.
**The equipment section above contains affiliate links to products I use and love. As an Amazon Associate I earn from qualifying purchases.