Faux Mole Marinated Carrot Tacos with Pickled Radishes
Have you had a taco worth dying for? Apparently I have. I got a story. Want to hear it? Well here it go.
So I decided to visit Chicago last week. I had a business meeting and I also just wanted to hang out with my girl friends a bit.  On Friday, I worked from a cute little cafe in Wicker Park. For lunch I decided to grab a few tacos from Big Star on my way to my next destination. I got my tacos "to-go" and got on the CTA Blue Line. I got on at Damen and knew that I had only two stops before it was time to get off on Chicago. Nevertheless, I got wrapped up in instagram and wasn't paying attention to the trip. BAD IDEA.
The Blue Line stopped at Chicago and like clockwork the pleasant automated lady's voice announced the stop over the intercom system. People rushed around me to get off but I didn't. Why? Because instead of using my ears, I was using my super sassy index finger to scroll through insta on a "liking" spree.
For some reason I took a breather and looked up, all to realize we were parked at my stop. I quickly grabbed my bag of food and ran towards the closing doors. I was fast enough to put my hand in the door, thinking that it would signal the door to open back up … it didn't. Not only did the door close on my hand, repeatedly, but the Blue Line started slowly moving. Oh, and I forgot to mention that the hand that was stuck in the door was the one holding my bag of food!!! Insert "HELL TO THE NAH" song.
The next series of events happened quickly but I will describe them as I know them to be true. I looked at my bag of food, caught on the outside of the door, in despair and thought, "I'M NOT LETTING GO, I WON'T GIVE UP ON YOU." I saw people on the outside of the train chuckling at my expense. My heart was beating fast at the thought of losing all this food I had just paid for, not to mention, I really had my heart set on trying the Taco De Zanahorias. I heard someone say, "let go of the bag!" My immediate response was not to let go but to give them the death stare for saying something so preposterous. All the while a striking young man comes to my rescue and hits some magical button that stops the train and releases the jaw-clenching grip of the door. I say thank you, and after which secure the bag of food, calmly walk off the Blue Line, with my head lifted high and adorning the biggest smile knowing that I was still about to eat.
Were my priorities mixed up in the moment? Pretty much. Could I have almost died or lost my hand? Quite possibly. But had I not committed to keeping that food, you my friend, would not have benefited from this week's inspired Taco Tuesday recipes. BLOOP!
Since I am eating vegetarian for the Mission: Get It Right, Get It Tight, Health Challenge I shared my recipes for the 3 amazing vegetarian tacos that I made this week. Are my vegetarian taco creations worth dying for? I think so, but you be the judge!
Sliced carrots slow simmered in chocolatey spiced marinade, served with tangy pickled radishes and onions and topped with creamy goat cheese.  Simple and ridiculously delicious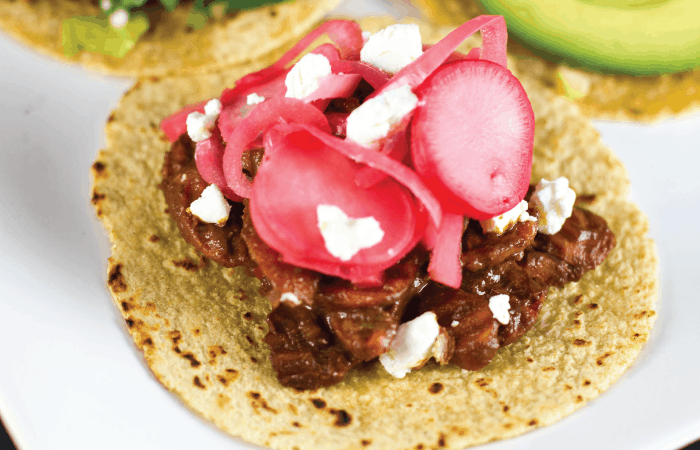 Ingredients
Tacos

6

small corn tortillas

4

oz

goat cheese

½

cup

pickled radishes and onions

Faux Mole Carrots
Faux Mole Carrots
1

lb

bag ruffled carrot chips

4

tablespoons

nutella hazelnut spread

1

8oz. can tomato sauce

1

4.5 oz .can chopped green chilis

1/2

cup

vegetable broth

½

teaspoon

salt

½

teaspoon

red pepper sauce

sriracha

pinch

allspice

pinch

ground ginger

pinch

cinnamon
Instructions
Combine all ingredients (except for the carrots) in a medium saucepan on medium heat. Bring mixture to a boil then reduce to medium low.

Add in carrots and let simmer for 40 minutes, stirring the mixture periodically.

Serve carrots on top of a warm tortilla topped with pickled veggies and goat cheese.
*Nutrition information is a rough estimate.
**The equipment section above contains affiliate links to products I use and love. As an Amazon Associate I earn from qualifying purchases.