Avocado Parmesan Grits is taking traditional grits to the next level by adding creamy avocado. This dish a definite crowd-pleaser. 1 of 5 recipes from my Avocado Week recipe rounded up. Check out more delicious avocado recipes below.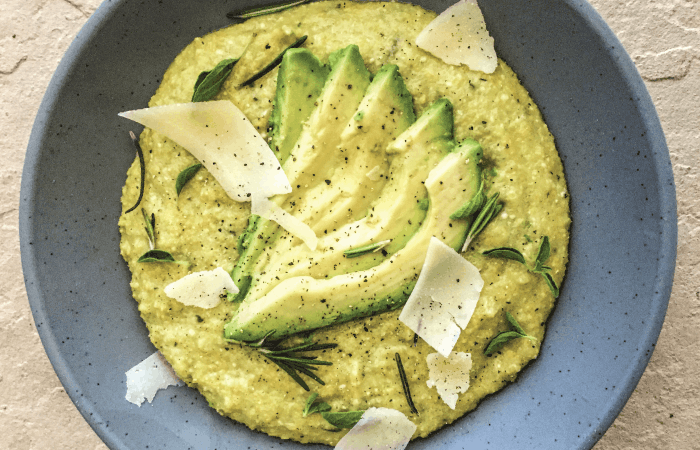 Avocado week has been eventful, to say the least, from vinaigrette's to grits, from milkshakes to curries; we went all the way in. But I may have been a bit too over-stocked because I am still up to my eyeballs in avocados, literally and figuratively.
I spent the week playing my test kitchen trying avocados all kinds of recipes from shakes to vinaigrettes. It's been like heaven. But I must share with you my new favorite preparation for grits: Avocado Parmesan Grits.
I love grits savory and sweet but I must say that avocado goes so well adding extra creaminess to eat a bite. I also managed to blend in some fresh herbs with salt and cracked black pepper a simple yet surprisingly satisfying preparation.
I made this dish while also wearing this nifty Avocado Soothing Mask that I found on SheKnows.com. <<<
But I digress, the important point is that if you call yourself an "avocado lover" then you need to try this recipe for Avocado Parmesan Grits.
Check out the recipe as well as some of the other avocado recipes I hit a home run with this week (down below).
Regular grits vs. quick-cooking grits vs. instant grits
The main difference between all three is granulation. Regular grits are medium ground and take about 10-15 minutes to cook. Quick grits are ground fine and cook in about 5 minutes. Lastly, instant grits are ground fine and have been precooked, dehydrated, and unusually done within a minute or two.
How to pick a ripe avocado?
First, observe the avocado's color; ripe avocados have a dark green nearly black skin color. Secondly, a ripe avocado skin texture tends to be a bit bumpy. Lastly, gently squeeze the avocado. It should yield to gentle pressure without leaving indentations or feeling mushy.
Can you freeze grits?
Yeah, you can! Allow your gifts to fully cool, then pour into a freezer bag or tight-sealing plastic container. Make sure to let out any excess air from your freezer bag; this will help prevent frost burn. Grits can be stored in the freezer for about a month.
How to reheat cheese grits?
I have found to regain the best flavor, and texture the stovetop works best; however, you can also reheat your grits in the microwave. Either way, you will need to add water or milk and stir to bring your grits back to life. If you are going with the stovetop route, use low to medium heat, add a little bit of your liquid at a time and stir until it reaches your desired temperature and texture. If you have chosen to use the microwave, I suggest adding a bit of liquid, stir, and heat for 30 seconds to 1 minute, and repeat until it reaches your desired temperature and texture.
What goes with Avocado Parmesan Grits?
Avocado Parmesan Grits is hearty enough to be eaten alone or served as a side. Meat, seafood, and veggies go well with Avocado Parmesan Grits.
Grilled or sauteed bell peppers and onions
Sausage
Smoked Brisket
Jerk Chicken
Grilled or Sauteed Shrimp or Fish
More Creamy Avocado Recipes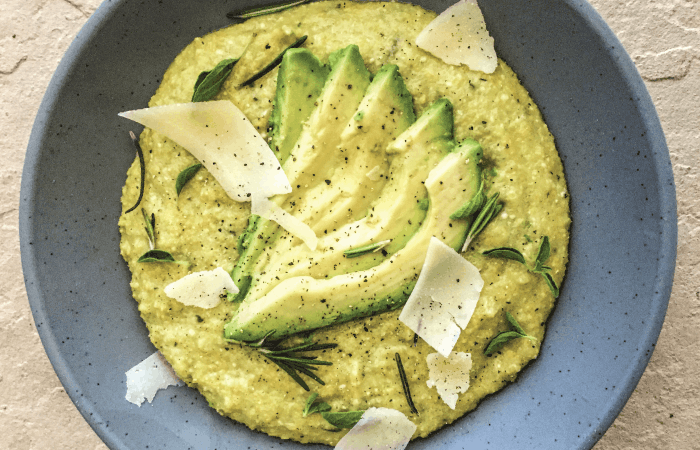 Ingredients
3

cups

chicken broth

or vegetable broth

1

medium

ripe avocado

divided in half

1

cup

milk

1

cup

quick-cooking grits

1

teaspoon

salt

½

teaspoon

pepper

½

cup

fresh Parmesan cheese

grated

2

sprigs

fresh rosemary

2

sprigs

fresh tarragon

2

sprigs

green onion
Instructions
In a food processor combine milk, ½ the avocado, rosemary, tarragon and green onion. Blend until the avocado is smooth and the herbs are finely minced. Set to the side.

In a large sauce pan, bring broth to a boil. Slowly but constantly whisking, stir in the grits. Reduce heat, and whisk the avocado/milk mixture to the grits. Let it simmer for about ten minutes. Add parmesan, salt and pepper and stir until the cheese has visibly melted. When plating, slice the remaining half of the avocado over the grits with black pepper and serve warm.
Nutrition
Serving:
4
g
|
Calories:
1238
kcal
|
Carbohydrates:
155
g
|
Protein:
47
g
|
Fat:
54
g
|
Saturated Fat:
18
g
|
Polyunsaturated Fat:
6
g
|
Monounsaturated Fat:
26
g
|
Cholesterol:
58
mg
|
Sodium:
5835
mg
|
Potassium:
2326
mg
|
Fiber:
22
g
|
Sugar:
16
g
|
Vitamin A:
1512
IU
|
Vitamin C:
76
mg
|
Calcium:
1011
mg
|
Iron:
10
mg
*Nutrition information is a rough estimate.
**The equipment section above contains affiliate links to products I use and love. As an Amazon Associate I earn from qualifying purchases.