All though I grew up in San Diego, I don't think I've ever tasted fish so fresh as my visit to Bermuda and this Bermuda fish chowder embodies that great experience with each bite.
Last week was the launch of the long anticipated blkfoodnetwork.com and your girl (that's me) is dishing out some of my favorite recipes on the site. You can also expect to see some amazing recipe videos from my other network friends, as well as, current foodie news. While this is much like a beta launch, we have already received an overwhelming outpour of positive feedback from our friends and followers around the inter-webs. I personally, am very excited about our potential for growth given all this excitement.
If you decide to pay the site a visit my recipes are the Bermuda Inspired Fish Chowder and The Jacked Chocolate Malted Milkshake. Use either of those links to watch the videos and make sure to check out the site blkfoodnetwork.com. We love your feedback so comments are welcome!!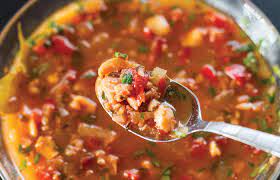 The Bermuda Inspired Fish Chowder recipe comes from the beautiful, eponymous island. You can guess what wonderful blend of seafood and spices it will be coming from a sea-fringed island!  
In my fish chowder recipe, I use flavorful ingredients like onion, garlic, bay leaves, Worcestershire sauce, thyme, pepper, and agave nectar. Together with cinnamon, white wine, and rum, they create a moreish taste that will have you refilling your bowl.
The entire dish takes about 3 hours to prep and cook, but trust me, the wait is worth the while. You can serve it at dinner, on upcoming holidays, or during family gatherings. Want to enjoy a quiet brothy-creamy dish while curled up in a blanket and watching Netflix on a cold night? Fish chowder is your answer.
On a nutrition-based, healthy diet? Well, treat your tongue with the chowder and a side salad. You can also serve the dish with break bread, crackers, and fritters to make a feast of it.
Which is the best fish for fish chowder?
A lean, meaty fish, usually white or light in color and have a mild flavor. Such as snapper, bass, grouper or cod, are best used in chowder.
What is the difference between soup and chowder?
Soup is all stock or broth and can have meat, veggies, or fish. Generally, soup is also not too thick. On the other hand, chowder may use the same ingredients but is chunkier, creamier, and thicker than soup.
What to serve with fish chowder?
There are varieties of dishes and side dishes you can serve alongside fish chowder. My best pick would be the classic Caesar salad with oyster crackers. You can also serve the fish chowder with:
Any green salad dressed with vinaigrette
Bacon-wrapped scallops or clam fritters
Skillet cornbread, crusty French bread, or beer batter bread
Can I make fish chowder in advance?
Yes, fish chowder can be made two days in advance. After cooking, allow it to completely cool. Transfer to an airtight container and refrigerate. 
How to store leftovers of fish chowder?
After cooking, allow it to completely cool. Transfer to an airtight container and refrigerate.  The fish chowder will be kept fresh for 3-4 days. However, if chowder was made in advance, this will cut the leftover storage life to 1 or 2 days. Only reheat the desired serving amount rather than the entire batch. This will help to preserve storage life as well. 
Can you freeze fish chowder?
Yes, for extended fish chowder shelf life, freeze the dish in an airtight container or freezer bags. However, when ready to consume.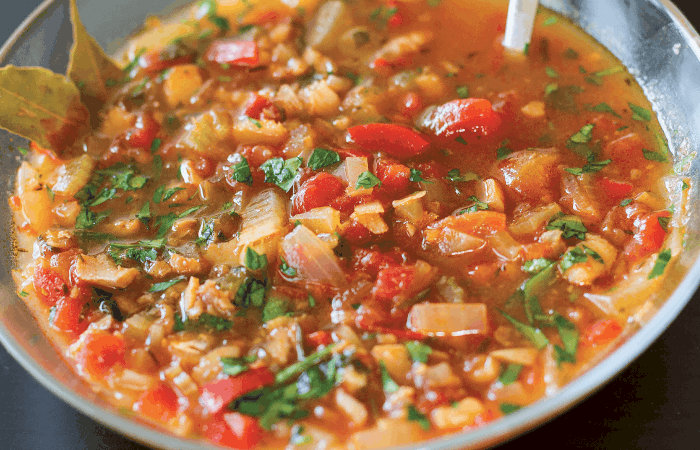 Ingredients
1½

lb.

white fish fillets

finely diced (ex. snapper, bass, grouper or cod)

64

ounces

seafood stock

28

ounce

can of tomatoes

drained and chopped

1

medium onion

chopped (1½ cup)

3

stalks celery

chopped (1½ cup)

1

red bell pepper chopped

1 cup

5

large cloves of garlic

chopped

3

dried bay leaves

½

cup

of chopped parsley

1

cup

of white wine

½

cup

agave nectar

½

cup

ketchup

¼

cup

extra virgin olive oil

4

t

tablespoons worcestershire sauce

3

tablespoons

lemon juice

2

teaspoons

salt

½

teaspoon

dried thyme

½

teaspoon

cayenne pepper

½

teaspoon

paprika

½

teaspoon

pepper

¼

teaspoon

cinnamon

Optional: sherry pepper sauce

rum
Instructions
In a large pot, on medium low heat, add the olive oil and garlic and cook for 3 minutes.

Add the onion, celery, parsley, red pepper, and tomatoes; raise heat to medium and cook 10 minutes, stirring periodically.

Add in the seafood stock, thyme, cayenne, paprika, bay leaves, cinnamon, salt, pepper, lemon juice and ketchup and bring to a boil.

Add the finely diced fish and agave nectar and cook uncovered for 90 - 120 minutes on medium. Periodically, use large whisk to stir and break up the fish pieces. While the chowder is cooking, be sure to constantly remove any impurities that may rise to the surface.

Fish out bayleaves, Chowder is traditionally served warm with a tablespoon of rum and a few dashes of sherry pepper sauce.
*Nutrition information is a rough estimate.
**The equipment section above contains affiliate links to products I use and love. As an Amazon Associate I earn from qualifying purchases.