Sweet, juicy peaches are the star of this dessert. Tossed with warming spices and a secret ingredient (hint: it's peppery), they're baked between two layers of flaky pie crust, making it a true staple of the South. If peaches aren't in season, try using canned peaches instead.
Ok you are on a boat packed full with 4 desserts trying to safely make it to shore. You're faced with a grueling dilemma. You have to free the boat of 3 of those desserts or else you stay stranded at sea. Those 4 desserts are Pound Cake, Peach Cobbler, Banana Pudding, and Sweet Potato Pie. Yes all the good ones on one boat.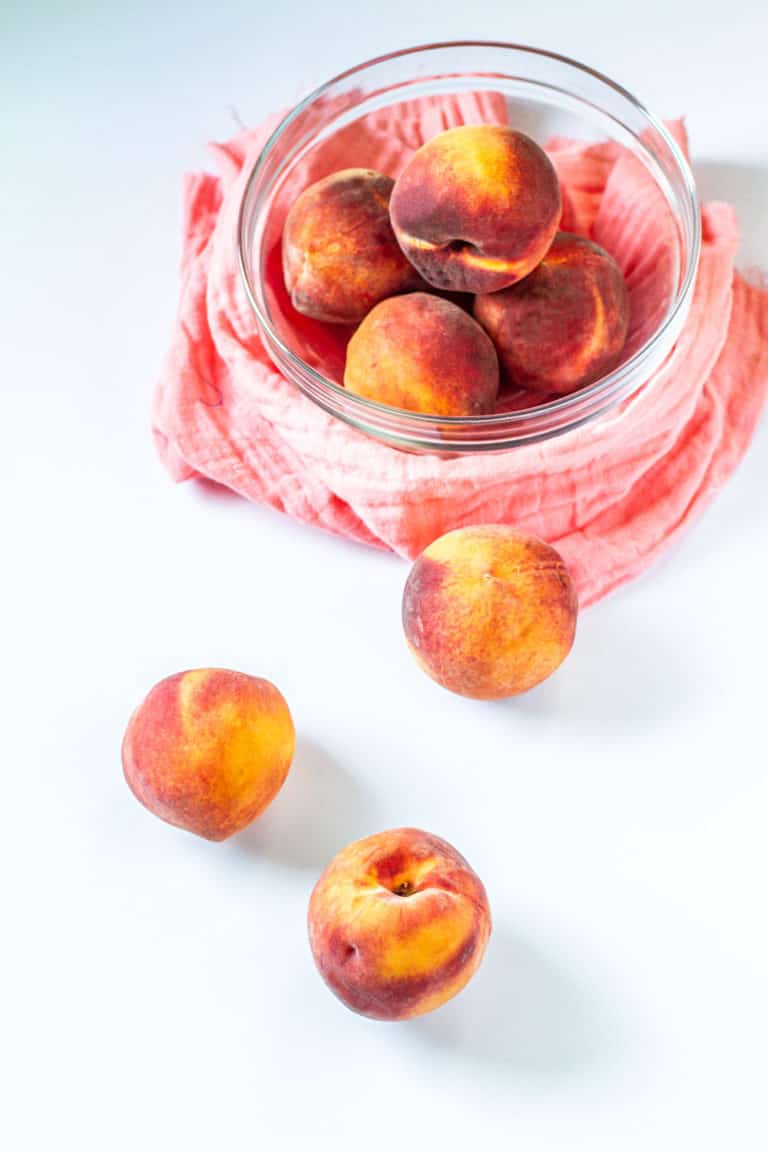 Ok, so imagine you have to get rid of 3 of the 4 and no you can't keep a combination of them. That's the rules, deal with it. My question for you is which 3 desserts do you send overboard?
And I'm gonna tell you right now if you answer isn't SAVE THE PEACH COBBLER, sir or ma'am, we can't be friends. Go ahead and unsubscribe honey because we all know, or you need to know, that around these parts peach cobbler is QUEEN!
Peach cobbler is the Beyonce of desserts. Sweet, tart regal flavors of commingled with warm spices. She's sultry, dynamic, cute but don't let that cuteness fullness she's got a few rough edges to prove her street cred.
Shortcuts for Easy Peach Cobbler
Homemade peach cobbler can be time-consuming to make. To cut time, use frozen or canned peaches to avoid peeling and slicing duties. In place of the crust, you can use canned biscuits or a pre-made pie crust. Also, cake mix can be used in place of pie crust! You didn't see that coming right? Regardless as to which shortcuts you take, it'll definitely save you some prep time.
Tasty Recipe Video:
Yep, peach cobbler wins for me every time, especially when it is warm and topped with a good ole scoop of vanilla ice cream.
Friends, I'm really curious what y'all picked to save your journey to shore. I just need to make sure we are aligned. Drop a comment below with which dessert you decided to save.
Fresh Peaches vs. Frozen Peaches vs. Canned Peaches
Which one works best for a cobbler, you might ask? Here's my take on such a controversial peach cobbler topic:
Fresh:
For authentic homemade peach cobbler, fresh peaches are the optimal choice. However, peaches season is roughly from May to September, which means if peach cobbler is on your holiday menu, sweet fresh peaches may be hard to come by. Keep in mind when using fresh peaches, a little more "elbow work" is required for peeling, pitting, and slicing.
Canned:
Using canned peaches allows for a quicker way to make peach cobbler cutting down a lot of the prep time. However, canned peaches are usually packaged in syrup or artificial sweeteners, so I recommend draining the fruit and reducing the recipe's sugar. Also, because the peaches are poached during the canning process, the peaches' texture will be soft.
Frozen:
Frozen peaches are an excellent alternative for fresh peaches because they are picked and frozen at their peak ripeness and readily available year-round. When using frozen peaches, you must thaw and drain them before making the filing. Also, because the peaches are blanched before freezing, their texture will be soft but not as soft as canned peaches.
How do you know when your peaches are ripe?
A ripe peach doesn't feel firm when you touch it. Gently squeeze the peach with your fingers; you don't have to press too much if it's ripe, it will give way.
How to fix runny peach cobbler?
The trick is to add more cornstarch! Make a slurry of cornstarch and water (1 to 1), add it to your peach mixture, and watch it thicken before your eyes. Do this before you add the peaches to your baking pan. Also, use a slotted spoon when transferring peaches to your baking pan. That way you can control the amount of liquid based on your preference.
More Delicious Dessert Recipes
Still, craving more? Check out these dessert recipes next:
Ingredients
Peach Filling:
10–12

medium peaches

1¼

cups

dark brown sugar

½

teaspoon

cinnamon

¼

teaspoon

ground nutmeg

1

tablespoon

vanilla extract

1

teaspoon

lemon juice

½

teaspoon

kosher salt

⅛

teaspoon

black pepper

1½

tablespoons

cornstarch

¼

cup

½ stick unsalted butter

cubed

4

tablespoons

½ stick unsalted butter

melted, plus more for greasing
Crust:
¼

cup

all-purpose flour

plus more for dusting

3

9-inch

refrigerated pie crusts

1

large

egg yolk

1

tablespoon

water

2

tablespoons

granulated sugar

½

teaspoon

cinnamon

Vanilla ice cream

for serving
Instructions
Preheat the oven to 425°F (220°C).

Peel, pit, and slice the peaches into wedges. You should have about 10 cups.

Make the peach filling: In a large pot, combine the brown sugar, cinnamon, nutmeg, vanilla, lemon juice, salt, pepper, and peaches. Turn the heat to medium and gently stir until the sugar is completely dissolved. Cook for 3–5 minutes, until the mixture is simmering and the peaches have started to release their juices.

In a small bowl, mix the cornstarch with 2 tablespoons of syrup from the pot until the cornstarch dissolves. Stir the mixture back into the filling and bring to boil. Cook until the syrup thickens and turns opaque, 3–4 minutes. Remove the pot from the heat.

Make the crust: Grease a 9 x 13-inch casserole dish with melted butter.

On a lightly floured flat surface, unroll 2 of the pie crusts. Overlap the crusts at the center so it looks like a Venn diagram, then use a floured rolling pin to roll over the overlapping portions to seal together. Flour the top of the crust, then roll onto the rolling pin. Unroll over the prepared baking dish. Gently lift the edges of the crust so the bottom sits flush against the bottom of the baking dish. Let the edges hang over the sides of the pan.

Use a slotted spoon to transfer the peach filling into the crust, draining off any excess juices. Save any leftover syrup for serving.
 Dollop the cubed butter over the peaches.

Lightly roll out the remaining pie crust, then unroll over the peach filling. Fold the edges of the top and bottom crusts together to seal.

In a small bowl, whisk the egg yolk with the water. Brush all over the top of the crust.

In a separate small bowl, mix together the sugar and cinnamon. Liberally sprinkle over the crust.

Cut 3 large diagonal slits into the top of the crust to release steam.

Bake the cobbler for 35–45 minutes, until the crust is golden brown and the filling is bubbling. If the edges of the crust are getting too dark, cover with foil and continue baking.

Let the cobbler cool for 25–30 minutes before serving with vanilla ice cream. Drizzle with some of the reserved peach syrup.Enjoy!
Nutrition
Calories:
8019
kcal
|
Carbohydrates:
1888
g
|
Protein:
178
g
|
Fat:
79
g
|
Saturated Fat:
17
g
|
Polyunsaturated Fat:
19
g
|
Monounsaturated Fat:
25
g
|
Trans Fat:
1
g
|
Cholesterol:
53
mg
|
Sodium:
465
mg
|
Potassium:
36186
mg
|
Fiber:
287
g
|
Sugar:
1629
g
|
Vitamin A:
62243
IU
|
Vitamin C:
1253
mg
|
Calcium:
1191
mg
|
Iron:
50
mg
*Nutrition information is a rough estimate.
**The equipment section above contains affiliate links to products I use and love. As an Amazon Associate I earn from qualifying purchases.