Studded with fresh blueberries and bursting with lemon flavor, these pancakes are perfect for keto, low carb (LCHF) breakfast. These fluffy blueberry lemon pancakes are astonishingly keto-compliant without that annoying eggy texture. These are, by far, the best keto pancakes I have ever made.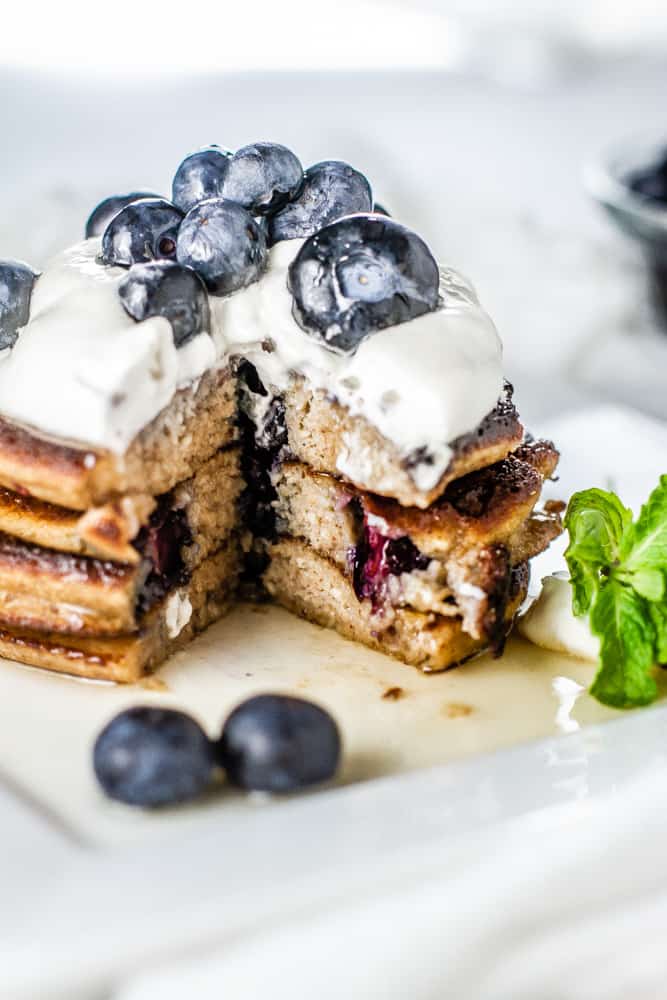 Keto Delight: Tangy Blueberry Lemon Pancakes to Jumpstart Your Day!
It finally happened, my carb cravings returned. I was doing well until all of a sudden, it hit me like a slap in the face. And subsequently, I was feverishly looking on the internet for keto-friendly variations of my favorite carb-heavy recipes.
One thing to know about me is I no longer eat shellfish or pork, which means I don't get off on the traditional bacon binge that most love on the ketogenic diet, although I will say I have grown to love beef bacon variations. Nonetheless, I tend to get bored on meat-heavy diets, so finding suitable variations for traditional recipes outside of just veggies is really important to me. And I am willing to try every recipe until I find the right one. Kind of like this amazing pancake recipe.
I've tried 4-5 different keto-friendly bread-like recipes and have been severely disappointed because they all taste like an egg soufflé – pancakes included. So when I across the source recipe for these pancakes on the wholesumyum.com website I was skeptical, to say the least. But I didn't I tried them anyhow and added a healthy addition of fresh blueberries and lemon juice/zest. The outcome? FREAKING AMAZING.
These blueberry lemon pancakes are deliciously fluffy and flavorful and even easy to make with the right ingredients. You may be wondering what I'm pouring on these bad boys? I ventured to try some keto-friendly maple syrup, but I must admit, I haven't hacked that code yet, so I have no brand recommendations at this time. I know the pour action looks good, but unfortunately, it looks better than it tastes. What I can recommend is the addition of my keto-adapted homemade whipped cream, which is the perfect addition to lather between this tasty blueberry stack.
Why Does This Keto Pancake Recipe Work?
All the ingredients used in this keto pancake recipe are 100% keto compliant; still, the pancakes taste just as delicious as regular pancakes. I'd go with this recipe any day because it's a much healthier option and did I mention that it is so filling? It helps to increase satiety and curb your cravings.
Second, this recipe is foolproof. By that, I mean that it is tested and trusted. If you follow it to the letter, you will get perfect keto pancakes sitting pretty on your plate.
Ingredients for Keto-friendly Blueberry Lemon Pancakes
Almond flour: provides a nutritious, low-carb alternative to regular pancakes while still maintaining a delicious taste and desirable texture.
Coconut flour: can help create a thicker batter and result in fluffier pancakes.
Monk fruit sweetener or erythritol: has a similar taste profile to sugar, which can provide a satisfying sweetness to pancakes without the extra carbohydrates.
Kosher salt: is typically free of additives such as iodine or anti-caking agents that can be found in some table salts. It provides a purer, cleaner flavor that won't interfere with the taste of the pancakes.
Gluten-free baking powder: is a leavening agent that helps pancakes rise and become fluffy.
Eggs: serve as a binding agent in pancake batter, helping to hold the ingredients together and provide structure.
Unsweetened Almond Milk: adds moisture and contributes to the overall taste and texture of the pancakes while aligning with the principles of a ketogenic diet.
Lemon zest: enhances the overall taste experience. It adds a natural and keto-friendly burst of citrus that complements the blueberries
Lemon juice: lemon juice helps to enhance the citrus flavor, provide acidity for leavening, and contribute to the overall moisture and texture of the pancakes.
Avocado oil: adds healthy fats, a high smoke point, and a neutral flavor to the recipe. It provides the necessary moisture and aids in achieving a desirable texture.
Blueberries: incorporating blueberries not only adds a delightful taste but also contributes to the nutritional profile and visual appeal of the dish.
Ghee: adds richness, flavor, and healthy fats to the recipe. It provides a satisfying taste experience while aligning with the principles of a ketogenic diet.
Almond Flour vs Almond Meal?
Almond flour has a more refined and lighter texture than almond meal. Almond meal is made from raw, unpeeled almonds, whereas almond flour is made by grinding blanched (peeled) almonds hence its more refined texture. Almond flour delivers on a smooth, fluffy, and delicious keto pancake.
Can You Make The Pancake Batter Ahead of Time?
After whisking all the ingredients together in your mixing bowl, transfer the pancake batter into an airtight container and store it in the fridge. Although this can last for up to a week, I'd advise you to use it within 3 days. Before cooking, allow your batter to come to room temperature, whisk it to your desired consistency.
How to Store Keto Pancakes?
After tasting these delicious keto pancakes, you might begin to strategize on how you can make some more and store them for later; this will save you some prep time too.
Before place your Keto pancakes in a storage bag or container, allow them to cool completely. Place a sheet of parchment paper between each pancake; this will prevent them from sticking together. Then, you can refrigerate or freeze them. They good for up to a week in the fridge; however, I doubt you'd allow them to last that long. Once you are ready to eat, reheat them in the microwave for up to 20 seconds. Now you can prep these delicious keto pancakes in advance for busy weekday mornings.
Other Toppings Ideas?
Here are some other tasty toppings you can use:
Fruit (peaches, strawberries, blackberries, & raspberries)
Nuts
Dark chocolate
Coconut cream
Natural peanut butter
Plain keto yogurt
Keto powder sugar
Bacon
More Delicious Breakfast Recipes
Still, craving more? Check out these breakfast recipes next: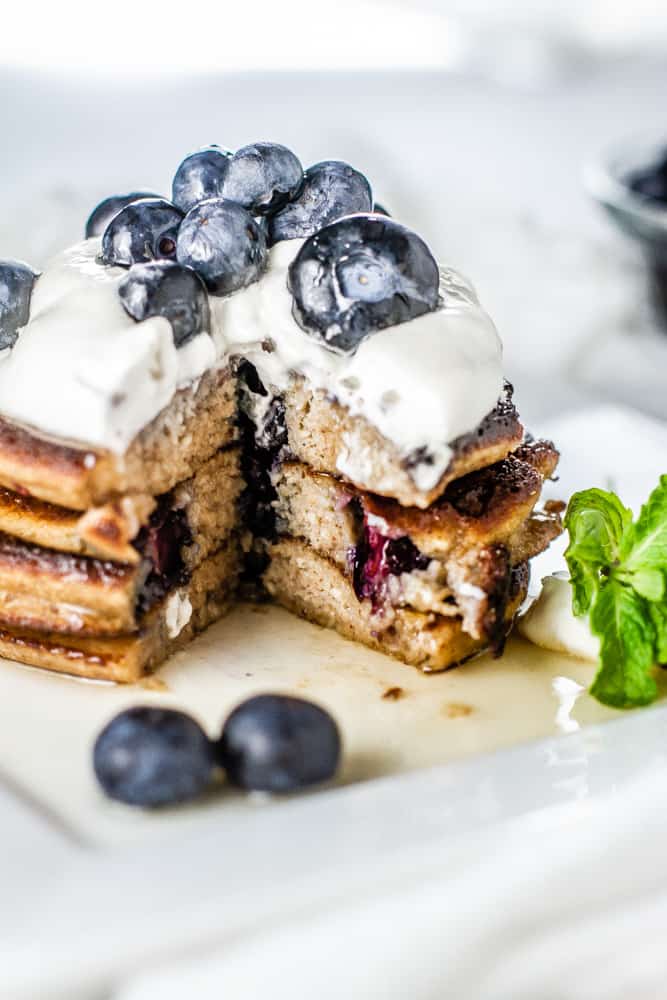 Servings:
6
servings (2-3 pancakes)
Ingredients
Pancakes
1

cup

blanched almond flour

finely ground

¼

cup

coconut flour

¼

cup

monk fruit sweetener

or erythritol

¼

teaspoon

kosher salt

1

teaspoon

gluten-free baking powder

5

large

eggs

¼

cup

almond milk

unsweetened

1

zest

lemon

1

juice

lemon

¼

cup

avocado oil

or any neutral tasting (oil that is liquid at room temperature)

1

cup

fresh blueberries

¼

cup

ghee
Whipped Cream:
½

cup

heavy cream

chilled

4

teaspoons

monk fruit sweetener

pinch

kosher salt

½

teaspoon

pure vanilla extract
To Serve [optional]:
ketogenic maple syrup

4

sprigs of fresh mint
Instructions
In a bowl mix all dry ingredients together, in a separate bowl mix all wet ingredients together minus blueberries and ghee. Mix the wet into the dry until smooth and fold in blueberries, let sit for 5 minutes.

While the batter is sitting, in a bowl add all ingredients for whipped cream and using a hand mixer or a stand mixer fitted with a whisk attachment, whip until stiff peaks form about 3-4 minutes. Cover tightly and place in fridge until pancakes are finished.

Heat a large non-stick skillet over medium-low heat with 1 tablespoon of ghee. Drop batter in hot skillet and form into a circle. Cover with top and cook for 2 minutes on each site. Repeat process with the rest of batter until finished.

To serve 2 pancakes with a dollop of whipped cream and a sprig of mint – ketogenic syrup optional.
Notes
This recipe has been adapted from wholesomeyum.com
For your pancake batter, you can use any milk of your choice.
As the batter sits it may become too thick, if so, add 1 tablespoon of milk at a time to avoid over pouring.
Pre-chill your hand-mixer beaters/whisk and bowl in the refrigerator before you make your whipped cream.
Ingredient measurements for whipped cream have been reduced to match the serving size of the pancake recipe (2 tablespoons per serving). This recipe can easily be doubled or tripled. If you can scale the recipe, refrigerate in an airtight container for up to 48 hours.
Calories 437, Total Carbs 12g, Net Carbs 7g, Fiber 5g, Sugar 3g, Protein 10g, Fat 39g
Nutrition
Serving:
2
g
|
Calories:
421
kcal
|
Carbohydrates:
12
g
|
Protein:
11
g
|
Fat:
38
g
|
Saturated Fat:
13
g
|
Polyunsaturated Fat:
3
g
|
Monounsaturated Fat:
12
g
|
Trans Fat:
1
g
|
Cholesterol:
201
mg
|
Sodium:
195
mg
|
Potassium:
96
mg
|
Fiber:
4
g
|
Sugar:
4
g
|
Vitamin A:
558
IU
|
Vitamin C:
3
mg
|
Calcium:
92
mg
|
Iron:
2
mg
*Nutrition information is a rough estimate.
**The equipment section above contains affiliate links to products I use and love. As an Amazon Associate I earn from qualifying purchases.