Brisket Burnt Ends are a classic barbecue dish made from the flavorful and tender end pieces of brisket. After smoking the brisket low and slow, the end pieces are cubed and tossed in a sweet and savory sauce before being returned to the smoker for a final caramelization. These bite-sized morsels are the perfect combination of tender meat and crispy crust, making them a crowd-pleasing addition to any barbecue spread. This Black History Month, I am highlighting these tender meat candy morsels to showcase the evolution of bbq within the diaspora and specific African American contributions to grilling culture.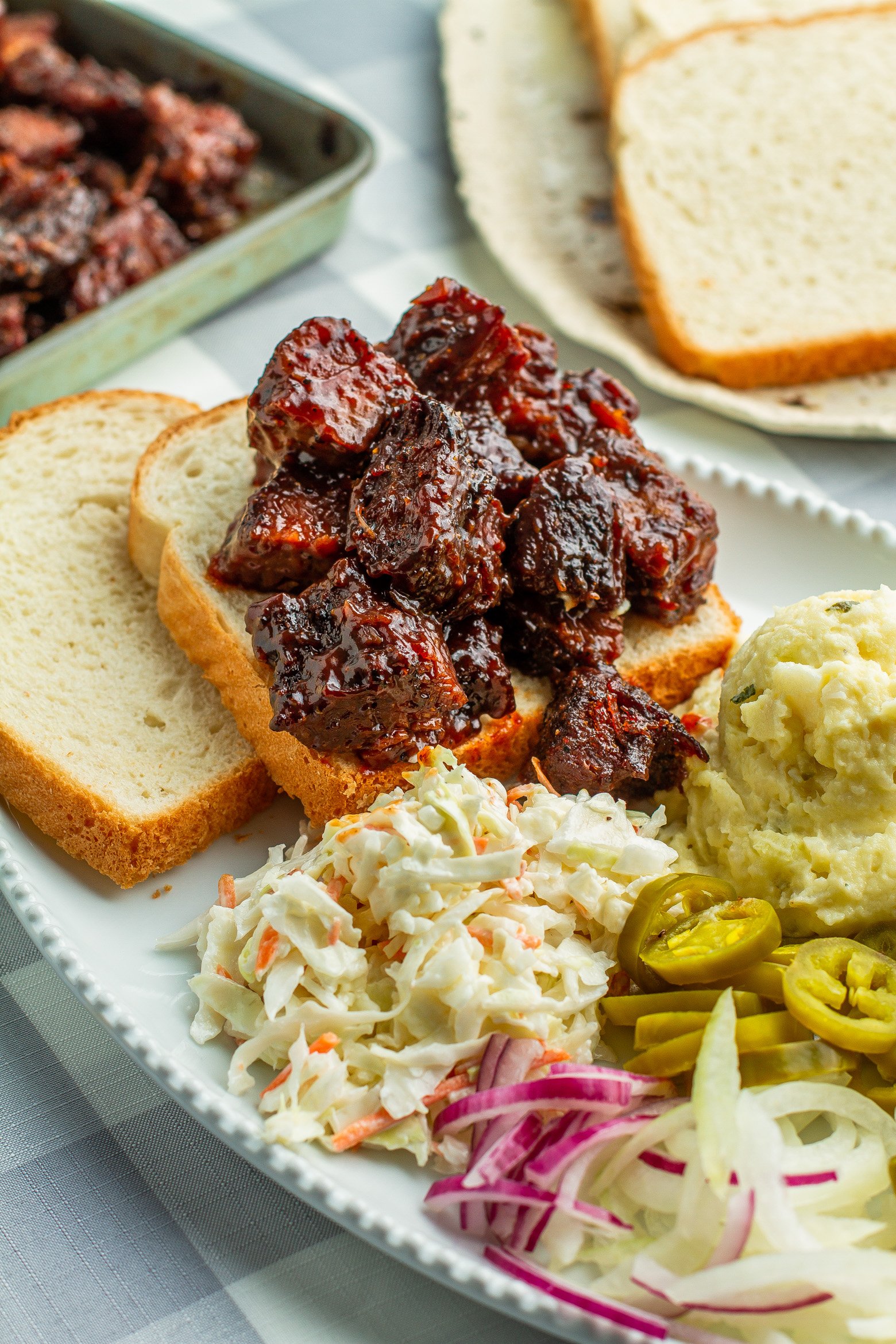 ---

In 2023, the theme of Black History Month is Black Resistance, and Eat the Culture is recognizing the remarkable and, frankly, underrated resistance of our ancestors in bringing culinary traditions across the Atlantic to shape the vibrance of Black cuisine that we know and love today.
They physically and mentally carried African foodways across the deadly Middle Passage to pass down through generations. This year's Black History Month Virtual Potluck traces popular dishes of the Diaspora from their West African roots to North America and beyond. You can grab the full list of recipes from this year's collaboration on the Eat the Culture website.
---
Connecting BBQ To West Africa
Wá jẹun!!!! (means "come eat" in the West African Yoruba language – my google translate is lit). Today, we celebrate African Diaspora with a classic, smoky BBQ burnt-end recipe straight from my Kansas City roots. American BBQ is a descendant of multiple cultures, including that of West African Babbake.
Babbake is a Hausa term referring to the method of grilling, toasting, and building a large fire. This technique was carried from West Africa and combined with those of Indigenous peoples in the West Indies and American South to create barbecue and grilled meat traditions that persist to this day. This recipe for bbq brisket burnt ends is intrinsically connected to the African diaspora as with other descendant recipes of babbake. I encourage you to follow the evolution of babbake from West Africa in the form of Dibi Lamb through the Caribbean in the form of Jerk Chicken.
Share these recipes with your friends and loved ones and follow each participant by using the hashtag #BHMVP2023 on Instagram. You can grab the full list of recipes from this year's collaboration on the Eat the Culture website.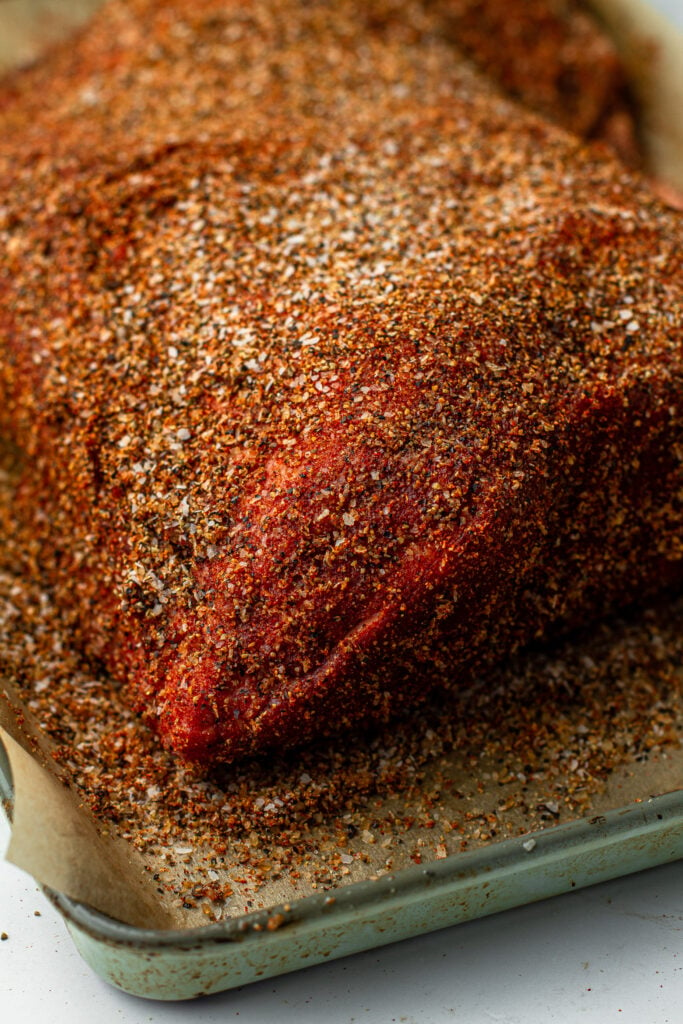 What Are Burnt Ends?
Originating from Kansas City, burnt ends have become a staple at BBQ joints across the country. They are adored by BBQ enthusiasts everywhere for their finger-licking taste. These delectable bites of tender, juicy meat are made from the point cut of beef brisket, which is known for its intense flavor and rich marbling. Smoking low and slow, followed by a saucing and final caramelization, creates a magical balance of a crispy crust and tender interior that truly sets burnt ends apart from other BBQ dishes.
I first had burnt ends when I lived in KCMO as a child. Our family would frequent Gates BBQ where the staff are infamously known for their vivacious "How may I help you" at the door. I remember my first of rich and smokey, melt-in-your-mouth morsels. From that moment on, I was hooked. I've grown up eating copious amounts of bbq my whole life, and burnt ends are by far my favorite cut. Whether you call them burnt ends, burned edges, or meat candy, this dish is sure to tantalize your taste buds with its juicy, tender, and oh-so-moist flavor.
The Origin Of Brisket Burnt Ends & African American BBQ Heritage
Originating in the BBQ mecca of Kansas City, the story of burnt ends embodies the soulful spirit and ingenuity that have defined the African American BBQ tradition for generations.
Legend has it that African American pitmasters came up with the idea giving away the less desirable, overly charred bits of brisket to customers in long lines as a they waited for their order. Burnt Ends, transforming meat scraps into a delicious, crispy, tender, smoky, and sweet dish that quickly became a hit with his customers. They are now one of the main dishes that make Kansas City BBQ distinctly Kansas City.
The creation of brisket burnt ends represents not only the delicious results of BBQ innovation but also the story of how many dishes, like this one, where black people had to creatively make something out of nothing, showcasing their resourcefulness and ingenuity in the face of limited resources.
Despite their significant role in the evolution of American BBQ, the contributions of African American pitmasters have often been excluded from the history books. However, their unique techniques and delicious dishes continue to inspire BBQ enthusiasts and lead the way in BBQ innovation.
Here are a few books from black pit masters that I love Bludso's BBQ Cookbook & Rodney Scott's World of BBQ.
Cooking Tips For The Best Burnt Ends
Use high-quality meat: Select brisket cuts with good marbling for maximum flavor and tenderness.
Trim carefully: Trim away excess fat to ensure even cooking and prevent flare-ups but don't get rid of all of it. I find that trimming the fat cap to about 1/4″ keeps the meat moist while allowing it to crisp up nicely.
Season generously: Whether using just salt and pepper or a dry rub when applying, make sure to cover the brisket completely and season generously for optimal flavor and to create a fantastic bark.
Regulate grill temperature: Make sure to keep a consistent temperature between 225-250°F throughout the cook. Cook the brisket low and slow over indirect heat.
Regulate meat temperature: Use a probe thermometer and aim for an internal temperature of 212°F.
Spritz your meat: Occasionally spritz your meat with a 3-to-1 blend water/stock to apple cider vinegar to help to keep the brisket from drying out.
Wrap your meat: Once your meat reaches an internal temperature of 165°F, wrap your brisket point in butcher paper or aluminum foil for the final stage of cooking to help trap moisture and prevent drying.
Frequently Asked Questions
What part of the cow do burnt ends come from?
Honey, let me tell you about these decadent and delicious burnt ends. They come from the most flavorful cut of beef, the brisket, located right in the chest area of that gorgeous cow. And when it's slow-cooked to perfection, you get the most succulent, juicy slices or, even better, those bite-sized pieces with a crispy bark that burst with flavor. It's simply divine, darling!
What is the best temperature to cook the brisket?
When cooking a brisket perfectly, you want to keep the heat just right. Aim for a temperature between 225°F to 250°F. The meat has time to cook slowly and evenly, making it oh-so-tender and juicy. And don't forget, keeping that temperature steady is critical, so be sure to use a top-notch thermometer. Trust me; it'll make all the difference.
Can Burnt Ends be prepared ahead of time?
Yes, you can definitely prep those burnt ends ahead of time. Just cook that brisket to juicy perfection, let it chill in the fridge overnight, and voila! The flavors will have had all night to mingle and mix. Then when ready, warm them up in the oven with your fave BBQ sauce until they're all hot and saucy.
What type of wood chips are best to use for burnt ends?
Ladies and gents, when it comes to getting the perfect smoky flavor in our burnt ends, the type of wood chips we use is crucial. Here's a rundown of some popular options to consider:
Hickory: This wood delivers a bold smoky flavor, and it's perfect for pork dishes.
Mesquite: This wood imparts a rich and robust flavor ideal for beef and poultry.
Cherry: This wood offers a mild, fruity flavor versatile enough for all meats.
Remember, a little goes a long way with wood chips, so use them sparingly to avoid overpowering the flavor of your delicious burnt ends.
How do you know when the brisket is ready?
To determine if a brisket is fully cooked, monitor its internal temperature, aiming for 203-212°F. Use a meat thermometer to check the temperature in the thickest part, away from bone or fat. Alternatively, insert a thermometer or knife in the center of the brisket; if it goes in smoothly, it's ready. Brisket is a large and tough cut, so be patient and allow for a long cooking time. Check for doneness and avoid slicing or serving too early to allow for complete cooking.
How to trim your brisket for burnt ends?
If you are only making burnt ends, be sure to have a chat with your local butcher and ask them to cut the brisket point for you. I did this to avoid paying for a whole brisket. If you are looking to make the whole slab make sure to tune into the video here:
How often to spray brisket?
Wait 2-3 hours for the rub to set and the crust to form. Then spray brisket every 30 minutes to an hour with a 3 to 1 stock/water to apple cider vinegar mixture. This helps keep it moist and stops it from burning.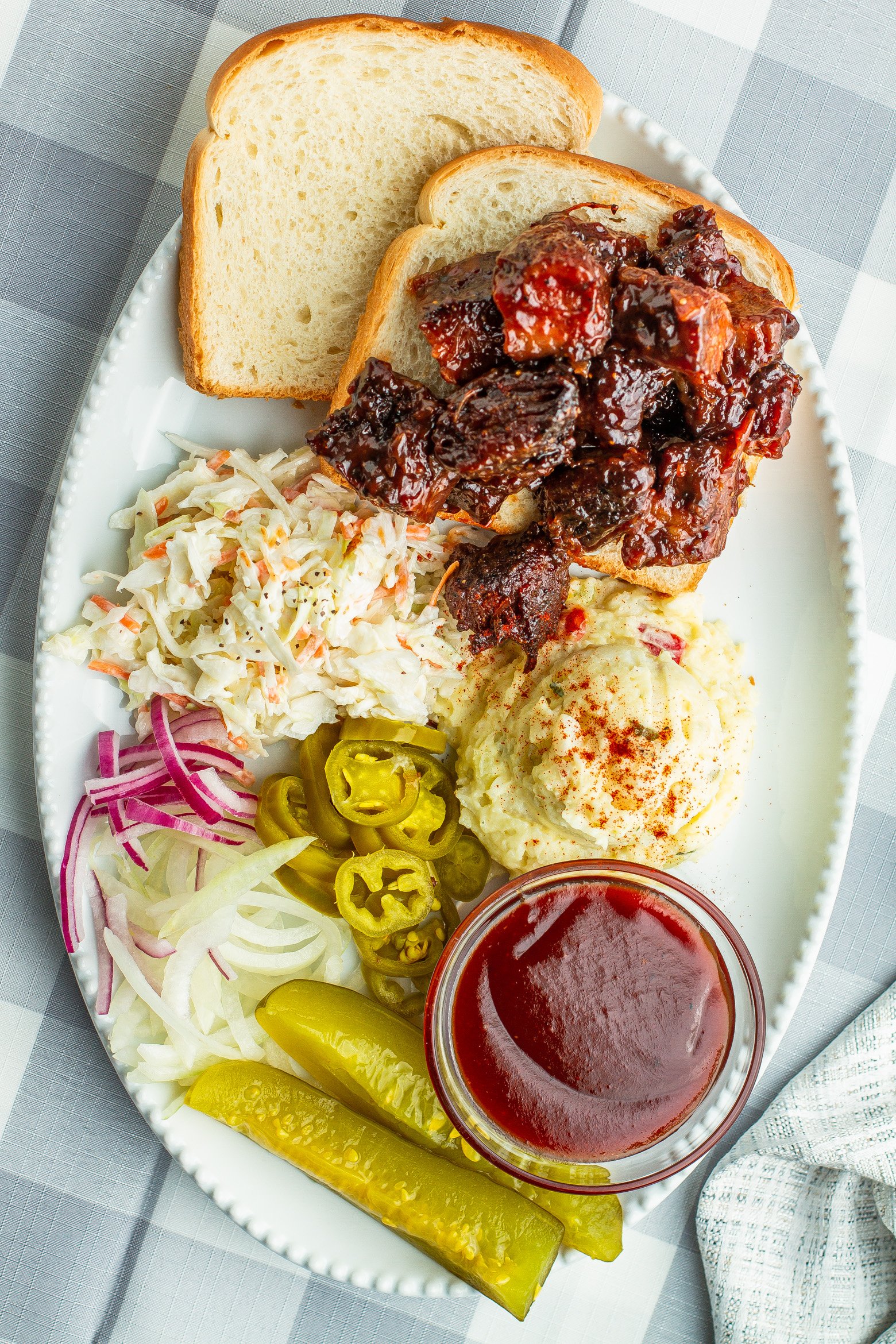 Ingredients
1

(4-5 lb) brisket point

1-2

teaspoons

oil

¼

cup

apple cider vinegar

¾

cup

beef stock or water

1/2

cup

dark brown sugar

1

cup

barbecue sauce
Brisket Spice Rub
3

tablespoons

kosher salt

3

tablespoons

coarse black pepper

3

tablespoons

dark brown sugar

2

tablespoons

smoked paprika

1

tablespoon

garlic powder

1

tablespoon

onion powder

1

teaspoon

celery seed
Instructions
Prepare Spice Rub
All all spices to a bowl and whisk until thoroughly combines. Season brisket with 2 tablespoons of the spruce rub for every lb of brisket.
Prepare Brisket On Smoker or Gas Grill
Prepare the brisket: Rub oil on all sides of the brisket. Season both sides generously with spice rub.

Set up smoker: Heat smoker to 225-250°F. If using the gas grill, one side of the grill will be lit, and the other side will be used for indirect heat. Light the gas burner on one end of the grill on medium heat and let run 15 minutes with the lid closed. Adjust heat level up or down until temperature stabilizes between 225-250°F. Place a drip pan under the grates on the opposite empty side of the grill.

Add wood chips: Soak wood chips in water for at least 30 minutes. If using a grill, drain and place the chips in a foil packet with small holes poked in the top. Place the foil packet directly on the lit burners or on top of the grates above the lit burners.

Place the brisket on the smoker: Put the brisket (fat side down) on the grates. If using the grill place the brisket above the drip pan on the empty side of the grill, away from direct heat. Cover the grill and let it smoke for about 1 hour per pound of brisket, or until the internal temperature reaches 165°F. The amount of time will depend on the size of your brisket.

Maintain temperature: Keep the temperature between 225°F and 250°F by adjusting temperature as needed.

Spray Occasionally: Combine water and apple cider vinegar in a spray bottle. After the crust has set (1-2 hours) you can begin to spray brisket every 45 minutes to 1 hour.

Wrap the brisket: Once the brisket reaches an internal temperature reaches 165°F, carefully wrap the brisket in foil or butcher paper to help retain moisture.

Finish cooking: Continue cooking the wrapped brisket until the internal temperature reaches 190°F, approximately 1-2 hours more.

Cut into cubes: Transfer the brisket from the smoker to a cutting board. Slice into 1-inch cubes. Place chopped brisket in the drip pan and add bbq sauce, brown sugar, and 1-2 tablespoons of additional spice rub. Toss until cubed brisket is coated.

Finish Smoking: Place the uncovered pan back on the smoker for 1-2 more hours, or until the sauce starts to reduce and thicken and the burnt ends read an internal temperature of 225°F.

Serve warm!
Notes
To intensify the flavor, liberally season your brisket point and wrap it in plastic wrap. Put it in the refrigerator to marinate for 8 hours or overnight.

Resist the urge to open grill often, which will cause the temperature to fluctuate.
If using wood chips, change them out every 45 minutes to 1 hour.
After the crust has set (1-2 hours) you can begin to spray brisket every 45 minutes to 1 hour.
Nutrition
Calories:
684
kcal
|
Carbohydrates:
50
g
|
Protein:
65
g
|
Fat:
24
g
|
Saturated Fat:
8
g
|
Polyunsaturated Fat:
1
g
|
Monounsaturated Fat:
11
g
|
Trans Fat:
0.003
g
|
Cholesterol:
187
mg
|
Sodium:
4290
mg
|
Potassium:
1356
mg
|
Fiber:
3
g
|
Sugar:
40
g
|
Vitamin A:
1284
IU
|
Vitamin C:
1
mg
|
Calcium:
95
mg
|
Iron:
8
mg
*Nutrition information is a rough estimate.
**The equipment section above contains affiliate links to products I use and love. As an Amazon Associate I earn from qualifying purchases.