This is one of my favorite go-to recipes thats fast to prepare and great for a healthy meal.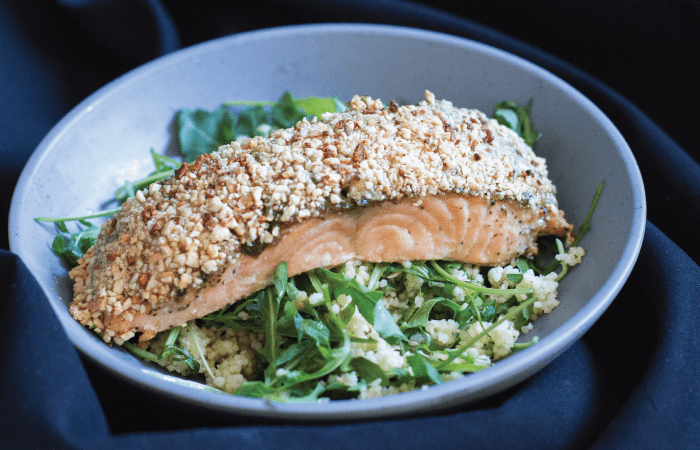 Boy did I need this dish! After two days of trying to record my recipe video, alone, I had worked up an appetite worthy of eating this whole 1 1/2 pound fillet. Did I actually eat it all? Ha, I will never tell. That is a secret best kept between me and the big guy upstairs. But if you decide to, I won't judge. It's just that good.
I am learning so much as I take control of production for my site. I've been using a DSLR camera for the first time and those "bad boys" are tricky. I can tell that everyday my photography skills are improving. And I wouldn't say I've mastered but I've pretty much found my way around photoshop, illustrator, final cut pro and next I am going to teach myself html coding.
Sounds like fun, I know.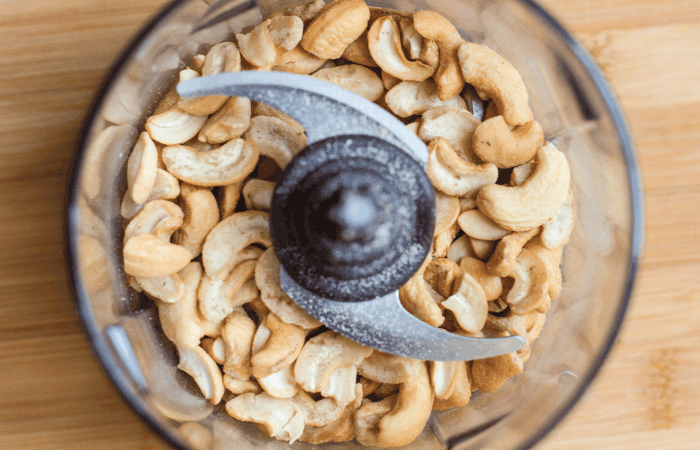 Below is my very first video project. I designed, developed, produced, directed, shot, and edited everything in this video. Is it a little blurry? Yes. Is the lighting a little funky? Mmm hmmm. Is the sound kind of pitchy? You betcha. Nevertheless, I still love what I created and can't wait to do the next one. I hope you enjoy it too.
You learn a lot about yourself while recording your own video, for instance, all of the annoying things that you say but you had no idea that you said them. I apparently love to say "bad boy" whether it makes sense to or not. It's quite embarrassing. No one, I repeat, no one should say it as many times as I did unless they are getting signed to a record deal, and I am not.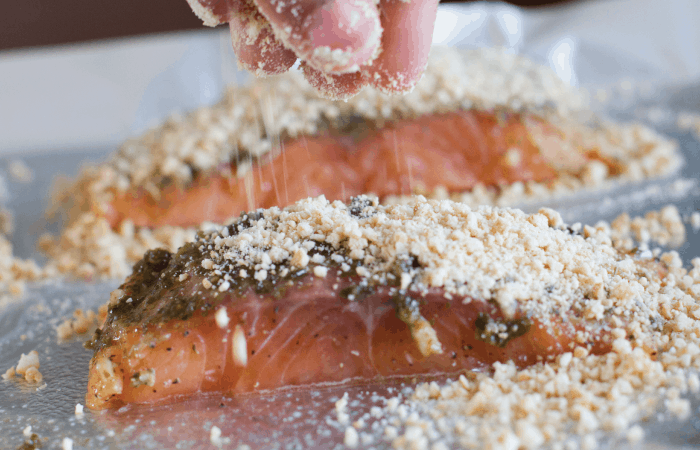 For the recipe, I used a food processor to break down the nuts first. I know not everyone has a food processor so don't feel like its is a necessary tool. You will just need to use a little more elbow grease. When I didn't have a food processor or a blender I would merely put my cashews in a ziplock bag and pounded them with a canned good until the nuts were roughly where I wanted them to be. Sometimes you just gotta get scrappy with what you got.
As you can see in the video the salmon is so easy to make.  I made a whole fillet but you can also use the recipe for individually cut pieces. If you do, I would recommend cutting down the cooking time by 3-4 minutes.
I used cashews to crust the salmon but you can use any type of nut that you want. As a matter of a fact, you can do this on any type of fish that you want. I have also tried it on trout and it worked out great.
I mentioned in the video that store bought pesto can be used for the recipe but if you want to take things up a notch feel free to use my recipe for homemade pesto sauce. It's out of this world. Enjoy!
Is frozen salmon just as good as fresh?
To be honest, Yes. Freezing fish does not cause the fish to lose nutrition or freshness; it actually locks it in. Make sure to thaw your frozen Salmon by leaving it in the refrigerator for 24 hrs or submerging it in cold water at least an hour before cooking. 
Can other types of nuts be used?
You can definitely use any nuts you prefer on this bad boy; here I go again, whew. Anyway,  you can use peanuts, pistachios, pecans, any!
Pesto is an Italian derived sauce, which ingredients include basil, garlic, and Pine Nuts. It's bright green in color with a thick puree like consistency.
Can this dish be made on the grill?
Yes, you can use a grill to cook your nut crusted fish. You'll need to use a cast-iron skillet and or heavy-duty aluminum foil.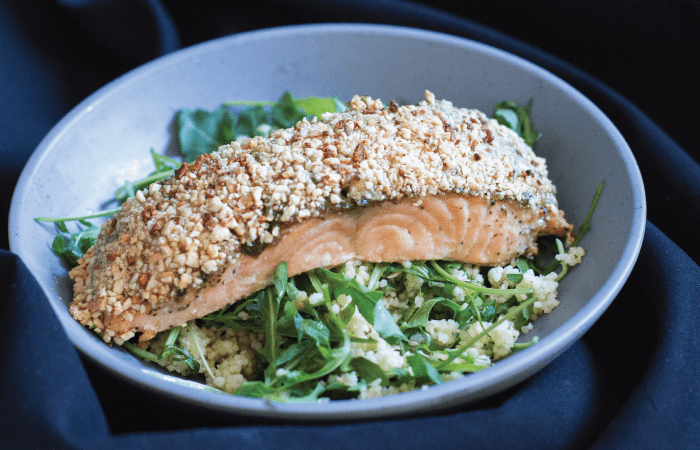 Ingredients
1

salmon fillet

1½ pounds

1 ½

cups

halved cashews

1 ½

tablespoons

pesto

¼

teaspoon

grated lemon rind

1/2

lemon

1

teaspoon

olive oil

1

teaspoon

salt

pepper, garlic powder

1/2

teaspoon

black pepper

1/2

teaspoon

garlic powder

1 ½

tablespoons

honey

cooking spray
Instructions
Preheat oven to 425 degrees. Line a baking sheet with aluminum foil; lightly spray foil with cook spray; set aside. In a food processor, combine cashews, lemon rind, and some salt, pepper and garlic powder. Pulse until coarse crumbs form

Place salmon on prepared sheet and pat dry with a paper towel. Rub lemon slice against the meat of the salmon on each side. Lightly brush olive oil on the side that is facing down. Season each side with salt, pepper, and garlic powder.

In a separate bowl mix together pesto sauce and honey. Spread top of fillet with pesto and honey mixture; then top with crumb mixture, pressing gently to adhere. Roast salmon for 15 minutes.

Sprinkle with additional lemon and honey before you serve.
Nutrition
*Nutrition information is a rough estimate.
**The equipment section above contains affiliate links to products I use and love. As an Amazon Associate I earn from qualifying purchases.