You won't be able to get enough of these Southern Brown Sugar Baked Beans. Loads of beef bacon, brown sugar, and spices help transform borning canned baked beans into this deep, rich, sweet, & smoky side dish. This is the perfect quick recipe for your next family cookout; no one would ever suspect they are not from scratch!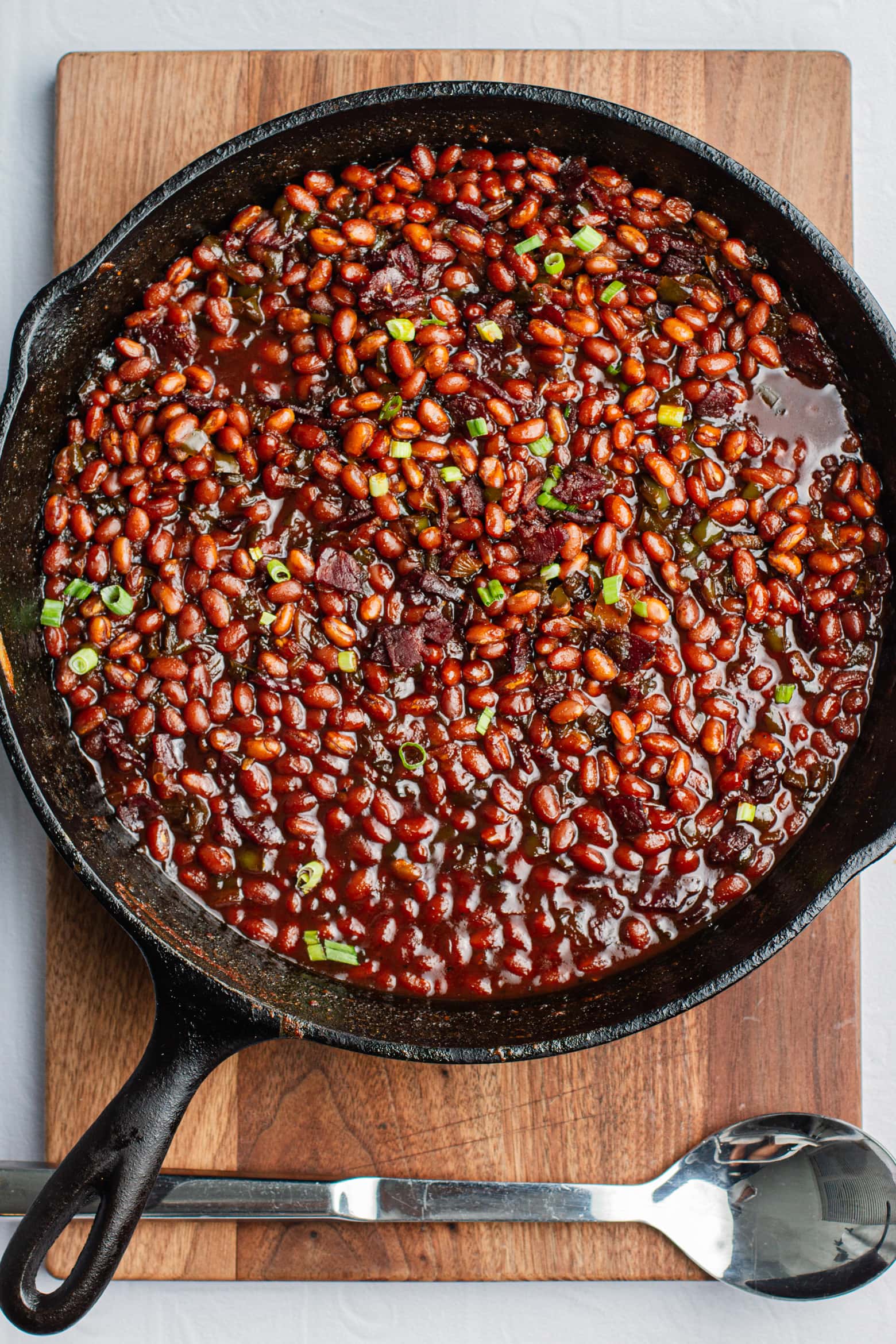 How does that saying go? Suns Out Buns Out? Well, it might need an upgrade to Sun's Out, Beans Out … that didn't quite work. I'm trying to say that cookout season is among us and these Southern Brown Sugar Baked Beans need to be the first thing on your menu.
Culturally, baked beans are a must at any black folks' cookout and are made simply by elevating canned baked beans with veggies, meats, and spices to bump up the flavor. If you love cookout-friendly recipes with low effort, high reward — and big flavor — then this one is perfect!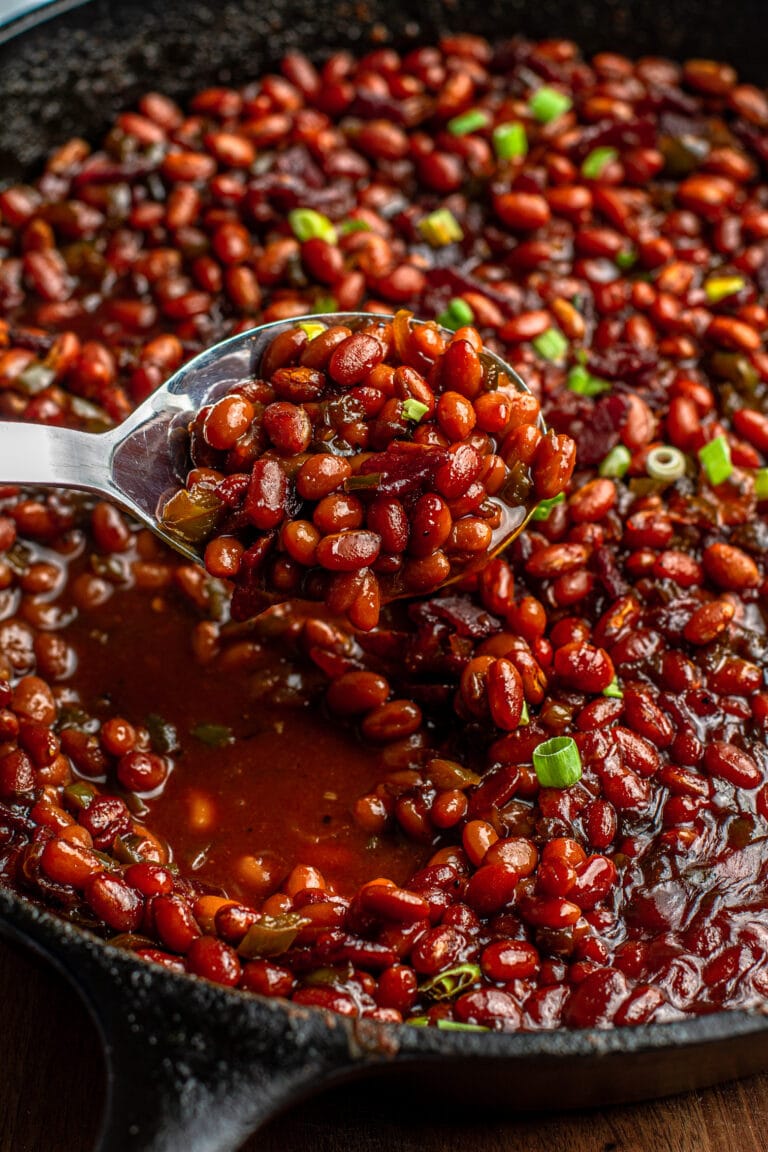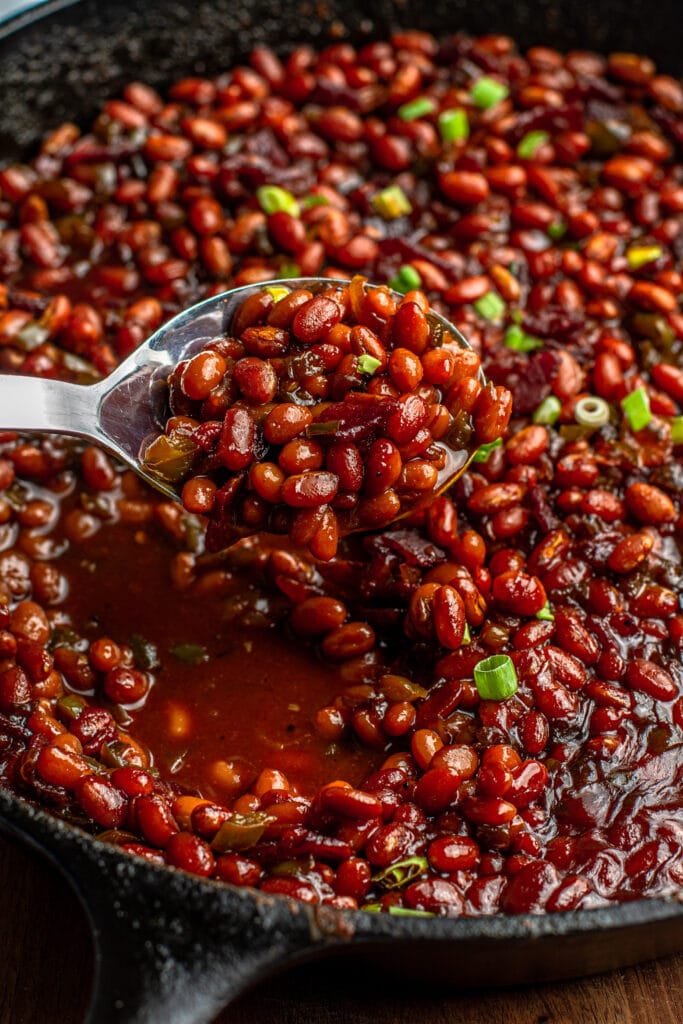 Southern Brown Sugar Baked Beans are typically made from scratch, starting with dry beans that are soaked overnight. Then they're simmered on the stove until tender before baked in the oven with your favorite meats and spices.
This shortcut baked bean recipe uses canned baked beans as our base. I know, I know … some of y'all are diehard from scratch folks, and that's OK. But suppose you want all the flavor with a fraction of the effort. In that case, this recipe is for YOU! Store-bought baked beans, brown sugar, and beef bacon come together to make a sweet, savory, and smoky side dish that will have everyone asking for seconds.
If you're looking for more southern side dish inspiration try these recipes >>> Southern Potato Salad, Baked Mac & Cheese, Instant Pot Southern Greens, Fried Corn.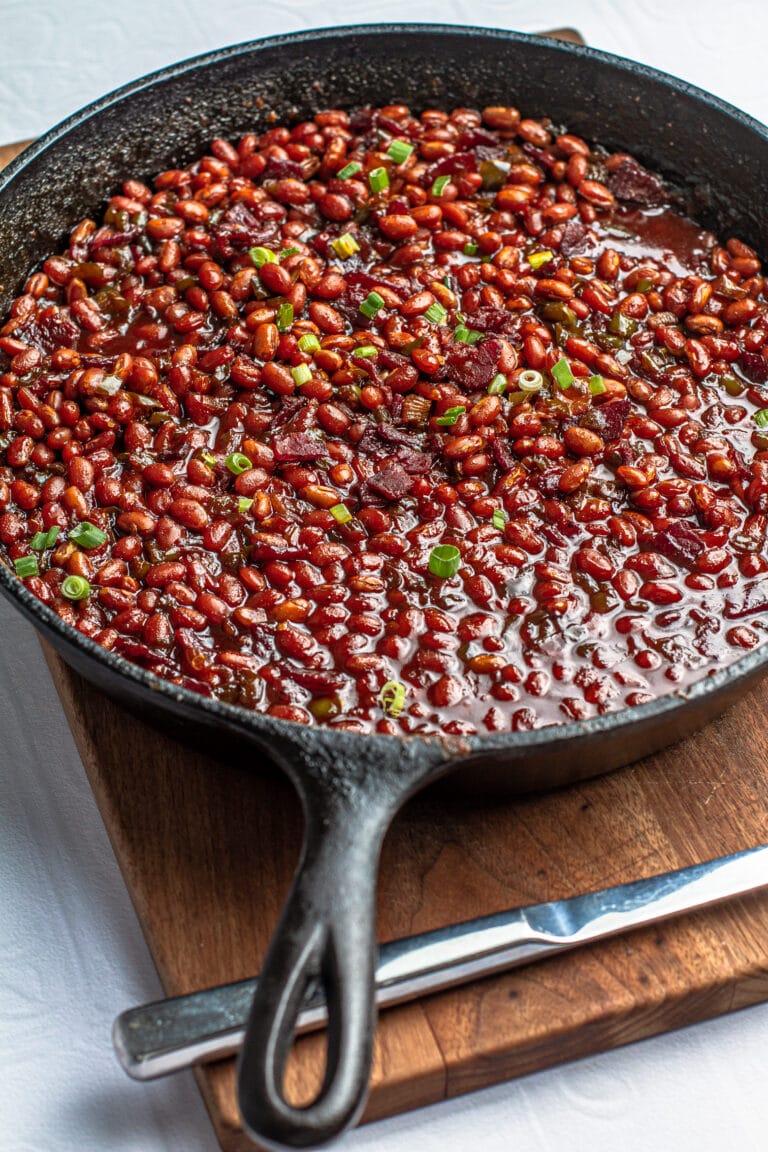 How Southern Baked Beans Got Their Start
Whether you call them southern baked beans, Brown Sugar Baked Beans, or Soul Food Bake Beans, the common sentiment is that these bad boys are packed with flavor (FLAVA)!
Baked beans from the southeastern United States are rich and savory. They typically include ketchup, barbeque sauce, brown sugar, Worcestershire sauce, mustard, and meat like bacon or ground beef. The sweetness of brown sugar is complemented by the smokiness of crisp bacon to give this variety a southern elegance and sweet-salty flavor notes.
Some southern-style preparations include spices like Creole and/or Cajun seasoning to give their beans an added spiciness and herbal flavor.
Did You Know?

The baked bean has a long history, albeit one that is somewhat murky. The most widely accepted theory is that the canned variety derives from Native American cuisine, particularly dishes that were prepared by indigenous peoples in the northeast and baked in earthen pots with maple syrup and, sometimes, game meats.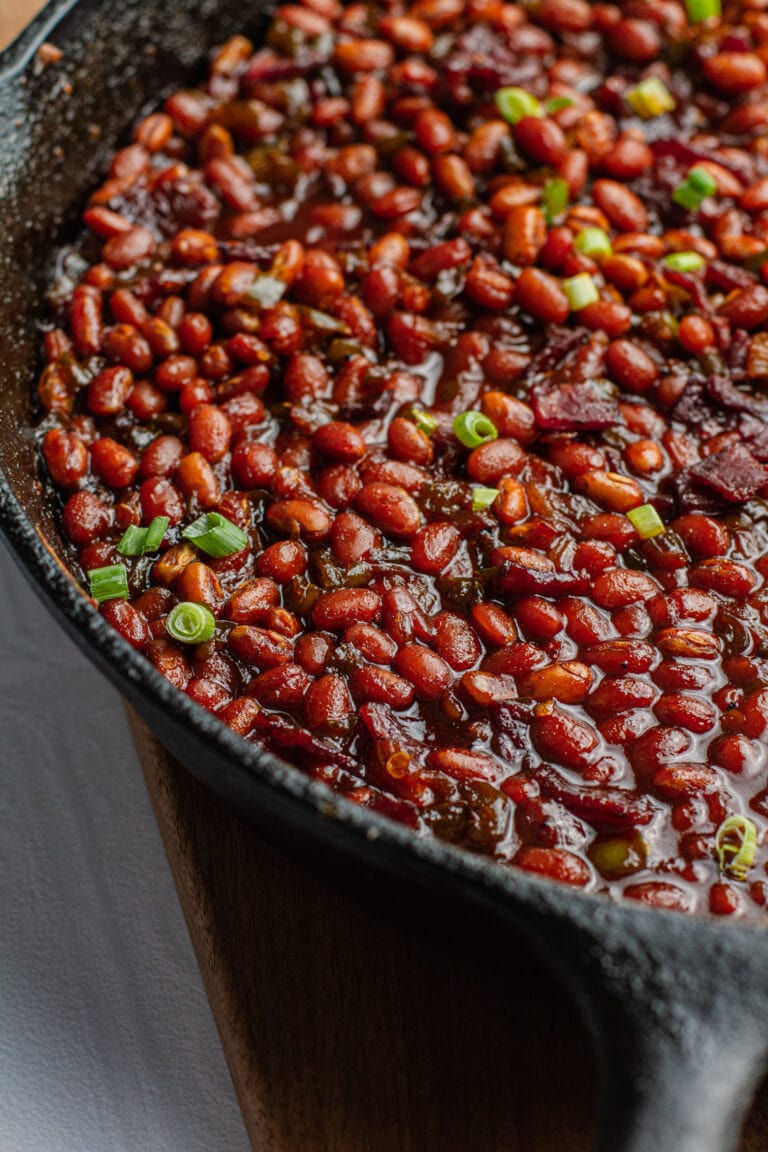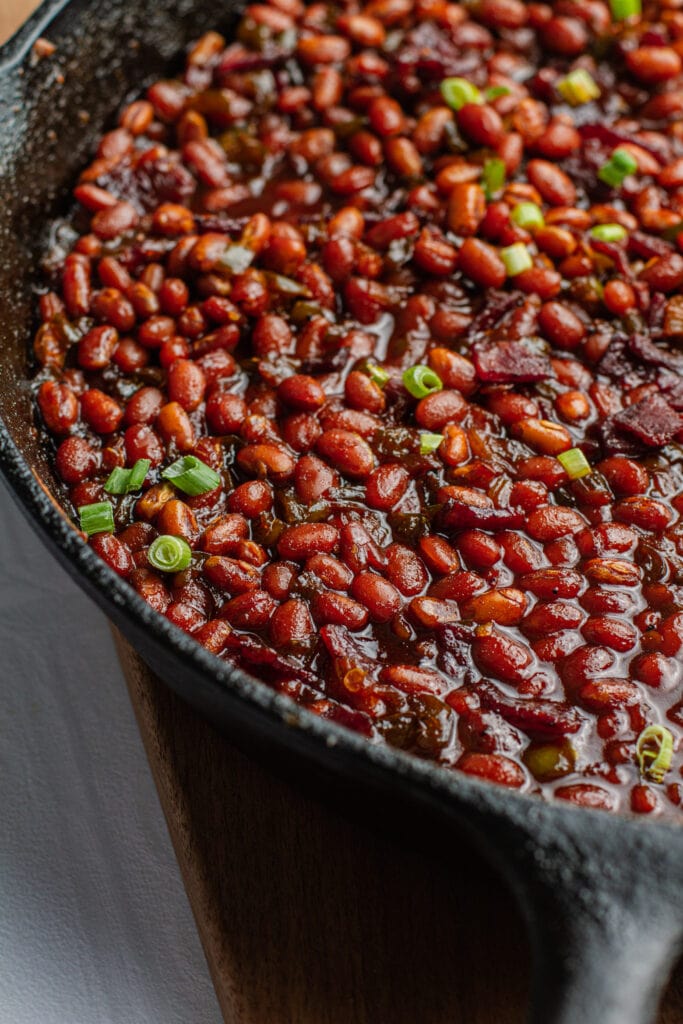 What You'll Need
Canned baked beans – since I don't eat pork, I use Bush's Original Vegetarian Baked Beans, but you don't have to. But I wouldn't use any extensive flavor variations to avoid flavors clashing.
Beef Bacon – adds a smoky, salty flavor and additional texture. Another southern variation includes browned ground beef as a meat alternative. This is my fave brand.
Onion – when cooked down until tender, onions add a caramelized sweetness.
Garlic – more is always more!
Peppers – bell peppers help to cut through the sweetness while jalapenos add a kick of spice.
Spices – garlic powder, smoked paprika, salt, and pepper help to round out and season the beans
Maple Syrup – a hint of maple syrup adds a lovely richness to the beans.
Brown Sugar – this is what gives these Brown Sugar Baked Beans their signature flavor
Ketchup – gives the sauce body and adds a touch of acidity and sweetness.
Mustard – I use dijon mustard, but you can also use classic yellow, stone ground, or creole mustard
Worcestershire sauce – adds a bit of savory, tangy umami flavor.
Green Onion – for a pop of color and freshness but is totally optional.
How To Make Baked Beans
Canned baked beans help to give you a great head start, but a few simple ingredient upgrades help make these beans magical.
STEP ONE: First, fry the bacon over medium-high heat to render out the fat and get it crispy. You'll want to do this in a large skillet over medium heat. Once crisp, remove the bacon with a slotted spoon and set it aside on a paper towel-lined plate. Leave the residual fat in the skillet.
STEP TWO: Next, reduce heat to medium and add the onions, bell pepper, and jalapeno to the bacon grease and cook until they're softened and slightly caramelized. Then add the garlic and cook for an additional minute.
STEP THREE: Stir in the remaining spices and sauces and bring to a boil for 5 minutes to help the sauce thicken. Remove beans from heat and stir in the bacon before transferring them to the oven to continue their cook for 30 minutes or until thick and bubbly.
STEP FOUR: Allow beans to cool, garnish with chopped green onion and serve warm.
Tip - Don't Drain The Baked Beans
Use the entire contents of the baked beans can and do not drain them. The sauce in the can serves as a great base and will benefit from adding brown sugar, maple syrup, ketchup, mustard, and other spices.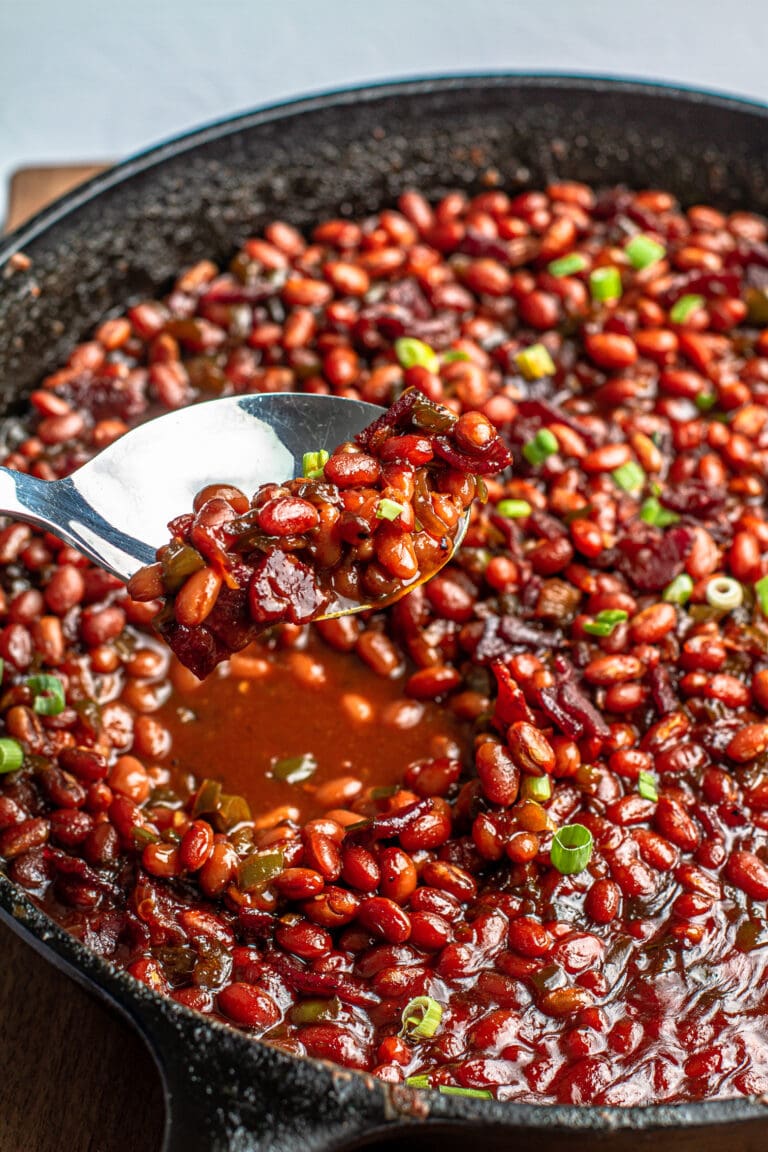 Alternative Cooking Methods
Slow Cooker:
Prep the recipe by first cooking the bacon, onion, bell pepper, and jalapeno garlic over the stovetop as the recipe instructs.
Spray a 6-quart or larger slow cooker with cooking spray, then add all the cooked ingredients and the remaining ingredients to your slow cooker.
Stir the mixture and cook.
Add it to the slow cooker that's been sprayed with non-stick spray.
Cook on low for around 5 hours and on high for 3 hours.
Check on them every couple hours to stir so they don't burn.
Stove Top: Prepare the beans on the stove, as directed in the instructions. Instead of transferring the beans to the oven, cook them uncovered on the stovetop over medium heat. Cook for 15-20 minutes to allow the sauce to thicken to your desired consistency. Stir occasionally. And then transfer them to a 6-quart or larger slow cooker. Cook on low for 3 hours at the most, stirring about halfway through the cooking time.
Variations & Customizations
Can You Add Ground Beef?
Absolutely! Adding ground beef is another common way to make Southern-style baked beans. You can add in a pound of ground beef at the same time that you add the bacon. If you are omitting the bacon, you can simply add it in its place.
How To Make Them Vegetarian
Make sure to grab vegetarian baked beans. From there, you can simply omit the bacon used in this recipe.
Get creative with your beans. If you like more beans than sauce, feel free to add another can of beans! You can use any type of bean: pinto beans, black beans, great northern beans, kidney beans, or navy beans.
Swap sweeteners. I find that dark brown sugar gives the baked beans the best rich flavor, but light brown sugar also works. If you aren't a fan of maple syrup, try swapping it with molasses for a deeper flavor or honey for a lighter taste.
Make them vegetarian. Make sure to pick up vegetarian baked beans. After that, you can simply omit the bacon used in this recipe.
Bring the meat. Adding browned ground beef is a common protein alternative for southern baked beans. If you want to take it to the old school, add hot dogs or sausages to the mix.
Make it Texas-Style – Substitute barbecue sauce for some of the ketchup to give it that authentic Texas flavor.
How To Make These Beans More Kid Friendly
The heat level is easy to control here. Simply omit the jalapeno and hot sauce. Smoked paprika is pretty mild, but you can skip that too if concerned.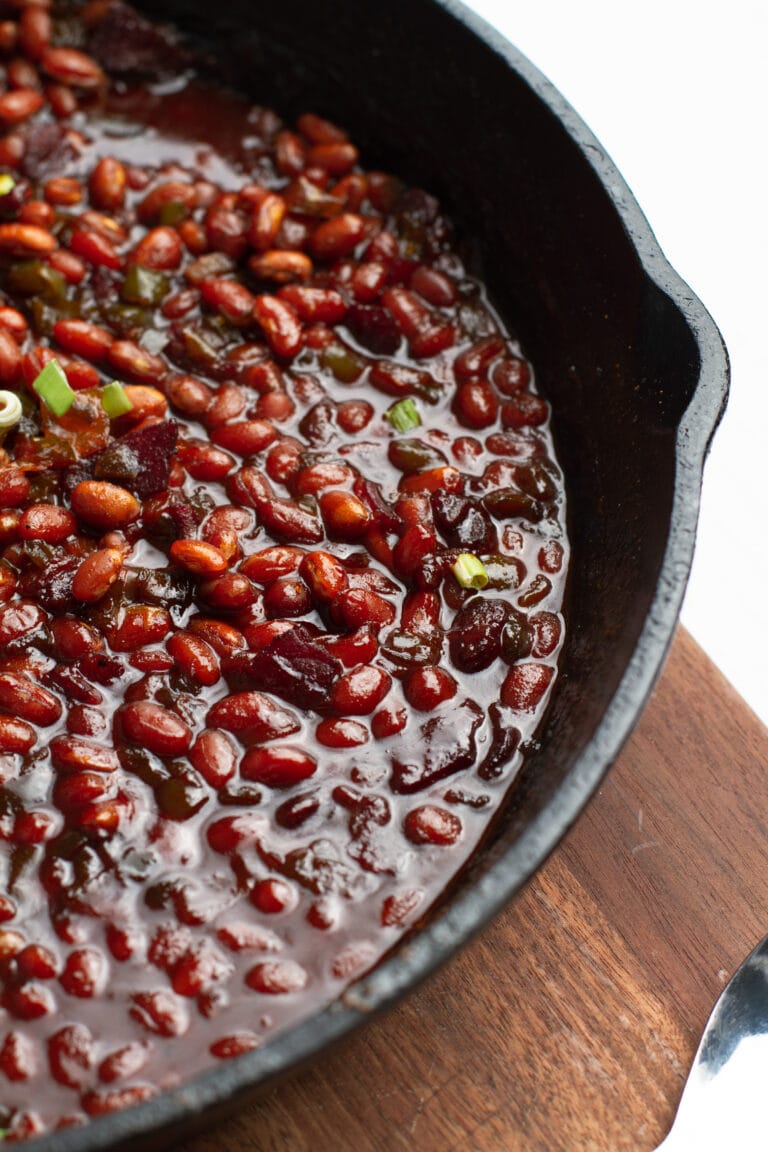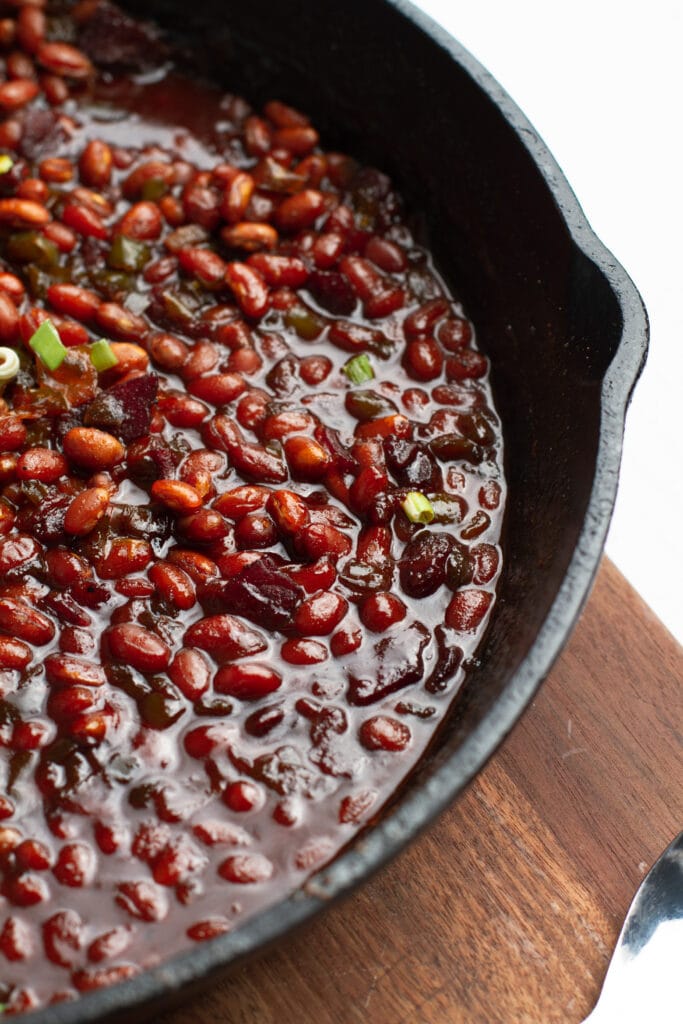 Make Ahead, Storing, Reheating & Freezing
Yes, you can make these baked beans ahead, and I personally think they taste better the next day.
How To Store & Reheat?
After cooking, you must allow them to cool to room temperature and place them in a tightly sealed container or storage bag.
In the fridge: store any leftover baked beans in airtight bags or containers in the refrigerator for 3-4 days. Simply reheat in microwave, on stovetop over medium heat, or in the oven in a covered baking dish at 350°F degrees F for 20 minutes or until warmed through and bubbly.
In the freezer: Transfer baked beans to freezer-safe bags or containers once cooled. The beans may be kept frozen for up to three months. Allow the beans to thaw in the refrigerator before reheating on the stovetop.
How To Get Started
Chefs usually refer to recipe preparation as "mise en place". Yep, that's french and sounds super cheffy, which I am not. However, I firmly believe it is easier to follow a recipe when you prep in advance. Here are a few things I would ensure to have and do before the cooking begins.
Read through the recipe. This is the first time making a particular recipe; take a couple of minutes to read it through from start to finish. It's always frustrating to find out mid-preparation that a sauce needs to simmer for 45 minutes when you plan to have dinner on the table in 20 minutes.
Gather Your Tools:
Cast Iron Skillet – I love using my cast iron skillet for this recipe because I can do everything in it, and it minimizes my clean-up. You don't need a cast iron, but using an oven-safe skillet or pot is essential if you plan to directly transfer the baked beans to the oven. Suppose you don't have an oven-safe pot. In that case, I recommend starting the recipe in a large skillet. Before going into the oven, carefully transfer the beans to a 13×9 baking dish.
Recipe Prep:
Preheat oven to 350°F
Chop the onions, bell peppers, and bacon
Dice the jalapeno
Mince the garlic – I prefer to just use my handy garlic press.
Measure out all your ingredients as per the recipe
Open the canned baked beans and don't drain any of the liquid.
Now you're ready to get started!
Serves Well With
Check out these delicious recipes next:
Ingredients
6

strips

beef bacon cut into 1/2 inch peices

2

(28 oz) cans

vegetarian baked beans,

(Bush's® original)

1

medium

onion,

diced

1

large

bell pepper,

diced

1

jalapeno,

diced

4

garlic cloves,

minced

½

tablespoon

garlic powder,

1/2

tablespoon

smoked paprika,

3/4

cup

brown sugar,

1

tablespoon

hot sauce,

3

tablespoons

ketchup,

1

tablespoon

dijon mustard,

1

tablespoon

maple syrup,

1/4

teaspoon

kosher salt,

1/4

teaspoon

black pepper

chopped green onions,

optional
Instructions
Preheat oven to 350°F degrees.

On medium-high heat, fry bacon in a large (oven-safe)heavy bottom skillet or pot until browned. Remove bacon from the skillet and place on a paper towel-lined plate. Preserve the leftover bacon grease in the skillet.

On medium heat and add onions, bell pepper, and jalapeno. Sauté for 5 minutes then add garlic and saute for 1 minute, or until fragrant. Stir in garlic powder, paprika, brown sugar, hot sauce, Worcestershire sauce, mustard, syrup, salt, and pepper. Bring to a light boil for an additional 5 minutes. Remove from heat and stir in cooked bacon.

Carefully transfer the skillet to the oven and bake for additional 30 minutes until bubbly and the sauce thickens to a deep amber color. Garnish with chopped green onion and serve warm.
Nutrition
Serving:
8
g
|
Calories:
89
kcal
|
Carbohydrates:
22
g
|
Protein:
1
g
|
Fat:
0.3
g
|
Saturated Fat:
0.1
g
|
Polyunsaturated Fat:
0.1
g
|
Monounsaturated Fat:
0.1
g
|
Cholesterol:
1
mg
|
Sodium:
171
mg
|
Potassium:
118
mg
|
Fiber:
1
g
|
Sugar:
19
g
|
Vitamin A:
728
IU
|
Vitamin C:
25
mg
|
Calcium:
25
mg
|
Iron:
0.4
mg
Equipment
*Nutrition information is a rough estimate.
**The equipment section above contains affiliate links to products I use and love. As an Amazon Associate I earn from qualifying purchases.