Chicken Salad Sandwich – my homemade chicken salad recipe is easy to make and loaded with crunchy celery, juicy chicken thighs, sweet relish and tossed in a creamy mayo dressing. This uber versatile classic is perfect for meal prep and can be served on sandwiches, green salads, crackers!
---
THIS RECIPE IS SPONSORED BY DANDY FRESH PRODUCE
---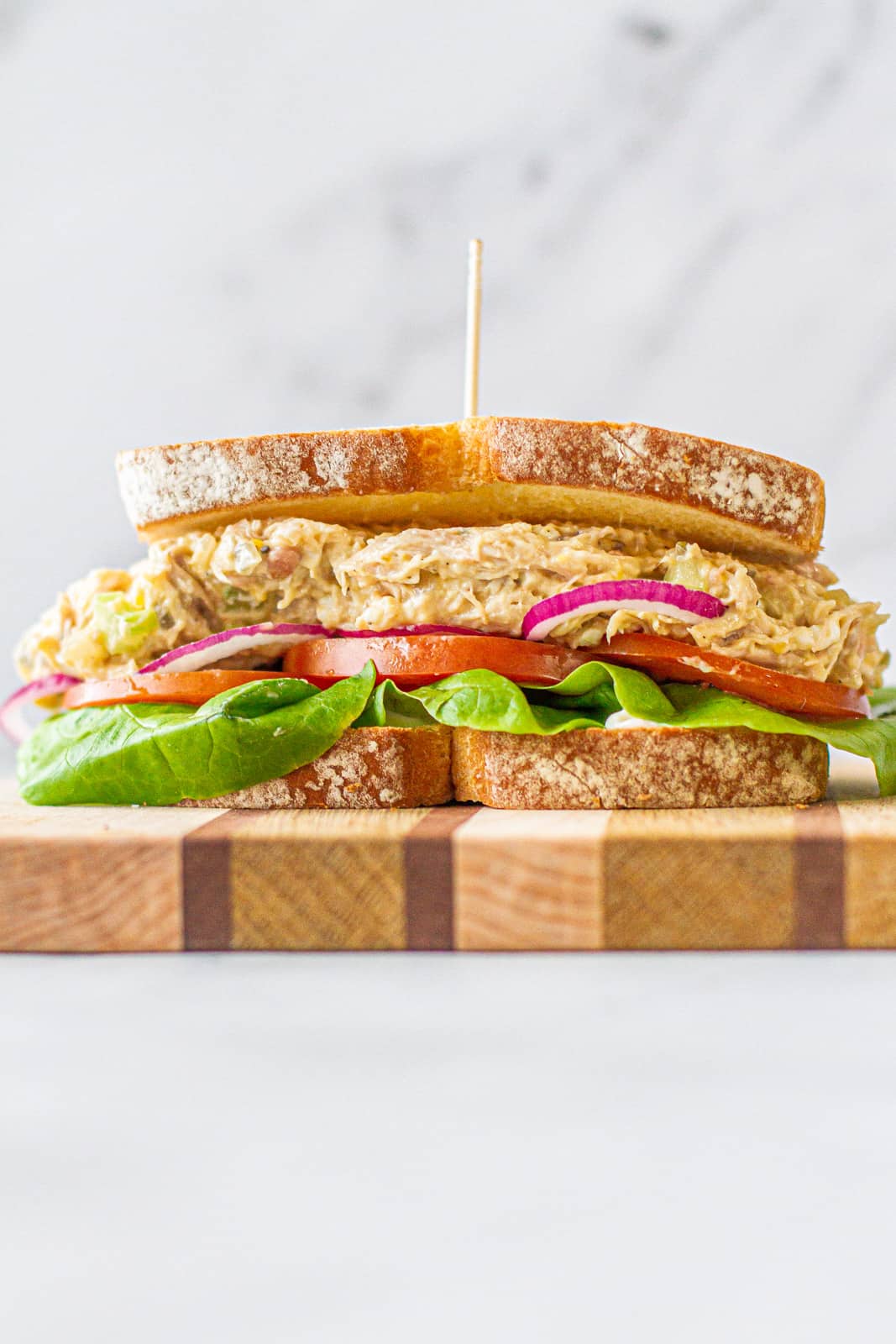 Chicken salad sandwiches were always a go-to meal in our household growing up. We kept it pretty simple when it came to ingredients, crunchy diced celery, sweet relish, hardboiled eggs, mustard, mayo, seasonings, and of course, chicken.
Like potato salad, its preparation is very personal and brings back a ton of nostalgia for most. I've tried all the chicken salad versions, but the best is always the kind I make at home.
When I make chicken salad at home, I prefer to use chicken thighs and cook them from scratch, but I've used a rotisserie chicken or two in my day when in a crunch for time. Speaking of time-saving, I also like to chop in Dandy Celery Sticks because they are already pre-washed, freshly cut, and add the perfect crunch to each bite. I'm always here for a good shortcut.
I alternate between chopping or shredding the chicken; it just depends on how I feel that day. But after I toss in all my ingredients, it comes out thick, creamy, and tangy every time, and when slathered between two slices of my favorite potato bread, nothing can beat it.
Chicken Salad Ingredients
Bone-in, Skin-on Chicken Thighs – my favorite part of the chicken is the thighs because they are more flavorful and stay moist. Chicken thighs will produce a darker salad mix, so if you prefer to use chicken breast or any other part of the chicken, you certainly can.
Dandy Celery Sticks – here's a store locator. Chopped celery adds the perfect crunch to each bite of chicken salad.
Mayonnaise – Use your favorite brand of mayonnaise or dressing. If you like your salad on the sweeter side, use miracle whip or add 1/4 teaspoon of granulated sugar to your dressing.
Spices – a balanced blend of onion powder, garlic powder, celery seed, salt, and pepper.
Liquid Smoke – Adds a smoky, woodsy flavor profile to the salad but is totally optional.
Chicken boullion – helps to penetrate the chicken resulting in extra flavorful meat.
Hardboiled Eggs – I like the finely chop my eggs, but if you like them chunky, have it your way.
Scallions – Not all my family members like onion, but I can usually get away with scallions as a replacement.
Lemon Juice – this is going to lift and brighten the chicken salad and a bit of tartness.
Hot Sauce – just a little goes a long way when you need a little kick of spice.
How to make chicken salad?
Add chicken, chopped Dandy Celery Sticks, onions, and seasonings to instant pot/pressure cooker and seal as instructed. Manually select pressure cook for 20 minutes. If you don't have an instant pot you can boil all the ingredients in a large pot until the chicken is tender. I prefer to use fresh chicken thighs although to save time you can also use a rotisserie chicken or chicken leftovers.
Drain & Shred chicken making sure to discard any bones, Cartledge, and skin. You can also reserve the stock and freeze it for later.
In a bowl whisk together mayo, relish, lemon juice, mustard, Worcestershire sauce, liquid smoke, hot sauce, and seasoning to make the dressing.
Toss and combine the shredded chicken celery, scallions, hardboiled egg, dressing then refrigerate until you are ready to serve.
To assemble a Chicken Salad Sandwich
On a slice of bread, spread a hearty helping of chicken salad.
Add your favorite toppings like lettuce, tomato, onion; top with a slice of bread, and enjoy!
How long can I store Chicken Salad in the fridge?
Chicken salad can keep in the fridge for 5 days in an airtight container. I don't recommend freezing it as the mayonnaise will split ad have a weird texture.
What to serve with chicken salad?
This chicken salad tastes delicious by itself, but you can also serve it with:
Of course, it goes great and types of bread, croIssant, rolls or baguette.
Keep it low-carb by making a Chicken Salad Salad. Just add a hefty scoop on top of your tossed salad.
Stuffed into pita pockets
Pile it on top of your favorite crackers, chips, or veggies for a quick snack.
Stuff it in a pita or lettuce wrap for some easy meal prep
Make it into bite-sized sandwiches for your next high tea!
More Delicious Chicken Recipes
Ingredients
Chicken Salad Sandwich
3

lbs

chicken thighs

(bone-in skin-on)

6-7

cups

water

¼

cup

chicken bouillon

4

Dandy celery sticks

divided (2 cut in half & 2 chopped)

1

yellow onion

quartered

1

tablespoon

kosher salt

4

eggs

hardboiled and chopped finely

2

scallions

thinly sliced

lettuce

optional

tomato

sliced (optional)

red onion

thinly sliced (optional)

sliced bread
Dressing
1 ¼

cup

mayonnaise

½

cup

sweet relish

2

tablespoons

fresh lemon juice

1

tablespoon

Worcestershire sauce

¼

teaspoon

liquid smoke

1

teaspoon

hot sauce

1

teaspoon

yellow mustard

½

tablespoon

garlic powder

½

tablespoon

onion powder

¼

teaspoon

kosher salt

¼

teaspoon

black pepper

⅛

teaspoon

celery seed
Instructions
Prepare chicken
Separate chicken thigh from the chicken skin. Place the chicken (thighs & skin), water, two stalks of celery, onion, bouillon seasoning, and salt into a 6 quart instant pot. Water should cover all the contents by at least an inch.

Seal the Instant Pot according to the manufacturer's instructions. Set the Instant Pot to manual, high pressure, for 20 minutes.

Quick pressure release the instant pot. Drain and transfer chicken to a sheet pan. Discard chicken skin and freeze or reserve stock for later. Let chicken cool until able to handle safely. Remove bones and gristle then shred chicken with a fork (or dice as preferred). Refrigerate chicken until you are ready to combine with the dressing.
Prepare Dressing
In a medium bowl whisk together all the dressings ingredients then refrigerate until you are ready to combine with chicken.
Prepare Salad
In a large bowl add shredded chicken, dressing, chopped celery, scallions, hardboiled eggs and toss until thoroughly combined. Cover and refrigerate until ready to serve. The longer the chicken salad has to rest and chill better after it tastes. If possible, make a day ahead.
Assemble Sandwich
Spread chicken salad between two slices of bread and top with your favorite fixings like lettuce, tomato, and onion. This salad also pairs well with your favorite crackers.
Notes
To cut time start with rotisserie chicken and avoid having to cook the chicken from scratch. Remove skin and bones and shred the meat. You will need approximately 2 lbs of shredded meat for this recipe.
If you don't have an instant pot don't fret. You can prepare the chicken the same way in a large pot with a lid. Add liquid and seasoning to pot on high heat to reach a boil. Reduce to a simmer, add chicken and cover with lid. Cook for 20 minutes or until the chicken is cooked through and tender.
For a little added sweetness add ¼ – ½ teaspoon of sugar to your salad dressing.
For a little added kick of spice add ¼ ½ teaspoon of cayenne pepper to your salad dressing.
Nutrition
Calories:
695
kcal
|
Carbohydrates:
11
g
|
Protein:
32
g
|
Fat:
58
g
|
Saturated Fat:
13
g
|
Polyunsaturated Fat:
22
g
|
Monounsaturated Fat:
19
g
|
Trans Fat:
1
g
|
Cholesterol:
264
mg
|
Sodium:
3272
mg
|
Potassium:
480
mg
|
Fiber:
1
g
|
Sugar:
8
g
|
Vitamin A:
504
IU
|
Vitamin C:
4
mg
|
Calcium:
61
mg
|
Iron:
2
mg
*Nutrition information is a rough estimate.
**The equipment section above contains affiliate links to products I use and love. As an Amazon Associate I earn from qualifying purchases.