Chocolate Waffle Sandwich = Elevated Brunch Game! Take your brunch to the next level with soft folded eggs, crispy candied bacon, and juicy chicken sausage sandwiched between two pillows of chocolatey waffle. 
September is self-care awareness month. Too often we find ourselves neglecting our own personal needs to take care of others. I'm guilty for sure. It's so imperative to take time out to take care of ourselves. 
So this weekend I'm giving myself little self-care this weekend by shutting down the computer, resting,  getting my favorite facial mask, and indulging in the perfect brunch bite. This Chocolate Waffle Sandwich is **Chef's Kiss**.
That chocolate waffles have a slightly crispy exterior and a soft pillowy interior. I think they are best served warm but if you can also eat them room temperature if you are into that sort of thing. '
To truly make this a brunch sandwich you need to add a little savory with the sweet. And if you are anything like me you want a little bit of spice too. I get the perfect bite by adding candied beef bacon. Never heard of beef bacon? Well honey you are missing out. I candy the bacon by adding brown sugar, black pepper, cayenne pepper, and chili flakes before adding to the oven. This bacon is going to merge the savory, sweet, and spicy components together.
I love chicken sausage and found some jalapeno chicken sausage at Trader Joes. I cook them whole during their cook to retain their moisture. Once they are done I cut them in half and slice them down the middle to fit on the waffle. 
The sausage can also be prepared stovetop by adding by slicing them long and adding them to a lightly oiled skillet. This will give them a crispy charred exterior which adds even more flavor. Method 1 is more hands-off and makes it easier when cooking multiple things. Method 2 is preferred and far more flavorful.
I then add my signature folded eggs. I personally prefer a good low and slow-cooked egg but when I'm short for time I'll turn my heat up to medium-high, beat my eggs with seasoning, and our into the pan. The key to retaining the moisture is shagging vigorously and using a baking spatula or wooding spoon to release the edges and fold the egg to the center. 
After all the elements are complete, all you have to do is assemble the sandwich and give it a healthy pour of syrup.  Watch that drip but don't wait too long to sync your teeth in.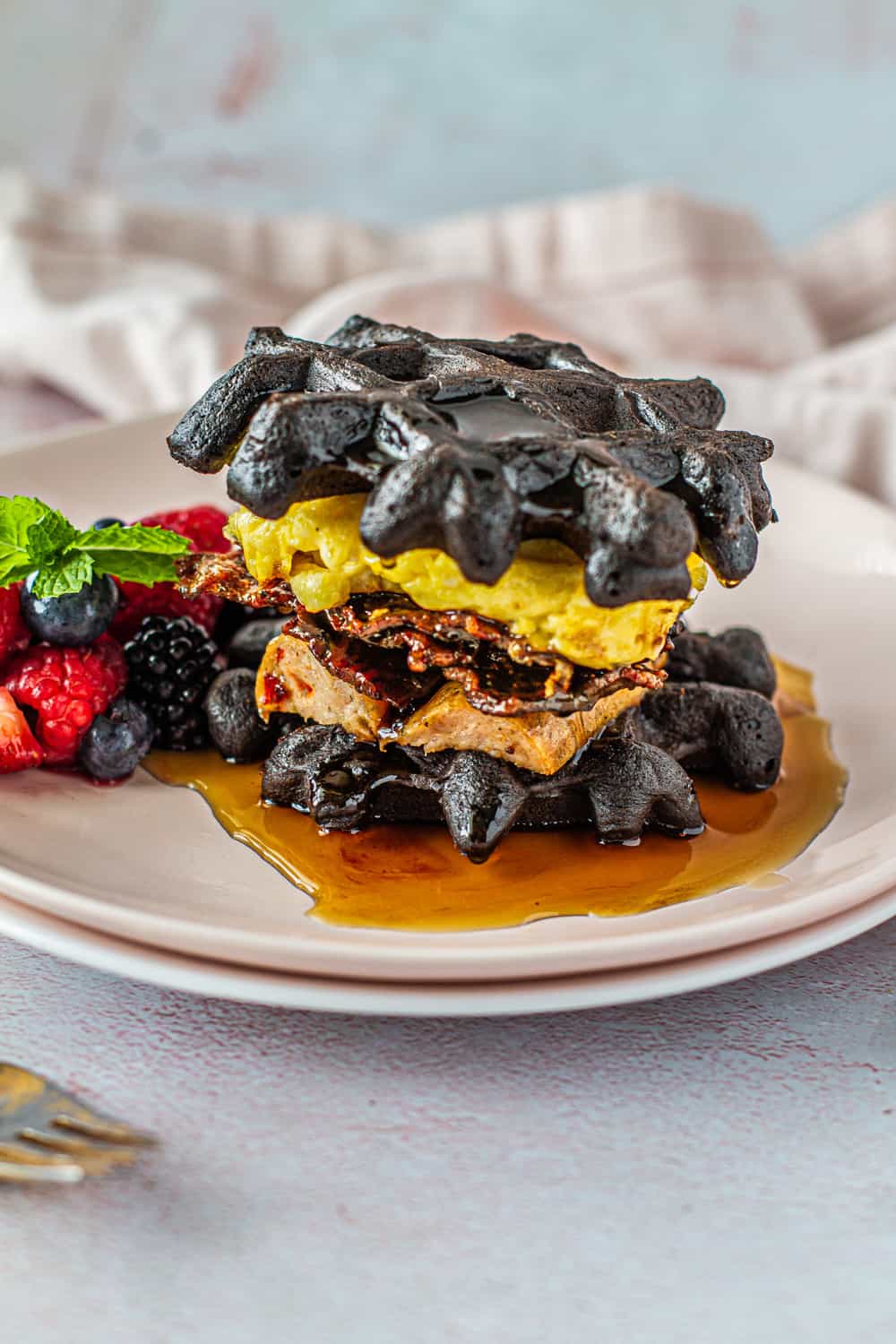 Ingredients
Candied Beef Bacon
12

strips bacon

I used beef but you can use any type

⅓

cup

brown sugar

½

teaspoon

black pepper

¼

teaspoon

cayenne pepper

¼

teaspoon

red chili flakes
Chocolate Waffles:
1 ½

cups

flour

½

teaspoon

salt

1 ½

teaspoon

baking powder

2

tablespoons

sugar

3

oz.

dark chocolate chips

½

cup

unsweetened cocoa powder

2

eggs

1 ½

cups

whole milk

4

tablespoons

unsalted butter

melted

1

teaspoon

vanilla

cooking spray
Quick Folded Egg
6

eggs

1 ½

tablespoons

unsalted butter

Salt & pepper to taste

Additional items

6

chicken sausage

syrup
Instructions
Candied Beef Bacon
Preheat oven to 375F. Prepare a foil-lined baking sheet.

In a small bowl, whisk the brown sugar, black pepper, cayenne pepper, and chili flakes.

Arrange bacon strips on foil making sure they are flat with no overlap.

Cover strips generously with brown sugar mix. Bake for 15-20 min or so until crispy and brown.

On a separate lined baking sheet or pan add your chicken sausage to the oven.
Chicken Sausage
Preheat oven to 375F. Add sausage to a prepared baking dish and transfer to oven for 15-20 minutes.
Chocolate Waffle
In one bowl mix flour, salt, baking powder, sugar, cocoa powder, and chocolate chips. In another bowl slightly beat eggs, milk, butter, and vanilla. Stirr wet mixture into dry and mix until smooth.

Set waffle iron to medium heat or equivalent. Spray top and bottom grates of waffle iron with cooking spray. Pour enough batter to cover bottom of waffle iron and close. Cook for 3 minutes or until your machine's alarm goes off. Repeat process until you use all of your batter. You can keep warm in 200 degree F oven.
Quick folded eggs
In a bowl, whisk eggs salt, and pepper until smooth.

In a large non-stick skillet melt the butter over medium to medium-high heat. Once melted help spread butter across the bottom of the entire skillet

Pour eggs into the center of skillet and shake vigorously over the heat.

Once you see the edges start to set and pull apart from the pan then a rubber spatula or wooden spoon to help release the edges all around the egg. Then start folding the egg by pushing the edge of the egg to the center. Some of the eggs may still be loose. If so twirl skillet so the loose egg comes in to contact with the bottom of the skillet and repeat folding technique.

Once all the egg is folded immediately flip the egg over and let cook 20-30 seconds then remove skillet from the heat.
Assembly
On one chocolate waffle layer chicken sausage, candied bacon, and egg. Top with a second chocolate waffle and drizzle with syrup.
*Nutrition information is a rough estimate.
**The equipment section above contains affiliate links to products I use and love. As an Amazon Associate I earn from qualifying purchases.