Chopped Apple Buttermilk Drop Biscuits are the perfect breakfast treat! They're packed with warm spices, chunks of fresh apple flavor and smell amazing as they bake. These tender drop biscuits are drizzled with a light vanilla glaze and taste even better when served warm with a little butter.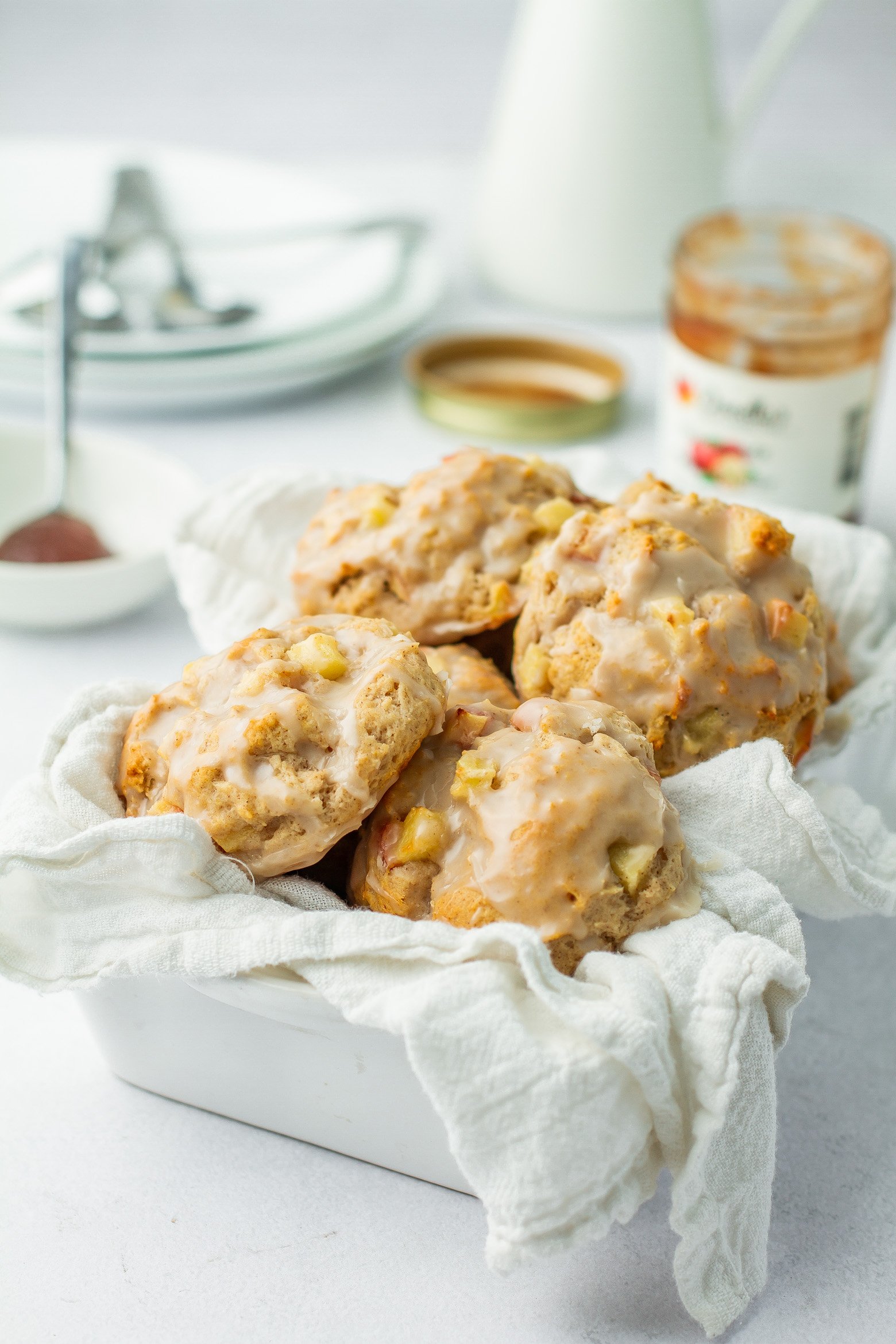 Homemade Buttermilk Drop Biscuits With Chopped Apples
As autumn rolls around, I can't help but get excited about all the delicious flavors and smells that come along with it. One of my favorite things about this time of year is homemade apple buttermilk drop biscuits – the perfect breakfast or brunch treat for those chilly fall mornings. Just imagine all the flavors you live in an apple pie wrapped up in homemade biscuits. These drop biscuits are incredibly easy to make, with just a few simple ingredients such as warm apples, cinnamon, and sugar.
Plus, their delicious aroma will instantly fill your kitchen with a comforting autumnal scent that's sure to get you in the mood for fall festivities! So if you're looking to kick your seasonal baking up a notch, try out these amazing homemade buttermilk drop biscuits with apple – trust me, you'll want to make a double batch!
What You'll Need For The Apple Buttermilk Biscuits
All-purpose flour – It adds structure and texture to the biscuits and provides a stable base for all the other ingredients to sit on top of.
Baking powder & baking soda – A must! It provides leavening, which helps the biscuits to rise.
Ground Cinnamon & nutmeg – These spices give the biscuits their signature apple pie-esque flavor.
Light Brown Sugar – I like to use brown sugar in these biscuits because it gives them a richer flavor. You could also use white sugar if that's what you have on hand.
Salt – Enhances the flavor of all the other ingredients. I prefer to use kosher salt.
Butter – Butter and biscuits … no-brainer. But using unsalted butter helps to control the amount of salt used.
Fresh Apples – You can use your favorite apple variety. I've made the biscuits with granny smith apples which are tart and have a nice firm texture. I've also made it with sweet honey-crisp apples, which have a softer texture.
Buttermilk – This is a triple threat helping the rise, moistness, and flavor. Don't skip this ingredient if you want a tender and moist biscuit.
What You'll Need For The Vanilla Glaze
Powdered sugar – This is the base of the glaze and provides the sweetness.
Milk – You can use any type of milk here, even vegan alternatives, without any problem. The higher the fat content, the more decadent the glaze will be.
Vanilla extract – It's always a good idea to use pure vanilla extract for the enhanced vanilla flavor and aroma. You can further intensify the vanilla flavor with vanilla paste.
Salt – A tiny pinch of salt helps to round out the sweetness and boost the flavor.
How To Make Chopped Apple Buttermilk Drop Biscuits
Start by sautéing the apples for 3 minutes over medium heat until they are soft. Remove the apples from the heat.
Whisk together the dry ingredients. Add the butter to the flour mixture and use a pastry blender or your fingers to work it until it resembles coarse crumbs.
Stir in the sautéed apples and enough buttermilk to form a dough. The dough should be soft and sticky.
Using a ¼ cup or 2 oz cookie scoop, scoop out the dough and place it on a lined baking sheet or a cast iron skillet.
Bake the biscuits at 450°F for about 15 minutes until lightly golden brown on top.
While baking the biscuits, prepare the glaze by whisking together powdered sugar with vanilla extract and just enough milk to form a thick drizzle-like consistency.
To finish off your delicious apple cinnamon biscuits, spoon the glaze over top of warm biscuits and serve warm! Enjoy!
Customizations
No matter how you customize them, these drop biscuits will surely be a hit at any gathering. They're perfect for breakfast, brunch, lunch, or even afternoon snacks!
Swap out the apples for a fun and fruity twist on these biscuits. Add a handful of dried, freeze-dried or fresh fruit to the dough! Some great options include blueberries, raspberries, or sliced strawberries.
If you want to add maple flavor to these biscuits, try adding maple syrup for some or all of the milk in the glaze recipe. You can also add maple extract for an even more robust maple flavor.
Try sprinkling the dough with your favorite warm spices before baking! Options range from nutmeg and cardamom to ginger and cloves. Whichever spices you choose, remember that less is more – you don't want to overpower the buttery goodness of these delicious biscuits!
For an extra indulgent treat, drizzle these maple-glazed biscuits with some melted dark chocolate or white chocolate. Not only does this give them a deliciously rich flavor and creamy texture, but it also adds a beautiful finishing touch! Just be sure to let the chocolate cool slightly before adding it to your freshly baked biscuits.
Make Ahead, Storing & Freezing
Making these apple buttermilk biscuits ahead of time is a great way to have them on hand for a quick and easy breakfast or snack. The recipe can easily be adapted to make a large batch, so you can bake them ahead of time and enjoy them all week long!
To make the biscuits ahead of time, simply follow the recipe as written but do not bake them. Instead, place the dough on a lined baking sheet and refrigerate for at least 2 hours (or up to 3 days). When you're ready to bake them, preheat the oven to 450°F and bake until golden brown. The glaze can also be made ahead of time and refrigerated. When you're ready to glaze the biscuits, reheat the glaze slightly in the microwave or over low heat on the stovetop until it's thin enough to drizzle.
These apple buttermilk drop biscuits can be frozen for up to 2 months. Simply place them on a baking sheet and freeze for about 2 hours until solid. Then transfer them to an airtight container or freezer bag. To thaw, place them in the fridge overnight or microwaves for about 30 seconds.
Frequently Asked Questions
What are drop biscuits?
Drop biscuits are a type of biscuit characterized by their drop-like shape and caky texture. Biscuit cutter? Nope, not needed here. They get their name from the drop method of shaping the dough – rather than rolling, cutting, and then transferring to the oven, drop biscuits simply drop from your hands straight onto the baking sheet. As a result, they require very little time or effort on your part, making them perfect for busy weeknights. Drop biscuits are soft and moist thanks to their high proportion of butter and milk.
Why didn't my biscuits rise?
There are a number of reasons why biscuits might not rise when they are baked. Here are a few factors to investigate your biscuit dough.
Make sure baking soda & baking powder isn't expired
These leavening agents play a crucial role in helping the dough to rise and achieve its tender, flaky texture. It doesn't matter how skilled you are in the kitchen or what recipes you use – if your baking powder or soda has expired or gone bad, then your biscuits simply won't rise no matter what you do.
Use cold butter and buttermilk – both should be straight from the fridge. You want the butter to be as solid as possible before working the dough to keep its shape rather than melting into the dough.
Don't overwork the dough – mix just until everything is combined
Always take time to measure accurately – Being precise with measurements is also essential for good results. Whether using a recipe or experimenting on your own, measuring each ingredient precisely will help ensure that your biscuits rise beautifully every time.
What are the best apples to use for this recipe?
When it comes to apples, a few varieties are especially well-suited for baking. One of my favorites includes the Granny Smith, a tart apple with a firm texture that holds up well when cooked. Another favorite is the Honeycrisp apple, which has a nice sweetness and an extra crisp texture that enhances the flavor of your baked goods. I also like Golden Delicious apples in this recipe. They are sweet, and tart and have a softer texture, so they tend to break down a bit more when baked.
Can I make these drop biscuits without buttermilk?
Yes, you can make these biscuits without buttermilk, but I wouldn't recommend it. The buttermilk adds a nice tanginess to the biscuits. If you don't have buttermilk, you can substitute it in regular milk, yogurt, or sour cream, but you may need to change the measurements.
Before You Begin
Gather Your Tools
small skillet
baking sheet
2 oz cookie scoop
large bowl
Recipe Prep
Read through the recipe. This is the first time making a particular recipe; take a couple of minutes to read it through from start to finish. I promise it will help you move through the recipe quicker when you understand what's coming next.
Gather & measure out all the ingredients
Wash, core, and chop the apples
Cut butter.
After measuring, keep butter and buttermilk in the fridge to chill until needed.
Ingredients
Apple Buttermilk Biscuits
1

7 oz. honeycrisp or granny smith apple,

washed, cored, chopped small

2 ¼

cup

unbleached all-purpose flour

1

tablespoon

baking powder

2

tablespoons

brown sugar

2

teaspoons

cinnamon

1/2

teaspoon

nutmeg

½

teaspoon

baking soda

½

teaspoon

kosher salt

1

stick cold unsalted butter

cut into tablespoons

1

cup

buttermilk

cold
Vanilla Glaze:
1 ¼

cup

+ 2 tablespoons powdered sugar

3

tablespoons

milk

¼

teaspoon

kosher salt

1

teaspoon

vanilla extract
Instructions
To prepare the biscuits:
Preheat your oven to 450°F. Line the baking sheet with parchment paper.

In a small skillet over high heat, cook the apples for 3 minutes until they are softened.

In a large bowl, combine the flour, baking powder, brown sugar, cinnamon, nutmeg, baking soda, and salt. Whisk these ingredients together until mixed well.

Add the cold butter to the flour mixture and use your hands, a fork, or a pastry blender to create a crumble. Make a well in the middle of this crumble and pour in the chopped apples and cold buttermilk. Once you've formed your dough, scoop out the biscuits using a ¼ cup or 2 oz cookie scoop and place them on the lined baking sheet.

Pop the biscuits in the oven for about 15 minutes until they are lightly golden.
To prepare the glaze:
While the biscuits bake, prepare the glaze by simply whisking the remaining ingredients in a medium bowl until smooth.

When your biscuits are done baking, drizzle them with this sweet glaze and enjoy!
Nutrition
Calories:
2816
kcal
|
Carbohydrates:
434
g
|
Protein:
40
g
|
Fat:
105
g
|
Saturated Fat:
64
g
|
Polyunsaturated Fat:
5
g
|
Monounsaturated Fat:
26
g
|
Trans Fat:
4
g
|
Cholesterol:
276
mg
|
Sodium:
3863
mg
|
Potassium:
979
mg
|
Fiber:
14
g
|
Sugar:
204
g
|
Vitamin A:
3422
IU
|
Vitamin C:
9
mg
|
Calcium:
1182
mg
|
Iron:
15
mg
*Nutrition information is a rough estimate.
**The equipment section above contains affiliate links to products I use and love. As an Amazon Associate I earn from qualifying purchases.