This Coffee Crusted Skirt Steak is soo moist and tender. I love finding ways to use leftovers, and this recipe was created when I discovered I did not have enough ground coffee for my morning cup of Joe.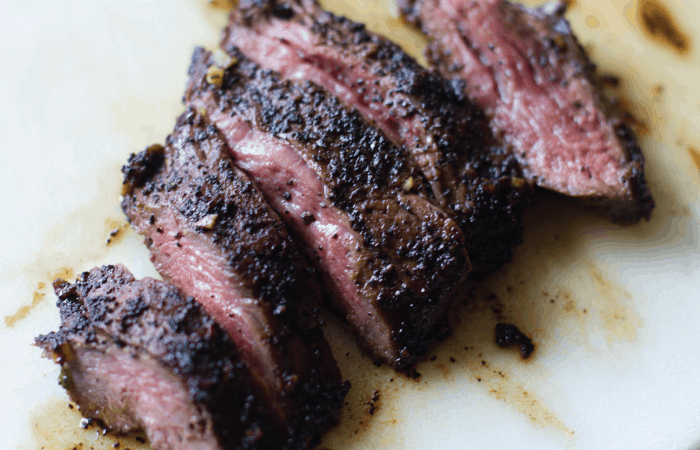 Queue Music: Go shortay its ya birthday, we gonna party like it's ya birthday!!! Yes my loves, its my Birthday and I am so excited to have the chance to celebrate another year of life. So much has changed for me in the last year. As a matter of fact, next month I will be celebrating the anniversary of me "chucking up the deuces" to my corporate gig in exchange for pursuing my passion. It is just something about the months of July and August that get me fired up, must be the leo in me.
Continuing with my coffee craze I absolutely have to share with you this delicious recipe for Coffee Crusted Skirt Steak. Don't turn up your nose at me, the robust character and texture of coffee enhance the flavor of meats like beef and pork. I promise, its actually a thing.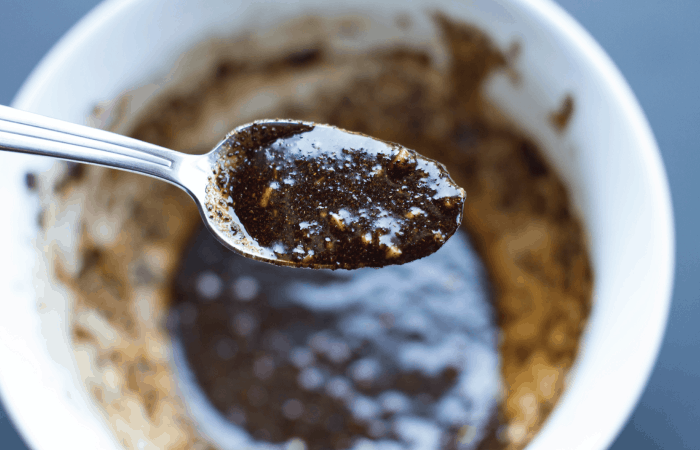 I like to let the skirt steak rest in the coffee and spice blend for 20-30 minutes to soak up the flavor but then it's a simple pan cook on each side for 2-3 minutes to achieve a perfect medium rare. And don't forget, you need to let steak rest for 5-10 minutes before you even thinking about cutting into it to make sure the meat holds its moist, tender juiciness.
With both of these yummy coffee inspired recipes this birthday girl is definitely sitting on cloud 9.
What cut of meat is the skirt steak?
The skirt steak is a beef cut from the "plate" of the animal. It's not the most tender cut, but it is known for being flavorful.
Are skirt steak and flank steak the same?
Though the skirt and flank steak are cut from very close parts of the animal, they have some significant differences. The skirt steak may be a bit tougher but is much more flavorful, while the flank steak is more tender but does pack as much flavor. When cooked to the right temperature, both cuts are delicious.
How do you make skirt steak tender?
There are multiple ways to make your skirt steak tender. Here's a couple you can use a marinade, including lime juice or vinegar, or you can physically tenderize using a meat mallet. The most important thing you can do is not overcook your steak. Skirt steak is best rare or medium-rare for tenderness.
Why use coffee as a rub?
There are many rubs you can use when cooking meat but the robust character and texture of a coffee rub enhance the flavor of the meat in a way that cannot be matched.
Does coffee rub taste like coffee?
Despite all of the other flavors combined in this rub, it's possible that it'll have a coffee taste but surprisingly not very much. It mostly has a delicious charred taste, and it brings out the flavor of the beef beautifully.
More Steak Recipes
Still craving more? Check out these steak recipes next:
Now It's Your Turn
I would highly recommend giving it five stars if you make it. Be sure to take a photo and tag @meikoandthedish on Instagram too! Enjoy!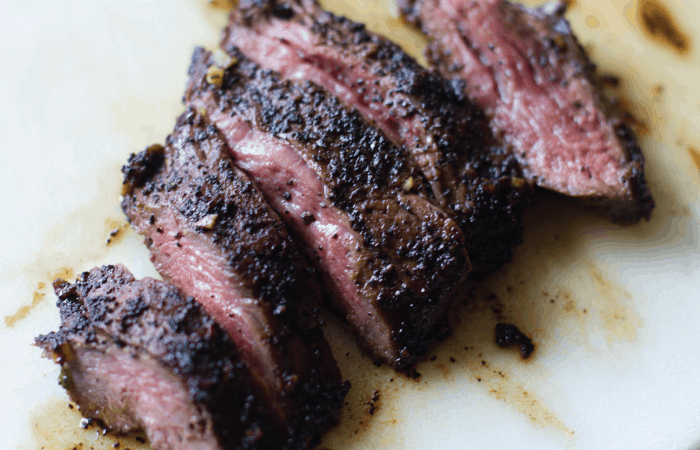 Ingredients
Steak
1– 1½

lbs

skirt steak

2

tablespoons

canola or vegetable oil
Coffee Spice Blend
2½

tablespoons

brown sugar

2

tablespoons

red wine vinegar

1

tablespoons

finely ground coffee

1

tablespoon

olive oil

2

cloves

garlic

minced

½

tablespoon

Dijon mustard

1

teaspoon

alt

½

teaspoon

cumin

¼

teaspoon

cayenne pepper

salt and pepper

to taste
Instructions
Heat oil in cast iron to high. If refrigerated take out steak to reach room temperature. Combine coffee, brown sugar, garlic, red wine vinegar, Dijon mustard, olive oil, cumin, cayenne pepper and salt in a bowl.

Massage the marinade into the meat (optional: let meat marinade for 20-30mins) and once the oil in the cast iron starts to smoke add in the steak. Cook for 2 to 3 minutes per side for medium-rare. Transfer to a cutting board and let rest 5-7 minutes before thinly slicing at an angle. Serve warm.
Nutrition
Serving:
4
g
|
Calories:
2245
kcal
|
Carbohydrates:
33
g
|
Protein:
246
g
|
Fat:
127
g
|
Saturated Fat:
35
g
|
Polyunsaturated Fat:
14
g
|
Monounsaturated Fat:
65
g
|
Trans Fat:
4
g
|
Cholesterol:
714
mg
|
Sodium:
3173
mg
|
Potassium:
3426
mg
|
Fiber:
1
g
|
Sugar:
29
g
|
Vitamin A:
317
IU
|
Vitamin C:
3
mg
|
Calcium:
122
mg
|
Iron:
21
mg
*Nutrition information is a rough estimate.
**The equipment section above contains affiliate links to products I use and love. As an Amazon Associate I earn from qualifying purchases.