Coffee Crusted Skirt Steak
Queue Music: Go shortay its ya birthday, we gonna party like it's ya birthday!!! Yes my loves, its my Birthday and I am so excited to have the chance to celebrate another year of life. So much has changed for me in the last year. As a matter of fact, next month I will be celebrating the anniversary of me "chucking up the deuces" to my corporate gig in exchange for pursuing my passion. It is just something about the months of July and August that get me fired up, must be the leo in me. Continuing with my coffee craze I absolutely have to share with you this delicious recipe for Coffee Crusted Skirt Steak. Don't turn up your nose at me, the robust character and texture of coffee enhance the flavor of meats like beef and pork. I promise, its actually a thing.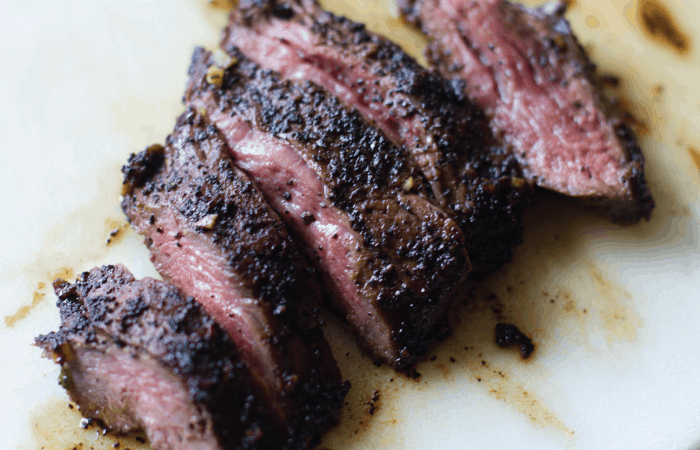 I like to let the skirt steak rest in the coffee and spice blend for 20-30 minutes to soak up the flavor but then it's a simple pan cook on each side for 2-3 minutes to achieve a perfect medium rare. And don't forget, you need to let steak rest for 5-10 minutes before you even thinking about cutting into it to make sure the meat holds its moist, tender juiciness. With both of these yummy coffee inspired recipes this birthday girl is definitely sitting on cloud 9.
Ingredients
Steak
1

– 1½ lb skirt steak

2

tablespoons

canola or vegetable oil
Coffee Spice Blend
2½

tablespoons

of brown sugar

2

tablespoons

of red wine vinegar

1

tablespoons

of finely ground coffee

1

tablespoon

olive oil

2

garlic cloves

minced

½

tablespoon

of Dijon mustard

1

teaspoon

of salt

½

teaspoon

cumin

¼

teaspoon

cayenne pepper

salt and pepper to taste
Instructions
Heat oil in cast iron to high. If refrigerated take out steak to reach room temperature. Combine coffee, brown sugar, garlic, red wine vinegar, Dijon mustard, olive oil, cumin, cayenne pepper and salt in a bowl.

Massage the marinade into the meat (optional: let meat marinade for 20-30mins) and once the oil in the cast iron starts to smoke add in the steak. Cook for 2 to 3 minutes per side for medium-rare. Transfer to a cutting board and let rest 5-7 minutes before thinly slicing at an angle. Serve warm.
Nutrition
*Nutrition information is a rough estimate.
**The equipment section above contains affiliate links to products I use and love. As an Amazon Associate I earn from qualifying purchases.