This super flexible corn salsa can be made with roasted, grilled, raw, or frozen corn. It is both sweet and spicy and is filled with red onion, cilantro, Calabrian peppers, and a uber limey dressing that makes this salsa super addictive. Your tortilla chips don't stand a chance!
Easy Summer salsa with fresh corn
I love corn salsa! It's the perfect complement to so many dishes, and it's easy to make. I'm excited about this recipe because it is incredibly flexible from method and ingredients to time and spice level.
Summer corn on the cob is the best because it is in season. Whether using fresh kernels or cooked, I recommend starting with fresh unshucked husks for the best flavor.
I'm going to show you what ai think is the most flavorful recipe for corn salsa and my key ingredient (aside from corn) that brings a ton of additional flavor.
Ingredients needed to make the best corn salsa
Corn kernels: While I recommend starting with fresh corn on the cob to produce the best texture and flavor, I also suggest a quick roast or grill of the corn before cutting it off the cob.
Calabrian red peppers: These are my secret ingredient for adding color and a kick of smokiness.
Cilantro – The corn's flavor benefits from the herbaceous taste and freshness of cilantro. Don't think about excluding the stem; it adds additional texture and crunch to the salsa.
Lime Juice: Freshly squeezed limes add an acidic tang that balances well with the other flavors.
Spices (Cumin, Coriander, Smoked Paprika, Chili Powder) – This combination of spices enhances the depth of flavor with smokiness and earthiness.
What are Calabrian red peppers?
Traditionally, corn salsa is made with peppers like serrano or jalapeno, but I decided to go with a more unusual variety – Calabrian peppers.
Calabrian peppers are a variety of chili pepper that originated in Southern Italy. They're sweeter than most hot peppers and have an earthy flavor with hints of citrus, which helps the pair incredibly well with the other ingredients in this dish.
They're also highly flavorful- just one pepper can make all the difference in your salsa!
Calabrian peppers can be found on Amazon, Italian specialty markets, and often at your local grocery store near the jars of pickled peppers! Alternately, substitute serrano chilies if you can't find them.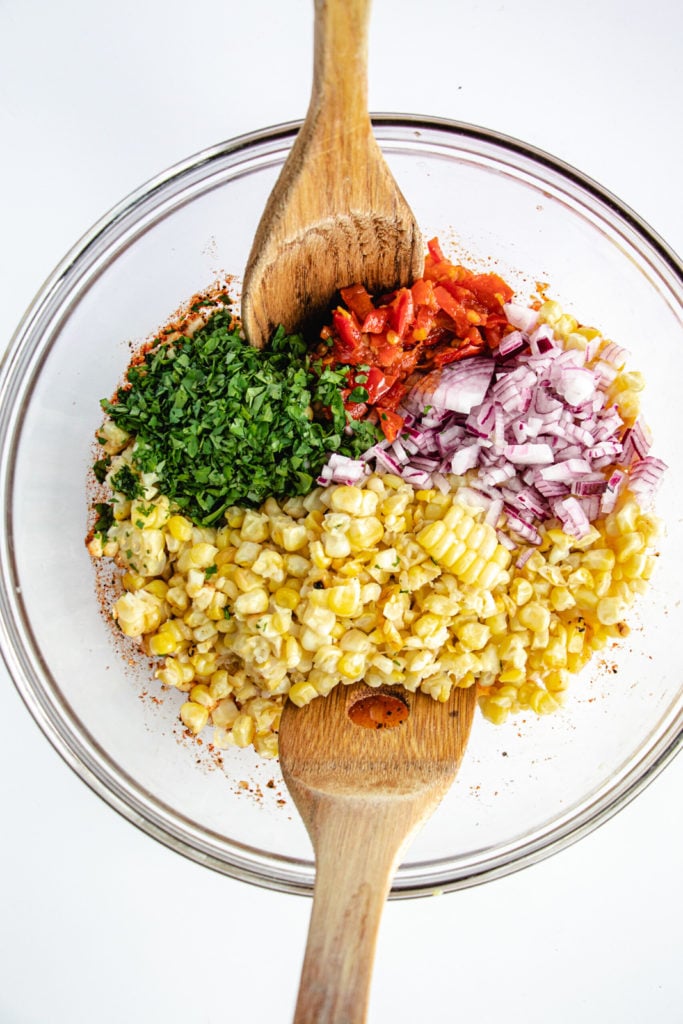 How to make corn salsa
Step One: Make dressing for salsa by adding lime juice, lime zest, granulated sugar, white wine vinegar, chili powder, ground cumin, smoked paprika, coriander, kosher salt, and ground black pepper to a bowl and whisk until combined.
Step Two: To prepare corn, grill or roast your corn, then cut the kernels off of ears corn.
Step Three: Mix corn and dressing and remaining ingredients (onion & cilantro) in a large bowl and toss until everything is coated. You can eat immediately or refrigerate until chilled.
Let's talk method: Roasted Corn vs. Grilled Corn vs. Fresh Corn vs. Frozen Corn
So what do these four preparations mean for your salsa? Well, let's discuss that!
Grilled – This is my preferred preparation because by grilling the corn over high heat, you get color on the cob fast with fewer structural changes to the texture of the kernel. Color equals flavor, and texture equals crunch!
Roasted – Roasting the corn in the oven is a great way to get some caramelization to the exterior of the cob. It will cook more evenly in the oven resulting in a softer kernel.
Fresh – This is a great way to get the most natural flavor and crunch. However, the downside of this preparation is that you don't get the flavor benefit of a quick char.
Frozen – If all else fails, frozen is perfectly fine to use. Frozen corn is a great way to get that corn flavor without being time-intensive. You can even buy frozen roasted or grilled corn in some grocery stores, which will still have that nice color you want!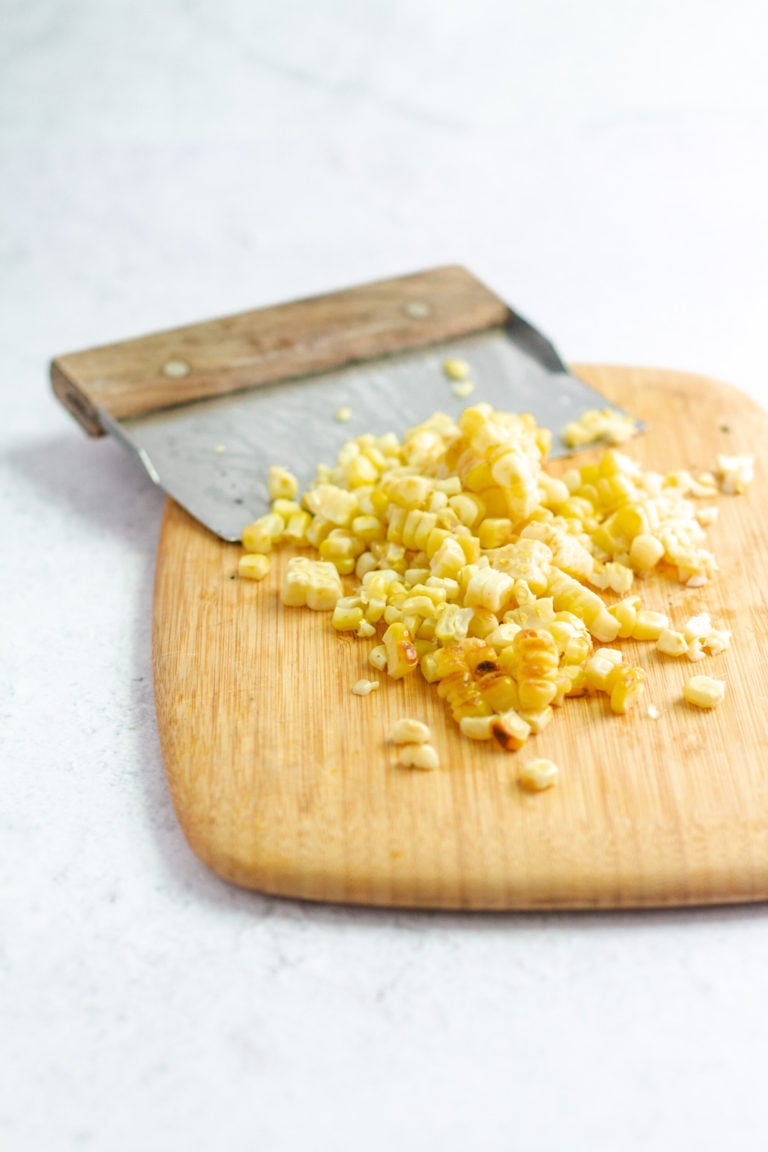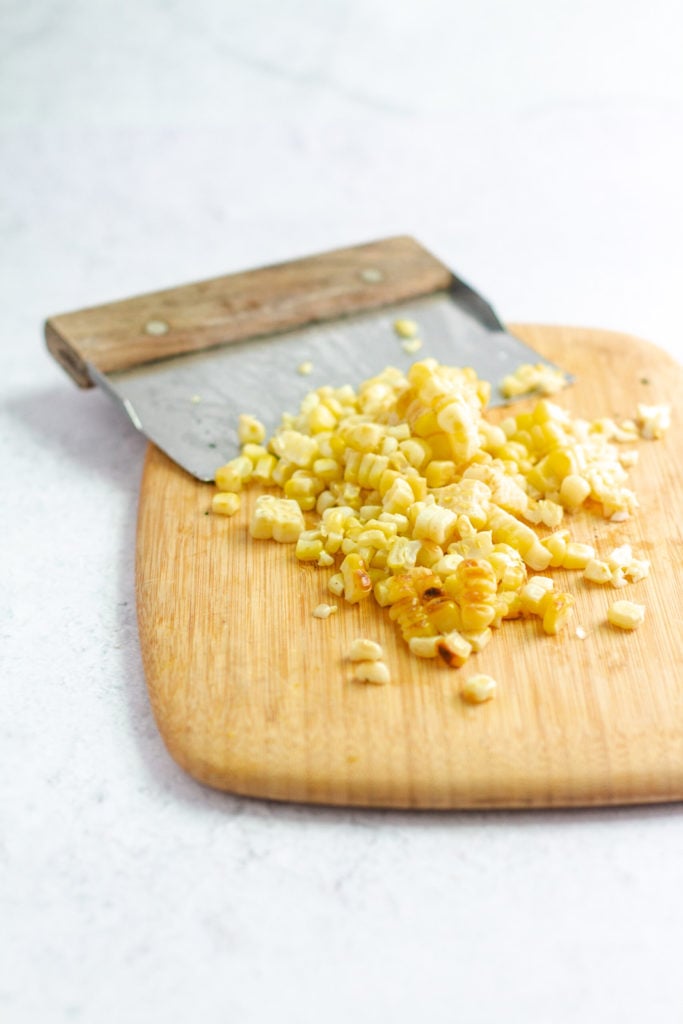 How to maximize the flavor in this salsa?
Color equals flavor – So quickly grilling on roasting your corn with add more depth with each dip.
Pepper picker – while you can use traditional peppers like jalapeno and serrano, going with an alternative pepper, like Calabrian, will bring some multifaceted flavor of citrus, spiciness, and smokiness to this salsa. Not to mention, Calabrian red peppers are jarred in oil that marinates in the natural pepper's juices and helps with coating all the corn salsa.
The spice is right – for this recipe, we are leaning into the smokiness and earthiness with spice additions like cumin, coriander, fresh cilantro, smoked paprika, and chili powder to up the any on our kick.
Don't forget the tang – Can't have a good salsa without citrus, that should be commonplace, and lime juice fits the bill. But we further elevate the tang by adding the lime zest and a dash of white wine vinegar. The vinegar helps round out the acidity from the lime while also balancing the salsa's natural sweetness.
Can this be made in advance?
Yes, corn salsa can be made in advance. In fact, I recommend it! Just store in an airtight container, refrigerate, and enjoy! Simply prepare as directed, and it keeps in the refrigerator for up to 1 week.
If prepping longer than 24 hours in advance, I recommend storing the ingredients in a separate airtight container in the fridge. Then all you have to do is toss them together when it's time to serve.
How to store leftovers?
If you have any leftovers, store roasted corn salsa in an airtight container in the refrigerator for up to 7 days.
More Yummy Corn Recipes
Now it's your turn!
I know you're going to love this recipe. I can't wait to see what you come up with when you realize this salsa can go with almost everything, like grilled meats or fish, tacos, tamales, taquitos, salads, etc.
If you enjoy the recipe, please share it with your friends and family. And don't forget to give me some five-star love down below. And if you have any comments or questions, leave them below too, and I'll be sure to get back to you as soon as possible.
Ingredients
3

ears of corn or 2 1/2 cups corn kernels

roasted, grilled, or sauteed

⅓

cup

red onion

finely chopped

2

tablespoons

Calabrian red peppers

minced

2

tablespoons

cilantro

finely chopped
Dressing
2

large limes

1 teaspoon zest, 1/4 cup juice

2

tablespoons

granulated sugar

1

tablespoon

white wine vinegar

¼

teaspoon

chili powder

¼

teaspoon

ground cumin

¼

teaspoon

smoked paprika

¼

teaspoon

coriander

¼

teaspoon

kosher salt

¼

teaspoon

ground black pepper
Instructions
To make dressing
In a small bowl add the marinade ingredients and whisk until combined. Pour marinade over the corn medley and toss until everything is coated.
To assemble corn salsa
If using corn on the cob first cut kernels from the prepared cob. If using frozen corn thaw out and sautee. Add corn to a medium bowl with red onion, Calabrian red peppers, cilantro, and toss.

Serve room temperature or chilled, as a dip or topping.
Nutrition
Calories:
51
kcal
|
Carbohydrates:
12
g
|
Protein:
1
g
|
Fat:
1
g
|
Saturated Fat:
1
g
|
Polyunsaturated Fat:
1
g
|
Monounsaturated Fat:
1
g
|
Trans Fat:
1
g
|
Sodium:
80
mg
|
Potassium:
136
mg
|
Fiber:
1
g
|
Sugar:
6
g
|
Vitamin A:
165
IU
|
Vitamin C:
13
mg
|
Calcium:
10
mg
|
Iron:
1
mg
*Nutrition information is a rough estimate.
**The equipment section above contains affiliate links to products I use and love. As an Amazon Associate I earn from qualifying purchases.