Every Thanksgiving I always ask myself what can I do different? Well, this year lamb was my special ingredient.
As promised I am continuing to hit you with amazing Thanksgiving ideas, recipes, and tips so that you are equipped to put together an amazing menu and host like [Rick Ross voice] the true BOSS that you are. Today I am bringing you my latest recipe video contribution to blkfoodnetwork.com. No I am not leading with a turkey recipe, err'body got a turkey recipe. Instead I thought I'd share a different kind of showstopper, my Cornbread Crusted Rack of Lamb with Maple Acorn Squash.
I know … I know, some folks are weary of lamb from the gamy flavor but I think that reaction is just a function of cooking temperature and method of preparation. This particular recipe incorporates a sweet complimentary crust and a medium temperature recommendation that is sure to win over even the biggest doubters, not to mention; the maple acorn squash serves as an equally as delectable compliment.
Before you move on make sure to check out the recipe video and share your thoughts. What, besides the Turkey do you make sure to have on you Thanksgiving spread?
Dig In,
Meiko
What is a Rack of Lamb?
Rack of lamb is a cut, perpendicularly to the spine, and includes chops or 16 ribs. Typically, the "rack" of lamb is a section of ribs with 7 or sometimes 8 chops in one piece.
Rack of Lamb v/s Lamb Chops: What's the Difference?
Lamb chops, also called cutlets, are incredibly tender portions cut out of ribs, loins, or lamb shoulders. They are cooked individually. However, when multiple chops are cooked as a whole at the rib section, they are called the rack of lambs.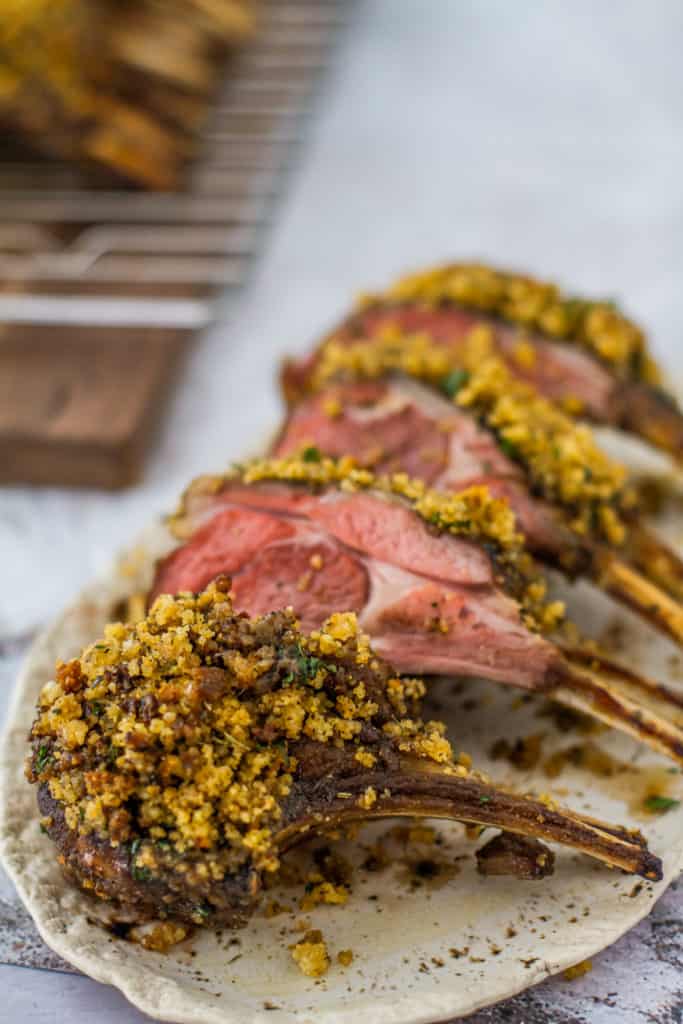 Where/How to Buy a Rack of Lamb?
Rack of lamb is available in Walmart and on online grocers such as Wegmans. You can also buy it at the local butcher. When getting it from the butcher, ask him to remove the small, but awkward, H bone and attach it with string, so you don't lose the bone's flavor.
If you are on a budget (and we know how costly a rack of lamb can be), purchase old season's lamb instead. It is cheaper but offers maximum flavor.
How Do I Know When the Rack of Lamb is Ready?
Use an oven thermometer and remove once the rack of lamb's interior reaches your targeted temperature of 125°F or more.
Rare – 115 F to 120 F
Medium-rare – 120 F to 125 F
Medium – 130 F to 135 F
Medium-well – 140 F to 145 F
Well done – 150 F to 155 F
More Savory Meat Recipes
Now It's Your Turn
I would highly recommend giving it five stars if you make it. Be sure to take a photo and tag @meikoandthedish on Instagram too! Enjoy!
Ingredients
MAPLE GLAZED ACORN SQUASH
2

tablespoons

light brown sugar

2

tablespoons

real maple syrup

2

lbs

acorn squash

cut in half & seeds removed

Kosher salt

pepper

freshly ground

nonstick cooking spray
CORNBREAD CRUSTED LAMB:
2-2¼

lbs

bone racks of lamb

bones cleaned

2

cups

cornbread crumbs

cup

flat leaf parsley

roughly chopped

cup

basil

roughly chopped

2

tablespoons

vegetable oil

1-2

tablespoon

olive oil

½

tablespoon

sugar

optional

¼-½

teaspoon

salt

¼

teaspoon

pepper

¼

teaspoon

cayenne
HONEY MUSTARD PASTE
3

tablespoon

Dijon

2

tablespoons

honey

1

teaspoon

dry thyme

1

teaspoon

dry oregano

¼

teaspoon

salt

teaspoon

black pepper

½

teaspoon

garlic powder
Instructions
MAPLE ACORN SQUASH INSTRUCTIONS:
Preheat the oven to 425 degrees F.

Spray aluminum foil lined baking sheet with cooking spray. Put the acorn squash, in a single layer on an aluminum foil lined baking sheet. Brush the maple syrup on both sides of the squash and evenly sprinkle brown sugar across the top.

Roast the squash until tender about 40 to 45 minutes. Lightly season with salt and pepper.
CORNBREAD CRUSTED LAMB INSTRUCTIONS:
Mix Dijon mustard, honey, dry thyme, dry oregano, salt, black pepper, garlic powder in a medium bowl together then sit it to the side. In a separate bowl mix cornbread crumbs and fresh chopped herbs (basil and parsley) and olive oil to help the crust stick together then set bowl aside.

Generously season the entire lamb with salt, pepper and cayenne. Heat a large skillet on medium high until hot then add in vegetable oil. Add lamb racks (do this in batches if the skillet isn't big enough) to the hot skillet fat side down and sear for about 5-6 minutes. Remove lamb racks from the heat and let rest (fat side up) for approximately 10 minutes.

Transfer lamb to a baking sheet fat side up. Evenly brush honey mustard paste on the fat sides and front cap of lamb then take the cornbread mix and press into the lamb so it sticks and is completely coated. Put the racks into 425 degree preheated oven for 15 minutes. Reduce heat to 300 degrees and monitor lamb until the center reaches an internal temperature of 130 – 140 degrees for medium rare to medium range. Cut each rack into double chops and serve on a platter.
Notes
Use an oven thermometer and remove once the rack of lamb's interior reaches your targeted temperature of 125°F or more.
Rare – 115 F to 120 F
Medium-rare – 120 F to 125 F
Medium – 130 F to 135 F
Medium-well – 140 F to 145 F
Well done – 150 F to 155 F
Nutrition
Serving:
6
g
|
Calories:
679
kcal
|
Carbohydrates:
55
g
|
Protein:
19
g
|
Fat:
43
g
|
Saturated Fat:
19
g
|
Polyunsaturated Fat:
4
g
|
Monounsaturated Fat:
17
g
|
Trans Fat:
1
g
|
Cholesterol:
104
mg
|
Sodium:
548
mg
|
Potassium:
662
mg
|
Fiber:
3
g
|
Sugar:
21
g
|
Vitamin A:
514
IU
|
Vitamin C:
12
mg
|
Calcium:
146
mg
|
Iron:
3
mg
*Nutrition information is a rough estimate.
**The equipment section above contains affiliate links to products I use and love. As an Amazon Associate I earn from qualifying purchases.