Pappardelle noodles covered in a creamy basil alfredo sauce with warm shredded chicken, crispy bacon, and roasted broccoli. Topped with fresh shaved Parmesan, mascarpone, and fresh chopped basil.
This shop has been compensated by Collective Bias, Inc. and its advertiser. All opinions are mine alone. #PremiumPrep #CollectiveBias
So I made a commitment to myself at the beginning of the year that I would do a better job at meal prepping. I'm so busy with my job that I sometimes forget to eat dinner, or I eat really late, which is not such a good idea according to my thighs. LOL.
You can see the excitement in my eyes. Anytime I take on a new challenge, I try to equip myself with the appropriate tools to succeed. So I headed over to my trusty Walmart around the corner and found this awesome new Rubbermaid® Brilliance™ 10 piece. (You can see the excitement in my eyes).
Let me warn you these are not your typical leftover storage containers. They have an airtight leak-proof seal, splatter-free lid ventilation, and a convenient modular design. I literally made a video so you can hear how airtight these containers are. Pardon my fascination. So now that I had the right tools, I decided to test out the Rubbermaid® Brilliance™ set. I cooked up a bunch of seasoned chicken in the slow cooker, stored half of it, and used the other half to make my first prep meal Creamy Basil Alfredo Pappardelle.
I was intrigued by the Bertolli® Tomato & Basil and Bertolli® Creamy Basil Alfredo Sauces on my store run. I don't know; I must have been craving basil because when I saw all the big chunks of basil married throughout the sauce, I couldn't resist and scooped up a couple of jars. Once I got home, I roasted some baby broccoli and bacon on the cookie sheet to add to my pasta dish. We all know bacon makes everything better.
I kind of stored the ingredients in separate containers; the broccoli and bacon in one, the alfredo sauce and chicken in another, and the pasta in its very own. I did this is to allow for appropriate reheating per container. Once it was time to eat, all I had to do was add my sauce to the pasta, add in the broccoli and crumble on the bacon. To flex a bit, I also topped it with mascarpone cheese, fresh ground pepper, parmesan shavings, and fresh basil. So Good!
As you can see, I'm set for the next few days. I'm not sure why it took me so long to do meal prep. It has saved me so much time over the week, not to mention I'm totally obsessed with these Rubbermaid® Brilliance™ storage containers. You probably need these in your life, so use this link to get discounts on both Bertolli and Rubbermaid Brilliance at Walmart.
$0.75 off any Bertolli pasta sauce variety at Walmart
$2.00 off a single Rubbermaid Brilliance container at Walmart
$5.00 off the Rubbermaid Brilliance 10 piece set at Walmart
Click here for more recipe ideas.
What is Pappardelle?
Pappardelle is a variety of pasta hailing from Tuscany. It is long, broad, flat in shape, similar to wide fettuccine or a ribbon. It is (traditionally) egg pasta that is popular for its rough texture that pairs well with robust sauces and ragus. The name pappardelle comes from the verb pappare, meaning to gobble up!
How to make basil chicken?
If you were wondering – how to make basil chicken – it is a quick recipe and oh so worthy! Start by preheating the oven to 375 degrees. Meanwhile, place bacon and broccoli on a foil-lined cookie sheet—roast for 15 to 20 minutes. Halfway through, be sure to flip the broccoli. Once the bacon is crispy, remove it from the oven and drain the excess grease. Add oil and garlic to a small skillet over medium-high heat and stir until caramelized. Add your Basil Alfredo Sauce and shredded chicken to the skillet and stir. Sprinkle salt and pepper to your taste. Reduce heat to low.
In a separate pot, cook the pasta according to package directions. Drain, return to the pot, drizzle over lemon juice and toss. Pour the sauce over the pasta, stirring for 1 minute, until the pasta and sauce mix.
Plate the pasta over the broccoli, and top crumbled bacon with shaved Parmesan, mascarpone, and fresh chopped basil. Creamy basil chicken is ready. Serve hot!
Pappardelle Pasta Alternatives
So, perhaps you are looking for healthy pasta alternatives? Here are some of the most delicious options to choose as a substitute for pasta:
Zucchini noodles or "Zoodles" – An excellent source of protein, Vitamin A, copper, dietary fiber, Vitamin B6, Vitamin K, Vitamin C, and folic acid.
Squash noodles – A vegetable-based, low-carb pasta alternative, rich in Vitamin B6, dietary fiber, and Vitamin C.
Quinoa pasta – Naturally gluten-free substitute for pasta
Black bean pasta – A quirky, black-colored pasta variety loaded with protein, iron, calcium, and fiber. It is also a gluten-free, low-sugar option.
Shirataki pasta – Calorie- and carb-free pasta alternative with 100% fiber content.
How to properly storing, freezing, and reheating?
While it is best to consume alfredo pappardelle immediately, sometimes you cannot help the leftovers. In that case, put the creamy basil chicken dish in an airtight container and refrigerate it for 2 to 3 days. You can also freeze it for up to a week, but not recommended because of the milk content. Once you are ready to eat the leftovers, if frozen, allow to thaw completely. Reheat the creamy basil chicken alfredo pappardelle by adding more milk or alfredo sauce to prevent dry texture.
For how long is opened Bertolli Creamy Basil Alfredo Sauce good for?
Generally, an opened jar of alfredo sauce is suitable for up to 5 days. When refrigerated, it can last longer, preferably up to the date of expiry. You can always tell if your jarred sauce has gone bad by its odor and texture.
How do you reheat Bertolli Creamy Basil Alfredo Sauce?
The easiest way to reheat the alfredo sauce is to microwave it in a microwavable container for 3-5 minutes, depending on your microwave's wattage.
What can I add to the store-bought alfredo sauce?
If you want to add more flavor to your store-bought alfredo sauce and, consequently, to the creamy basil chicken pappardelle – here are some ideas for inspiration. You can add 1 tablespoon of real butter, 1/3 cup of cream, minced garlic, black pepper, or a sprinkle of garlic salt.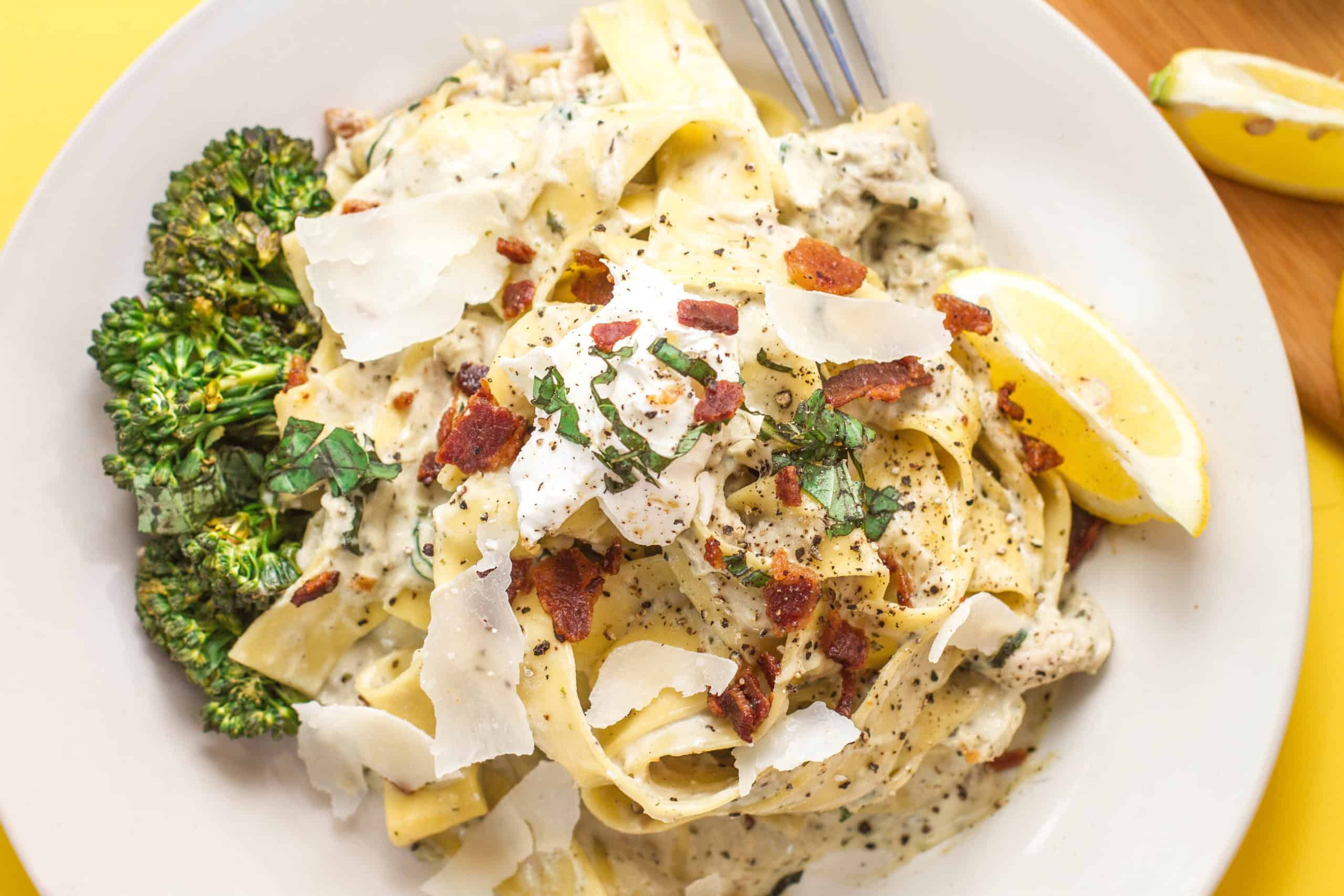 Ingredients
8

oz

baby broccoli

4

strips of bacon

¼

teaspoon

olive oil

3

cloves

garlic

minced

15

oz

Bertolli Creamy Alfredo Sauce

½

pound

chicken

cooked & shredded

salt & pepper

½

lemon

juice

8

oz

pappardelle pasta
Pasta Toppings
Parmesan

shaved

mascarpone

fresh basil
Instructions
Preheat oven 375 degrees. Place broccoli and bacon on foil lined cookie sheet. Roast until bacon is crispy for approximate 15-20 minutes. Toss broccoli halfway through. Then remove from oven and drain bacon of excess grease.

Add oil and garlic to a small skillet, over medium high heat. Stir until lightly browned, about 2 minutes. Add in Bertolli Basil Alfredo Sauce and shredded chicken and stir. Taste and add salt and pepper as needed. Reduce heat to low.

Cook the pasta according to package directions. Drain, return to the pot, drizzle over lemon juice and toss. Pour the sauce over the pasta stirring, until the pasta and sauce are combined, about 1 minute.

Plate the pasta over the broccoli and top crumbled bacon shaved Parmesan, mascarpone, and fresh chopped basil. Serve hot!
Notes
Chicken should be precooked and shredded.
Nutrition
Serving:
4
g
|
Calories:
2038
kcal
|
Carbohydrates:
200
g
|
Protein:
75
g
|
Fat:
101
g
|
Saturated Fat:
44
g
|
Polyunsaturated Fat:
25
g
|
Monounsaturated Fat:
30
g
|
Trans Fat:
1
g
|
Cholesterol:
555
mg
|
Sodium:
3057
mg
|
Potassium:
870
mg
|
Fiber:
12
g
|
Sugar:
18
g
|
Vitamin A:
4308
IU
|
Vitamin C:
241
mg
|
Calcium:
282
mg
|
Iron:
8
mg
*Nutrition information is a rough estimate.
**The equipment section above contains affiliate links to products I use and love. As an Amazon Associate I earn from qualifying purchases.