Creamy Pea & Mint Soup packs a punch of creamy richness, smooth texture, and subtle bright nodes from the mint. A warm bowl of comfort!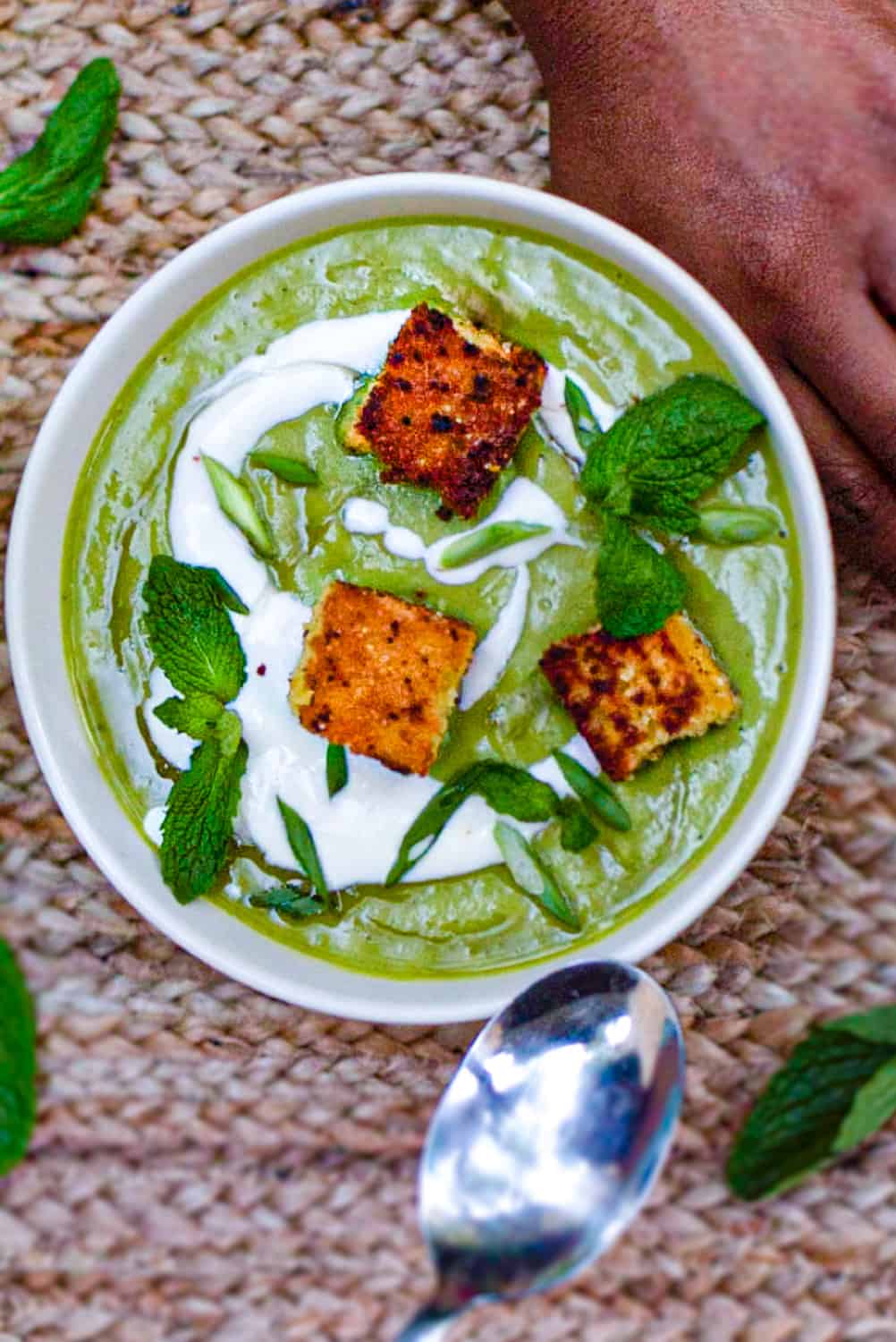 Meiko moves to Dallas
Over the last two weeks, I have been traveling like crazy. Minneapolis to Dallas to Austin to Raleigh to Atlanta and back to Dallas. It's been a whirlwind, but the one thing that has kept me at peace is this new Solange album SEAT AT THE TABLE. Let me rewind just a few seconds to discuss how that trip I just mentioned ended with me in Dallas instead of Minneapolis. That's right; ya girl is a TEXAN.
I finally took the leap and moved out of the twin cities. Minneapolis has been an amazing place for growth and development. I am beyond grateful for what I learned about myself while living there and the amazing friendships that came out of it. Nevertheless, I felt it was time for a fresh start; new surroundings and new opportunities opened up for me here in Dallas.
FEELING MINTY FRESH + GIVEAWAY [GIVEAWAY CLOSED]
Speaking of it being TIME for a fresh start, as soon as I got to my new city, I received this cool watch from Jord Wood Watches. The watch is beautifully crafted of dark sandalwood with a beautiful mint finish. As soon as I saw it, it was in love at first sight, and I had to rock it right away. It inspired me to keep the "mint-flavored" love going with my Creamy Pea and Mint soup recipe.
I wanted something quick, and since it's fall, nothing sounds more comforting to me than a big bowl of warm soup. This recipe is no exception packed with its creamy richness, smooth texture, and subtle bright nodes from the mint.
Do peas need to be soaked before cooking pea soup?
Nope, soaking peas before cooking is not entirely necessary. However, if you are using fresh peas instead of frozen peas, soaking them overnight will significantly reduce their cooking time. For example, unsoaked peas can take anywhere between 1 to 2 hours to simmer, while the soaked ones will take around 40 minutes.
Is mint sweet or savory?
Mint tastes sweet and has a refreshing cool effect on the tongue. The menthol flavor and scent are most potent when leaves are fresh compared to when they dry out. Besides, the spice is quite versatile and can be used in both sweet and savory foods.
How do you thicken pea soup?
The best way to make thick pea soup is to blend it with a stick blender, then simmer with the lid off to allow water evaporation. You can let the soup simmer until you get consistency as thick as you prefer. Many pea soup recipes suggest adding cornflour slurries. But it is best to avoid it once the soup is already ready as it will be impossible to get rid of the raw flour taste. Instead, you can use chicken broth, vegetables, or extra pea puree.
Why is my pea soup brown?
If your pea mint soup looks brown and tastes slightly burned, the chances are that the peas are settling on the bottom of the pan. The best way to avoid it is to use a pan with a thick base and stir the soup constantly on a low-medium flame.
What to serve with Creamy Pea & Mint Soup?
This pea and mint soup is delicious all on its own, but you know I had to add a little flare. So I doctored it up a bit with fresh crema, scallions, extra mint, and cornbread croutons. A crusty French baguette, warm press panini sandwich, or a gooey grilled cheese sandwich. YUM!!!!
How to freeze and thaw Creamy Pea & Mint Soup?
Once the soup has cooled, transfer it to an airtight container in a way that the soup sits about 2-3 cm below its rim. It will make room for the liquid to expand as it freezes. To thaw, warm the soup in a saucepan on a low flame. To defrost, leave it overnight in the refrigerator.
More Delicious Soup Recipes
Ingredients
3 ½

cups

peas

frozen

3

cups

chicken broth

or vegetable broth low sodium

4

large

shallots

chopped

3

cloves

garlic

chopped

2

tablespoons

lemon juice

fresh

½

cup

mint leaves

loosely packed

¼

cup

heavy cream

½

tablespoon

kosher salt

¼

teaspoon

black pepper
Instructions
Heat olive oil in medium saucepan over medium heat. Add the shallots and garlic and cook, stirring frequently, until both are very soft, 6 to 8 minutes.

Add in the chicken broth, peas, mint, lemon juice and salt and pepper. Bring to a boil then reduce the heat to medium low, and simmer for about 8 minutes or until the peas are tender. Add the soup and heavy cream to a blender and puree until smooth and taste. Season with additional salt and pepper if needed.

Serve warm.
Notes
Optional toppings: Scallions, Peas, Crema, and Cornbread Croutons
Nutrition
Serving:
4
g
|
Calories:
190
kcal
|
Carbohydrates:
26
g
|
Protein:
9
g
|
Fat:
6
g
|
Saturated Fat:
4
g
|
Polyunsaturated Fat:
1
g
|
Monounsaturated Fat:
2
g
|
Cholesterol:
20
mg
|
Sodium:
1534
mg
|
Potassium:
596
mg
|
Fiber:
8
g
|
Sugar:
9
g
|
Vitamin A:
1434
IU
|
Vitamin C:
71
mg
|
Calcium:
81
mg
|
Iron:
3
mg
*Nutrition information is a rough estimate.
**The equipment section above contains affiliate links to products I use and love. As an Amazon Associate I earn from qualifying purchases.