As a home cook who loves to marry classic comfort food flavors with healthier twists, Eric and Shanna Jones' cookbook speaks directly to my soul. This Houston power couple is behind the popular food blog, Dude That Cookz, where they share delicious homestyle recipes that can be prepared in 30 minutes or less.
Eric lost his parents at a young age due to health reasons, causing him to become more aware of what he put into his body. Growing up in Lousiana on Cajun cuisine, Jones started recreating the dishes from his childhood with healthier tweaks so people could enjoy dishes that were good for the soul without being bad for the body.
The duo's 2022 cookbook, Healthier Southern Cooking, is packed full of indulgent recipes that bring Cajun flavors to life in a healthier way than you might be used to. The first time I tried their Creole Okra & Tomatoes with Beef Sausage recipe, I fell head over heels and knew I needed to share it. In today's post, I'm shining a light on Eric and Shanna's cookbook and the Creole Okra & Tomatoes recipe that you need to try!
Healthier Southern Cooking by Eric & Shanna Jones
Since it launched in March of this year, Eric and Shanna Jones' Southern cookbook has quickly gained notoriety in the foodie world. Healthier Southern Cooking features 60 homestyle recipes that offer modern takes on cozy classics.
This cookbook is all about providing the readers with everything they need to make wholesome meals for the family without compromising on richness and flavor. You'll find Southern charm and Cajun flair paired with clever adjustments that cut down the cholesterol and fat levels to produce healthier versions of iconic Southern dishes.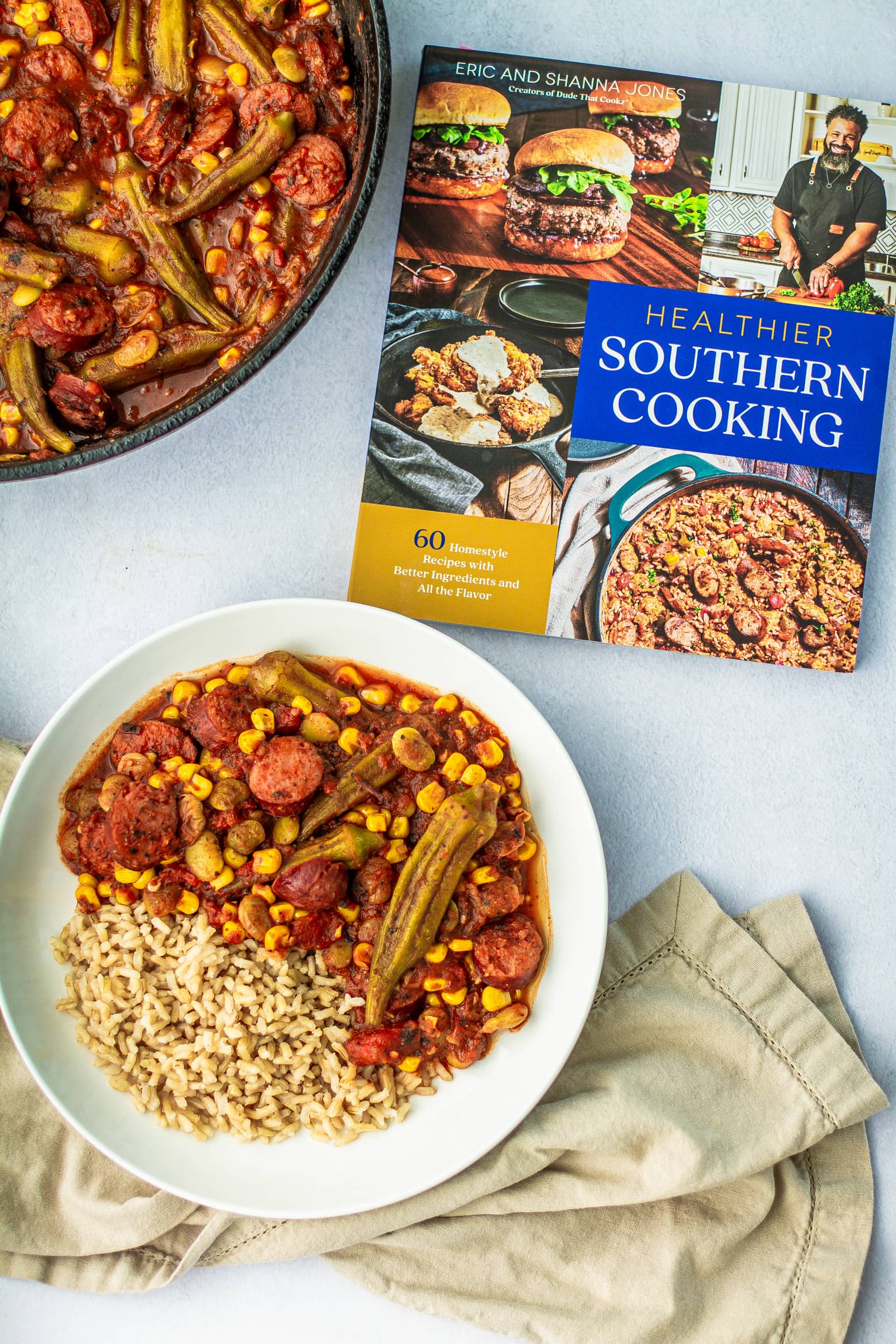 While the theme of the book is lighter cuisine, you wouldn't guess that after tasting these rich and flavorful dishes. If you're someone that loves Southern food but also wants to create meals you can feel good about serving to your family, this is the perfect cookbook to check out.
Eric and Shanna Jones' Creole Okra & Tomatoes with Beef Sausage
This crave-worthy Creole Okra & Tomatoes with Beef Sausage recipe from Healthier Southern Cooking is inspired by Eric Jones' grandmother's recipe. It combines two iconic Southern recipes, succotash and stewed okra with tomatoes, for a vibrant and comforting dish that it's impossible not to love.
By swapping the traditional pork sausage for beef sausage and doubling up on the vegetables, this healthier twist on a classic offers a more wholesome take without sacrificing any of the amazing flavors. This Creole-inspired dish comes together in under 30 minutes, making it a fantastic option for any easy weeknight meal.
Creole Okra & Tomatoes with Beef Sausage Recipe Tips
Here are a few simple recipe tips to help you make the best version of this Creole Okra & Tomatoes with Beef Sausage recipe:
You'll be cooking with high heat, so make sure to use a cast-iron skillet for the best possible results.
For a spicier dish, feel free to double the amount of cayenne pepper. For a smokier dish, you can swap the paprika for smoked paprika.
This recipe is best served right away but can be stored in the fridge for up to 2-3 days in an airtight container.
To further lighten up the dish, you can swap the beef sausage for turkey sausage or chicken sausage. Keep in mind this will slightly alter the flavor profile.
You can get the full recipe details by supporting this book with your purchase.
This book is linked using affiliate (referral) links on Amazon.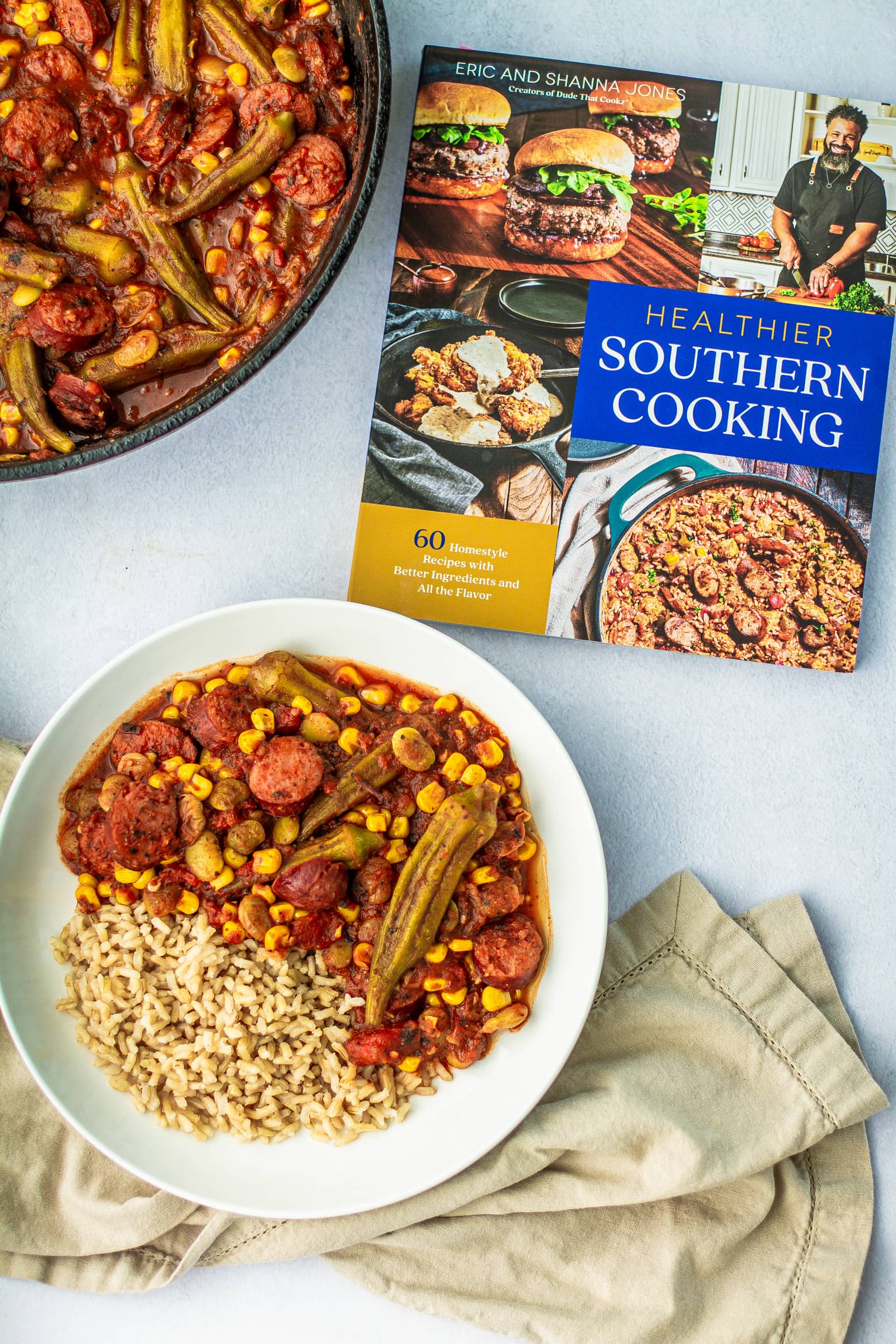 Ingredients
1

lb

454 g beef sausage with beef casing, thickly sliced

1

tbsp

15 ml olive oil

1

cup

172 g canned baby lima beans

½

tsp

Himalayan pink salt

1

lb

454 g fresh or frozen whole okra

1

cup

136 g frozen corn kernels

2

cups

360 g fire-roasted crushed tomatoes, drained

2

tbsp

18 g minced garlic

½

cup

120 ml low-sodium chicken stock

2

tsp

4 g Creole seasoning

1

tsp

paprika

1

tsp

ground thyme

1

tsp

black pepper

½

tsp

garlic powder

½

tsp

cayenne pepper
Instructions
In a 10-inch (25-cm) cast-iron skillet over high heat, cook the beef sausage for 5 minutes, until it is browned. Remove the beef sausage from the skillet and set the sausage aside.

In the same skillet, combine the olive oil, lima beans and Himalayan salt. Reduce the heat to medium and cook the mixture, covered, for 5 minutes. Add the okra, corn, crushed tomatoes, minced garlic, beef sausage, chicken stock, Creole seasoning, paprika, thyme, black pepper, garlic powder and cayenne pepper. Stir the ingredients to combine them well. Cover the skillet and cook the mixture for 15 minutes, until the vegetables are tender.
Notes
To put my spin on my grandmother's recipe, I combined two classics-succotash and stewed okra and tomatoes. Succotash uses sliced okra, sweet corn, lima beans, and tomatoes, and stewed okra and tomatoes is a vibrant yet straightforward pairing of whole okra and tomatoes in a tangy tomato sauce.
My healthier twist swaps pork sausage for juicy beef sausage, which adds depth and dimension to this dish. Plus, I include twice the amount of veggies compared to the traditional preparation. This recipe is so good, it can make anyone forget how light it is.
Nutrition
Calories:
551
kcal
|
Carbohydrates:
36
g
|
Protein:
26
g
|
Fat:
35
g
|
Saturated Fat:
11
g
|
Polyunsaturated Fat:
5
g
|
Monounsaturated Fat:
16
g
|
Trans Fat:
0.2
g
|
Cholesterol:
82
mg
|
Sodium:
1244
mg
|
Potassium:
1075
mg
|
Fiber:
9
g
|
Sugar:
8
g
|
Vitamin A:
2406
IU
|
Vitamin C:
39
mg
|
Calcium:
176
mg
|
Iron:
5
mg
Equipment
Healthier Southern Cooking by Eric & Shanna Jones
*Nutrition information is a rough estimate.
**The equipment section above contains affiliate links to products I use and love. As an Amazon Associate I earn from qualifying purchases.