If you are looking for the crispiest, spiciest, homemade fried chicken, you won't find a better recipe. The addition of the Pepper Jelly Molasses takes your tastebuds straight to the south.
It's Black History Month!!! [Hands Raised]
It's BLACK HISTORY MONTH!!!! May the soul train lines commence. YAASSS!!! Right now a celebration of Black History just feels necessary with everything thing thats been going on in the last year. Whether you are apart of the black community or a distant cousin ('cause you know we're all related) this is an awesome time to honor and celebrate our history, fortitude and future promise.
This Black History Month I feel like our nation needs a good ole' family picnic which may sound crazy but follow me. If you've ever been to a black family picnic, reunion or potluck you know how amazing it is to see everyone come together. At the annual picnic everyone's differences go out the door.
All kinds of family members come out the woodworks and you get connected with distant cousins you didn't even know you had. Somehow you find a common thread that unites you amongst strangers. Then all the stories of family history and childhood memories resurface and all at once you are humbled knowing where you came from isn't where your are today. It's a beautiful thing.
And if you haven't experienced one just know that at every black family picnic a few of the same things always occur: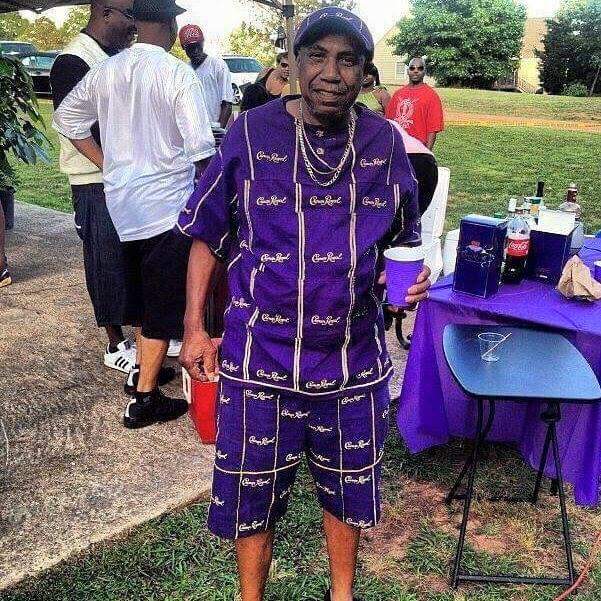 1. Crazy Uncle Cleophus
Every family picnic has that distant uncle Cleophus who wears the most outrageous getup, does a one-legged jig to the old school hits, and inappropriately checks out all the women.
2. Synchronized Dancing
Every year you typically take part in a massive group Electric Slide with that one family member who throws off the synchronization because they can't keep the beat.
3. OG Potluck Spread
Food is always at the forefront with potluck style contributions from all the OG grandmas and aunties. They bring out their most acclaimed dishes – the good and the bad. But you always know which auntie's potato salad to stay away from because it just never turns out quite right.
Fortunately, this time around you don't have to worry about trying any of your family members questionable dishes because I, along with 27 of the best black food bloggers from around the globe have come together to share our favorite recipes for a Black History Month Virtual Potluck. From West African to Creole, Caribbean to Southern there is something for everybody; with each blogger contributing their very own culturally inspired recipe. And the best part is that there is a dope dish for each day of Black History Month, across a number of dietary categories: Meat Entrees, Seafood Entrees, Vegetarian Entrees, Beverages and Desserts. You must check out each of these bloggers and try their amazing recipes down below. [JUMP DOWN TO LIST]
I'm bringing Fried Chicken to the Potluck
Yeah I said it, I'm bringing the Fried Chicken. And I am taking it up a notch with tips on how to achieve the crispiest skin and a recipe for silky, sweet Pepper Jelly Molasses that is to die for.
How to make crispy fried chicken?
The key to achieving crispy fried chicken is to double dredge your chicken using a flour and cornstarch mixture and an egg wash. You'll want to use a brown paper bag to shake and coat your chicken with the flour mixture, then dip into the egg wash, shake off excess egg mixture then recoat chicken in flour mixture before frying. Also, laying your fried chicken on a wire rack instead of paper towels helps maintain your chicken's crispiness.
What to season crispy fried chicken with?
This crispy fried chicken recipe calls for marinating your chicken in a buttermilk brine for at least 4 hours. This isn't a required step, but it is definitely recommended. Then without rinsing, season your chicken with a spice blend of onion powder, garlic powder, Cajun seasoning, smoked paprika, lemon pepper, black pepper, cayenne pepper, cumin, and Turmeric.
How long to cook fried chicken?
Chicken should be fried to an internal temperature of 165°. Thighs should be placed in the center of the pan while legs and breasts around the edges. The oil should be heated to 375°; once the chicken is added, the temperature should reduce to 350°. Using this method should take approximately 8-10 minutes per side to reach the desired internal temperature.
Why Buttermilk?
Buttermilk has less acidity than other common marinades like a lemon-based marinade. This causes buttermilk to help tenderize the meat without toughening it. The enzymes that are found in buttermilk also aids in the tenderizing and flavor of the chicken.
What's the best oil for a crispy fried chicken recipe?
Peanut Oil is the best oil for crispy fried chicken or frying in general, as its smoke point (burning point) is high. This means that it will take longer for this oil to burn when the temperature is maintained properly. You'll be able to fry more batches of chicken in the same pan of oil.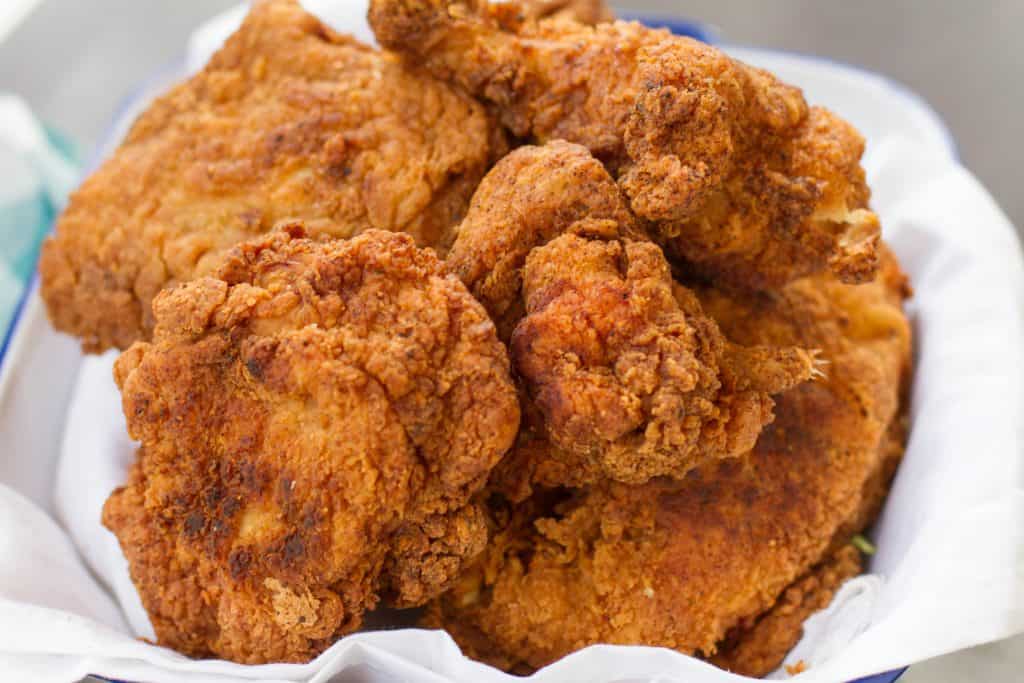 Cooking and storage tips
Here are some additional helpful tips in achieving a delicious crispy fried chicken. Don't be afraid to season your flour mixture and egg wash generously. Make sure not to crowd the pan when frying your chicken. You can use a candy thermometer to check and manage your oil temperature. Store your crispy fried chicken in a sealed container in the fridge for up to 4 days. You'll want to reheat in the oven to reignite the crispiness of your fried chicken.
Finally, if you are really are trying to "show out" drizzle on a little bit of this pepper jelly molasses. The rich earthy flavor of the molasses paired with the tangy spiced jelly really takes you down home. Believe me you can't go wrong with this homemade goodness because my contribution to the potluck is definitely a crowd pleaser.
More Black History Month Collaborations
Hey, check out some of my other BHM Collabs!
BLACK HISTORY MONTH VIRTUAL POTLUCK
28 recipes from the best black food bloggers from around the web
Whisk It Real Gud | Trinidad Oxtail Pelau
Raised on Ramen | Caramelized Plantain Tacos with Pecan-Honey Butter
Dash of Jazz | Aunt Georgia's Peach Cobbler
Foodie In New York | Twice Baked Yams
The Seasoning Bottle | Jamaican Sorrel/Senegalese Bissap
Chef Kenneth | Smothered Okra with Shrimp
Savory Spicerack | Po' Boys with Cajun Tempura Shrimp
Chocolate For Basil | Groundnut Stew (Peanut Stew)
My Forking Life | Callaloo and Saltfish
Kaluhi's Kitchen | Ukwaju (Tamarind) Marinated Spicy Chicken Thighs
Sweet Savant | Coffee-Rubbed Lamb Ribs
Salty Sweet Life | Southern Greens Shakshuka
Margarita's On The Rocks | Lemon Pepper Fish Tacos with Collard Green Slaw
Eat.Drink.Frolic. | Maple Roasted Brussels Sprouts
I Heart Recipes | Southern Fried Cabbage
Jehan Can Cook | Mango Turmeric Smoothie
A Soulful Twist | Slow-Cooker Gumbo (Gluten Free)
The Kitchenista Diaries | Coconut Milk Braised Collard Greens
My Life Runs On Food | Orange Chocolate Smoothie
Simply LaKita | Banana Pudding
Butter Be Ready | Skillet Cornbread
D.M.R. Fine Foods | Curry Chicken Pot Pie
The Inner Gourmet | Lamb Fried Rice
Marisa Moore Nutrition | Hoppin' John Patties with Warm Tomato Salsa
The Hungry Hutch | Blood Orange Cornmeal Cake
Follow the We Lover Black Food Bloggers Facebook group for more recipes from these and other black food bloggers from around the world.
Ingredients
1

quart

buttermilk

¼

cup

Louisiana Hot Sauce

3

eggs

3

tablespoons

water

3

cups

all purpose flour

1

cup

cornstarch

5

teaspoons

baking powder

kosher salt

4

lbs

chicken

breasts, thighs, drumsticks, and/or wings (bone-in skin-on)

1

clean brown paper bag
Seasoning blend
4

cups

peanut oil

canola oil or vegetable shortening

2

tablespoons

smoked paprika

1½

tablespoon

onion powder

1½

tablespoon

garlic powder

1

tablespoon

Cajun seasoning

1

tablespoon

coarsely ground black pepper

1

teaspoon

ground cayenne pepper

½

tablespoon

lemon pepper

½

teaspoon

cumin

¼

teaspoon

turmeric
Makes: ½ cup
6

tablespoons

Tabasco pepper jelly

¼

cup

unsalted chicken stock

2

tablespoons

light brown sugar

¼

cup

molasses

1

lime

juiced
Instructions
To make spice blend: in a small bowl thoroughly sift or whisk together onion powder, garlic powder, Cajun seasoning, smoked paprika, lemon pepper, black pepper, cayenne pepper, cumin and turmeric.

To brine chicken: in a large air tight container or freezer bag add buttermilk, 3 tablespoons of kosher salt, 2 tablespoons of spice blend and ¼ cup of hot sauce and whisk together. Completely submerge chicken in buttermilk brine and refrigerate for 4 hours or overnight. This is an optional (but highly recommended) step.

Remove chicken from the buttermilk brine, allowing excess buttermilk to drip off. Do not rinse the chicken. Use 3 tablespoons of spice blend to generously season both sides of all the chicken pieces.

In a medium bowl whisk together eggs, 3 tablespoons of water, 1 tablespoon of hot sauce and 1 tablespoon of spice blend and set aside.

In a large bowl whisk together the flour, cornstarch, baking powder, 2 tablespoons of salt, and ¼ cup of spice blend. Pour flour mix in brown paper bag. Drop the seasoned chicken into the bag of flour, and shake to coat. Do this in batches of 3-4 pieces at a time to give ample space for coating. Once each piece is thoroughly coated place it on parchment paper.

To double dredge completely dip coated chicken in egg mix and then shake off the excess egg mixture. In batches, place chicken back into the brown paper bag of flour. Give it a second shake to coat chicken pieces again then shake off excess flour.

Heat your oil to 375°F in a 12-inch straight-sided cast-iron chicken fryer or a large skillet medium-high heat. Adjust the heat as necessary to maintain the temperature. Place the chicken skin side down into the pan. Temperature should drop to a maintained 350°F. Put thighs in the center, and breast and legs around the edge of the pan. The oil should come half way up the pan. Cook chicken approximately 8 – 10 minutes per side or until golden brown. More importantly, the internal temperature should be right around 165°F.

Transfer the chicken to a wire rack set on a rimmed baking sheet. Instant-read thermometer inserted into the thickest part should register 165°F. Season with salt and serve warm.

To make Pepper Jelly Molasses: in a skillet over medium heat add all ingredients and whisk until mixture boils. Cook for 2-3 minutes until sauce thickens. Pour over fried chicken or serve on the side.
Notes
Step #2 Buttermilk Brine: Brine and refrigerate for 4 hours or overnight. This is an optional (but highly recommended) step.
Nutrition
Calories:
2164
kcal
|
Carbohydrates:
110
g
|
Protein:
43
g
|
Fat:
175
g
|
Saturated Fat:
35
g
|
Polyunsaturated Fat:
52
g
|
Monounsaturated Fat:
78
g
|
Trans Fat:
1
g
|
Cholesterol:
208
mg
|
Sodium:
942
mg
|
Potassium:
984
mg
|
Fiber:
4
g
|
Sugar:
34
g
|
Vitamin A:
2613
IU
|
Vitamin C:
15
mg
|
Calcium:
478
mg
|
Iron:
7
mg
*Nutrition information is a rough estimate.
**The equipment section above contains affiliate links to products I use and love. As an Amazon Associate I earn from qualifying purchases.