Cucumber Mango Salad is everything great about summer in a bowl. A refreshing combination of cool crisp cucumbers, sweet ripe mango, and finely chopped red onions with a refreshingly tangy vinaigrette. This yummy cucumber mango salad, in all its glory, can be prepared in as little as 15 minutes.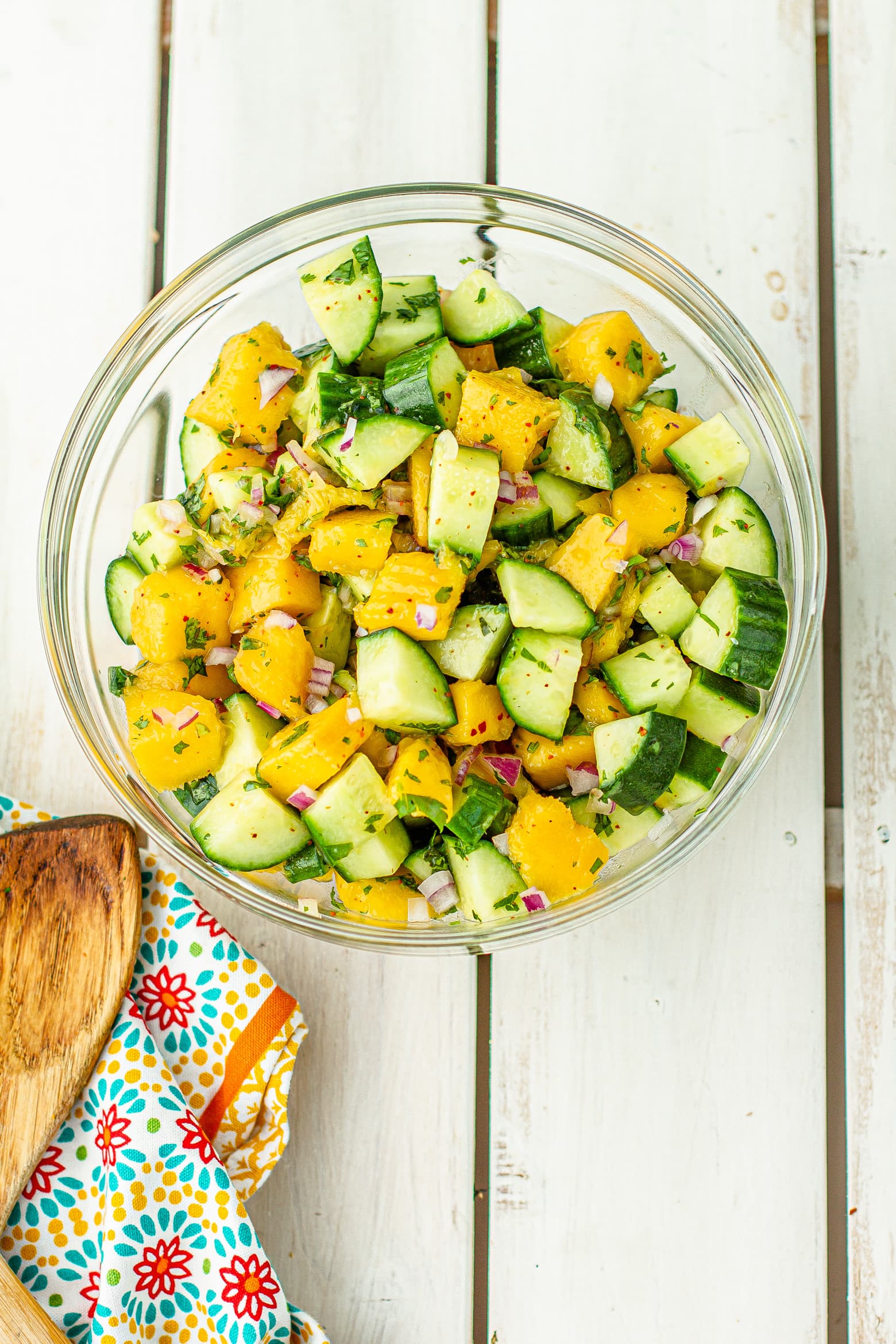 Sometimes you have to use what you have to make a quick bite, and cucumber mango salad is a delicious (and healthy!) solution to use leftover cucumbers and mangoes too. What's more? It gets ready in less than 20 minutes, feels satiating, and risks becoming your next-favorite go-to nibble.
Key Ingredients Cucumber Mango Salad
To make this crisp refreshing summer salad, you will need the following key ingredients:
Mango. A delicious tropical stone fruit that can be enjoyed in many ways they're sweet and juicy when ripe. I used the Tommy Atkins mangos in this recipe.
Cucumber. I used an English Cucumber because it has a milder flavor, smaller seeds, and thinner skin.
Cilantro. A versatile herb that can add a fresh, earthly flavor to your dish.
Red Onion. Rich in flavor and vitamins red onions are a great addition to salads. Vibrant color, crisp texture, and flavorful. A bit milder than a yellow onion.
Tajin Classico Seasoning. This Mexican seasoning adds a bit of a zesty zing to the cucumber mango salad.
Dressing. Fresh lime juice, apple cider vinegar, olive oil, & honey.
Cucumber Mango Salad Recipe
There are two components to this great salad: the salad itself and the dressing we add to it. A good dressing can make a salad even better. If you've never made a dressing before, don't stress! It's beyond easy to make and only takes a couple of minutes to whisk up.
How to make Cucumber Mango Salad
Tossing red onions in apple cider vinegar until it is completely coated. Let the onion sit in the vinegar for at least 10 minutes.
In a large bowl, add chopped mango, cilantro, and cucumber. Pour the dressing over the salad, and gently toss. Add a sprinkle of Tajin seasoning to the salad. Serve immediately or refrigerate for 20 minutes to chill, then serve.
Don't have Tajin seasoning, no worries simply add a mix of 1 tsp cayenne pepper and 1 tsp lemon pepper with a pinch of salt, and voila!
How to make Cucumber Mango Salad Dressing
In a small bowl or mason jar add fresh lime juice, apple cider vinegar, olive oil, & honey.
Whisk (or shake) together until combined.
Frequently Asked Questions
Below are the answers to some of the most common questions about Cucumber Mango Salad: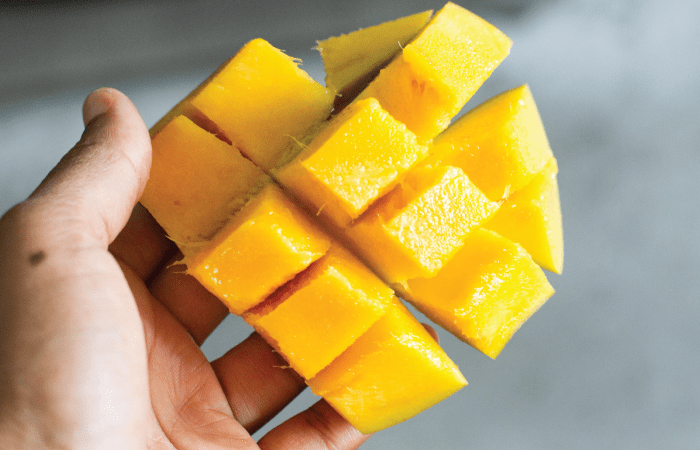 How to cut a mango?
Most people cut mango using these 4 easy steps.
Place on a cutting board with the bottom sitting upright, and the stem is pointing up.
Cut as much cheek as possible until just the white seed in the center is left. Once you are done, you will have four cut pieces of mango.
Peel, place the end of the mango half on the rim of a glass then push down. This will help remove the skin without damaging the fruit.
Dice the mango into cube pieces.
Nevertheless, I believe I've found an even easier way by sliding a halved mango along the rim of any glass. The meat of the mango and the skin easily separate making it super easy to then slice and/or dice the way you like it.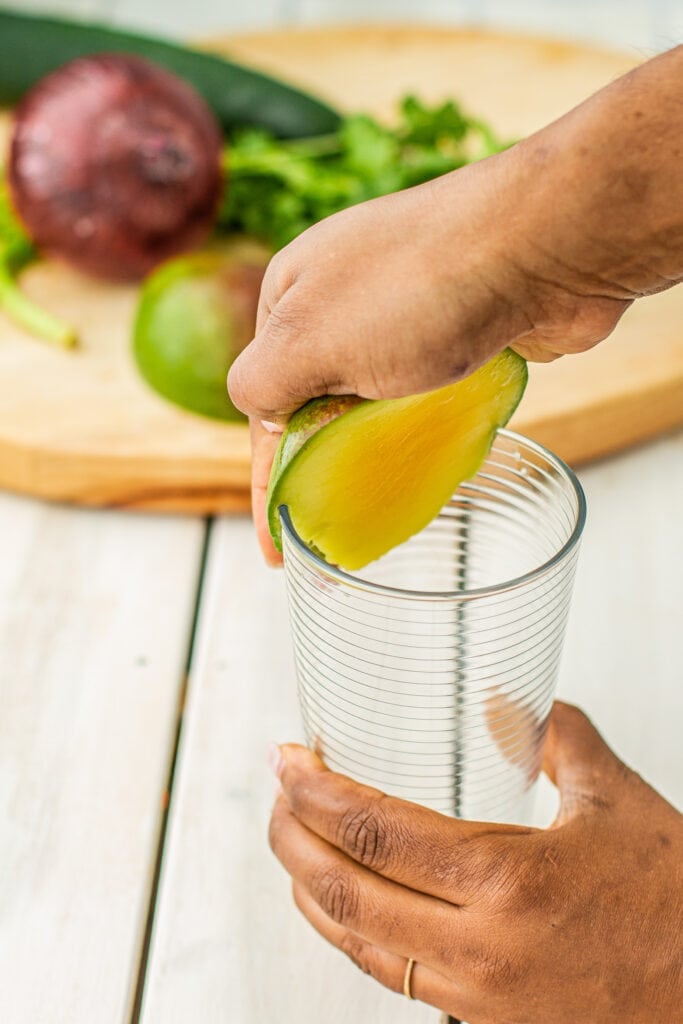 What Type Of Cucumber Should I Use?
There's a big debate between English cucumber enthusiasts and American cucumber lovers. Some say that English cucumbers are the way to go, with their classic flavor and delicate texture. Others argue that American cucumbers are more flavorful and have a firmer texture. Ultimately, it's up to the cucumber lover to decide which one is right for them.
How spicy is this salad?
That depends on your taste buds and your threshold for heat! The amount of Tajin, the seasoning that adds spice to the salad, can be increased or decreased. If you're looking for a salad that packs a punch, then add a little more Tajin. But if you're not a fan of spice, then you might want to add less. Also, adding a drizzle of honey helps to tame the heat.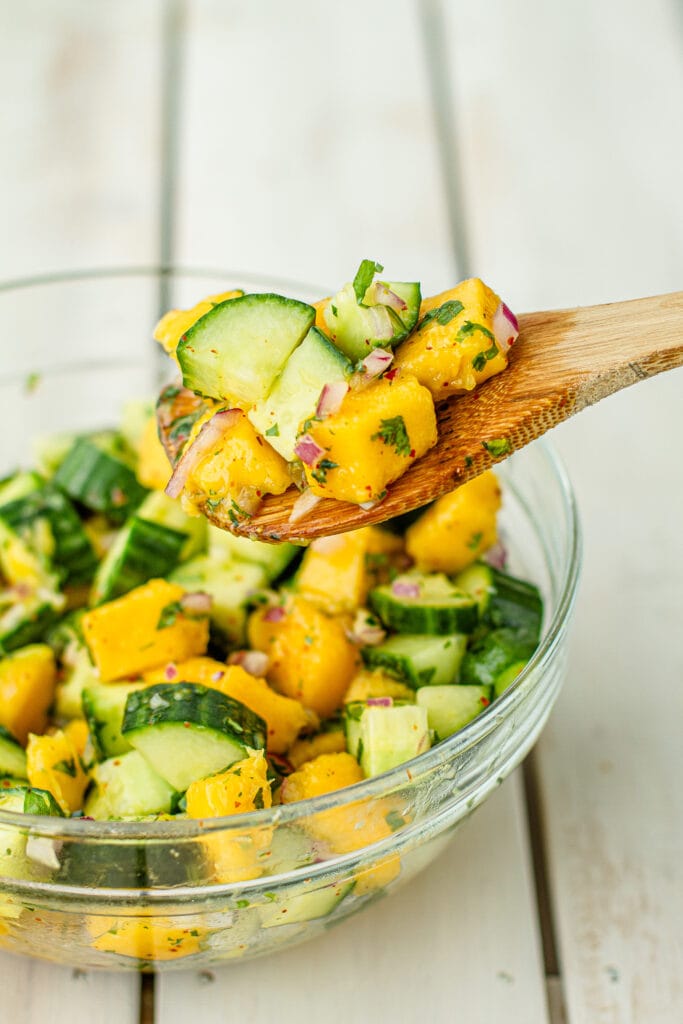 How to store leftovers?
Keep your cucumber mango salad fresh by storing it in an airtight container in the refrigerator. It can be kept fresh in the refrigerator for up to 2 days.
Recipe Tips and Tricks
Plan ahead- cube cucumber and mango a couple of hours in advance. Keep them in separate containers in the fridge so they'll be nice and cooling when you're ready to assemble your salad.
Making the dressing a day or two in advance really gives the flavors a chance to meld together. Plus, it saves you time the day of. Just be sure to refrigerate it in an airtight container.
For the best results combine all of your ingredients together no more than 20 minutes before serving.
If you don't have Tajin you could substitute with a mix of 1 teaspoon of cayenne pepper, 1 teaspoon of lemon pepper, and 1 pinch of salt.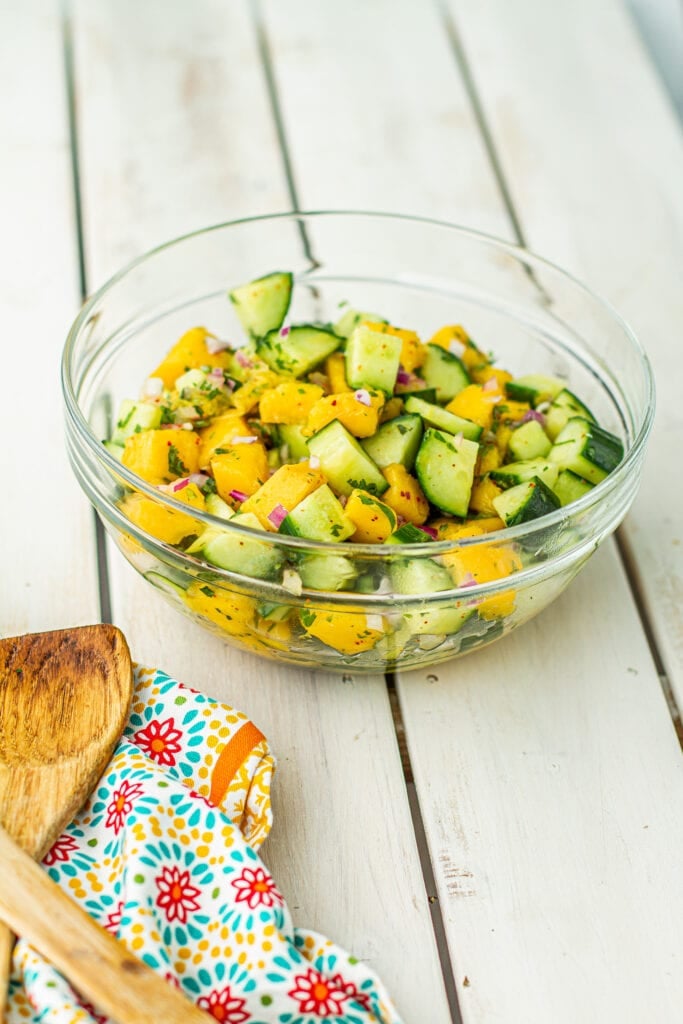 More Fresh Summer Salad Recipes
Now it's your turn!
Everyone loves a good meal, and your loved ones are sure to appreciate your culinary skills. So don't be shy – let them know just how delicious your dish is! If you enjoy the recipe, please share it with your friends and family. And don't forget to give me some five-star love down below. And if you have any comments or questions, leave them below too, and I'll be sure to get back to you as soon as possible.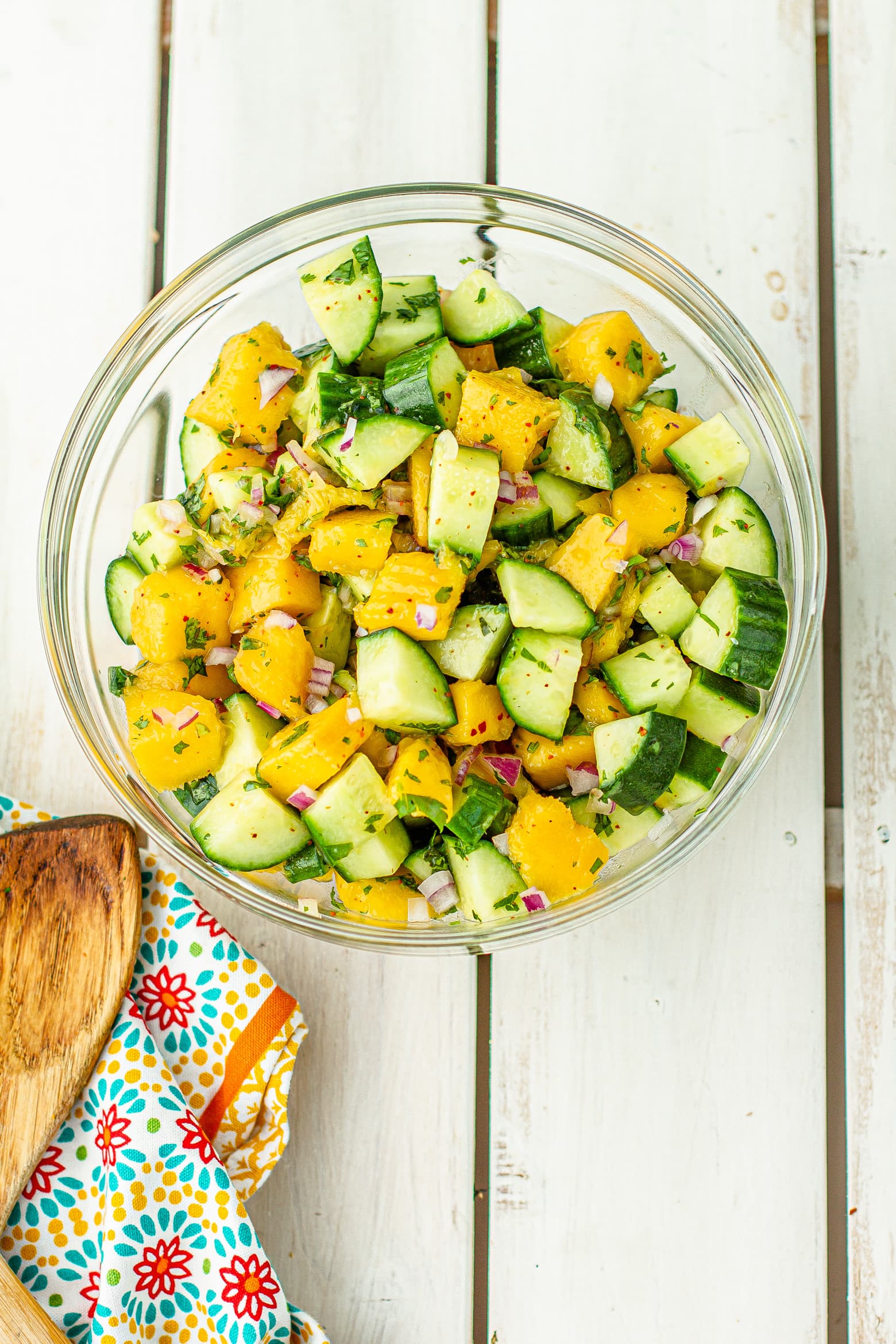 Ingredients
2

mangos

peeled & cubed

1

large English cucumber

cubed

¼

cup

cilantro finely chopped

¼

cup

red onion finely chopped
Dressing
2

tablespoons

fresh lime juice

1

tablespoon

apple cider vinegar

3

tablespoons

olive oil

2

teaspoons

honey

½

teaspoon

Tajin Classico Seasoning + ½ teaspoon for garnish

substitute detail below
Instructions
To make the dressing
whisk together all the dressing ingredients in a small bowl or shake up in a mason jar.
To make salad
In a medium bowl, combine the mango, cucumber, onion, and cilantro. Pour the dressing over the salad, and gently toss. Serve immediately or refrigerate for 20 minutes to chill, then serve.
Notes
If you don't have Tajin I would substitute with a mix of 1 teaspoon of cayenne pepper, 1 teaspoon of lemon pepper, and 1 pinch of salt.
Nutrition
Serving:
2
g
|
Calories:
369
kcal
|
Carbohydrates:
46
g
|
Protein:
3
g
|
Fat:
22
g
|
Saturated Fat:
3
g
|
Polyunsaturated Fat:
2
g
|
Monounsaturated Fat:
16
g
|
Sodium:
8
mg
|
Potassium:
641
mg
|
Fiber:
5
g
|
Sugar:
38
g
|
Vitamin A:
2543
IU
|
Vitamin C:
86
mg
|
Calcium:
58
mg
|
Iron:
1
mg
*Nutrition information is a rough estimate.
**The equipment section above contains affiliate links to products I use and love. As an Amazon Associate I earn from qualifying purchases.