Sometimes you have to use what you have to make a quick bite and this salad here is a solution with leftover cucumber and mangoes.
How to make Cucumber Mango Salad?
Making cucumber mango salad is an easy 4-step task that takes less than 20 minutes. You start by tossing red onion in apple cider vinegar until it is completely coated. Let the onion sit in the vinegar for at least 10 minutes. Meanwhile, in a large bowl, add chopped mango, cilantro, and cucumber. When ready, add the vinegar-coated onion into the bowl with the other ingredients. Sprinkle Tajin seasoning or add a mix of 1 tsp cayenne pepper and 1 tsp lemon pepper with a pinch of salt to the salad. Refrigerate, and it is ready!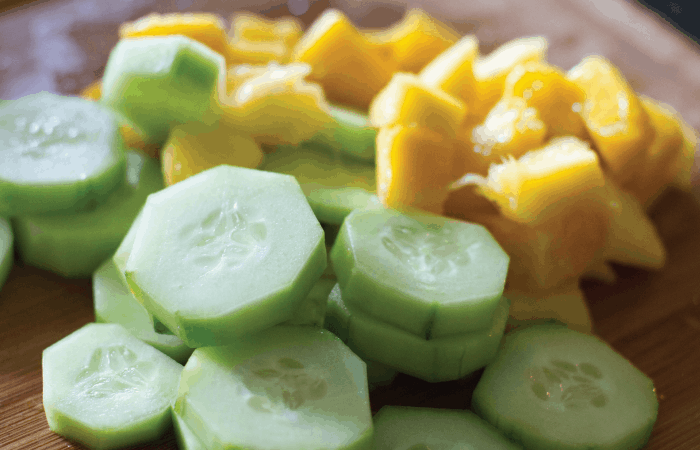 Cutting a mango is an easy 5-step task. Place on a cutting board with the bottom sitting upright, and the stem is pointing up. Cut as much cheek as possible until just the white seed in the center is left. Once you are done, you will have four cut pieces of mango. Now score each piece by slicing it first horizontally and then vertically until you get several mango boxes. Scoop the now hedgehog-looking flesh with a spoon or scoop.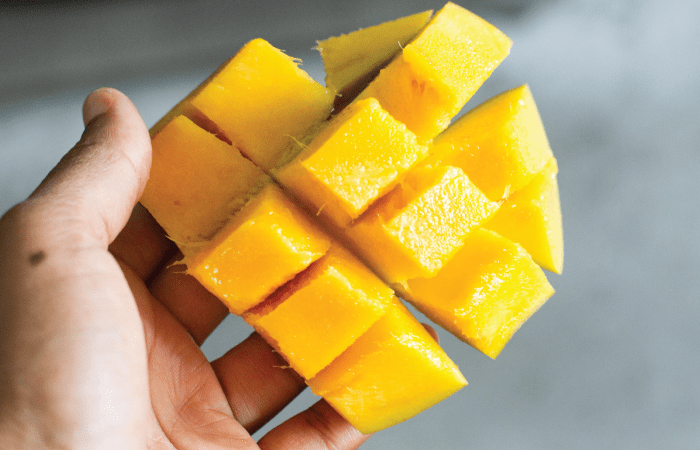 How Spicy is This Cucumber Mango Salad?
This cucumber mango salad is not very spicy. However, that also depends on your taste buds and a threshold for hot dishes. You can always control the spice in this salad by adding honey. You can also increase or decrease the quantity of Tajin Clasico Seasoning.
Is Cucumber Mango Salad Keto-Friendly?
The cucumber mango salad makes a healthy and gluten-free addition to your diet when you are going keto. If you keep the quantity of mango limited by adding only 2/3rds of the fruit, the salad will not disrupt the 50g carb intake.
Can Cucumber Mango Salad Cause Weight Gain?
Many people associate mangoes with weight gain. However, according to nutritionists, it is not quite true. The fruit has neither cholesterol nor salt. In fact, it nourishes your body. As long as you do not overeat the cucumber mango salad, you do not have to worry about weight gain.
How to Store Cucumber Mango Salad?
Refrigerate your Cucumber mango salad in an airtight container. Cucumber mango salad can be kept fresh in the refrigerator for up to 2 days.
Ingredients
2

Mangos

cubed

1

large cucumber

peeled and sliced ¼ cup cilantro, finely chopped

? cup red onion

thinly sliced

? cup apple cider vinegar

½ -1

teaspoon

of Tajin Classico Seasoning

substitute detail below

optional: add honey to taste
Instructions
In a small bowl, toss the red onion in the apple cider vinegar until completely coated. Let the onions rest in the vinegar for at least 10 minutes

In a large bowl, add chopped mango, cucumber and cilantro. Add in onions and vinegar when ready.

Sprinkle Tajin seasoning over the salad and toss until completely mixed in.

Note: if you don't have Tajin I would substitute with a mix of 1 teaspoon of cayenne pepper, 1 teaspoon of lemon pepper, and 1 pinch of salt.

Refrigerate and serve when ready.
*Nutrition information is a rough estimate.
**The equipment section above contains affiliate links to products I use and love. As an Amazon Associate I earn from qualifying purchases.