Double Cheese Shredded Chicken Chili will warm every cheese lover's heart. Made with a thick roux base, delicious pulled chicken, and a blend of five kinds of cheese. This simmering pot of love warms up any occasion, from Game Day to a heartwarming family meal.
Borden® Cheese has compensated for this blog post. All opinions are mine alone.#BordenCheeseLove #CollectiveBias #Ad
THIS RECIPE IS SPONSORED BY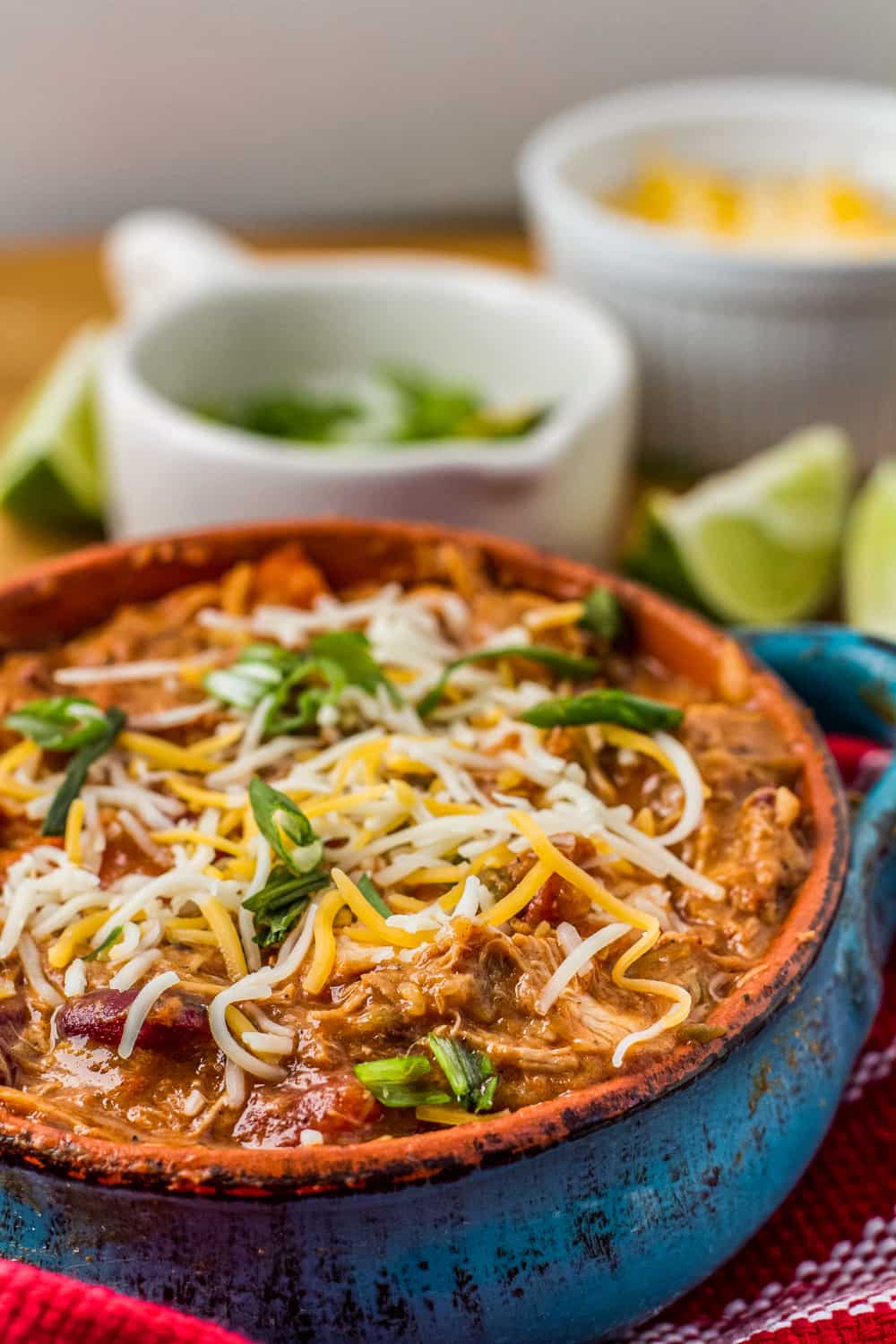 My name is Meiko, and I am a chili fanatic. I don't know what it is about a big warm bowl of chili, but I could literally eat it every day. There are so many chili versions that I don't think I could ever get bored of it. I also love it because if you use your leftovers wisely, you could basically dump them in and have an amazing new dish.
As a matter of fact, a few weeks ago, I made a bunch of spaghetti and had a ton of leftover meat sauce. I hate to waste, so I added a few clutch ingredients and magically turned it into chili. I'm being a bit dramatic because there is clearly no magic involved, but you have to admit that this dish's ease and versatility is pretty awesome.
So I decided to check out this Fiesta Mart store that I've driven by a hundred times. I thought maybe a new store would give me so new inspiration, and it worked. This week I made a new recipe I like to call Double Cheese Shredded Chicken Chili. Sounds delicious right? IT IS!
I always start my chili with a roux. I know this is not a very common practice, but I think it adds deeper flavor and thickens the batch. I basically heat my oil, add in flour and toast it until it reaches a caramel brown. Then I literally dump all the remaining ingredients and let the pot simmer so that all the flavors meld together.
Also, I added cooked chopped chicken, which easily pulled apart as the chili cooked down. Next, I added in the LOOOOOOOOVE, which for me is just a code for BRING ON CHEESE.😍 😍 😍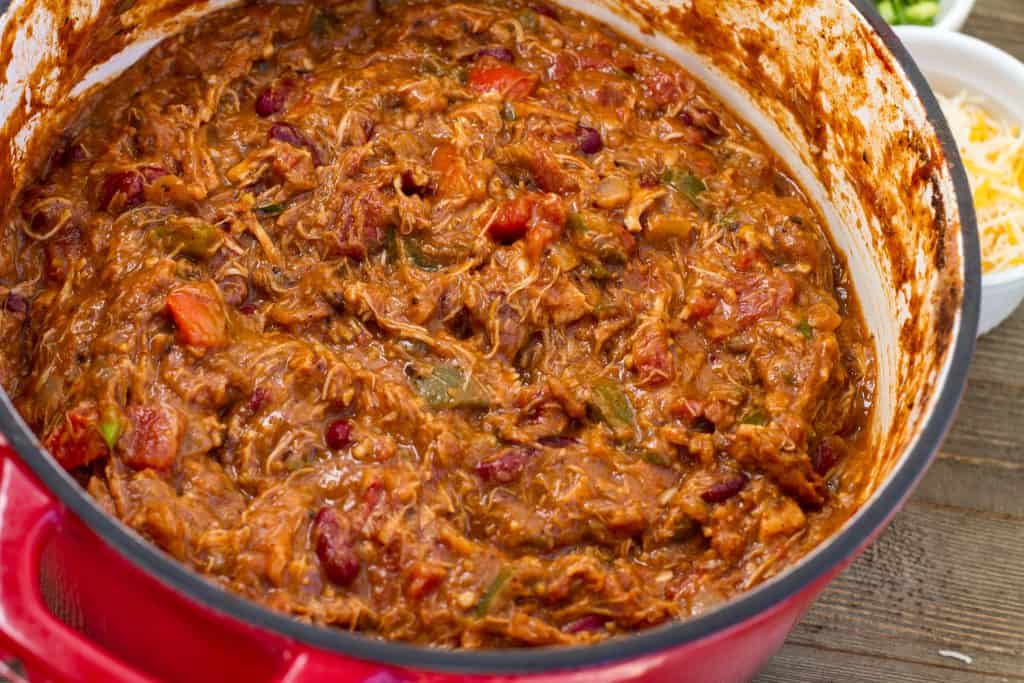 This chili was made to be full of LOVE and extra cheesy, so while at Fiesta Mart, I raided their large variety of Borden® Cheese. I narrowed in on Borden® Cheese Finely Shredded Four Cheese Mexican Shreds and Borden® Cheese Mozzarella String Cheese to achieve the "ooey gooey-ness" that I was looking for. You can find where varieties of Borden® Cheeses are sold nearest to you by using their nifty store locator link.
Ok, so I chopped up the string cheese into small chunks and submerged them into the batch of chili. Then, upon serving, I added a healthy helping of the shredded cheese to the top and heated the bowl in the microwave for an extra 35 seconds to get it all melted.
The outcome was this amazing bowl of deliciousness. I'm telling you, this is what food memories are made of; heart-warming bowls of love that you enjoy with your family (friends + family 😊). This new recipe is definitely going to be a recurring staple in my chili rotation.
More Winter Comfort Recipes
Now It's Your Turn
Let me know what your favorite type of chili is below. I would highly recommend giving it five stars if you make it. Be sure to take a photo and tag @meikoandthedish on Instagram too! Enjoy!
Ingredients
Chili
⅓

cup

vegetable oil

⅓

cup

all purpose flour

1

large onion

diced

1

green bell pepper

diced

1

red bell pepper

diced

3

cups

low-sodium chicken stock

2

15 oz

cans dark kidney beans, drained

2

tablespoons

tomato paste

½

cup

Worcestershire sauce

1

28 oz

can diced tomatoes

1

4 oz

can diced jalapeño peppers

1

tablespoon

Louisiana style hot sauce

5

cloves garlic

minced

3½

lbs

cooked skinless

chicken, cut into medium chunks

3

Borden® Cheese Mozzarella String Cheese

chopped ½ inch segments

1

8 oz

pack Borden® Cheese Finely Shredded Four Cheese Mexican Shreds

green onion for garnish

chopped
Seasoning blend
2

tablespoons

dark brown sugar

1

tablespoon

ground cumin

1

tablespoon

kosher salt

1

teaspoon

black pepper

1

teaspoon

onion powder

1

teaspoon

garlic powder

1

teaspoon

cayenne pepper

1

teaspoon

smoked paprika

1

teaspoon

chili powder

1

teaspoon

cinnamon
Instructions
In a small bowl, whisk together all of the seasoning blend ingredients and set aside.

In a heavy large pot, heat oil on medium. Add in flour and whisk continuously until the flour reaches a caramel brown.

Add in diced onion and bell peppers, and cook while covered for five minutes. Then add in chicken stock, kidney beans, tomato paste, Worcestershire sauce, canned tomatoes, canned jalapeños, hot sauce, seasoning blend and stir well. Cook covered for 5 minutes.

Use wooden spoon to scrape the bits on the bottom of the pot and stir. Stir in chicken and garlic, and reduce heat to low. Cook for 30 minutes covered.

Add in and submerge chopped mozzarella string cheese evenly spaced throughout the pot of chili. Increase heat to medium and cover the pot to allow the cheese to melt for 7-10 minutes.

Ladle chili into a large bowls and top with a generous portion of Borden® Cheese Finely Shredded Four Cheese Mexican Shreds and green onion. Serve warm.

Note: To get ooey gooey melted cheese on top of chili add bowl to the microwave on high for 20 seconds, then serve.
Nutrition
Serving:
10
g
|
Calories:
702
kcal
|
Carbohydrates:
47
g
|
Protein:
61
g
|
Fat:
31
g
|
Saturated Fat:
17
g
|
Cholesterol:
224
mg
|
Sodium:
1967
mg
|
Potassium:
1544
mg
|
Fiber:
11
g
|
Sugar:
10
g
|
Vitamin A:
1630
IU
|
Vitamin C:
50
mg
|
Calcium:
339
mg
|
Iron:
8
mg
*Nutrition information is a rough estimate.
**The equipment section above contains affiliate links to products I use and love. As an Amazon Associate I earn from qualifying purchases.