Step aside Starbucks! This Pumpkin Spice Dalgona Coffee is the new star beverage of Fall. This spiked frothy coffee may be light and airy but is loaded with pumpkin spice latte flavor and whips up in a flash.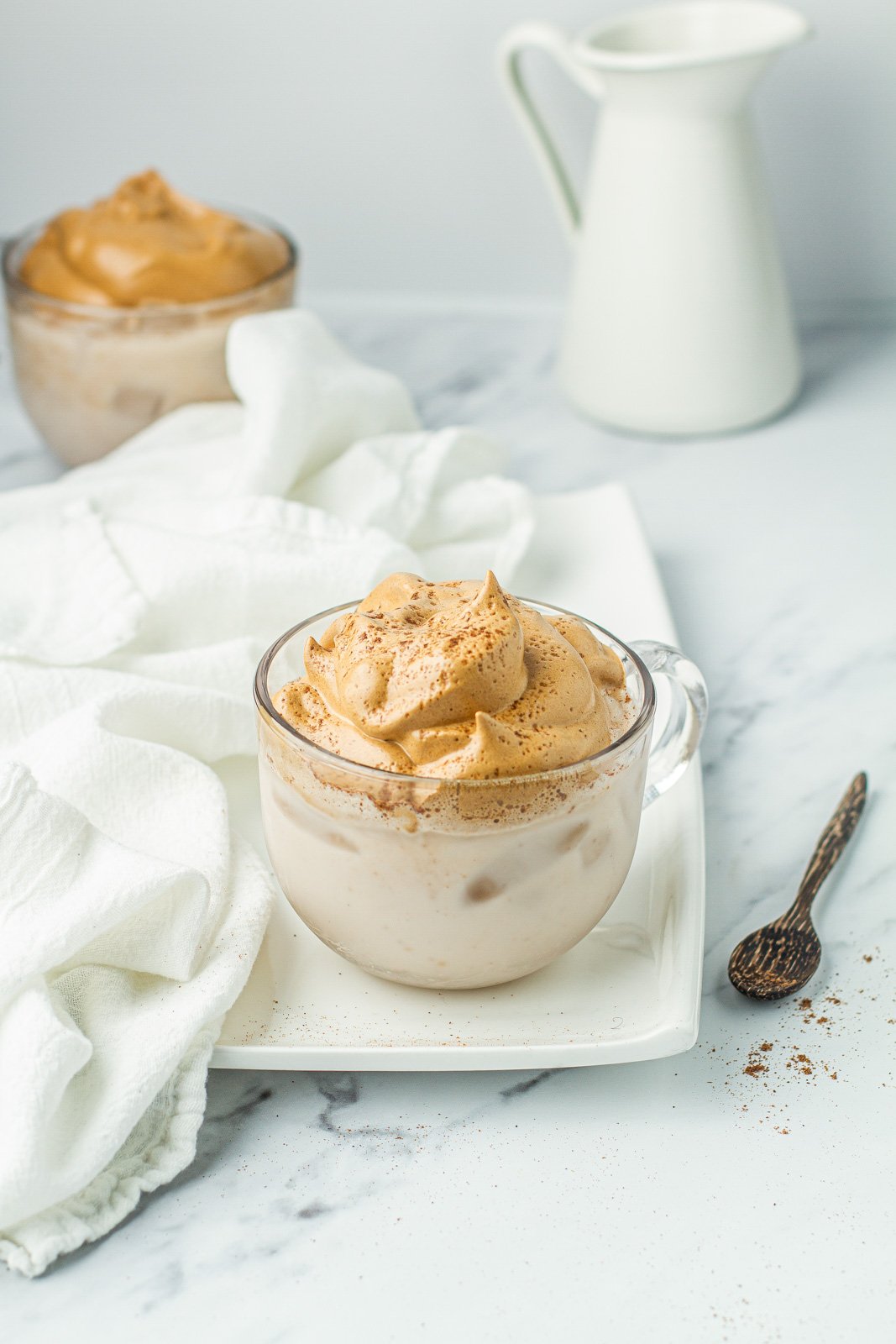 When I started developing this recipe, it was a basic, DIY guide to making a Starbucks quality Pumpkin Spice Latte at home. I promise I tried to keep it basic, but my ancestors wouldn't let me do it. So, as usual, I had found a way to be extra with the latte. So here we are, with an over-the-top, drunken aka spiked, pumpkin spice latte inspired, whipped coffee.
I wanted to add additional flavors to frothy coffee, and this felt like the perfect time of year to test out some of my ideas. It was pretty easy to add in the pumpkin spice seasoning, but adding the pumpkin puree into the mix gave me a little resistance. But once I figured it out, it was smooth sailing.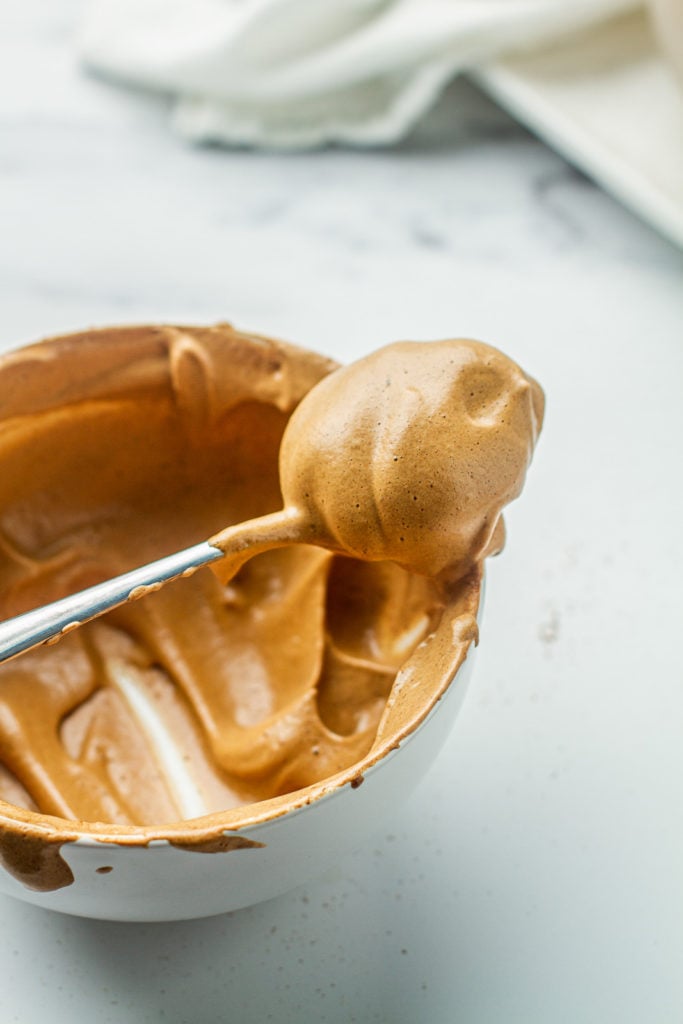 What was the issue? I blame the pumpkin puree. When I used my hand mixer to whip up the ingredients, I was still whipping a relatively flat espresso mix ten minutes later. My arm was tired, to say the least.
This coffee may look fancy, but the recipe couldn't be easier. It wasn't until I nuked the puree in the microwave for a few seconds that the tides started to turn. By warming the puree, everything came together in its true frothy, fluffy, pillowy goodness in just 2-3 minutes. It is absolutely worth the effort, totally instagramable, and just a nice added touch of boujetto to your everyday morning coffee.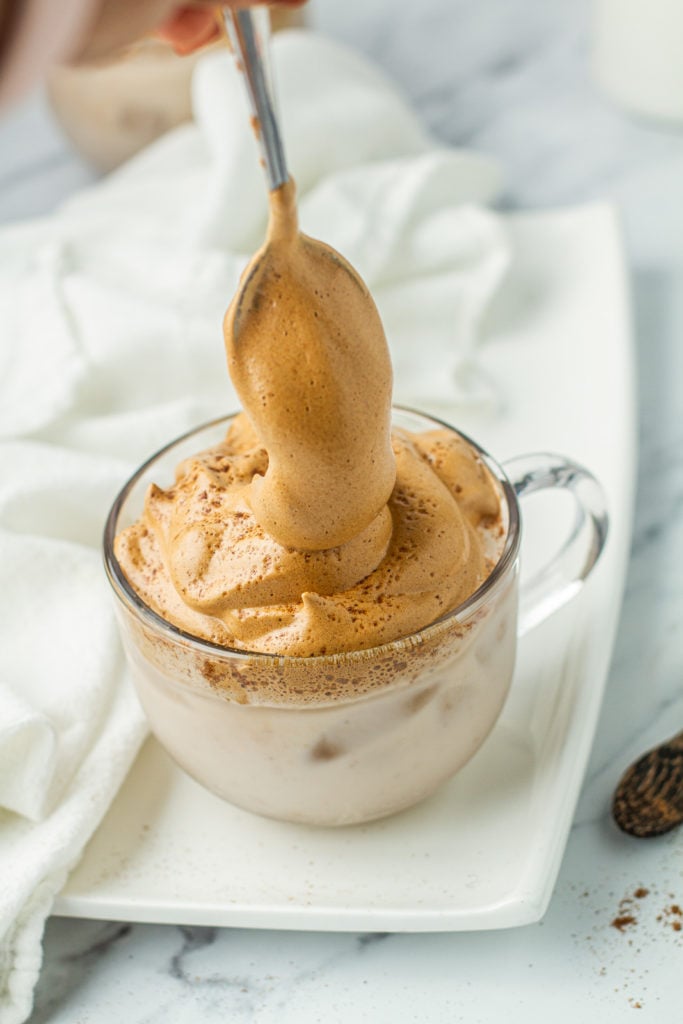 What is Dalgona coffee?
Dalgona coffee is a whipped, frothy coffee drink that has recently gained a ton of popularity in the foodie world for its photo-worthy appearance and delicious flavor. First popularized in South Korea, the drink quickly gained worldwide notoriety through social media.
The beverage is made by whipping equal parts of coffee powder, hot water, and sugar until it becomes thick and creamy. Once the mixture gets to this point, simply add it to your choice's cold or hot milk. It is usually served exactly like this, but sometimes people customize the frothy drink by topping it with cocoa, cinnamon, or coffee powder.
Ingredients to make Pumpkin Spice Dalgona Coffee:
To bring this boozy fall beverage recipe to life, you will need the following key ingredients:
Instant coffee. Any instant coffee powder or espresso of your choice will work, so feel free to choose your favorite.
Pumpkin puree. Make sure to use pure pumpkin puree and not pumpkin pie filling. The latter is loaded with additives and sugars, which will end up making this beverage overly sweet.
Brown sugar. This gives our coffee drink just the right touch of sweetness. For a richer caramel flavor, use dark brown sugar. For more of a straightforward sweetness without added flavor, opt for light brown sugar.
Milk. Any kind of milk you have at home will work fine. Some of the most common choices include skim, soy, almond, oat, cashew, and regular dairy milk.
Alcohol. This is what puts the 'drunken' in Drunken Pumpkin Spice Dalgona Coffee. I like to use a combination of spiced dark rum and praline liqueur, as the flavors pair beautifully with the pumpkin spice flavors.
Frequently Asked Questions:
Here are the answers to some of the most common questions about this boozy fall beverage:
Canned pumpkin puree vs. pumpkin pie filling?
This is a super common question! Canned pumpkin puree is nothing more than pure pumpkin that has been cooked and pureed to fit into a can. There are no spices, additives, sugars, or anything else. Pumpkin pie filling, on the other hand, is made specifically for pumpkin pie. It's pre-sweetened and flavored with numerous spices.
How do you make whipped coffee without a hand mixer?
If you don't have a hand mixer at home, you can easily make whipped coffee with a milk frother instead. No milk frother either? Try using a whisk although it will require a lot more elbow grease. To be honest, I have not tried this method, so if you do, let me know how it goes.
How do you store Dalgona coffee?
For best results, I recommend drinking Dalgona coffee right away. It will retain its 'fluffiness' in the fridge for up to a few hours. If you want to make a big batch to store for later, you can store it in the fridge in an airtight jar or pitcher for up to 1 week. Keep in mind, it will be more like iced coffee than whipped coffee after being stored.
More Pumpkin Spice Deliciousness To Love!
If you love pumpkin spice everything then you're going to obsess over these recipes:
Now it's your turn!
If you enjoy the recipe, please share it with your friends and family. And don't forget to give me some five-star love down below. And if you have any comments or questions, leave them below too, and I'll be sure to get back to you as soon as possible.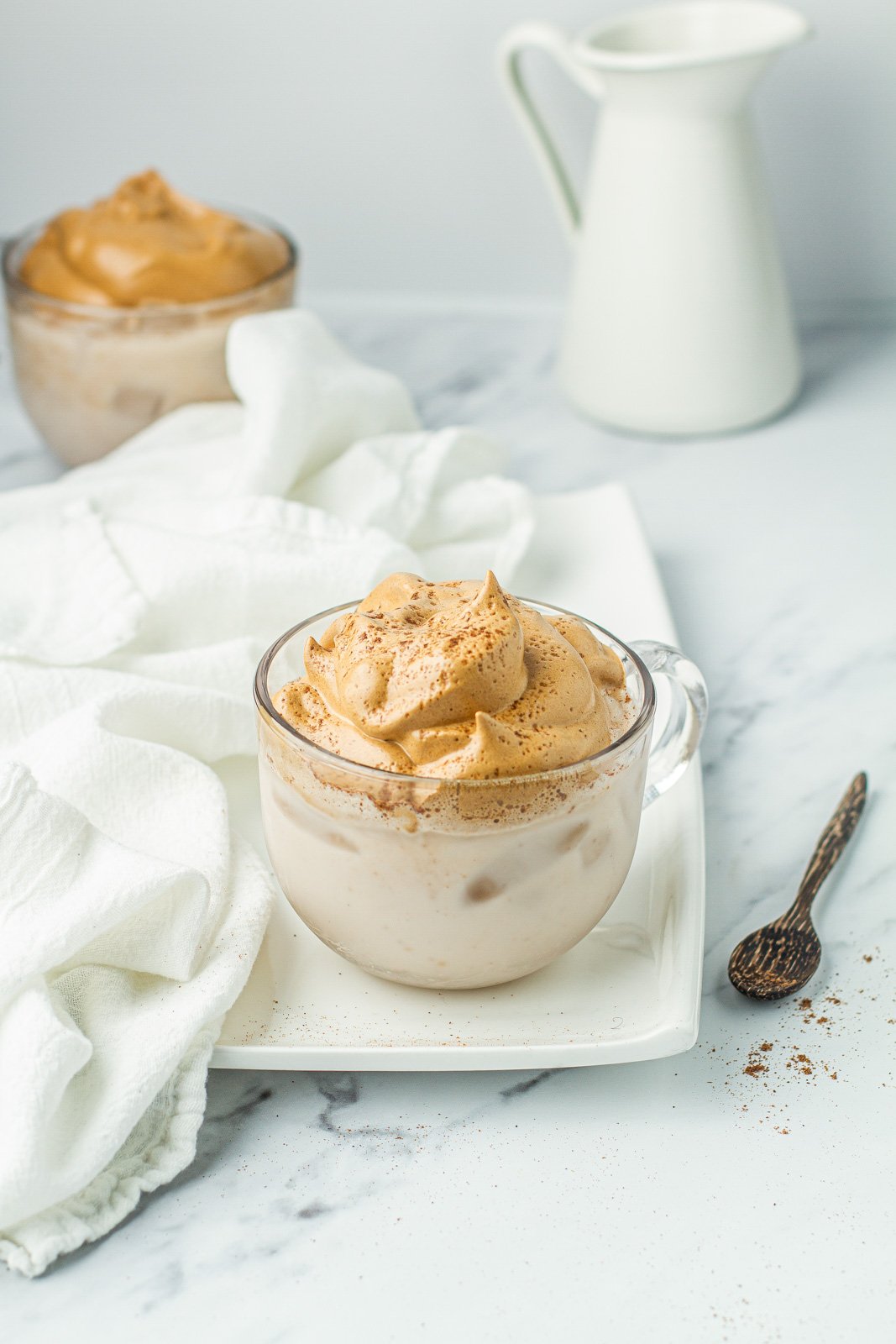 Ingredients
Pumpkin Spice Whipped Coffee
¼

cup

Instant Coffee

or Espresso

¼

cup

brown sugar

¼

cup

hot water

4

teaspoons

canned pumpkin puree

warm

½

teaspoon

pumpkin pie spice
Pumpkin Spice Milk
1

cup

milk

½

teaspoon

vanilla

½

oz

spiced dark rum

½

oz

praline liqueur

1

cup

ice

3

tablespoons

malted milk powder

optional
Instructions
Heat pumpkin puree in a microwave-safe bowl for 15-20 seconds.

In a large bowl, combine the instant coffee, brown sugar, pumpkin puree, pumpkin spice, and hot water. Turn electric hand mixer on high and mi the ingredients together 2-3 minutes or until fluffy, firm peaks begin to form.

Add milk to a large glass or bowl and stir in vanilla, rum, Praline Liqueur, malted milk powder until blended. If serving cold add ice to the glass after mixing.

Top each glass with the pumpkin spice Dalgona coffee and sprinkle the top with additional pumpkin spice.
Notes
If serving warm, heat milk before mixing spice milk ingredients.
If serving cold, add ice after mixing spice milk ingredients.
Nutrition
Calories:
367
kcal
|
Carbohydrates:
66
g
|
Protein:
9
g
|
Fat:
5
g
|
Saturated Fat:
3
g
|
Polyunsaturated Fat:
1
g
|
Monounsaturated Fat:
1
g
|
Cholesterol:
14
mg
|
Sodium:
113
mg
|
Potassium:
1331
mg
|
Fiber:
1
g
|
Sugar:
41
g
|
Vitamin A:
1752
IU
|
Vitamin C:
1
mg
|
Calcium:
237
mg
|
Iron:
2
mg
*Nutrition information is a rough estimate.
**The equipment section above contains affiliate links to products I use and love. As an Amazon Associate I earn from qualifying purchases.