The Escovitch Fish is a traditional dish from Jamaica. Crispy fried fish topped with Escovitch a spicy pickled sauce made with onion, carrots, allspice, and scotch bonnet pepper. 
It is a spicy variation of ceviche – a delicious blend of peppery, tart, pickling, and sometimes even a little sweet flavor. Much like the popular Ackee and saltfish, you serve Escovitch fish with bammy (traditional cassava bread) or dumplings.
What I love about this exotic Jamaican recipe is how easy it is to prep and cook. Plus, its hot taste gives me the runny nose that I often crave. The good news is, there is no one way of making Escovitch fish. So, if you are intolerant to too much spice, you could mellow it down by, say, removing bonnet pepper and using only allspice or Jamaican pimento. You can also remove the seeds of the pepper to ensure there is flavor but no heat.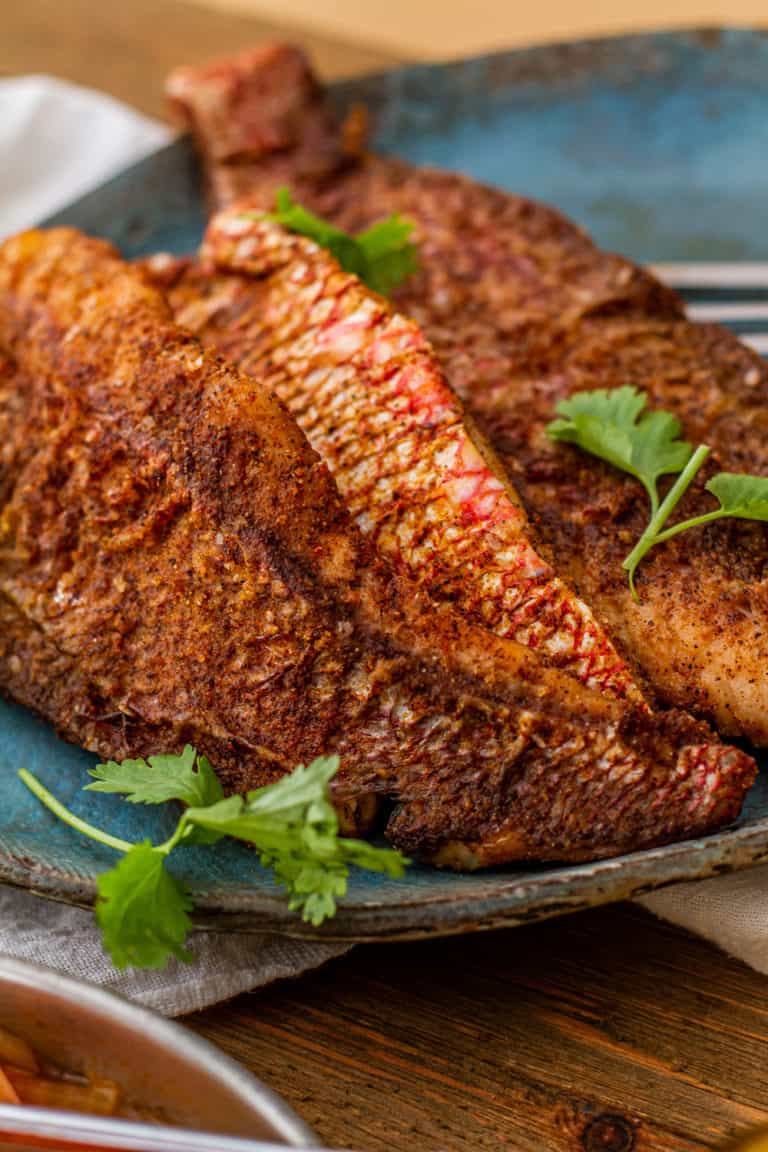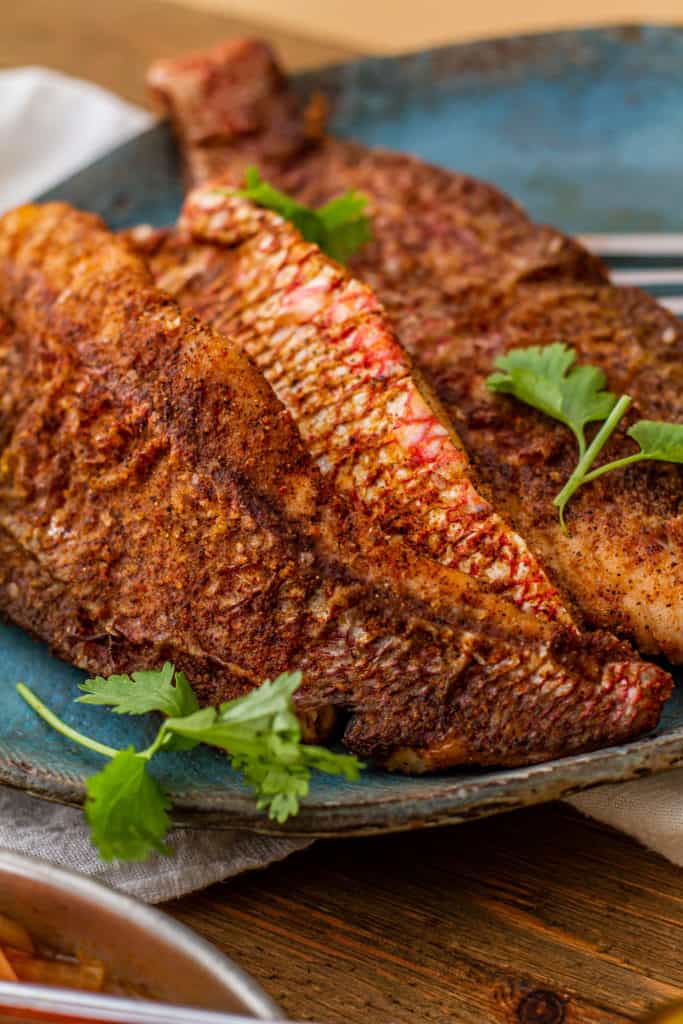 What else? The dish takes just 30-40 minutes to get ready. It is a classic with moreish Jamaican flavors, which you can serve to unannounced guests, friends, and even people over from work.
Made in a sea of vegetables, Escovitch fish is also perfect for those on a healthy diet.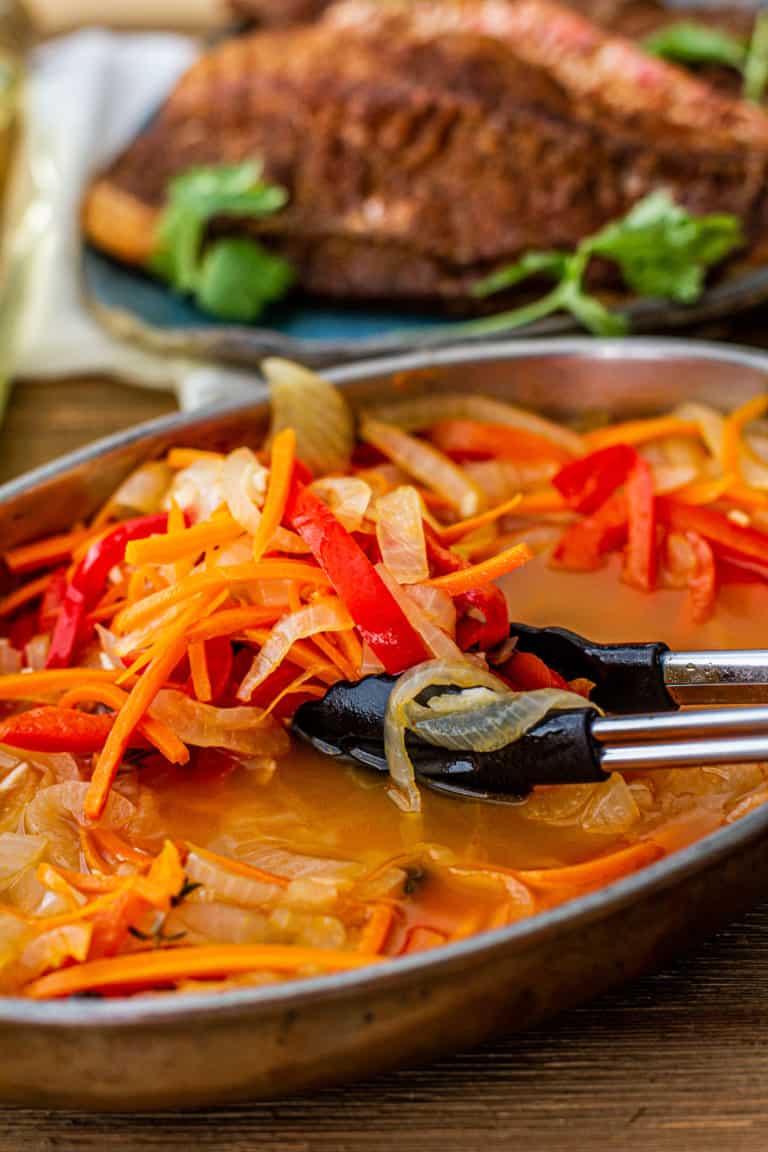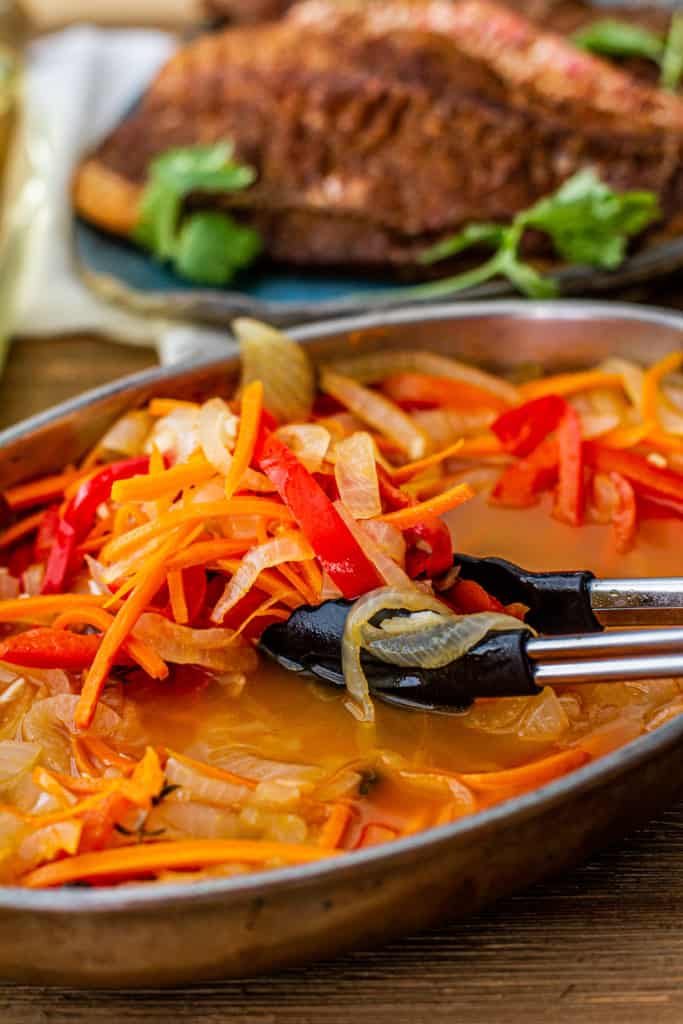 The word Escovitch comes from the Spanish pronounced escabeche. It is a Jamaican cuisine wherein the meat, typically fish, is first fried, then soaked and doused generously in a pickling sauce. A slew of herbs and spices are used to season the dish. The Escovitch sauce recipe generally uses pimento, vinegar, pepper, onions, and sometimes carrots.
What type of fish can be used to make Escovitch fish?
The fishes that taste best in the dish include snapper, kingfish, tilapia, and even porgy. If you like your fillets boneless, go with boneless snapper. The process does not change, no matter which fish you use.
What to eat with Escovitch fish?
There are no hardline rules for what to eat with Escovitch fish. In classic Jamaican style, the delicious Escovitch fish is savored with bammy, traditional cassava flatbread, or fried dumplings. However, you can also pair it with mashed potatoes, rice, hard dough bread, or fried plantains.
How do you store Escovitch fish leftovers?
Put the Escovitch fish in a shallow container and put a tight lid on it before placing it in the refrigerator. This will keep the dish fresh for up to five days. To store it for longer, scrape the sauce off the fish, put the fish in the air-tight container, and place it in the freezer.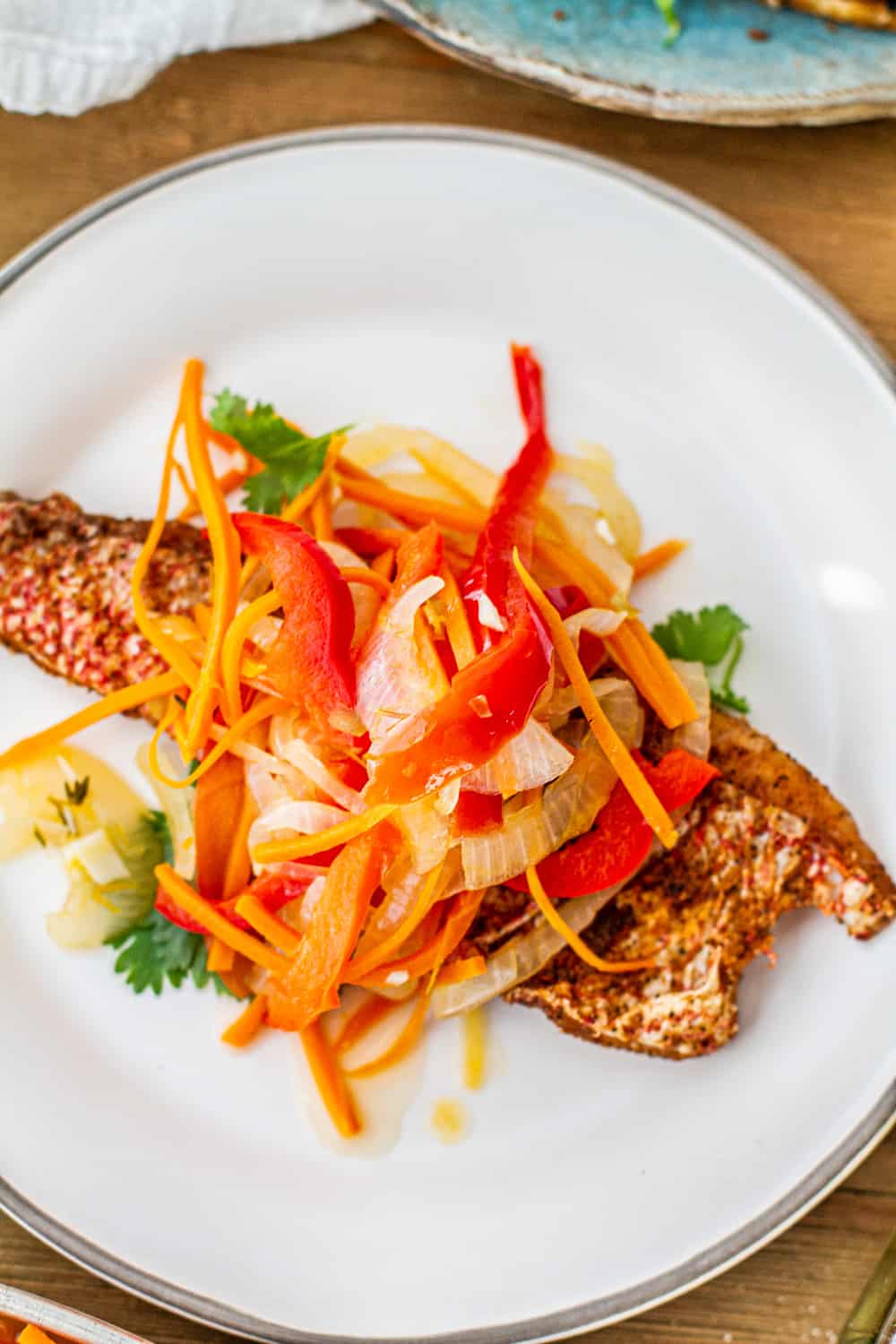 Ingredients
Fish:
1

lime

halved

1

tablespoons

salt

1

tablespoon

black pepper

1 ½

teaspoon

ground allspice

1

teaspoon

cayenne

1

teaspoon

garlic powder

1

teaspoon

onion powder

2

whole snapper filets

cleaned

1

tablespoon

all-purpose flour

Olive Oil
Escovitch Sauce:
1

tablespoon

olive oil

1

large onion

sliced ¼ - ½ inch thick

1

carrot

sliced ¼ - ½ inch thick

1

red bell pepper

sliced ¼ - ½ inch thick

2

cloves

of garlic

minced

¼

teaspoon

salt

3

sprigs of thyme

stems removed

1

scotch bonnet pepper

chopped (optional)

1

teaspoon

whole allspice

1 ½

teaspoons

sugar

1

cup

water

1

cup

white wine vinegar
Instructions
To prepare fish:
Rub fish with lime, then pat fish fillets dry with a paper towel. In a small bowl mix together salt, black pepper, allspice, cayenne, garlic powder, and onion powder. Liberally season both sides of fish.

Using a heavy bottom skillet like cast-iron or heavy non-stick, turn heat on to medium-high. Fill with oil to approximately ⅓ of the height of your fillets and heat oil until it reaches 350 degrees.

Once hot, lightly dust fish in flour and add to the skillet skin side down to fry for 2 to 3 minutes on each side. Fish is done once it turns opaque. Add fish to a casserole dish and set aside.
To prepare Escovitch Sauce:
In a separate skillet over medium-high heat, add onions, carrots, bell peppers, and garlic, and allow the vegetables to sweat for 2-3 minutes.

Add in thyme, scotch bonnet pepper, whole allspice, white wine vinegar, water, and sugar, and bring to a boil. Reduce heat to a simmer and continue to cook vegetables until they become tender - approximately 4-5 minutes. Remove from heat and let the sauce marinate for 5 additional minutes.

Pour sauce over the fish and serve warm. Alternatively, you can let the fish soak in the sauce overnight. Then reheat and serve the next day.
Notes
If using the whole fish, slice a few shallow incisions along the edges.
Traditionally, escovitch fish is left covered at room temperature and eaten the next day after the fish has absorbed the sauce. This is done the day before eating.
Traditionally, escovitch fish is left covered at room temperature and eaten the next day after the fish has absorbed the sauce. This is done the day before eating.
Equipment
12-inch cast-iron skillet or 9x13 inch baking dish
*Nutrition information is a rough estimate.
**The equipment section above contains affiliate links to products I use and love. As an Amazon Associate I earn from qualifying purchases.