Fresh salmon burgers are a delicious alternative to traditional beef burgers. They're easy to make and packed with flavor. Plus toping the patties with my homemade whipped feta really takes the flavor over the top.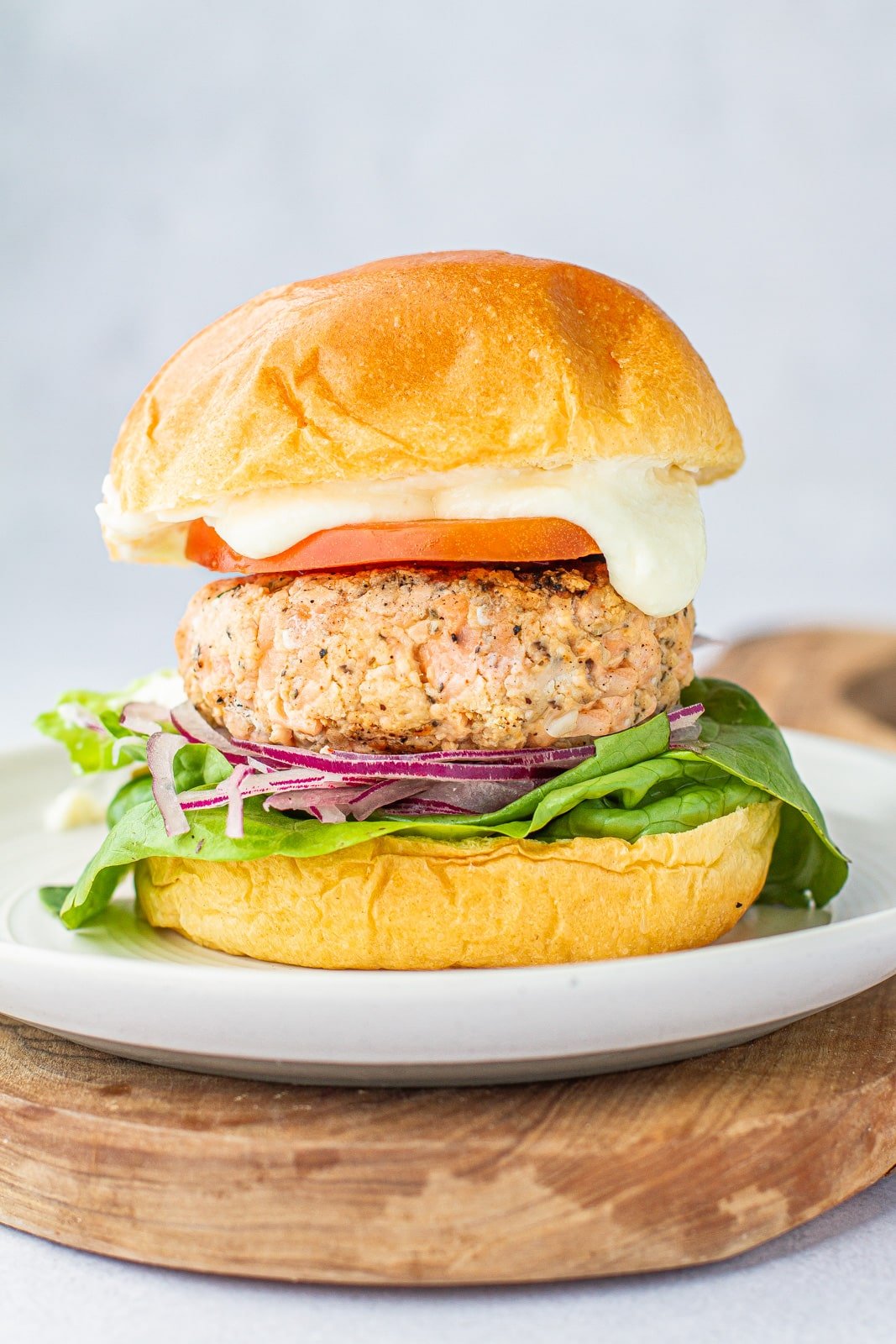 Salmon Burgers From Scratch
Salmon burgers are one of my favorite ways to prepare fresh salmon. They're so easy to make; you can mix everything in a food processor and patty them out in a matter of minutes. And they're healthier than breaded fried fish but have just as much flavor and texture.
My secret to the most delicious and flavorful salmon burgers is a dollop of whipped feta cheese. It's my favorite way to serve Salmon fillet. The breadcrumbs absorb the moisture from the fish and keep the burger from drying out. They are typically served in a hamburger bun but can also be served in a gluten-free bun or sesame seed bun
Ingredients Needed For Fresh Salmon Burgers
Salmon – Salmon has a mild flavor and is a rich source of omega-3 fatty acids, which you can get in beef but not to the same extent.
Mayonnaise & Dijon Mustard – To make fresh salmon patties you need a binder to hold everything together and while many use eggs, I prefer mayo & mustard because they add flavor and moisture
Panko Breadcrumb – I recommend panko breadcrumbs for a crispy, crunchy coating. Also, they are less messy when used as a coating, and they don't fall off the food. You can also use breadcrumbs made from white bread or riced potatoes (for a gluten-free option).
Lemon Juice – Lemon juice helps salmon burgers stay moist and adds a citrusy flavor that pairs well with the other ingredients.
Whipped Feta – Whipped feta is a delicious alternative to crumbled feta that you can use in burgers, sandwiches, pizza, or even pasta.
What are Salmon Burgers?
A Salmon burger is a dish made with salmon, breadcrumbs, and spices, shaped into salmon patties, then fried or grilled. Fresh, wild-caught salmon gives them an extra layer of flavor and nutrition. These Salmon fillet burgers also serve as an excellent alternative to beef burgers.
The salmon burger may be served on a hamburger bun, bread roll, on a pita, or as a regular open-faced sandwich. Lettuce, tomato, onion, tartar, or simply salmon burger sauce are standard condiments that accompany the salmon burger but my preference is to serve them on brioche buns with cream whipped feta.
How To Make Salmon Burgers Gluten-Free
You can very easily substitute gluten-free versions of all the ingredients 1 for 1. Gluten-free panko bread crumbs can commonly be found at all national grocery chains.
How To Know When The Salmon Burgers Are Done?
To verify if salmon is done, use an instant-read thermometer and insert it in the center of the thickest part of the fish. The ideal temperature for salmon is 140-145 degrees Fahrenheit. If you can flake the salmon with a fork, it is done. If cooking on the grill, it's best to cook to temperature, not time.
Can You Make Salmon Burgers With Canned Salmon?
Sure you can. I highly recommend fresh salmon as your first choice, if an option but canned salmon will also work for these salmon burgers. It's best to drain the canned salmon in a colander and blot it with paper towels very well to get it as dry as possible.
What Is Whipped Feta?
Whipped feta is a delicious way to eat the briny cheese as a dip or a spread. However, making whipped feta at home is challenging because the feta cheese is so crumbly. We have found that a combination of crumbled feta, crema or sour cream, cream cheese, lemon juice, and fresh garlic (or garlic spread) works best because of the whipped feta. You can also add heavy cream or milk to help loosen it up.
Can You Freeze Salmon Burgers?
Freezing raw salmon patties is a great idea, as they last up to 3-4 months. This way, you can always have some ready to defrost and reheat; it's so much better than cooking fresh salmon every time you want some. Place each patty into a Ziploc bag, so you can reheat or cook it whenever you want. Cooked patties will last up to 4-6 months, so you can always have a backup supply of ready-to-eat burgers.
More Recipe Ideas
Now it's your turn!
You can serve fresh salmon burgers with your favorite toppings. In addition to whipped feta, I like to top the patties with lettuce, tomatoes, and thinly sliced red onions. I hope you love this recipe and I can't wait to see what you come up with.
If you enjoy the recipe don't forget to give me some five-star love down below. And if you have any comments or questions, leave them below too.
Ingredients
Whipped Feta
1

6-oz crumbled feta cheese

3

tablespoons

crema or sour cream

½

cup

whipped cream cheese

2

tablespoons

lemon juice

1

clove

garlic

minced
Salmon Burgers
1 1/4

lb

salmon

boneless, skinless, chopped into 1/2 inch cubes

1

tablespoon

mayonnaise

2

teaspoons

dijon mustard

¼

cup

panko breadcrumbs

1

scallion

greens chopped

1

teaspoon

garlic powder

1

teaspoon

onion powder

1/2

teaspoon

lemon pepper

1/2

teaspoon

black pepper

1/2

teaspoon

kosher salt

1/4

teaspoon

smoked paprika

1/4

teaspoon

celery seeds

2

teaspoons

lemon juice

avocado or olive oil cooking spray

4

buns

toasted

desired toppings – optional – butter lettuce

red onion, whipped feta, tomato, avocado
Instructions
To make whipped feta:
Combine all of the ingredients in a food processor or blender and process until smooth. Scrape down the sides when necessary, until feta is super creamy. Taste and adjust seasoning. Transfer to an airtight container and refrigerate.
To make salmon burgers stovetop:
To a food processor add ⅓ of the chopped salmon with the mayonnaise and mustard and pulse 8-10 times or until the texture looks similar to ground beef. Add remaining chopped salmon, pulse 3-4 times. You should see assorted textures.

Dump the mixture into a bowl and, with a spatula, fold in the breadcrumbs, scallions, garlic powder, onion powder, lemon pepper, black pepper, kosher salt, smoked paprika, celery seed, and lemon juice.

Divide mixture into four patties. Mold, transfer to a sheet pan and cover in plastic wrap. Place in fridge for at least 30 minutes (see notes).

Heavily spray grill pan or nonstick skillet with cooking spray and place over medium heat. Sear the patties for 5 minutes on each side. 



Spread whipped feta over toasted buns and top with salmon burgers. Continue to assemble with your favorite toppings like butter lettuce, red onion, whipped feta, tomato. Serve right away.
Notes
Pro Tips For Making Salmon Burger Patties

Pulse 4-5 times in 1-second bursts
Wet hands before molding burger patties to keep from sticking
To make the patties the same shape and size use a cookie cutter as a mold

To grill salmon burgers:

Allow burgers patties to set in the fridge for at least 30 minutes before cooking
Spray both sides of burgers with cooking spray and add directly over high heat on grill. Cook for 5 minutes on each side or until the internal temperature reaches 140-145 degrees Fahrenheit.
Nutrition
Calories:
655
kcal
|
Carbohydrates:
42
g
|
Protein:
43
g
|
Fat:
35
g
|
Saturated Fat:
14
g
|
Polyunsaturated Fat:
6
g
|
Monounsaturated Fat:
8
g
|
Trans Fat:
1
g
|
Cholesterol:
154
mg
|
Sodium:
1338
mg
|
Potassium:
818
mg
|
Fiber:
2
g
|
Sugar:
8
g
|
Vitamin A:
767
IU
|
Vitamin C:
5
mg
|
Calcium:
299
mg
|
Iron:
13
mg
*Nutrition information is a rough estimate.
**The equipment section above contains affiliate links to products I use and love. As an Amazon Associate I earn from qualifying purchases.