This creamy Goat Cheese Aioli is bursting with flavor and very versatile. Goat Cheese Aioli can be drizzled over fish, crab cakes, burgers, fries, or even as a dipping sauce for veggies.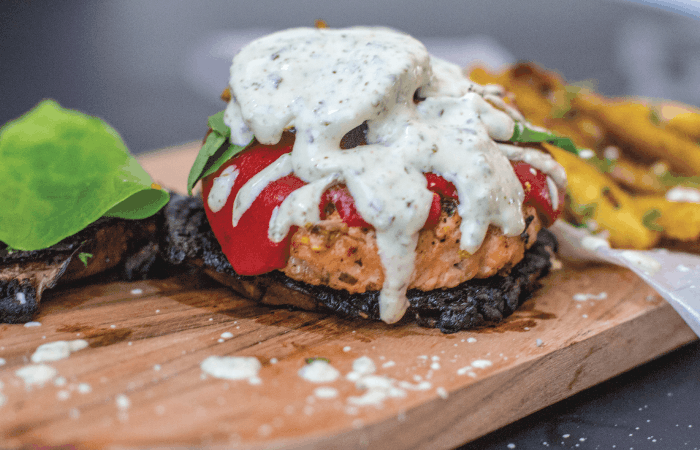 Aioli originated in the South of Spain and Southern France. The name translates to "Garlic and Oil." The original recipe for aioli included garlic, salt, and olive oil, but there are now other varieties of aioli recipes that include mayo, lemon, with or without egg yolks. Either type, this delicious sauce is used for dipping, drizzling, or topping any dish.
What's the difference between aioli and mayonnaise?
Mayo and Aioli are similar because they are both creamy sauces, but they are actually pretty different. One of the ways they are different is the way they are made. Mayo is made using egg yolks, Canola Oil, and lemon juice.  While traditional aioli is made using garlic, olive, and salt. Some people believe that aioli and mayo are the same because of the now modern varieties of aioli recipes. Some of these include garlic, olive oil, salt, egg yolk, and lemon juice, making it more like mayo.
What can Goat Cheese Aioli be used on?
Goat Cheese Aioli can be used on a number of dishes. It can be drizzled over fish, burgers, or fries. It can be used as a dipping sauce and topped on any salad.  This Aioli Recipe can be used on any dish you wish to add more flavor or sauce.
How long is homemade aioli good for?
Homemade aioli that does not contain egg yolk can last up to 10 days in the fridge if covered and stored properly. If it does contain egg yolk, it has a much shorter shelf life of around 3 days in the fridge.  This goat cheese aioli recipe should last around 7 days if stored in the fridge in an airtight container.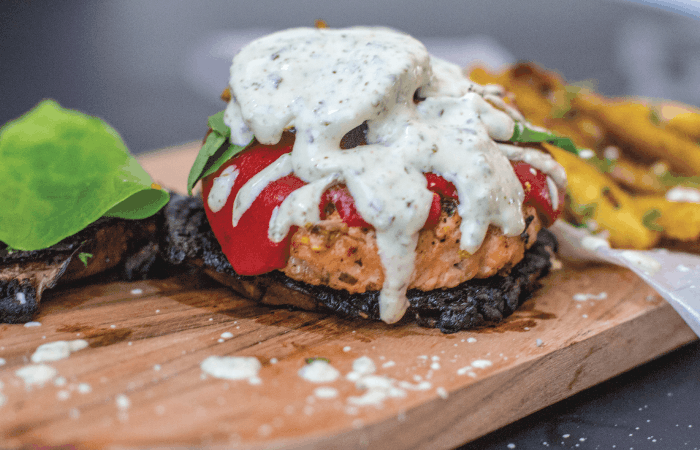 Ingredients
4

tablespoons

2 ounces of goat cheese

1

tablespoon

lemon juice

2

teaspoons

pesto sauce

1 ½-2

tablespoons

almond milk

1

teaspoon

olive oil
Instructions
Add all ingredients into a food processor and pulse until smooth.

Refrigerate in an air-tight container.
*Nutrition information is a rough estimate.
**The equipment section above contains affiliate links to products I use and love. As an Amazon Associate I earn from qualifying purchases.