This green chicken tortilla soup takes me back to growing up in San Diego. To make a delicious green chicken tortilla soup you need to follow a few steps and tips on making the best soup possible.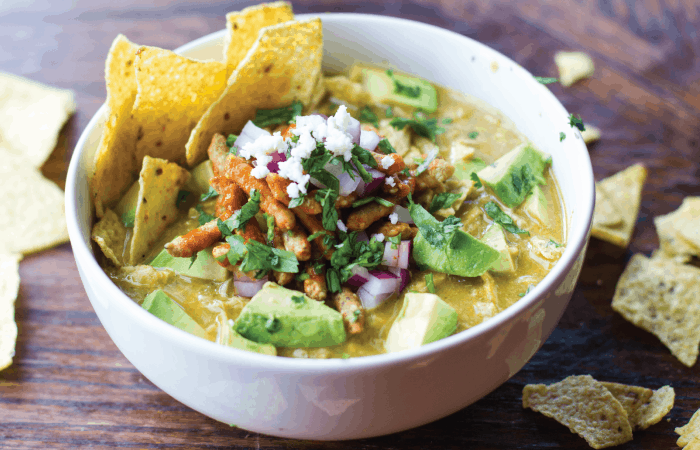 Get ready for a taste of nostalgia with this delicious green chicken tortilla soup recipe! Growing up in San Diego, this soup was a staple in my household, and now I'm excited to share it with you. With every spoonful, the flavors of the Southwest come alive, transporting you to a place of warmth, comfort, and good memories. So, grab your apron, and let's get cooking!
What goes with chicken tortilla soup?
Green Chicken Tortilla Soup is hearty enough to serve alone but also pairs well with:
Roasted corn & peppers
Elotes
Salsa or guacamole
Tacos
Cheesy Quesadillas
How to thicken chicken tortilla soup?
Traditionally tortilla soup has a thin broth, whereas Green Chicken Tortilla, Soup has a stew-like consistency. However, tortilla strips can be added to the soup while cooking to add thickness. If you prefer a thicker consistency similar to a chowder, adding cornstarch, roux, arrowroot flour, tapioca flour, or potato starch thickens while keeping the same delicious flavor.
Can you make chicken tortilla soup with rotisserie chicken?
Yes, using rotisserie chicken breasts or thighs can add to the flavor profile of your soup. If you choose to use a store-bought rotisserie chicken, this may count down your cooking time; however, the meat may not be as juicy.
Can you freeze chicken tortilla soup?
Allow the soup to cool completely, then transfer to a freezer bag or freezer-safe container. Leave room for expansion as it freezes. I recommend using freezer bags as it's the best way to avoid freezer burn. Using quart-size freezer bags is a great way to separate the soup into smaller or single-serving portions. When stored properly, it can be kept frozen for about two to three months. The night before planning to serve, thaw overnight in the refrigerator.
Can I slow cook the chicken tortilla soup?
A slow cooker brings out the flavor in foods. Preparing your soup in a slow cooker will free you up to do other things while still creating a flavor-packed wholesome meal. A slow cooker uses low cooking temperatures and generally does not overcook food, so your soup will be safe if cooked a little longer than recommended cooking time.
More Delicious Soup Recipes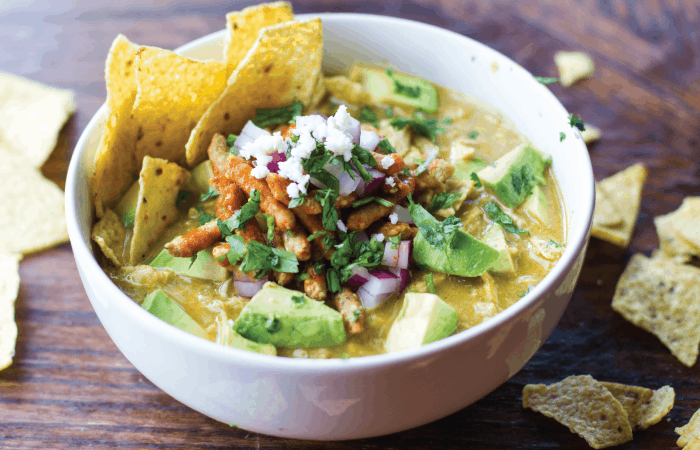 Ingredients
3

chicken breasts or thighs

10

tomatillos

1

small

onion

chopped

6

cups

chicken broth

3

jalapenos

deseeded

2

cloves

garlic

1 ½

teaspoon

ground cumin

1

teaspoon

chili powder

½

teaspoon

cayenne pepper

1

cup

cilantro

2

tablespoons

lime juice

2

tablespoons

worcestershire sauce

1

tablespoon

honey

1

teaspoon

salt

1

teaspoon

black pepper

1

teaspoon

olive oil

1

bay leaf

broken tortilla chips or tortilla strips
Instructions
Add chicken broth to a large pot and bring to a boil. Lower temperature to a simmer and add in bay leaf and chicken and bay leaf to large pot. Once completely cooked through, approximately 20 minutes, then remove the chicken from the pot and let it cool. When the chicken is cool enough to handle use a fork to shred the meat. Remember to remove the bay leaf.

While the chicken cooks, heat olive oil in a separate saucepan on medium heat. Add in tomatillos, onion, garlic, jalapenos, cilantro, cumin, chili powder, cayenne, salt and pepper and cook down for approximately 10-12 minutes. Tomatillos should be blistered and soft to the touch. Add tomatillo mixture to the food processor and blitz until smooth.

Stir in tomatillo mix and shredded chicken back into the pot of broth. Add in lime juice, worcestershire sauce and honey and stir and let simmer. Taste and add any additional salt and pepper to your liking.

Ladle soup into bowls, top with tortilla chips to taste, optionally garnish with your preferred toppings; serve immediately.
Notes
Note: My toppings included tortilla chips, avocado, cilantro, red onion, queso fresco, and I also tossed sesame sticks and tapatio hot sauce together.
Nutrition
Calories:
1164
kcal
|
Carbohydrates:
68
g
|
Protein:
156
g
|
Fat:
30
g
|
Saturated Fat:
6
g
|
Polyunsaturated Fat:
5
g
|
Monounsaturated Fat:
10
g
|
Trans Fat:
1
g
|
Cholesterol:
434
mg
|
Sodium:
8662
mg
|
Potassium:
5320
mg
|
Fiber:
11
g
|
Sugar:
40
g
|
Vitamin A:
3260
IU
|
Vitamin C:
222
mg
|
Calcium:
274
mg
|
Iron:
13
mg
*Nutrition information is a rough estimate.
**The equipment section above contains affiliate links to products I use and love. As an Amazon Associate I earn from qualifying purchases.