Green Chicken Tortilla Soup
This soup takes me back to growing up in San Diego.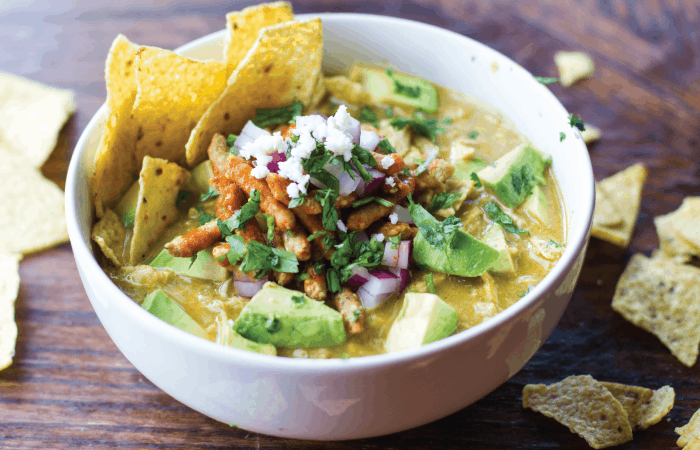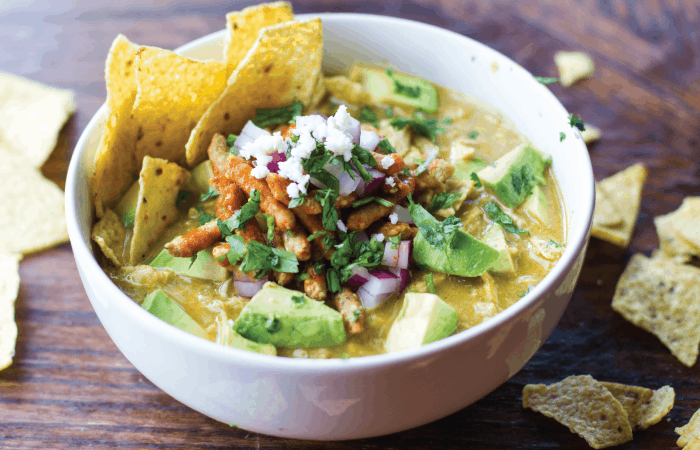 Ingredients
3

chicken breasts or thighs

10 to

matillos

1

small onion

chopped

6

cups

chicken broth

3

jalapenos

deseeded

2

garlic cloves

1 ½

teaspoon

ground cumin

1

teaspoon

chili powder

½

teaspoon

cayenne pepper

1

cup

cilantro

2

tablespoons

lime juice

2

tablespoons

worcestershire sauce

1

tablespoon

honey

1

teaspoon

salt

1

teaspoon

black pepper

1

teaspoon

olive oil

1

bay leaf

broken tortilla chips or tortilla strips

Optional toppings:

Tortilla chips

avocado, sour cream, fresh cilantro, jalapeno slices, red onion, shredded cheese, queso fresco, limes and sesame sticks and tapatio.
Instructions
Add chicken broth to a large pot and bring to a boil. Lower temperature to a simmer and add in bay leaf and chicken and bay leaf to large pot. Once completely cooked through, approximately 20 minutes, then remove the chicken from the pot and let it cool. When the chicken is cool enough to handle use a fork to shred the meat. Remember to remove the bay leaf.

While the chicken cooks, heat olive oil in a separate saucepan on medium heat. Add in tomatillos, onion, garlic, jalapenos, cilantro, cumin, chili powder, cayenne, salt and pepper and cook down for approximately 10-12 minutes. Tomatillos should be blistered and soft to the touch. Add tomatillo mixture to the food processor and blitz until smooth.

Stir in tomatillo mix and shredded chicken back into the pot of broth. Add in lime juice, worcestershire sauce and honey and stir and let simmer. Taste and add any additional salt and pepper to your liking.

Ladle soup into bowls, top with tortilla chips to taste, optionally garnish with your preferred toppings; serve immediately.
Notes
Note: My toppings included tortilla chips, avocado, cilantro, red onion, queso fresco, and I also tossed sesame sticks and tapatio hot sauce together.
Nutrition
*Nutrition information is a rough estimate.
**The equipment section above contains affiliate links to products I use and love. As an Amazon Associate I earn from qualifying purchases.