Green Goddess Pasta Salad is loaded with bright and crunchy summer veg like celery, asparagus, cucumbers, collard greens, and peas and is tossed in the most delicious full-flavored, creamy, uber-herby green dressing.
---
THIS RECIPE IS SPONSORED BY DANDY FRESH PRODUCE
---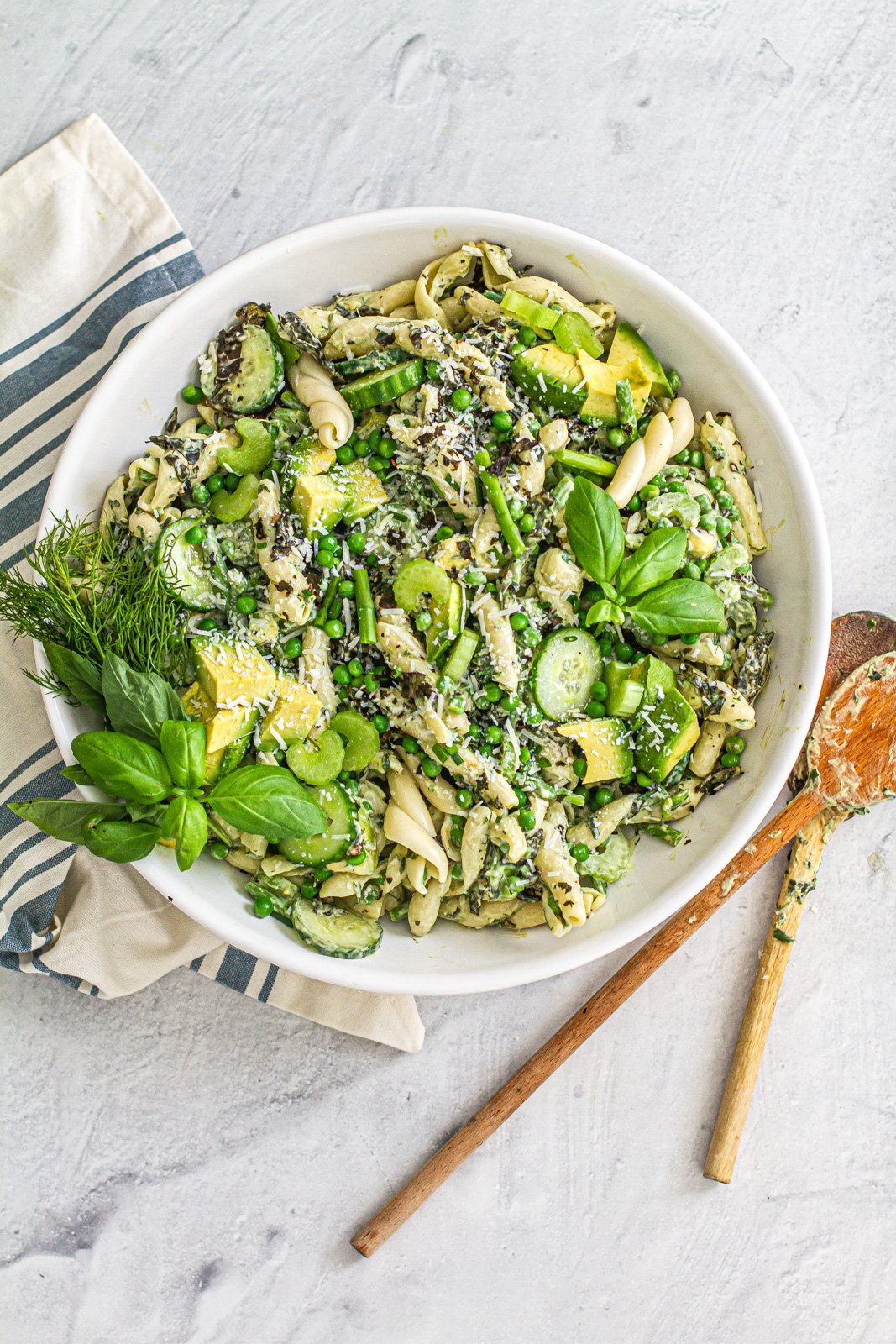 The Ultimate Green Goddess Pasta Salad
This green goddess pasta salad recipe is perfect for summer gatherings. It's healthy, guilt-free, and easy to make, so you can enjoy this dish without feeling guilty about the calories. But don't let that green color fool you – it tastes amazing! The green dressing coats the entire dish with light creaminess, while the crunchy vegetables make it fresh and flavorful.
The beauty of this recipe is in its simplicity! It comes together in virtually no time, is rich in veggies, and is guaranteed to be a hit at your next gathering!
What is Green Goddess dressing?
Green goddess dressing is a creamy, herb-laden dressing that is green in color and typically served with salads or as a dip.
It is used in the United States mainly on salads of various types and colors, including pasta salads.
Make easy homemade Green Goddess Dressing
What makes this recipe so easy to make? It's all about the tools. With a food processor by your side, all you have to do is add in all the pre-chopped veg and ingredients. Cover it with a tight-fitting lid and process until everything is somewhat smooth. Residual green specks or texture from all the herbs is actually a good thing in this recipe.
Green Goddess Pasta Salad in under 30 minutes
When you add the green goddess dressing to the rest of the pasta salad ingredients, the flavor is magical. Not only is the whole dish super easy to make, but it also comes together quickly with the right ingredients.
I'm all about freshness but still love to find ways to save time when I'm preparing meals. That's why I like to use Dandy Celery Sticks because they are already pre-washed, cut, and ready to eat. They allow me to save time without sacrificing freshness, and that is a huge win.
I also use thawed-out frozen peas and fresh asparagus for the recipe because they only require a quick blanch, and they are ready to throw in the salad. Easy peasy.
Ingredients
Pasta – now you can't have pasta salad without the pasta. I just prepare it as that package instructs and remember to add plenty of salt while it's boiling in water.
Dandy Celery Sticks – for a crunchy and fresh taste. Here is a store locator.
Collard Greens – you can always sautee these up but I roasted them until crispy for a little added texture and depth of flavor.
Peas – frozen peas are great because they require no additional chopping and they cook up fast. So be careful not to overcook.
Asparagus – for a fresh and vibrant green color. Just a quick blanch and they are ready to throw in the salad.
Cucumbers – after simply cutting them in rounds I add these to the salad to add more freshness and crunchiness.

Avocado – no reason needed

Lots of herbs – This is one recipe where the more the merrier. I personally enjoy a blend of chopped dill, basil, scallions, and chives for the dressing.
Best types of pasta for pasta salad
Pasta salads are typically made with pasta of a variety of shapes and textures, each lending their own flavor to the dish. Pasta salad is usually served cold or at room temperature as it cannot be heated up without becoming mushy. Hence, there is no need for al dente pasta in this dish.
There are many different types of pasta that work well for this dish, but below you will find some of the best varieties for pasta salad:
Bowtie pasta
Penne
Shell pasta (large)
Rotini pasta
Trecce (this is the type I used but is a bit more obscure)
Gemelli pasta
Bucatini pasta (flat, hollow tubes)
Cavatappi pasta (hollow corkscrews)
Radiatore pasta (conical wheels with sloping rims and holes in the center that resemble radiators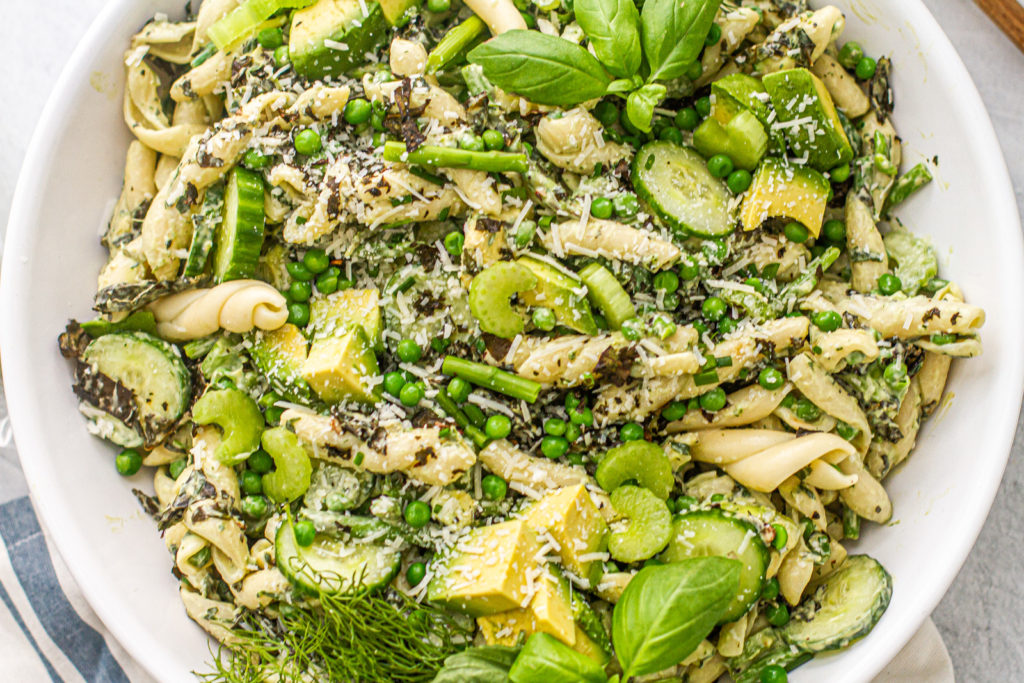 Can you make this Green Goddess Pasta Salad ahead
Absolutely! It is perfect to make ahead for meal prep, leftovers, or for an outdoor gathering. All you have to do is store the premade salad in an air-tight container in the fridge and just half the dressing in a separate container until it is time to serve. That way, the pasta and vegetables can still take time to marry their flavors together, but when you tossing toss in the reserved dressing, the pasta salad comes back to life.
And if you are planning on adding the crispy collard greens, I would recommend preparing those the day you are ready to serve the pasta salad. You can toss them in when you add your reserved dressing.
Try alternative add-ins for this versatile pasta salad recipe
I'm absolutely in favor of making this recipe your own. Some alternative add-ins that would work well in this green goddess pasta salad are green beans, green bell peppers, pistachios, pepitas, parsley, cilantro, tarragon, arugula, olives, capers, artichoke hearts, spinach, kale, or microgreens.
And if you are feeling like adding some protein to the pasta salad, try smoked salmon, or roasted chicken breast strips for a more robust dish.
This Green Goddess Pasta Salad recipe might just be the be-all-end-all pasta salad recipe you've been looking for.
I'm definitely adding it to my own permanent rotation of dishes that scream "SUMMER!" You know the ones, right? The bright, sunny, and zingy dishes that you crave all winter, that you dream about making through those rainy, snowy, freezing cold months.
When it's finally time, you whip them up and present to your family with much ceremony because the sight of that meal signals to everyone that the gloriously long days of sunshine and cookouts are here at last. Make this recipe ASAP so we can start enjoying summer sooner rather than later.
More Appetizing Salad Recipes
Still craving more? Check out these salad recipes next: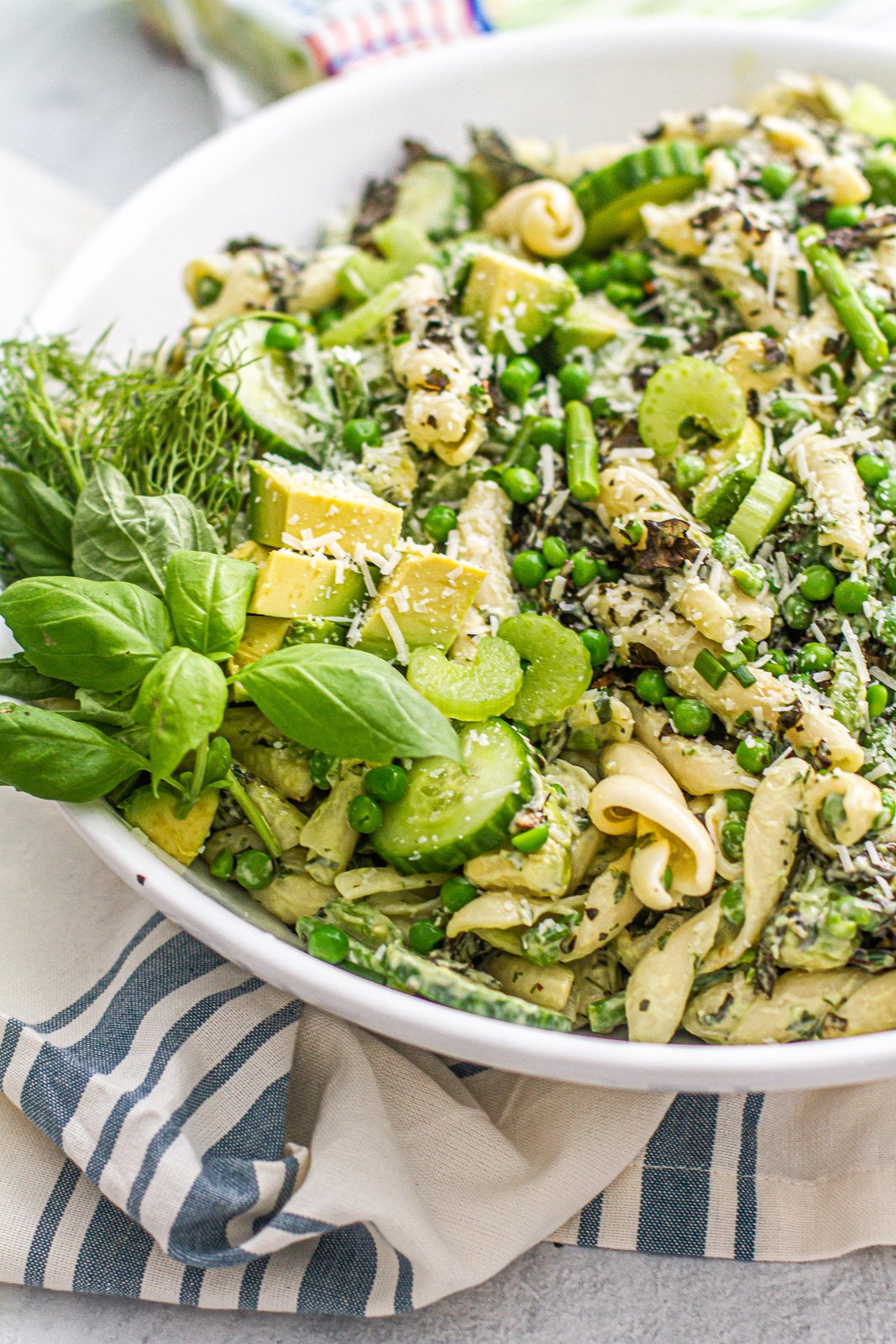 Ingredients
Pasta Salad
1

lb

pasta

cooked according to package instructions

3

stalks celery

thinly sliced

1

cup

frozen peas

thawed & blanched

1 ½

cups

asparagus

blanched & chopped

1

English cucumber

thinly sliced

1

large avocado

chopped

3

tablespoons

chives

chopped

kosher salt & black pepper

⅓

cup

parmigiano reggiano

freshly grated [optional]
Crispy Collards
½

lb

uncooked collard greens

stems removed, leaves chopped

1

teaspoon

olive oil

2

garlic cloves

minced

½

teaspoon

red pepper flakes

½

teaspoon

balsamic vinegar

¼

teaspoon

kosher salt
Green Goddess Dressing
¼

cup

extra-virgin olive oil

1

cup

sour cream or plain full-fat Greek yogurt

1

cup

packed basil leaves

¼

cup

packed dill

2

tablespoons

chives

coarsely chopped

½ – 1

small jalapeno

chopped

2

garlic cloves

peeled & chopped

3

scallions

white & green parts roughly chopped

⅓

cup

fresh lime juice

½

teaspoon

kosher salt

¼

teaspoon

black pepper
Instructions
Preheat oven 350 ℉. Line sheet pan with aluminum foil. Evenly spread greens across sheet pan, sprinkle on all ingredients, and toss until coated. Transfer to oven and roast for 17-20 minutes until most leaves are crisp.

Cook pasta according to package instructions. Drain and set aside.

While pasta and greens are cooking, add olive oil, sour cream, basil, dill, chives, jalapeno, garlic, scallions, lime juice, salt, and black pepper to a food processor and purée until smooth. Taste and add more salt, if needed.

To a large bowl add pasta, celery, peas, asparagus, cucumber, avocado, chives, and lightly season and toss with salt & pepper.

Add greens and dressing and lightly toss until everything is coated. Sprinkle parmesan over the top and serve or chill and serve.
Nutrition
Calories:
345
kcal
|
Carbohydrates:
43
g
|
Protein:
10
g
|
Fat:
15
g
|
Saturated Fat:
5
g
|
Polyunsaturated Fat:
2
g
|
Monounsaturated Fat:
8
g
|
Cholesterol:
14
mg
|
Sodium:
493
mg
|
Potassium:
458
mg
|
Fiber:
5
g
|
Sugar:
4
g
|
Vitamin A:
2012
IU
|
Vitamin C:
26
mg
|
Calcium:
158
mg
|
Iron:
2
mg
*Nutrition information is a rough estimate.
**The equipment section above contains affiliate links to products I use and love. As an Amazon Associate I earn from qualifying purchases.