Looking for a way to add some Caribbean flair to your cooking? Try this delicious Green Seasoning! This blend of fresh herbs & spices is the perfect way to add a delicious & vibrant boost of flavor to your meals. Plus, it's super easy to make – just follow our simple recipe. Give it a try today & taste the difference!
Authentic Caribbean Green Seasoning
I've always loved the Caribbean! The palm trees, the warm air, and especially the food. The stews, curries, and seafood; prepared with their staple green seasoning, which is absolutely divine. It's an all-purpose seasoning made with fresh herbs & spices, including cilantro, parsley, garlic, ginger, bell pepper, and Scotch Bonnet peppers for a touch of heat.
This versatile green seasoning lets you jazz up all sorts of foods infusing your meals with island flavors that will entertain your taste buds. If you're anything like me, then the idea of cooking with this delicious Green Seasoning is a must. You'll be cooking up Caribbean food for the whole family in no time.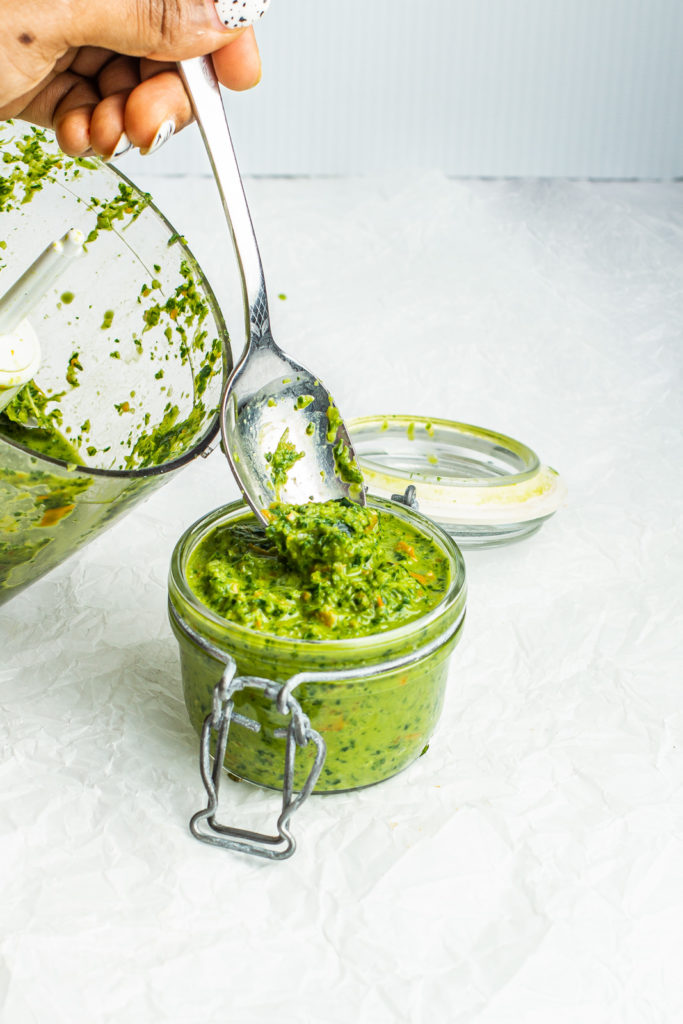 What is Caribbean Green Seasoning?
If you've never heard of green seasoning before, you have been seriously missing out. It's basically the Caribbean equivalent of tzatziki in Greece or pesto in Italy—so, it's a big deal. Speaking of pesto, think of that same chunky sauce-like texture.
While the name 'green seasoning' might lead you to believe that this is a simple blend of dried herbs and spices, it's nowhere near your basic spice blend. Caribbean Green Seasoning is a key ingredient in Caribbean cuisine, most often used to flavor soups, stews, and marinades.
Green seasoning is made from a flavorful combination of olive oil, lime juice, aromatics, peppers, and fresh herbs like cilantro, parsley, and thyme. It's bold, vibrant, easy to make, and packed with a show-stopping flavor that brightens up any meal.
Key Ingredients
This flavorful homemade seasoning blend is made from the following key ingredients:
Fresh herbs. This can vary depending on the recipe. Personally, I love making my green seasoning with fresh cilantro, parsley, and thyme.
Aromatics. You will need fresh garlic, ginger, shallots, and scallions. The key here is fresh; it's super important to use fresh ingredients for the best flavor.
Peppers. I typically use a combination of red bell pepper (or pimento peppers) and Scotch Bonnet pepper. If you aren't a fan of heat, feel free to swap out the Scotch Bonnet pepper for a jalapeno or leave it out altogether.
Olive oil. A staple ingredient in nearly every marinade and sauce enjoyed worldwide; olive oil really helps to pull everything together. The richness also balances out all of the light, fresh flavors.
Lime juice. This is essential! The acidity in fresh lime juice keeps the green seasoning tasting fresh and enhances the rest of the flavors as well.
How to make Green Seasoning?
You can easily whip up this vibrant seasoning in a food processor, blender, or even by hand with a whisk. Below are instructions on how to make this recipe for green seasoning two ways in a blender or food processor:
Green Seasoning in a Food Processor
Add all ingredients to a food processor except for water and oil, then pulse for 30 seconds. Scrape down the sides. While the processor is running, add water and oil, then continue to puree until it has a chunky sauce-like consistency.
Store in an airtight container in the refrigerator for up to 2 weeks.
Green Seasoning in a Blender
Add all ingredients to a blender and blend on high until the mixture reaches a chunky sauce-like consistency.
Store in an airtight container in the refrigerator for up to 2 weeks.
Ways to use Green Seasoning
When it comes to this bold and flavorful Caribbean seasoning, the options are endless. Green seasoning is basically liquid gold, so you can use it to add flavor to a wide variety of dishes. Here are some of my favorite ways to use green seasoning:
As a marinade for grilled meats like chicken, steak, and shrimp
In your favorite soups and stews
Drizzled over cooked veggies or potatoes
Served over a fresh salad
Mixed into beans and rice
As a dressing for potato salad
How to store Green Seasoning?
The beauty of this Caribbean staple is that it stores incredibly well. I highly recommend storing it in a glass container for the best results when it comes to any homemade sauces, dressings, and marinades. If you don't have one, that's totally fine; I've just found that glass containers (like jars) keep them the freshest for the longest.
When stored in an airtight container, green seasoning will stay fresh for up to 2 weeks in the fridge. One of my favorite tricks to make it last even longer is freezing it in an ice cube tray, then popping out the cubes and storing them in an airtight bag.
Stored like this, you can keep them in the freezer for up to 3 months. This is a great storage method if you plan to use the green seasoning cubes to flavor sauces, soups, and stews.
Now it's your turn!
I know you're going to love this recipe. If you enjoy the recipe, please share it with your friends and family. And don't forget to give me some five-star love down below. And if you have any comments or questions, leave them below too, and I'll be sure to get back to you as soon as possible.
More Recipes
Ingredients
¾

cup

cilantro

1 bunch, roughly chopped

¼

cup

parsley leaves

stems removed & roughly chopped

8

garlic cloves

roughly chopped

6

sprigs of fresh thyme

stems removed

4

scallions

roughly chopped

2-3

shallots

roughly chopped

¼

red bell pepper

or 2 pimiento peppers roughly chopped

¼

inch

ginger

roughly chopped

2

tablespoons

olive oil

2

tablespoons

fresh lime juice

¼

cup

water

½

Scotch Bonnet Pepper

optional
Instructions
Add all ingredients to a food processor or high-power blender. Secure the lid and puree until broken down into a chunky sauce-like texture (approx 30 seconds). Remember to scrape sides while pulsing.

Transfer to an airtight container and store in the refrigerator.
Notes
Roughly chop all ingredients in advance to make them easier to process. Store in an airtight container in the refrigerator for up to 2 weeks. For longer storage, pour into ice cube trays and freeze, then store them in a zip lock bag and freeze. Thaw ice cubes if used to marinate meat or seafood. Add cubes directly to soups and sauces.
Nutrition
Calories:
184
kcal
|
Carbohydrates:
14
g
|
Protein:
3
g
|
Fat:
14
g
|
Saturated Fat:
2
g
|
Polyunsaturated Fat:
2
g
|
Monounsaturated Fat:
10
g
|
Sodium:
19
mg
|
Potassium:
350
mg
|
Fiber:
3
g
|
Sugar:
4
g
|
Vitamin A:
1918
IU
|
Vitamin C:
54
mg
|
Calcium:
79
mg
|
Iron:
2
mg
*Nutrition information is a rough estimate.
**The equipment section above contains affiliate links to products I use and love. As an Amazon Associate I earn from qualifying purchases.