This recipe for Chow Chow and Grilled Hotlinks is perfect for summer cookouts especially Juneteenth. Be prepared to pucker up to these juicy, red sausage links packed with spiced ground beef and served with a tangy-sweet chow-chow relish. Follow this recipe guide for easy preparation whether you are indoor or outdoor grilling.

Join me in celebrating Juneteenth by checking out the list of contributors to the 2021 Juneteenth Virtual Cookout down below. 40+ black creators contributed to this collaborative menu as a Freedom Day tribute. Juneteenth marks our country's second independence day, the final emancipation of those enslaved in the US back in announced in 1865. Join in, share, and help us continue the legacy of celebrating progress. Additionally, you can easily follow each participant by using the hashtag #JuneteenthCookout2021 on Instagram.
Hotlinks and Juneteenth go hand and hand. Food historians note that the earliest celebrations of the holiday included grand outdoor barbecues alongside communal prayer, parades, festivals, and reading of the Emancipation Proclamation. Like many African American celebrations, food is at the cornerstone and is as integral to the belly as it is to the homage of festivities.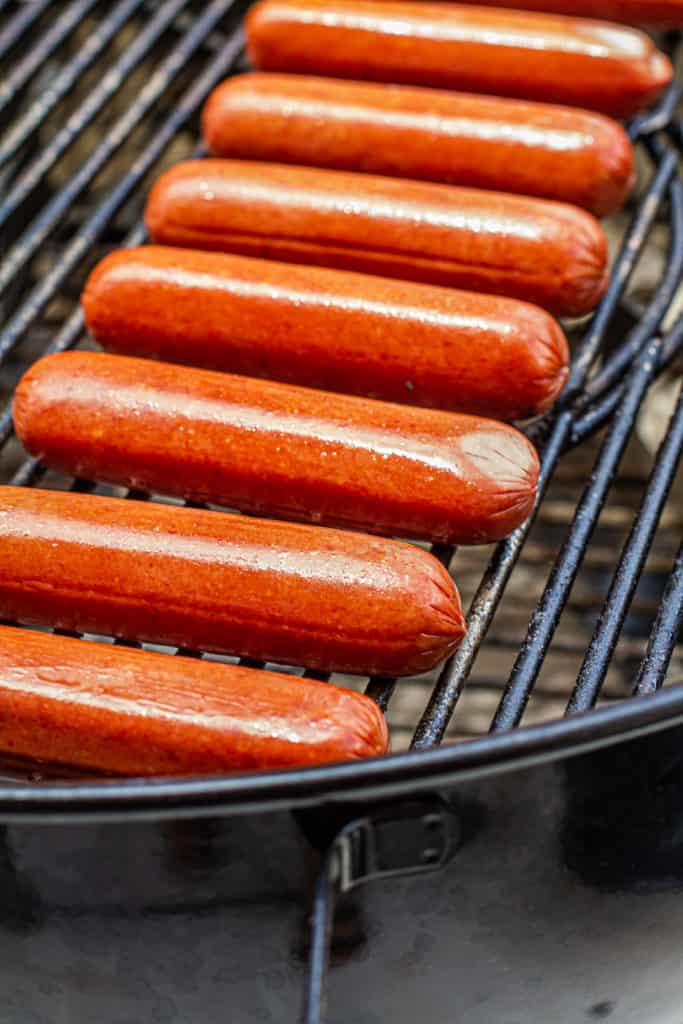 What is Juneteenth?
Juneteenth is the oldest nationally celebrated commemoration of the end of slavery in the United States. The holiday's name, Juneteenth was derived from the date June Nineteenth. That day in 1865, Major General Gordon Granger led the Union soldiers into Galveston, Texas with news that the last 250,000+ enslaved were free, almost two and a half years after President Lincoln's Emancipation Proclamation. Despite efforts to suppress the news, liberation triumphed and newly freed black Texans began celebrating this long-awaited victory just a year later with what is now known as Juneteeth. And for over 155 years the tradition has spread to black communities across the country.
Photo by Britney Conerly for TheKitchn.com
How to celebrate Juneteenth
While historically Juneteenth has been celebrated with community activities like outdoor BBQs, parades, rodeos, pageants, festivals, church prayer, and singing spirituals. For many the holiday has been a recent pandemic discovery, limiting participation in the traditional activity. Whether you are alone, with a small group, or beyond here are a few ways that you can celebrate Juneteenth this year:
However, you are able to celebrate, just make sure that you do and share it. Juneteenth is not just about Black history but American history and should be celebrated by all who believe in the value of freedom and equality.
This year I'm celebrating with a small group of family and friends, with plenty of red drink, gratitude in tow, and ample tombstones to pass out at the spades table.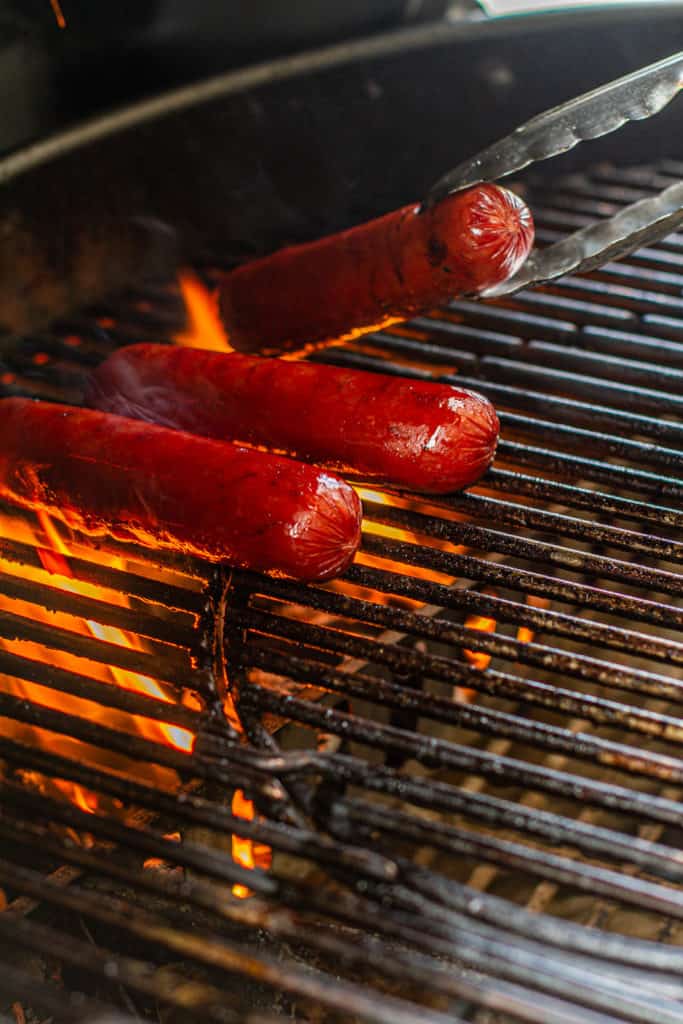 What are hotlinks?
Hotlinks are spicy red sausages featured commonly in African American cuisine and a staple at BBQs. Hotlinks are enjoyed across the U.S. with the most popularized versions coming from Texas, Louisiana, Pittsburg, and Chicago. Depending on the region, hotlinks can be prepared with any variation or blend of beef, pork, or chicken and are loaded with spices. However, in Texas, where the inaugural Juneteenth celebration took place, links are typically prepared with beef. For this recipe, I used Earl Campbell's Beef Hot Links, a Texas-based company named after the Black football star. These links are incredible and when grilled the fat that melts to create the juiciest and most flavorful interior.
What Is Chow Chow & How To Make It?
If relish and slaw had a baby, it would be named Chow Chow. It is typically made from a variety of vegetables and can be eaten by itself or used as a tangy, vinegary condiment. Vegetables used for Chow chow can vary depending on where you are or what's in season but commonly includes a combination of bell peppers, green tomatoes, cabbage, and onions. This recipe for chow chow is even easier than traditional recipes because you don't have to go through the whole process of pickling and canning. Instead, this version can be eaten immediately although I do recommend preparing a day in advance.
While not completely homemade, this recipe for Grilled Hot Links and Chow Chow is a token example of the preservation methods (sausage making and canning) used in times of scarcity. The black community has historically been known for ingenuity in the kitchen and making something out of nothing. This recipe pays homage to our black culinary geniuses and trailblazers who did just that.
In case you were wondering, here is a link to last year's submission to the Juneteenth Virtual Cookout, Strawberry Cornbread Cobbler.
Ingredients
Chow Chow
1

large green tomato

chopped (about 12 ounces)

1/2

cup

about 2 1/2 ounces chopped Vidalia onion

1/2

medium green bell pepper

about 2 1/2 ounces, chopped

1/2

medium red bell pepper

about 2 1/2 ounces, chopped

1

serrano chile pepper

stemmed and chopped

2

ribs celery

chopped

2

cups

about 8 ounces chopped green cabbage

1 1/2

tablespoons

kosher salt

2 3/4

teaspoons

yellow mustard seeds

1

teaspoon

celery seeds

1/2

teaspoon

whole or ground allspice

1/2

teaspoon

ground turmeric

3/4

teaspoon

yellow mustard powder

2

cups

white distilled vinegar

1/2

cup

granulated sugar
Grilled Hot Links
2

lbs

hotlinks

such as Earl Campbell's Beef Hot Links or Johnsonville

1

teaspoon

olive oil

1

teaspoon

butter

melted

6

Hot dog buns

Additional toppings of your choice
Instructions
Make the chow chow
In a food processor, combine the tomato, onion, green and red bell peppers, the serrano and celery and pulse until finely chopped.

Add the cabbage and salt and pulse 4 to 5 times, or until the cabbage is finely chopped. Add to a nonreactive bowl, such as glass, stir to combine, then cover with plastic wrap or a large plate and refrigerate for at least 4 hours and up to overnight. Strain the mixture in a colander set over a bowl and reserve the excess liquid.

In a small skillet over medium heat, toast the mustard seeds, celery seeds, allspice, turmeric and mustard powder, stirring frequently, until fragrant, about 2 minutes. Remove from the heat and transfer to a small bowl.

In a medium saucepan over high heat, combine the vinegar with 1/2 cup of the reserved vegetable liquid and bring to a boil. Stir in the sugar and toasted spices until the sugar dissolves, bring to a boil and cook until the mixture reduces slightly, about 3 minutes.

Add the vegetables and cook, stirring frequently, until the mixture returns to a boil, 2 to 3 minutes. Reduce the heat as needed to maintain a simmer and cook, uncovered, until the mixture reduces by about a third, about 20 minutes.

Remove from the heat and let the chow-chow cool to the touch, about 15 minutes, then transfer to an airtight container and refrigerate until needed.
Grill the hot links
If using a gas grill with two burner zones, preheat one zone to medium about 15 minutes before grilling. Leave the other zone off.

If using a charcoal grill, fill a chimney starter with charcoal, light it, and when the coals are red hot, dump them into your grill. Add more charcoal. When all the coals have turned gray but are still very hot, about 15 minutes, your grill should be medium hot. (Use a grill thermometer or test the heat by holding your hand, palm-down about 5 inches from the grill. If you can hold it there for 4 to 5 seconds, the heat should be medium heat, or about 350 degrees. Then, scoot the coals to one side, leaving the other side empty. Replace the cooking grate. Cover the grill.

Lightly brush or rub the hot links with the oil, place over indirect heat on the grill, cover and cook for about 10 to 15 minutes, flipping halfway through, until an instant-read thermometer inserted in the center of a hot link registers 150 degrees.

Once cooked through, move the links over to the direct-heat side and sear until an instant-read thermometer registers 160 degrees, 1 to 2 minutes. Watch them closely, turning them so they don't burn. Fat may drip into the coals causing flare-ups; be careful. Remove the links from the grill and let them rest for a few minutes.

Meanwhile, brush the buns lightly with butter and place them cut-side down on the grill, directly over the coals, until toasted, a few seconds to 1 minute. Watch the buns closely so they don't burn.

Add a hotlink to each warm bun, dress with the chow-chow and serve.
Nutrition
Calories:
704
kcal
|
Carbohydrates:
45
g
|
Protein:
29
g
|
Fat:
43
g
|
Saturated Fat:
14
g
|
Polyunsaturated Fat:
6
g
|
Monounsaturated Fat:
19
g
|
Trans Fat:
1
g
|
Cholesterol:
109
mg
|
Sodium:
2937
mg
|
Potassium:
674
mg
|
Fiber:
3
g
|
Sugar:
24
g
|
Vitamin A:
868
IU
|
Vitamin C:
46
mg
|
Calcium:
129
mg
|
Iron:
4
mg
*Nutrition information is a rough estimate.
**The equipment section above contains affiliate links to products I use and love. As an Amazon Associate I earn from qualifying purchases.
2021 JUNETEENTH VIRTUAL COOKOUT
I organized a little (or not so little) menu of recipes with over 40 other amazing black content creators. We are sharing BBQ-inspired recipes in honor of Freedom Day. Please check and try their recipes for your own Juneteenth celebration. You can also follow our hashtag #JuneteenthCookout2021 on Instagram.
Watermelon Ice Pops by A Girl Called Adri
Juneteenth Soul Rolls by Black Girls Who Brunch
Honey Buttermilk Biscuits with Roasted Strawberries by Britney Breaks Bread
Strawberry Collins by Brownbelle
Peach Cobbler Cinnamon Rolls by Butter Be Ready
Red Hot Pepper Shrimps by Chef and Steward
Jalapeno Cornbread Muffins by Chef Curl Ardee
Lemon Sour Cream Pound Cake by Chenée Today
Vegan Ranch Style Beans by Collards Are The Old Kale
Jamaican Jerk BBQ Ribs by Cooks with Soul
Sweet and Tangy Coleslaw by Crumb-Snatched
Strawberry-Basil Sorbet by D.M.R. Fine Foods
Red Velvet Layer Cake with Chocolate Covered Strawberries by Dash of Jazz
Red Velvet Cookies by Dish It With Tisha
Brisket Stuffed Baked Sweet Potatoes by Dude That Cookz
BBQ Baked Beans by Food Fidelity
Black Eyed Pea Salad by FoodLoveTog
Harissa Honey Roasted Vegetable Skewers by Geo's Table
Gluten Free Peach Cobbler (Vegan) by Good Food Baddie
Crispy Gluten-free Baked BBQ Chicken Wings by Gristle and Gossip
Summer Watermelon Fizz by Handy Chef
Watermelon and Cucumber Salad by Heal Me Delicious
Smoky Party Style Jollof Rice by Immaculate Ruemu
Crab Boil & Garlic Butter Sauce by Jamieson Diaries
Tamarind BBQ Wings by Just Add Hot Sauce
Hibiscus Rum Punch by Kenneth Temple
Strawberry Cheesecake Ice Cream by Lenox Bakery
Crockpot BBQ Pulled Pork Sandwiches by Mash & Spread
Grilled Hot Links & Chow Chow by Meiko And The Dish
Strawberry Lemonade Sangria by Nik Snacks
Brown Sugar Caramel No-Churn Ice Cream by Open Invitation Entertainment
Strawberry Basil Pineapple Mocktail by Orchids + Sweet Tea
Lemon Meringue Tart by Peaches 2 Peaches
Spicy Shrimp Creole by Pink Owl Kitchen
Strawberry Crunch Cake Brownies by Razzle Dazzle Life
Grilled Maque Choux Salad by Savor and Sage
Savannah Red Rice by Seasoned To Taste
Country Style Potato Salad by Sense & Edibility
Deviled Eggs by Slight Kitchen Werk
Rum Punch by Sweet & Sorrel
Mint Julep by Sweet Tea + Thyme
Almond Peach Cake by That Green Lyfe
Strawberry Cobbler Galette by The Dana Renée Way
Strawberry Baby Back Ribs by This Worthey Life