Grilled Peaches with Salted Caramel and Toffee Crumble – Succulent and juicy peaches charred to perfection over the grill and topped with caramel and toffee goodness.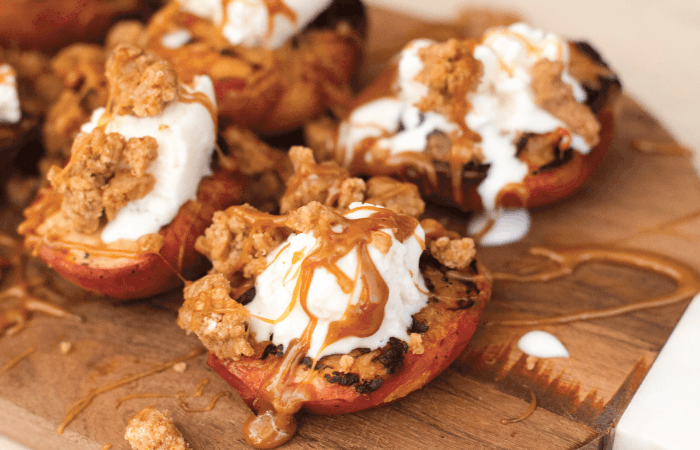 Grilled succulent peaches with juiciness oozing from their pores. Topped crunchy toffee candy crumbles and drizzled with only the best sauce in the world, salted caramel. I AM SOOOOOO HERE FOR THIS!!!!!!!!!!!!!!!!!!! [How I feel right now]
You all will have to excuse my overzealous use of exclamation marks during this post; I am super juiced that summer is officially here. This is my season. I grew up in San Diego, where it is pretty much summer year-round, so this is the weather that I know and love. Bring on the sun; bring on the heat!
And, of course, with the heat, the grill comes out. I love a good reason to spark up the grill. There is nothing better than a smoky char on a vegetable or a nice slab of meat. And when it comes to grilling, I am an equal opportunity employer. I even share the grilling love on my fruits, hence the subject matter of this post, my GRILLED PEACHES.
And you already know, these are not yo grandmama's peaches. But I can assure you these are ME-MA approved. These fully decked-out sweet treats are reminiscent of her good ole peach cobbler but way easier and way faster. Yep, that's my kind of dessert!!!!
Now, most would stop after grilling the peaches because the peaches alone are enough. But yall know I'm greedy, so that just wouldn't work for me. In true Me-Ma fashion, I pulled a handful of Werther's originals hard candies (you know grandma keeps a good hard candy in her purse at all times) and used them to make a crunchy crumble topping.
The ultimate woo-sah comes in with this homemade salted caramel. In all transparency, I had to make this sauce a couple of times because timing and temperature are critical in achieving the right consistency. I also tried using regular milk the first time since my heavy cream was expired, but that was a NO-NO. The fat weight of regular milk alone isn't enough to achieve the consistency needed for a caramel. Instead, I just ended up with sugary milk. But once I got it right… oooh, it was sooo right.
Finally, you can't do a peach dessert without having an option for vanilla ice cream. It would just be wrong. Plus, the addition of creamy ice-cold vanilla ice cream against the charred warm peaches is simply divine. This is a dessert that should be made over and over again this summer. And if you did, no one would judge you … not even Me-Ma!
How to pick the best peaches for grilling?
The best peaches for grilling will be the slightly firm ones since cooking the fruit softens them. Look for locally-grown peaches with a fresh fruity scent and slight give (not too mushy). Pick the ones that are creamy gold to yellow under color. The "crimson" or "red" is an indicator of variety, not ripeness.
How to prep your peaches?
To prepare a peach, boil in water for 30 minutes, then dip it in cold water. Now peel it with a knife. To take out the split, slice the fruit in half around the pit, twist both halves, and remove the pit. Be careful, so the pit does not break apart. An easy way to remove the pit is to use a melon baller or cookie scoop.
How to grill peaches?
There are three ways to make grilled peaches: a charcoal grill, indoor grill, or gas grill. Prep the grill you have to medium-high heat. Then cut the peaches in two halves, brush them with oil, and place them on the grill cut-side down. Let the fruits cook for 4 to 5 minutes until soft. Then flip the side and grill for 4 to 6 minutes more, until almost falling apart. Take the now grilled peaches and serve.
How to serve grilled peaches?
You can serve grilled peaches as a dessert with ice cream or a delicious drizzle of honey. You can top it with Greek yogurt, chocolate syrup, chopped pecans, or a dollop of whipped cream. You can also serve grilled peaches, hot or cold.
There are several different types of grilled peach recipes like grilled peach salad, peach parfait, and peaches a la mode. You can also serve the grilled peaches as a side dish with dishes like pork chops or chicken.
Can you make grilled peaches in the oven?
You absolutely can! Not everyone has a grill at home, but that does not have to come in the way of you trying this delicious Grilled Peaches recipe. The way to go is to roast them in an oven instead. Start by preheating the oven to 400°F. Arrange the cut peaches cut-side up in a baking dish and roast for 10 to 20 minutes until they are tender, slightly brown, and beginning to caramelize.
How to grill peaches on the stove?
If you don't have a grill, you can also make grilled peaches on the stove. Turn the burner to medium heat and let the pan preheat for about 2 minutes. Then place the peaches flat-side down in the pan. Leave space so that they are not touching. Allow the fruit to cook for 10-15 minutes, until soft. Once done, use tongs to place the peaches on a plate, let cool, and serve.
How to store grilled peaches?
First, allow your grilled peaches to cool, then place them in an airtight container or refrigerator bag. Your grilled peaches can be refrigerated for up to a week. If you would like to store your grilled peaches, longer place them in an airtight freezer bag and freeze. Make sure to eliminate air from your storage bags to prevent frostbite.
More Delicious Dessert Recipes
Still, craving more? Check out these dessert recipes next: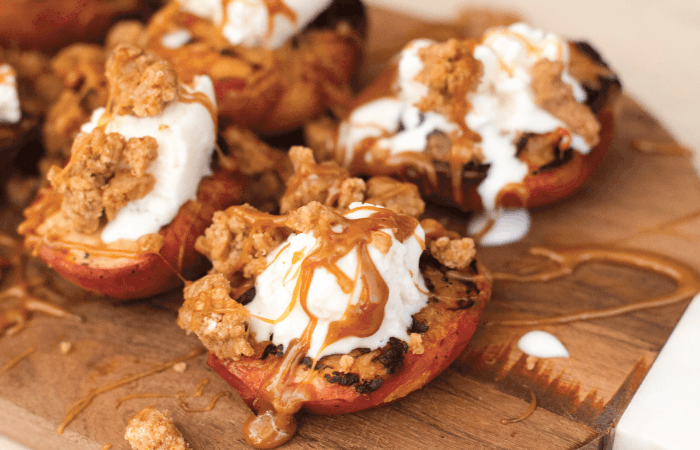 Ingredients
Salted Caramel
½

cup

granulated sugar

3

tablespoons

salted butter

¼

cup

heavy cream

½

teaspoon

sea salt flakes
Toffee Crumble
8

Werther's Originals hard candies

grounded

3

tablespoons

butter

¼

cup

flour

3

tablespoons

brown sugar

¼

teaspoon

salt
Grilled Peaches
4

peaches

cut in halves

3

tablespoons

butter

melted
Instructions
Toffee Crumble
In a food processor intermittedly pulse the werther's originals until they reach a fine gravel-like texture.

Into a medium bowl add in the ground werther's, flour, sugar and salt and whisk together. Cut the butter into a few large pieces and toss these in the dry ingredients. With your hands, work butter into the mixture until large, moist clumps form. Cover and refrigerate until ready to use.
Salted Caramel
In a saucepan on medium high heat, add in sugar and whisk. The sugar will begin to form clumps and then turn golden and melt. Keep a close eye on the sugar as it can easily burn.

Once the sugar is completely melted and temperature reaches 350 degrees F immediately add in the butter. The butter will cause the sugar to bubble up but don't be alarmed. Continue to which in the butter until it is completely melted into the sugar.

Slowly whisk in the heavy cream. This will cause the mixture to bubble up again. Resume with a slow whisk until you achieve a smooth caramel. Allow the sauce to continue to simmer for 30 seconds – 1 minute then remove from the heat and stir in ½ teaspoon of sea salt flakes.
Grilled Peaches
Heat grill to high. Brush peaches with butter and place flesh down into the grill. Cook for 5-7 minutes or until the peaches are soft to the touch.
Assembly
Place a peach half, face up and top with vanilla ice cream. Sprinkle on the toffee crumble and drizzle with the salted caramel.
Nutrition
Serving:
8
g
|
Calories:
286
kcal
|
Carbohydrates:
35
g
|
Protein:
2
g
|
Fat:
17
g
|
Saturated Fat:
6
g
|
Polyunsaturated Fat:
3
g
|
Monounsaturated Fat:
6
g
|
Trans Fat:
1
g
|
Cholesterol:
22
mg
|
Sodium:
383
mg
|
Potassium:
186
mg
|
Fiber:
1
g
|
Sugar:
30
g
|
Vitamin A:
865
IU
|
Vitamin C:
5
mg
|
Calcium:
32
mg
|
Iron:
1
mg
Equipment
*Nutrition information is a rough estimate.
**The equipment section above contains affiliate links to products I use and love. As an Amazon Associate I earn from qualifying purchases.