Healthy Sweet Potato Chips is a healthier alternative to regular potato chips. Requiring only 5 ingredients and 15 minutes to prepare. Sweet potato chips are great as a snack or a side to an entree.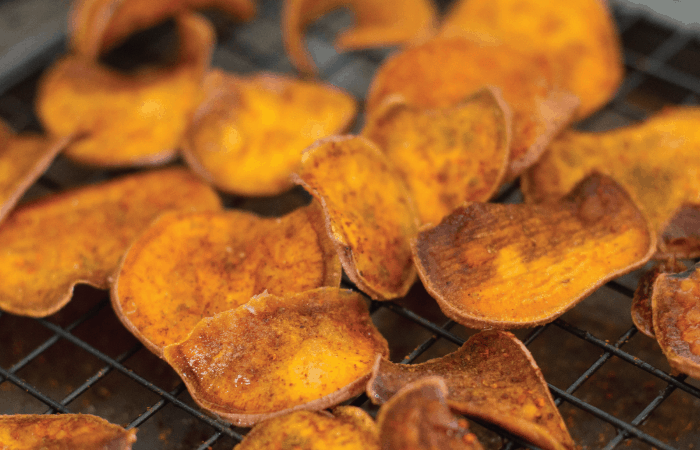 Homemade Sweet Potato Chips are a simple and delectable finger food that calls for only a few ingredients to make. With the right seasonings and spices, homemade sweet potato chips can be a delicious and healthy alternative to traditional potato chips. Unlike store-bought sweet potato chips, you will know every ingredient in these babies. Easy to make, tasty, and healthy; you possibly will never buy store-bought chips again!
How To Make Sweet Potato Chips
You'll start by gently rinse and pat dry your two large sweet potatoes. Because sweet potatoes are root vegetables, they grow underground; you want to be sure to clean the well. Next, thinly slice your sweet potatoes. I recommend you use a mandolin. If you don't have a mandolin, no worries, you can use a sharp knife. In a medium saucepan, heat the coconut oil to 270°F. Once the oil is hot, start adding slices of sweet potato. Fry the slices in small batches until they are golden brown or for about 4 minutes. With a spider strainer, remove your chips from the oil and place them on a bed of paper towels or a wire rack. This will rid your chips of excess oil. While your chips are still warm, sprinkle Tajin, cinnamon, and cumin seasonings. Voila, our homemade sweet potato chips are ready to be served!
Troubleshooting: Why are my Sweet Potato Chips not crispy?
To prevent having soggy uneventful sweet potato chips, make sure to slice your sweet potatoes evenly about 1-2 mm in thickness. Give the oil enough time to heat up to the proper temperature, 270°F. Fry in small batches allowing enough room for the chips to fry evenly. Also, keep your homemade sweet potato chips open in the container while they're warm. By avoiding these issues, you can make the best sweet potato chips.
Alternative Cooking Methods:
How To Bake?
You don't need to put lots of thought into how to bake sweet potato chips – it's super easy (and healthy!).
Preheat the oven at 300°F, and adjust the racks in lower and center positions.
Divide the chips between baking sheets and drizzle them with oil.
Toss and spread them in a layer on the sheets.
Bake them and flip once until you notice the centers are soft while the edges are crispy.
This will probably take you between 22 to 25 minutes.
Once done, you sprinkle the Tajin, cinnamon, and cumin seasoning on your baked sweet potato chips; now they're ready to serve.
How To Air Fry?
Here are the steps on how to air fry sweet potato chips:
Soak sweet potato slices in cold water for 20 minutes.
Drain and pat dry using paper towels.
Add oil, salt, cumin, cinnamon, and Tajin to a bowl.
Add the potatoes and gently toss until they are coated with the seasoning.
Spray a light coat of cooking oil on the air fryer basket.
Cook in batches at 350°F for 15 minutes or until they are crispy and golden brown
Take the potato chips out from the fryer.
Allow to cool and serve.
Tips For Best Sweet Potato Chips
To make the best sweet potato chips,
Slice the chips thinly.
Toss them in cornstarch before frying.
Season chip while they are still warm.
How Long Will Homemade Sweet Potato Chips Last?
When stored properly, homemade sweet potato chips will stay crispy and fresher for about 2 days.
How to Store Sweet Potato Chips?
The best way to store sweet potato chips is in a sealed bag or brown paper lunch bag to prevent humidity and moisture. There's no need to refrigerate your chips.
More Tasty Appetizer Recipes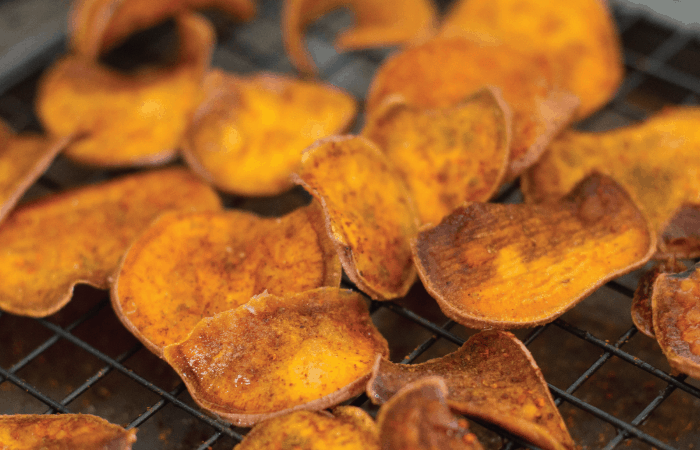 Ingredients
2

large sweet potatoes

2

cups

coconut oil

Cumin

to taste

Cinnamon

to taste

Tajin or salt

to taste
Instructions
Rinse sweet potatoes and pat dry. Slice thinly, using either a mandolin or sharp knife. Try to get the slices between1-2mm thick.

Heat coconut oil to 270 degrees in medium saucepan. Fry potatoes in batches making sure that they do not overlap for approximately 4 minutes or until golden. Set on paper towels or wire rack to get rid of excess oil.

Sprinkle with seasonings (Tajin, cinnamon and cumin) while still warm and serve.
Nutrition
Calories:
4147
kcal
|
Carbohydrates:
91
g
|
Protein:
7
g
|
Fat:
436
g
|
Saturated Fat:
377
g
|
Polyunsaturated Fat:
8
g
|
Monounsaturated Fat:
25
g
|
Sodium:
249
mg
|
Potassium:
1523
mg
|
Fiber:
14
g
|
Sugar:
19
g
|
Vitamin A:
64125
IU
|
Vitamin C:
11
mg
|
Calcium:
136
mg
|
Iron:
3
mg
*Nutrition information is a rough estimate.
**The equipment section above contains affiliate links to products I use and love. As an Amazon Associate I earn from qualifying purchases.