Sometimes you have to put a twist on your favorites and the rich flavor the goat cheese added was amazing.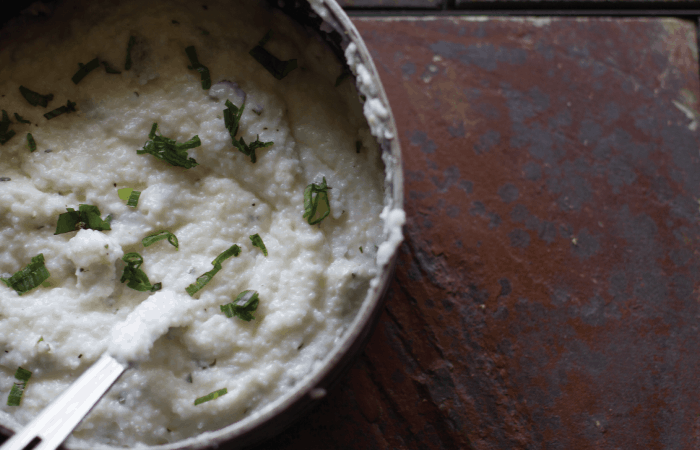 Regular grits vs. quick-cooking grits vs. instant grits
The main difference between all three is granulation. Regular grits are medium ground and take about 10-15 minutes to cook. Quick grits are ground fine and cook in about 5 minutes. Lastly, instant grits are ground fine and have been precooked and dehydrated and unusually done within a minute or two.
What should the consistency of grits be?
There is no right or wrong when it comes to grits' consistency; some like thick grits, others like them a little runny. However, from this recipe, you will want thick creamy grits. Overall your goal is to achieve flavorful, fully cooked, smooth, and clump-free grits. To do so, it's all in the stir or the flick of the whisk!
What's the difference between goat cheese and feta cheese?
If you look closely, you'll notice that feta and goat cheese look almost exactly the same, so much so they are easily confused. Both are typically crumbly white cheeses, so what's the difference between the two? Well, the main difference is the type of milk that each contains. Feta is mostly made of sheep's milk, and goat cheese is primarily made of goat's milk. While both kinds of cheese are flavorful, goat cheese tends to have a bolder tart and tangy flavor and softer texture.
What to serve with Herb and Goat Cheese Grits?
Goat Cheese Grits is hearty enough to be eaten alone or served as a side. Not only can it be served with the typical breakfast foods such as eggs, sausage, or bacon Goat Cheese Grits also goes well with: 
Mediterranean vegetable Medley
Grilled or Sauteed bell peppers and onions
Braised Beef
Grilled Lamb
Baked or Grilled Fish
I have found to regain the best flavor, and texture the stovetop works best; however, you can also reheat your grits in the microwave. Either way, you will need to add water, broth, or milk and stir to bring your grits back to life.  If you are going the stovetop route, use low to medium heat, add a little bit of your liquid at a time and stir until it reaches your desired temperature and texture.  If you have chosen to use the microwave, I suggest adding a bit of liquid, stir, and heat for 30 seconds to 1 minute, and repeat until it reaches your desired temperature and texture.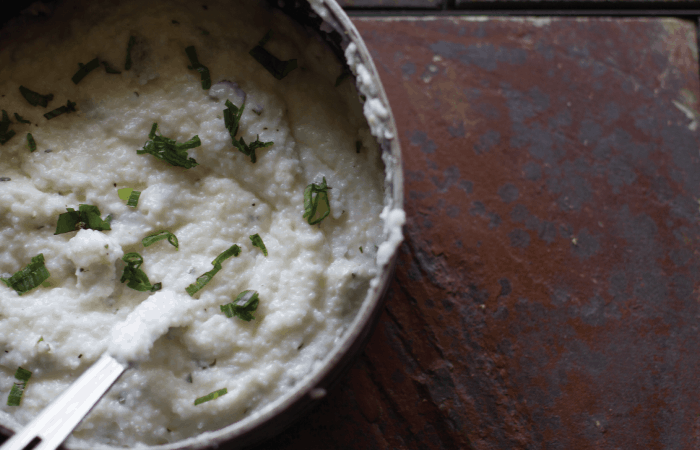 Ingredients
1

cup

white corn grits

3

cups

water

¼

cup

goat cheese

¼

cup

greens onions

chopped

¼

cup

fresh basil

chopped

2½

tablespoons

butter

¾

cup

sour cream

½

cup

milk

salt and pepper
Instructions
Bring water to a boil in a medium saucepan and stir in grits. Let grits continue to cook for 5 minutes with the pan covered.

Remove from the heat and stir in goat cheese, butter, sour cream, green onions and basil. Add in milk ¼ cup at a time until you reach your desired consistency. Finally add in salt and pepper to taste.
Nutrition
*Nutrition information is a rough estimate.
**The equipment section above contains affiliate links to products I use and love. As an Amazon Associate I earn from qualifying purchases.