This Homemade Avocado Vinaigrette is just a testimony to my love for the fruit year-round. Prepared under 15 minutes, with readily available ingredients, this condiment is just what you need if you frequently crave a healthy-but-tasty something. So, without further ado, let's get into the how's of this avocado dressing recipe.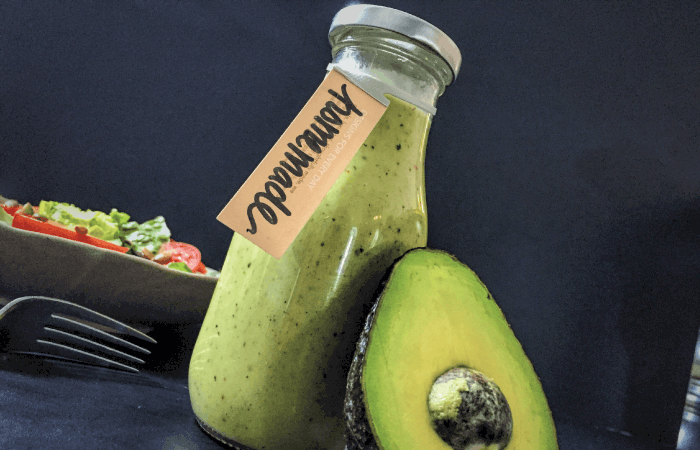 How to pick ripe avocados?
A ripe avocado's outer skin will be dark green in color and slightly softer to touch, not mushy. Another tip to help determine if your avocado is ripe is the stem trick. At the top end of the fruit, you'll see what looks like a little cap. This is the part of the stem that is left behind when picked. If you can lift or peel that stem cap off easily and the fruit is a green or yellowish color, your avocado is ripe.
How to prepare this avocado dressing recipe?
Preparing avocado dressing is quick and easy. Grab a blender and add avocado, jalapeno, green tomatillo salsa, cilantro, green onion, garlic, honey, Tajin, salt, and pepper. Blend at low speed and while the blender is running, slowly pour in the olive oil. Add in water until the vinaigrette reaches your preferred consistency. If there is a need to add more water, make ¼ cup increments at a time. Increase your blender's speed to ensure all the avocado is broken down. It's ready to serve!
What are the avocado dressing ingredients?
Apart from the essential avocado, you'll need jalapeno for that subtle amount of heat, olive oil, cilantro, green onion, garlic, salt, and ground black pepper. Add mild green tomatillo salsa and Tajin Clasico Seasoning for a tangy lime and low heat chili flavor. To balance these robust flavors, you'll need a few drizzles of honey and a bit of water to smooth out the texture of your avocado dressing.
How do you make avocado dressing?
Making a DIY avocado dressing is a 10 minutes job. Once you have all your ingredients, start by blending the avocado, jalapeno, green tomatillo salsa, cilantro, green onion, garlic, honey, Tajin, salt, and pepper at low speed. Then slowly pour the olive oil into the blender. Now add in water until your vinaigrette reaches the preferred consistency.
If the avocado doesn't seem to break and blend properly, you can speed up the blender after all ingredients (including water and olive oil) have been adequately mixed.
What are the benefits of eating avocado?
Avocados are stone fruit with a creamy texture and several potential health benefits. They range from improving digestion to decreasing weight and the risk of depression. The most significant avocado benefits include that the fruit:
Are powerhouse of vitamins B6, B5, B3 C, E, and K.
Is a rich source of folate, magnesium, potassium, and Omega-3 fatty acids.
Provides antioxidant protection against UV damage.
Contains antioxidants and monounsaturated fat that keep the heart-healthy.
Detoxifies body naturally
Aids weight loss and healthy skin
Improves digestion
Is anti-inflammatory
Boosts fertility
Reduces the risk of depression and cancer
How to properly store avocado dressing?
You can either refrigerate the avocado dressing for up to 3-4 days or freeze it in an air-tight container or freezer bag for 1-2 months.
Is avocado dressing keto?
Yes, the avocado dressing makes a perfect addition to your keto diet since it is loaded with healthy fats and vitamins.
More Creamy Avocado Recipes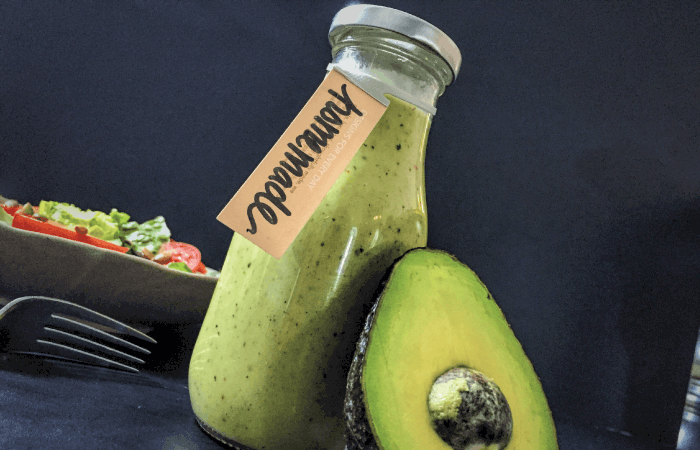 Ingredients
1

large

ripe avocado

1

jalapeno

deseeded & chopped

½

cup

olive oil

¼

cup

green tomatillo salsa

mild

¼

cup

honey

cup

cilantro

1

stalk green onion

chopped

1

teaspoon

minced garlic

¼

cup

water

¼

teaspoon

Tajin Classico Seasoning

¼

teaspoon

salt

¼

teaspoon

black pepper

freshly ground
Instructions
Add all ingredients (except olive oil and water) to a blender and blend on low speed.

While blender is running slowly pour in olive oil.

While blender is still running, add in enough water until the vinaigrette reaches your preferred consistency. Start with ¼ cup increments.

Serve or store in airtight container.
Note:
Once all ingredients are added, you may need to pulse or increase speed of blender to make sure all the avocado is broken down.
Nutrition
Serving:
1
g
|
Calories:
788
kcal
|
Carbohydrates:
47
g
|
Protein:
2
g
|
Fat:
69
g
|
Saturated Fat:
10
g
|
Polyunsaturated Fat:
8
g
|
Monounsaturated Fat:
49
g
|
Sodium:
507
mg
|
Potassium:
614
mg
|
Fiber:
7
g
|
Sugar:
38
g
|
Vitamin A:
461
IU
|
Vitamin C:
21
mg
|
Calcium:
26
mg
|
Iron:
1
mg
*Nutrition information is a rough estimate.
**The equipment section above contains affiliate links to products I use and love. As an Amazon Associate I earn from qualifying purchases.