Homemade cranberry sauce made with notes of sweet brown sugar and zesty orange. Why buy canned when you can make this delicious sweet and tangy holiday favorite in the comfort of your home?!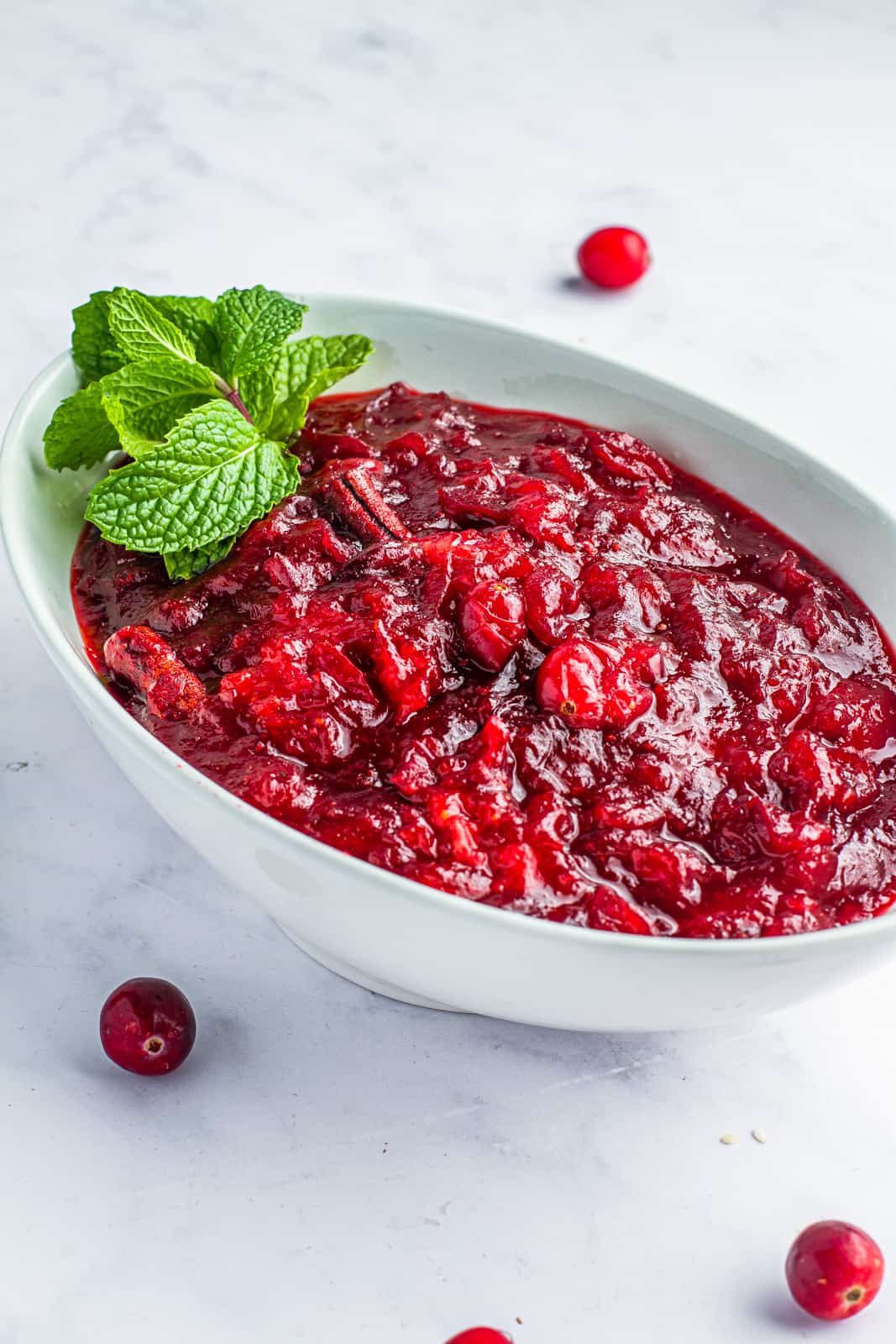 How Long Does Homemade Cranberry Sauce Last?
I know you wish you could have all that delicious homemade cranberry perfection bottled up forever, but all good things must come to an end. However, homemade cranberry sauce stays fresh for 2 weeks when refrigerated and a maximum of 2 months when frozen.
Why Is My Cranberry Sauce Bitter?
It's life! Things don't always go exactly how we plan. Your cranberry can decide to go rogue by maintaining its acidic tart, therefore giving your sauce a bitter taste that causes your tongue to almost crawl inside your mouth.
Do not fret; here's a quick fix:
-1 tablespoon of maple syrup or simple syrup
-1 teaspoon of orange or apple juice.
-sprinkle a pinch of salt in the mixture and stir.
Keep adding these until the tart disappears.
Can Homemade Cranberry Sauce Be Frozen?
Of course, homemade cranberry sauce freezes perfectly; it will keep for about 2 months. After your cranberry sauce has cooled, store it in a plastic freezer friendly container or freezer bag, fill it up with your cranberry sauce, and seal tightly. Let your freezer take it from there.
How To Thicken Homemade Cranberry Sauce?
I have to go all food 'sciency' on this one. There's a natural polysaccharide present in the walls of cranberries called pectin. Pectin is a gelling agent, which means it is responsible for your cranberry sauce's lightness or thickness.
To get the full effect of pectin in your sauce, you have to cook your cranberries until they explode! When they explode, they bond with the sugar; this is what makes your sauce thicken. Just keep boiling! Let the sauce boil until it becomes thick.
How To Store Cranberry Sauce Made From Scratch?
It's Thanksgiving night; you finally catch a break. You step into the kitchen, begin to wrap up the leftover turkey, and then ooooohhh! There's some cranberry sauce left. What to do?
To store for a short period: Use a mason jar or airtight plastic container and store it in your refrigerator.
For a more extended period: Use a freezer-safe bag or plastic container, pour your cranberry sauce in and store it in your freezer. Make sure the bag or container is airtight.
More Recipe Ideas
Ingredients
2

12 oz bags fresh cranberries, washed and dried

⅔

cup

white granulated sugar

⅔

cup

brown sugar

1 ½

cups

orange juice

½

teaspoon

vanilla paste

½

teaspoon

kosher salt

½

teaspoon

cinnamon

¼

teaspoon

nutmeg

2

cinnamon sticks

optional
Instructions
Add all ingredients to a medium pot on medium heat and stir all ingredients together. The cranberries should pop in like 5 min.

Then reduce the heat to low and let simmer for another 5-7 minutes more, stir occasionally. Use the back of a wooden spoon to mash half the cranberries. Let cool and serve.
Nutrition
Serving:
8
g
|
Calories:
125
kcal
|
Carbohydrates:
32
g
|
Protein:
1
g
|
Fat:
1
g
|
Saturated Fat:
1
g
|
Polyunsaturated Fat:
1
g
|
Monounsaturated Fat:
1
g
|
Sodium:
10
mg
|
Potassium:
76
mg
|
Fiber:
2
g
|
Sugar:
28
g
|
Vitamin A:
46
IU
|
Vitamin C:
11
mg
|
Calcium:
17
mg
|
Iron:
1
mg
*Nutrition information is a rough estimate.
**The equipment section above contains affiliate links to products I use and love. As an Amazon Associate I earn from qualifying purchases.