Moist turkey dressing matched with the perfect blend of cornbread, bread crumbs, and savory veggies makes this the perfect Thanksgiving side dish.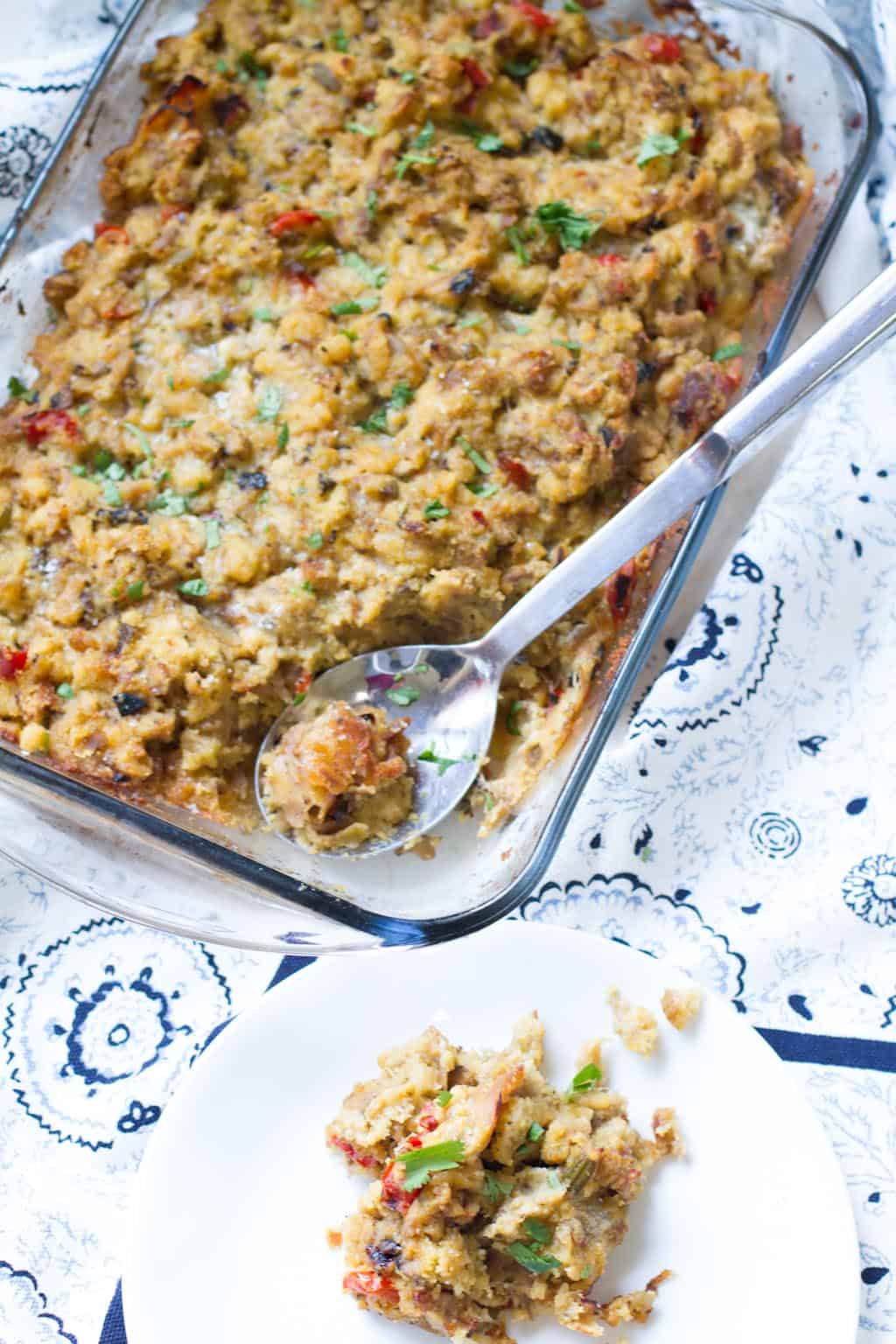 Stuffing is probably one of my top 3 favorite Thanksgiving sides. I normally leave the stuffing making up to my sister Marsaidees. Unfortunately, I won't be spending the holidays with my family this year, so I'm on my own. I decided to do my own spin on her traditional cornbread dressing recipe by adding bread crumbs and red bell pepper for additional texture and flavor. The inside of the dressing is exceptionally moist by using the homemade stock, and then it is topped with butter to achieve a nice crispy top while baking. This recipe will definitely send the family running back for seconds. @meikoandthedish #meikoandthedish.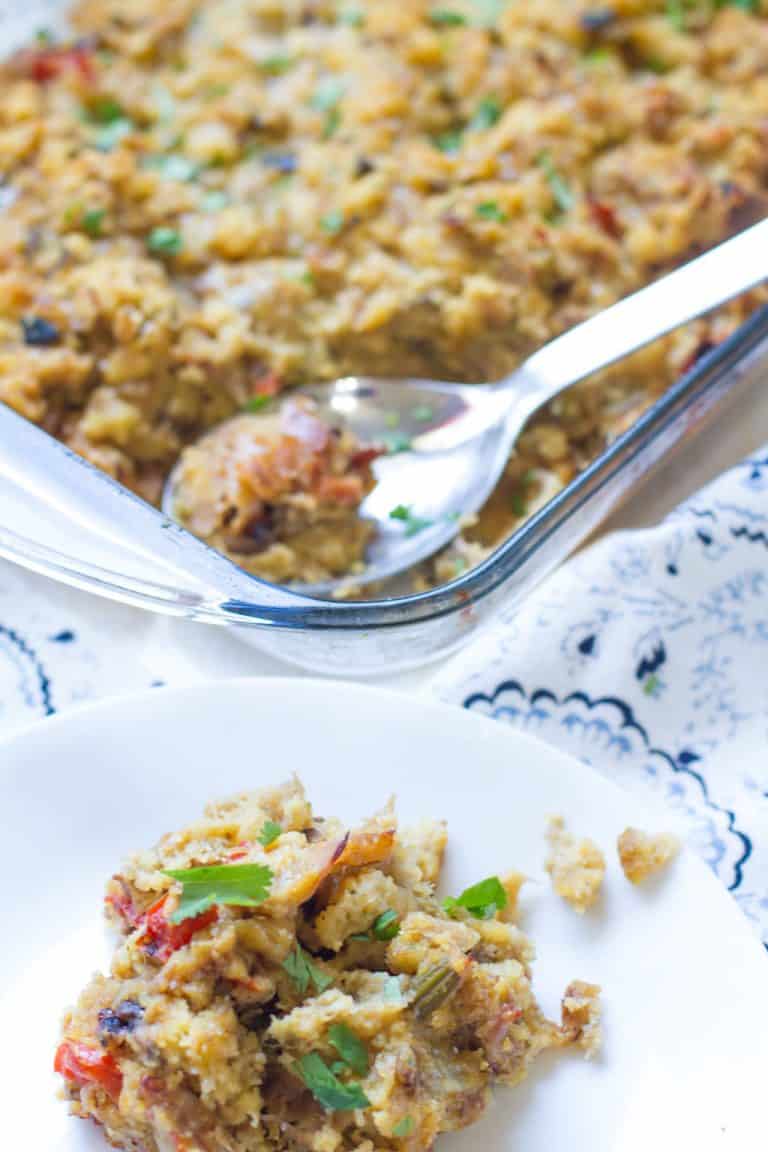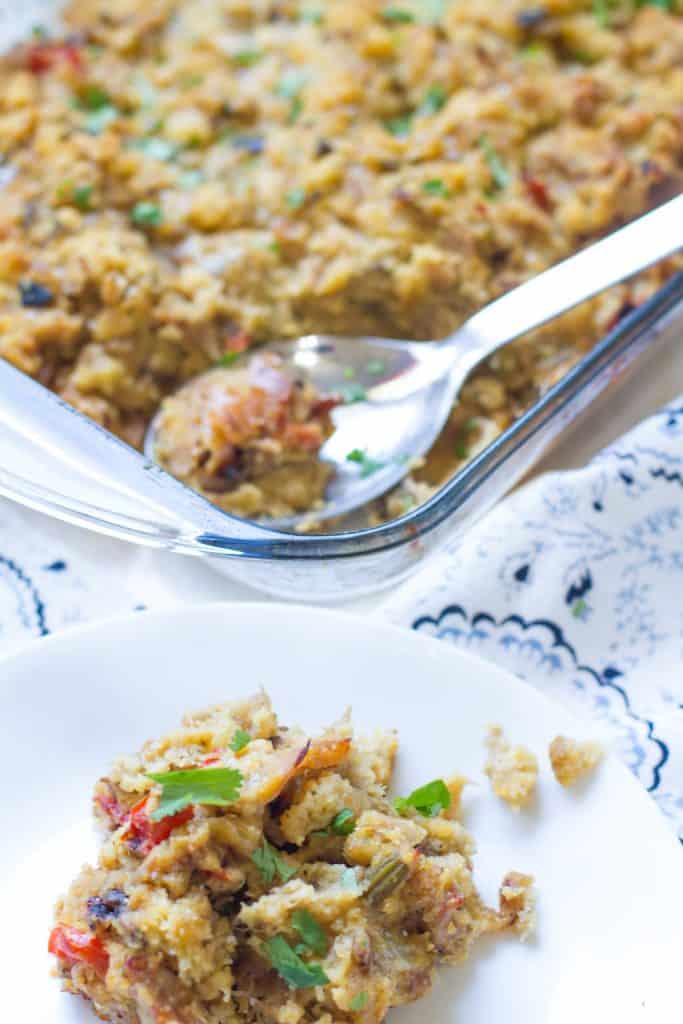 What is cornbread dressing?
Cornbread dressing is usually served as a moist and tasty side dish with roasted poultry. It is made with a day-old cornbread, homemade stock, celery, onions, bell peppers, and a variety of delicious add-ins. It can also be served as a main course.
The difference between dressing & stuffing?
As the name suggests, stuffing is cooked inside a roasted turkey or chicken cavity while dressing is cooked separately and eaten as a side dish. Apparently, the major difference between the two is how they are cooked. Still, some people use the terms interchangeably, but as for me, I'm more than comfortable using the term dressing because it stands out on its own. It can be enjoyed alone, whereas stuffing can only be appreciated with roasted poultry. This is why I used some chopped turkey in this cornbread turkey dressing recipe so that you can enjoy it as a main dish.
Alternative Add-Ins
It is up to you if you would love to add more tasty ingredients into your turkey dressing; you want to make it memorable for your family and give them the taste (delicious experience) they would all love; I feel you. Here are some add-in ideas, you can add only about a cup of your select ingredient:
Dried fruits like raisins, apricots, cranberry, dates, pineapples, etc.
Seeds like chia seeds, sesame seeds, etc.
Toasted nuts like almonds, chopped macadamia nuts, coconuts, walnuts, chestnuts, etc.
Herb seasoning like rosemary, chives, cilantro, mint, coriander, cumin, etc.
Fresh fruits like avocado, chopped carrots, diced apple or pear, etc.
Meat like diced English/chorizo/sage sausage, bacon strips, pork rings, etc.
Can you make it ahead?
Preparing to have guests over for the holidays is no easy matter; Apart from the menu, you have to ready the house to receive them, you'd also need some alone time away from the festive activities.
You can prep this turkey dressing recipe 48hours before the cooking day. Simply follow the recipe, mix all your ingredients, transfer into the baking dish, and cover with foil. Store it in the refrigerator until you are ready to bake.
Once you are ready to cook, take it out of the fridge and let it sit for 30 minutes before baking.
More Holiday Recipes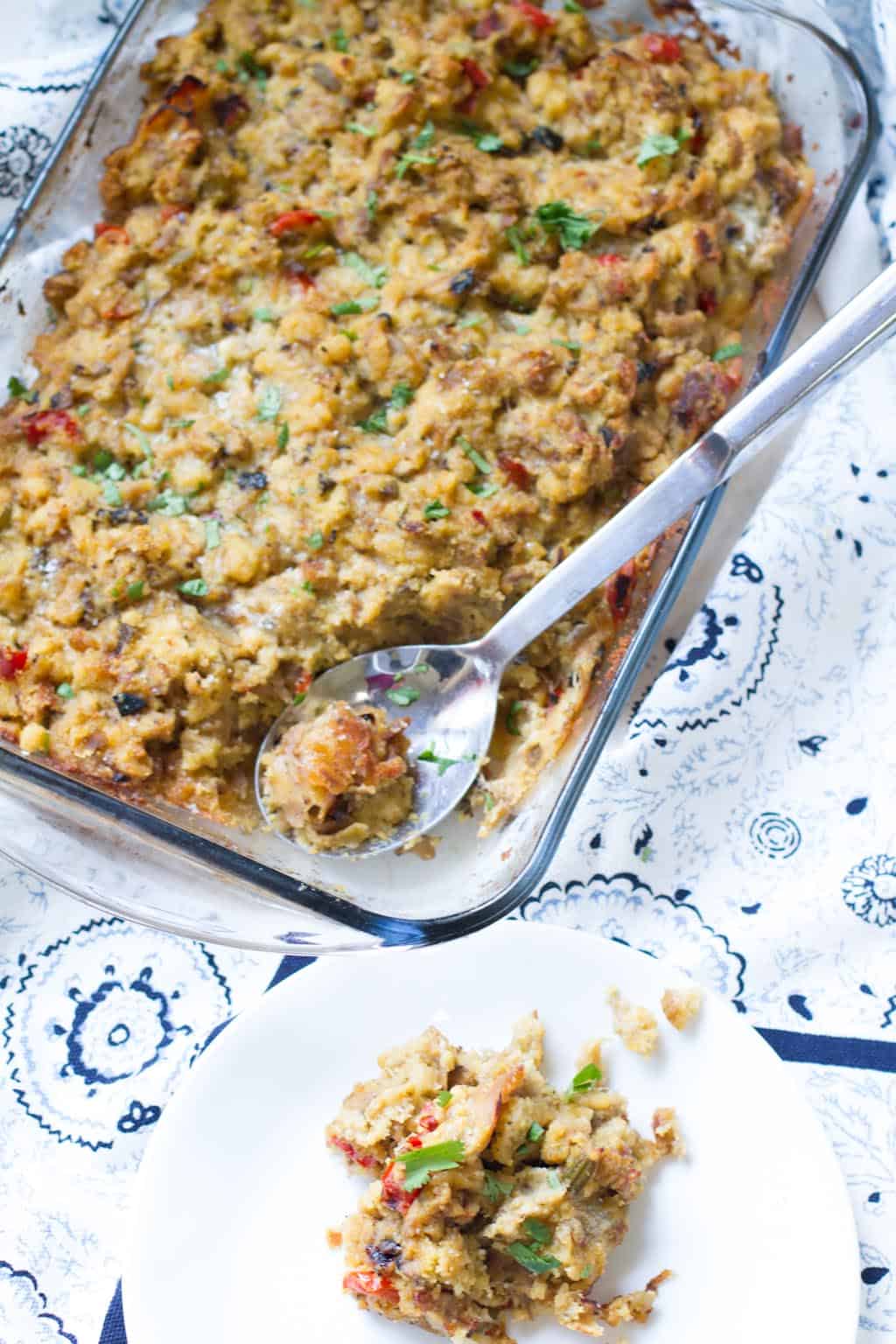 Ingredients
16

oz

day old cornbread crumbled

8×8 baking pan

2

tablespoons

olive oil

2

cups

dried seasoned stuffing mix

2

turkey necks

or the turkey Innards

1

red bell pepper

chopped

1

large

onion

chopped

2

celery stalks

chopped

8

oz

white mushrooms

chopped

2

teaspoons

ground sage

2

teaspoons

black pepper

2

teaspoons

kosher salt

2

teaspoons

onion powder

2

teaspoon

garlic

granulated

1

teaspoon

oregano

1

teaspoon

thyme

2

eggs

3

cups

poultry broth

¼

cup

butter

melted
Instructions
Neckbones or Innards:
Place neck bones (or innards) in a covered medium size boiling pot of water. Occasionally check them and add more water as needed. Neckbones should always be submerged in water. Let them boil for 45-60 minutes or until meat is tender and falling off the bones. Remove them from the pot and let cool. Reserve stock.

Use fork and/or hands to remove shredded meat from bone (and or chop) and set aside.
Dressing:
Preheat oven 350 F

Add oil to medium sized pan on medium heat. Once hot add onions, celery and bell peppers and cook for 5 minutes. Add mushrooms and cook until all vegetables are softened. Add in all seasonings: sage, oregano, thyme, granulated garlic, onion powder, salt and pepper as well as the shredded meat and mix together. Then remove from heat.
Nutrition
Calories:
541
kcal
|
Carbohydrates:
81
g
|
Protein:
14
g
|
Fat:
18
g
|
Saturated Fat:
5
g
|
Polyunsaturated Fat:
4
g
|
Monounsaturated Fat:
9
g
|
Trans Fat:
1
g
|
Cholesterol:
74
mg
|
Sodium:
2162
mg
|
Potassium:
481
mg
|
Fiber:
4
g
|
Sugar:
16
g
|
Vitamin A:
901
IU
|
Vitamin C:
28
mg
|
Calcium:
165
mg
|
Iron:
4
mg
*Nutrition information is a rough estimate.
**The equipment section above contains affiliate links to products I use and love. As an Amazon Associate I earn from qualifying purchases.