Step aside biscuits and honey; this recipe for hot buttered rum biscuits is your new favorite. With warm cinnamon, allspice, and nutmeg, just like a hot buttered rum cocktail, these biscuits will warm your heart and please your belly.
Oh hi! I'm still alive and still cooking, albeit strategic, it's still happening. A lot has happened since I last shared anything with you and trust, I plan to dig deep into all of that at some point. But right now, I need you to direct your attention to these Hot Buttered Rum Biscuits – Good Lordt! Sharing this biscuit recipe is timely, as February marks my favorite season for blogging because this time every year, I get to bring together 27 other black bloggers for our Annual Black History Month Virtual Potluck.
Let me rewind and catch you up on the most important thing that has happened since we left off. I'll have you know that Ms. MeikoAndThedish is now a Mrs. Definitely upgraded my life and married a chef. Had I known marrying a live-in cook would make my life this much easier I would have done it a whole hell-of-a-lot sooner. Not to mention, I get a built-in helper for all my crazy recipe ideas. As a matter of a fact, that hand you see drizzling the Hot Buttered Rum Sauce on the biscuits – yep, that's his hand. Marriage for me equals permanent hand model with no pay – at least not in the traditional sense.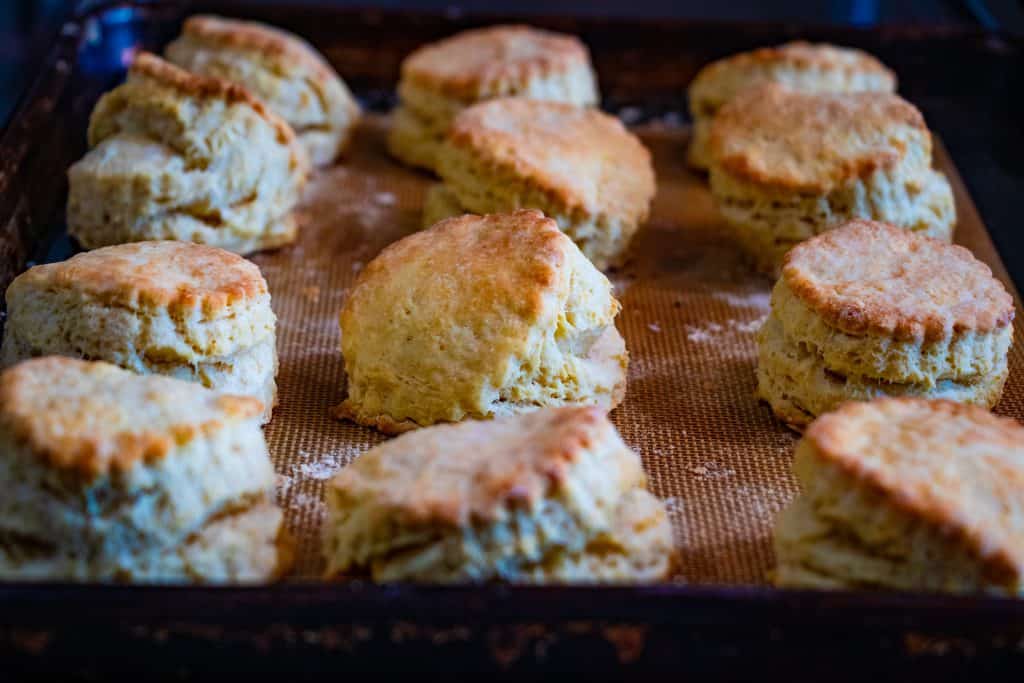 Anyways, back to the biscuits. So for the last three weeks I have been agonizing over the perfect buttermilk biscuit recipe. I tested recipes for optimal height, density, tenderness, golden brown color … the list goes on. In my head, I really wanted a mile-high biscuit that towered all others but as I tested and tweaked, I soon realized that height meant scaling my baking soda in which case also meant I was left with this residual bitter, metallic taste that was no bueno.
I tweaked some more and decided to sacrifice a bit of height for downright good flavor and texture and my recipe for buttermilk biscuits was born. The process of making biscuits taught me some interesting things, like the fact that I really don't like leaving my hands dirty for extended periods of time. When making homemade biscuits getting your hands dirty is inevitable. But I found myself washing my hands after shaving the butter, then after cutting the shortening, then after kneading the dough and then again after rolling the dough. I knew my hands were just going to get dirty again but I couldn't stop. It was such a strange realization and of course my husband made fun of me the entire time. If you can bare it, I would recommend that you just keep your hands covered in flour until you are done rolling the dough.
A LITTLE BITE OF BLACK HISTORY
Since it's Black History month I think it's appropriate to share some Black History as it relates to this recipe. Not so fun fact, the sugar cane and rum industries were built on the backs of the enslaved. While Caribbean slaves harvested sugar, the refinement process produced the by-product molasses, which when fermented (and later distilled) turns into alcohol. This alcohol produced by plantation slaves was the origin of the rum we know and love today.
TIPS FOR MAKING HOMEMADE BISCUITS
Besides keeping floured hands, there are a few other key tips that I would recommend you adhere to when making homemade biscuits:
Keep your ingredients cool
Keep your tools cool
Flour your surfaces and tools
Sharp cuts
Don't use butter to brush your biscuits
A blend of shortening and butter makes for a much softer biscuit
Don't over-knead your dough
Once you make the biscuits, the hard part is over. From there I'd typically make a honey butter compote to lather on the biscuit, however; I decided to go a new route since these record low temperatures have me craving warm cocktails like Hot Buttered Rum.
WHAT IS HOT BUTTERED RUM?
Hot buttered rum is warm and silky cocktail that is very popular during the winter. It's main ingredients include rum, water, butter and brown sugar; while some fancier variations may also include spices like cinnamon, cloves, allspice and warm milk. The cocktail is like rum's flex on a hot toddy and its addition of butter makes it the comfort food equivalent of cocktails.
You typically make a hot buttered rum by adding a butter brown sugar compote to rum and warm water but in my case, I decided to explore the duality of the cocktail making a Hot Buttered Rum Sauce instead of a compote. With that slight shift in preparation I was able to add my sauce to make the cocktail and/or drizzle it atop my delicious buttermilk biscuits.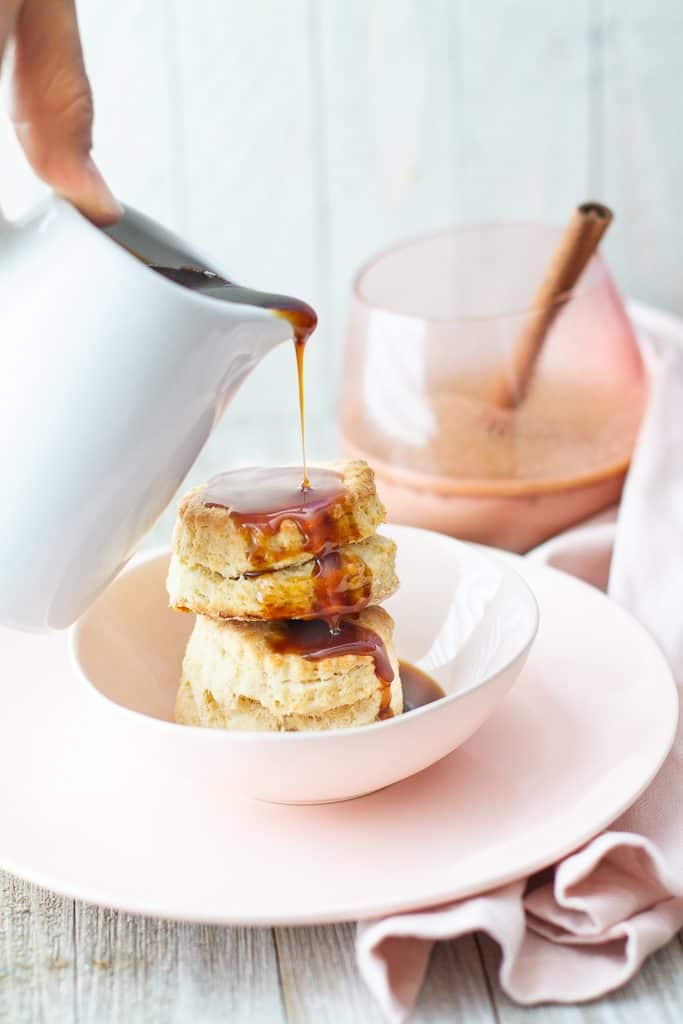 Why use frozen butter when baking?
Here's a tip for making homemade biscuits. Keep your dough cool. One way to do this is to use frozen butter. This will keep your dough cool as needed and will melt perfectly in the oven.
Can spiced rum be substituted for with rum extract?
Yes, rum extract or even spiced rum extract can be substituted for spiced rum. If you would rather use a non-alcoholic option this will work for you. Being that rum extract is made from rum, it may contact some alcohol, but very little, and will give you the rum taste you're looking for in this buttermilk biscuit recipe. You may be able to find a rum extract with zero alcohol as well.
Is dark rum the same as spiced rum?
Spiced rum is made the same as dark rum. It just has caramel and spices added. When choosing either rum for a recipe, the taste will be different when using one or the other.
Can a biscuit mix or canned biscuits be used?
Technically yes, you can use canned biscuits or a biscuit mix. However, if you're looking for a great homemade buttermilk biscuit recipe, look no further. Homemade biscuits tend to be tastier and more cost-efficient than store bought biscuits. So if you'd rather a much fresher biscuit, and you've got the time, homemade is the way to go.
What is:
Nutmeg: Nutmeg is a ground spice cultivated from specific dark-leaved evergreen trees mainly found in Indonesia. Nutmeg has a warm, nutty taste with hints of clove flavors.
Allspice: Allspice is a spice made from the dried fruit of a mid-canopy tree native to The Greater Antilles, Southern Mexico, and Central America. The flavor of Allspice is like a combination of Nutmeg, Cinnamon, and Clove.
Dark brown sugar:
Dark brown sugar is essentially white sugar with molasses added., which gives it its brown color. Brown sugar is used in baking and other dishes where a deep molasses flavor is desired. All of these flavors and spices work well together and are perfect for the bourbon sauce in this buttermilk biscuit recipe.
Other uses for Hot Buttered Rum Sauce:
You can use this Hot Buttered Rum Sauce on Ice Cream, Cakes, Pies, Bread Pudding, even pancakes! Store leftover sauce in an airtight container in the fridge to use on other dishes within 3-5 days.
The recipe details for how to make both the hot buttered rum sauce and the buttermilk biscuits are below. Just note that this sauce isn't only limited to these two items. I already have plans for adding it to my ice-cream and bread pudding in the very near future. I would implore you to get adventurous with this sauce too. And while you are it, make sure you check out the recipes of the other super talented bloggers who are participating in this year's Black History Month Virtual Potluck below.
More Black History Month Collaborations
Hey, check out some of my other BHM Collabs!
Black History Month Virtual Potluck:
28 recipes from the best black food bloggers from around the web
Beautiful Eats & Things | Okra, Corn, & Tomato Chicken Stew
Beyond The Bayou Blog | Mackerel Balls With Biscuits & Cane Syrup
B Sugar Mama | Red Beans and Rice
Butter Be Ready | Caribbean- Curry Goat with Rice and Peas
Cooks with Soul | Boudin balls
D.M.R. Fine Foods | Spice Roasted Chicken
Dash of Jazz | Soul Food Power Bowl
Dish it with Tisha | Jamaican Curry Chicken
Domestic Dee | Chicken Sliders
Eat.Drink.Frolic. | Bourbon + sweet potato pie
First and Full | Homemade Peach Pie
Food Fidelity | Nashville Hot Shrimp Sandwich
Food is Love Made Edible | Smothered Okra with Chicken and Smoked Sausage
Foodie In New York | Chess Pie
Immaculate Bites | Pimento Cheese
Kaluhi's Kitchen | Pilipili & Rosemary marinated mbuzi choma with Kachumbari
Kenneth Temple | Chicken & Sausage Gumbo
Marisa Moore Nutrition | Sweet and Spicy Roasted Cabbage
Meiko And The Dish | Hot Buttered Rum Biscuits
My Life Runs On Food | Southern Style Caesar Salad
Rosalynn Daniels | Osso Bucco
Savory Thoughts | Haitian Patty
Simply LaKita | Fried Okra
Sweet Tea & Thyme | Spiced Peach Shortcakes
That Girl Cooks Healthy | Scotch Bonnet Pepper Sauce
The Hungry Hutch | Cornbread Dressing
The Seasoning Bottle | Guava Short Ribs
Whisk It Real Gud | Banana Bread
Servings:
12
-15 Buttermilk Biscuits & 1 cup of Hot Buttered Rum Sauce
Ingredients
Buttermilk Biscuits
3

cups

all-purpose flour

1¼

cup

buttermilk

¼

cup

vegetable shortening

chilled

2

tablespoons

unsalted butter

frozen

1

tablespoon

baking powder

¾

teaspoon

baking soda

¾

teaspoon

kosher salt

2

tablespoons

sugar
Hot Buttered Rum Sauce
1

cup

dark brown sugar

½

cup

spiced rum

extra 2 tbsp

1

teaspoon

vanilla

½

teaspoon

cinnamon

ground

½

teaspoon

nutmeg

½

teaspoon

allspice

1

stick

unsalted butter

divided into tablespoons

¼

teaspoon

kosher salt
Instructions
Buttermilk Biscuits
Preheat oven 450 degrees. The shortening should be at least chilled and butter should be frozen.

In a large bowl whisk together dry ingredients: flour, baking powder, baking soda, salt, sugar until thoroughly blended.

Cut the shortening into small pieces. Add it to the bowl with your flour blend and work the butter into the flour with your hands or a fork. Just squeeze the ingredients between your fingers to break up the butter until you achieve a crumbly consistency. Use cold hands and try work quickly, so the butter doesn't melt.

Grate the frozen butter with a box grater, then fold it into the dry ingredients.

Create a well in the middle of the bowl. Pour in chilled buttermilk in the center of the well the around the edges of the bowl. Use the rubber spatula to fold in the ingredients together trying to incorporate the wet with the dry. Continue to fold until the dough pulls away from the edges of the bowl.

Lightly flour your surface and hands then knead dough 3-4 times until the ingredients come together. Use a floured rolling pin and roll dough into a rectangular-ish shape. Fold twice and roll out again. Repeat roll and fold 3 more times and then cut into 12-15 rounds using 2-inch cookie cutter. You can repeat the roll and fold process if you have any excess dough.

Place biscuit onto a prepared baking sheet or baking mat. Melt the remaining 2 tablespoons of shortening and brush the tops of each biscuit. Place into oven and bake for 12-15 minutes, or until golden brown.
Hot Buttered Rum Sauce
In a medium sauce pan on medium high heat, add brown sugar, vanilla, ground cinnamon, nutmeg, allspice and 1/2 cup of rum. Continue to stir until all sugar is dissolved and mixture comes to a strong boil.

Reduce heat to medium, allow mixture to reduce and thicken and stir occasionally.

Once the mixture reaches desired thickness (approximately 10 minutes) stir in butter a tablespoon at at time. Then stir in salt and remaining 2 tablespoons of rum. Serve.
Nutrition
Calories:
354
kcal
|
Carbohydrates:
46
g
|
Protein:
4
g
|
Fat:
15
g
|
Saturated Fat:
8
g
|
Polyunsaturated Fat:
2
g
|
Monounsaturated Fat:
4
g
|
Trans Fat:
1
g
|
Cholesterol:
28
mg
|
Sodium:
402
mg
|
Potassium:
97
mg
|
Fiber:
1
g
|
Sugar:
21
g
|
Vitamin A:
336
IU
|
Vitamin C:
1
mg
|
Calcium:
112
mg
|
Iron:
2
mg
*Nutrition information is a rough estimate.
**The equipment section above contains affiliate links to products I use and love. As an Amazon Associate I earn from qualifying purchases.