Hot Chocolate isn't just for the kiddos. This adult-friendly hot cocoa board has all the perfect chocolate pairings plus a super easy recipe for red wine hot chocolate that is sure to impress your guests.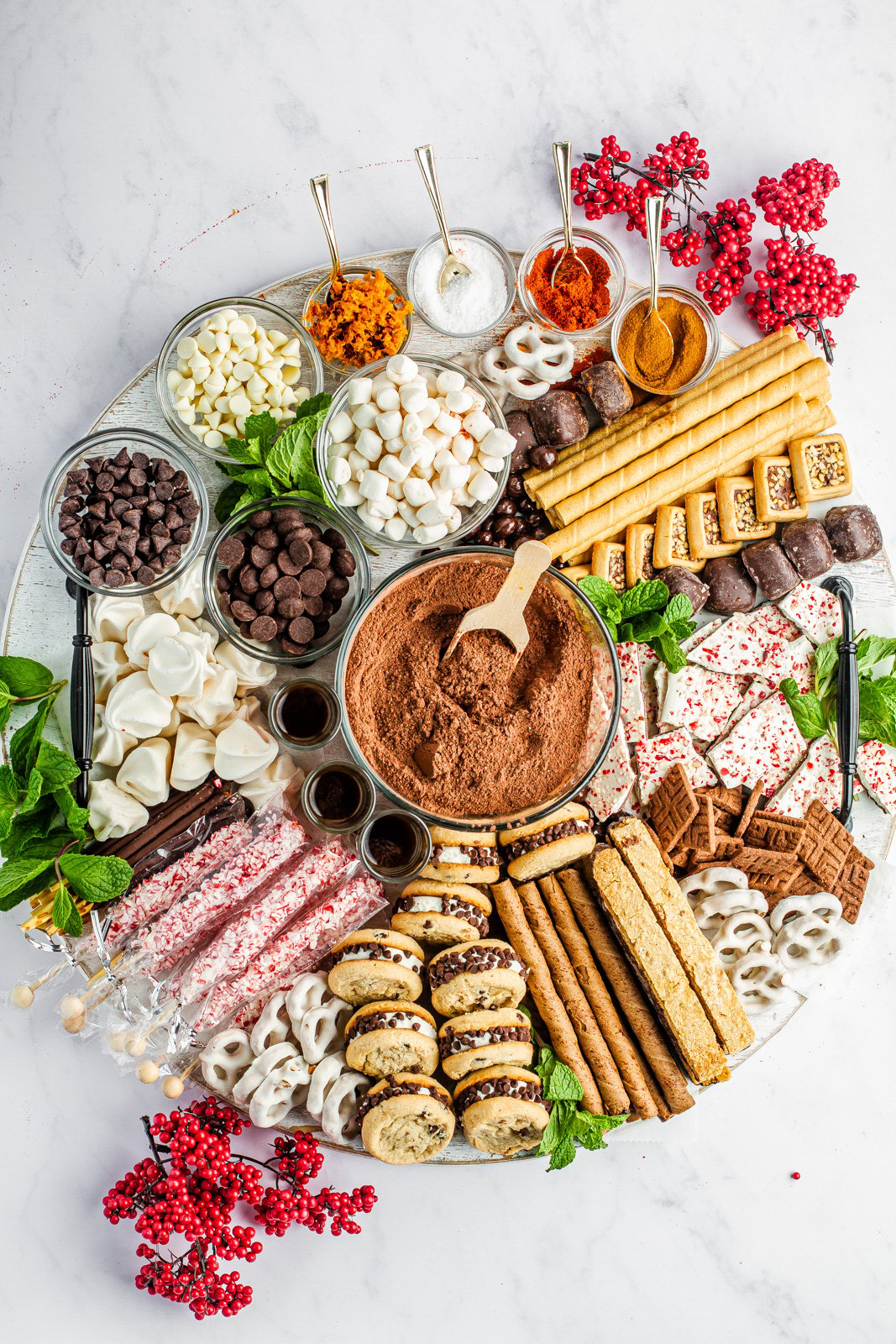 Hot Chocolate Board For Holiday Entertaining
Talk about a statement. Charcuterie Boards are all the craze, so you know I had to join in on the fun. The Holidays are fast approaching, and though these times are not quite what we are used to, let's step out of the traditional dishes and add a little of what I call "pizzazz" to wow our guests this year.
Have I mentioned that I'm obsessed with warm cocktails? I love them so so much. Unfortunately, they're as regarded as they should be. Sometimes it feels like pulling teeth to get one served up at restaurants. So I'm campaigning for more warm cocktails and hot drink recipes, especially during fall and winter, and this red wine hot chocolate falls right in line with the brigade.
What to put on a Hot Chocolate Grazing Board
Not sure what to add to your hot chocolate board? I've got you covered! Hot chocolate pairs well with so many different flavors, so it's easy to get creative. To help you get started, here are some of my favorite hot chocolate grazing board ideas:
Hot chocolate powder. This might sound crazy since we've already made a mesmerizing red wine hot chocolate to serve. However, I love including some hot chocolate powder and milk on my grazing board to allow people to make their own non-alcoholic hot chocolate.
Crunchy treats. There's nothing like dipping a crunchy sweet treat like biscotti or cookies in your hot chocolate. I also love adding crushed crunchies like peppermint candies and Oreos, in case people want to use them as toppings.
Edible stirrers. If you were planning on using a metal spoon to stir your cocoa, think again! Edible stirrers like peppermint straws and Piroulines to your board are both functional and delicious, not to mention they make an aesthetically-pleasing addition to the board.
Sauces. Nothing says gourmet, like adding a variety of delectable sauces to choose from for people to top off their cocoa. My top picks include whipped cream, chocolate sauce, and caramel sauce.
Flavor enhancers. This is an adult recipe, so I like to add some fancy adult toppings. Some of my favorites to add to my grazing board include orange zest, coarse sea salt, espresso, and fresh mint leaves.
How to assemble a Hot Chocolate Board
Okay, so you've got the best hot chocolate recipe and all your fixings… Now, for the fun part. It's assembly time! Below are some of my top tips on how to assemble your hot chocolate board like a pro.
1. Fill the empty spaces. The key to a really show-stopping board is making sure that every part of it is filled. We don't want empty spaces! If your bowls and toppings don't completely fill the board, use chocolate-covered coffee beans and fresh mint leaves to fill in the blanks.
2. Use bowls to hold your smaller toppings. When it comes to toppings like chocolate chips, cinnamon, coarse sea salt, and crushed peppermint, you're going to need some small bowls. If you have condiment bowls or ramekins, these will work perfectly. Not only do they keep things looking nice and organized, but they also make it easier for your guests to grab their toppings.
3. Lay parchment paper under your loose ingredients. While some of your toppings will be in bowls, you will probably want to have some toppings that just rest on the board. This includes peppermint straws and cookies.
To keep your board clean and make your toppings easier to move if needed, I like to lay my different toppings on top of their own pieces of parchment paper. As you assemble your hot chocolate board, you may realize you want to move things around, so this is super helpful for mobility.
4. Incorporate pops of color. One of the reasons I love adding fresh mint sprigs to my board is that it brings a beautiful pop of color. It's easy to use lots of dark colors on a hot chocolate board, so try to make sure you incorporate some pops of color too. This means adding toppings like fresh mint, peppermint straws, and mini marshmallows.
5. Lay out your toppings with intention. For a really beautiful hot chocolate board, organize your toppings with intention. Rather than placing all your larger toppings in one area, spread them out throughout the board.
The goal is to create a really nice balance between differently-sized items throughout your spread.
The same goes for colors, as well. Don't just line up all your chocolate ingredients in one section; make sure to spread your same color toppings around. The variety of sizes and colors evenly spread around goes a long way in creating a stunning board!
Looking for an adults-only grazing board?
My Hot Chocolate Grazing board is filled with all the festive favorites. Semisweet chocolate morsels, Unsweetened cocoa powder, peppermint, gooey marshmallows, and so much more. There is no age limit for this baby, so act like a kid in a candy store and bring on all the goodies. I even added an adult-friendly recipe for all of those who like to add a little "swig"(alcohol) in our cocoa. Let's get started!
Now when making your grazing board, you are welcome to use whatever themed ingredients you want. But here are the ingredients that I used:
Marshmallow vodka
Spiced rum
Peppermint vodka
Coffee liqueur
Amaretto
Bourbon
Scotch
Whipped cream vodka
Bailey's Irish Cream
Recipes That Pair With Hot Chocolate Grazing Board
Print
Hot Chocolate Grazing Board
Hot Chocolate isn't just for the kiddos. This adult-friendly hot cocoa board has all the perfect chocolate pairings plus a super easy recipe for red wine hot chocolate that is sure to impress your guests.
Materials
Treats
chocolate cookies

meringues

peppermint bark

marshmallows

oreos

biscotti
Stirrers
piroulines

chocolate pocky's

peppermint sticks

chocolate peppermint stirrers
Flavor Enhancers
orange zest

mint

coffee shots

coarse sea salt

peppermints
Sauces
chocolate sauce

caramel sauce

whipped cream
Red Wine Hot Chocolate
Rich, creamy, bold, and steamy this boozy hot chocolate is the perfect warm cocktail for your winter get-togethers!
What is Red Wine Hot Chocolate?
If you like wine and chocolate, you absolutely need Red Wine Hot Chocolate in your life. In the past few years, this signature fall beverage has gained a ton of popularity for being this generation's Hot Toddy.
Red Wine Hot Chocolate is made by first making your own hot chocolate from scratch using ingredients like chocolate morsels, cocoa powder, milk, and sugar. Once you've applied heat to melt everything together, it's time to add the red wine. Then, the concoction is cooked in a slow cooker to give the flavors time to come together.
The result? A seriously incredible fall and winter beverage that you won't believe you've never tried before. It's perfect for cozy nights at home or dinner parties with friends.
Red Wine Hot Chocolate Ingredients
To make this deliciously cozy fall treat, you're going to need the following key ingredients:
Red wine. My top picks include Merlot, Shiraz, and Cabernet Sauvignon. Because the wine is going to heavily influence the flavor of your hot cocoa, make sure you choose a brand you really like.
Chocolate chips. I like to use semi-sweet chocolate morsels, but you can use any kind of chocolate chips you prefer. If you're more of a dark chocolate lover, feel free to use bittersweet chocolate instead.
Cocoa powder. You can either use hot chocolate powder (I like Ghirardelli!) or regular unsweetened cocoa powder. This is entirely based on preference, so just use whatever you have at home.
Sugar. I use a combination of granulated sugar and light brown sugar, because I love the rich maple-molasses flavor that the brown sugar imparts. It's totally up to you, so feel free to use only granulated sugar if you prefer.
Milk. This recipe calls for whole milk, but you can absolutely use any kind of milk you like. Whole milk, low-fat milk, and dairy-free alternatives like almond milk or cashew milk will work great.
Spices. Cinnamon and nutmeg add the perfect touch of warm fall flavors, while salt goes a long way in enhancing the sweetness of the hot chocolate.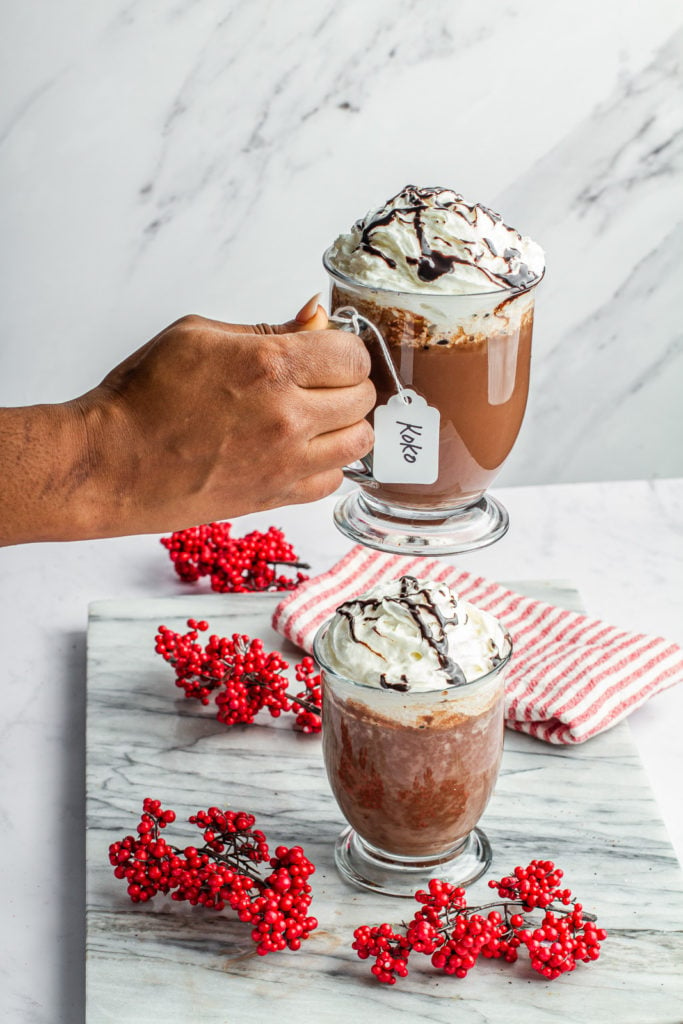 Now its your turn!
Go all out this holiday season. Let your creativity take over! This festive charcuterie board with a combination of chocolate, sweet treats, and wine is perfect for any holiday gathering. Your guests will feel like they're in on something special while also getting them excited for what you have planned next.
If you enjoy the recipe, please share it with your friends and family. And don't forget to give me some five-star love down below. And if you have any comments or questions, leave them below too, and I'll be sure to get back to you as soon as possible.
Ingredients
1

bottle red wine

Merlot, Shiraz, or Cabernet Sauvignon

2 ½

cups

semisweet chocolate morsels

¼

cup

unsweetened cocoa powder

¼

cup

granulated sugar

¼

cup

packed brown sugar

¼

teaspoon

ground cinnamon

¼

teaspoon

ground nutmeg

7

cups

whole milk

¼

teaspoon

salt
Instructions
In a slow cooker, combine chocolate morsels, sugar, cocoa powder, salt, milk, and red wine and stir.

Cover and cook on HIGH for 1 hour, whisking after every 15 minutes or so.

Serve in mugs and sprinkle on your favorite toppings.

Make sure to stir the hot chocolate every hour to keep the chocolate from settling to the bottom.

Keep on the warm setting if you're serving it hot chocolate bar style with toppings on the side. Leftover hot chocolate can be refrigerated for up to one week and warmed in the microwave before serving.
Notes
*Once the hot chocolate cooks, you want to try and serve this within 1 hour. *You can also make this on the stove if you don't have a slow cooker. Follow the same instructions over medium heat until it begins to simmer (approx 15 minutes). Make sure the hot chocolate doesn't boil. Pour it into a carafe to keep warm.
Nutrition
Calories:
471
kcal
|
Carbohydrates:
45
g
|
Protein:
9
g
|
Fat:
23
g
|
Saturated Fat:
13
g
|
Polyunsaturated Fat:
1
g
|
Monounsaturated Fat:
7
g
|
Trans Fat:
1
g
|
Cholesterol:
20
mg
|
Sodium:
141
mg
|
Potassium:
613
mg
|
Fiber:
4
g
|
Sugar:
36
g
|
Vitamin A:
301
IU
|
Vitamin C:
1
mg
|
Calcium:
235
mg
|
Iron:
4
mg
*Nutrition information is a rough estimate.
**The equipment section above contains affiliate links to products I use and love. As an Amazon Associate I earn from qualifying purchases.