Jungle Juice is the perfect party punch for your next party or bar-b-que. It's a refreshing blend of fruit juices, sodas, and alcohol that will keep your guests coming back for more! You can mix up this delicious beverage in just 15 minutes and one batch to make nearly 2 gallons of punch!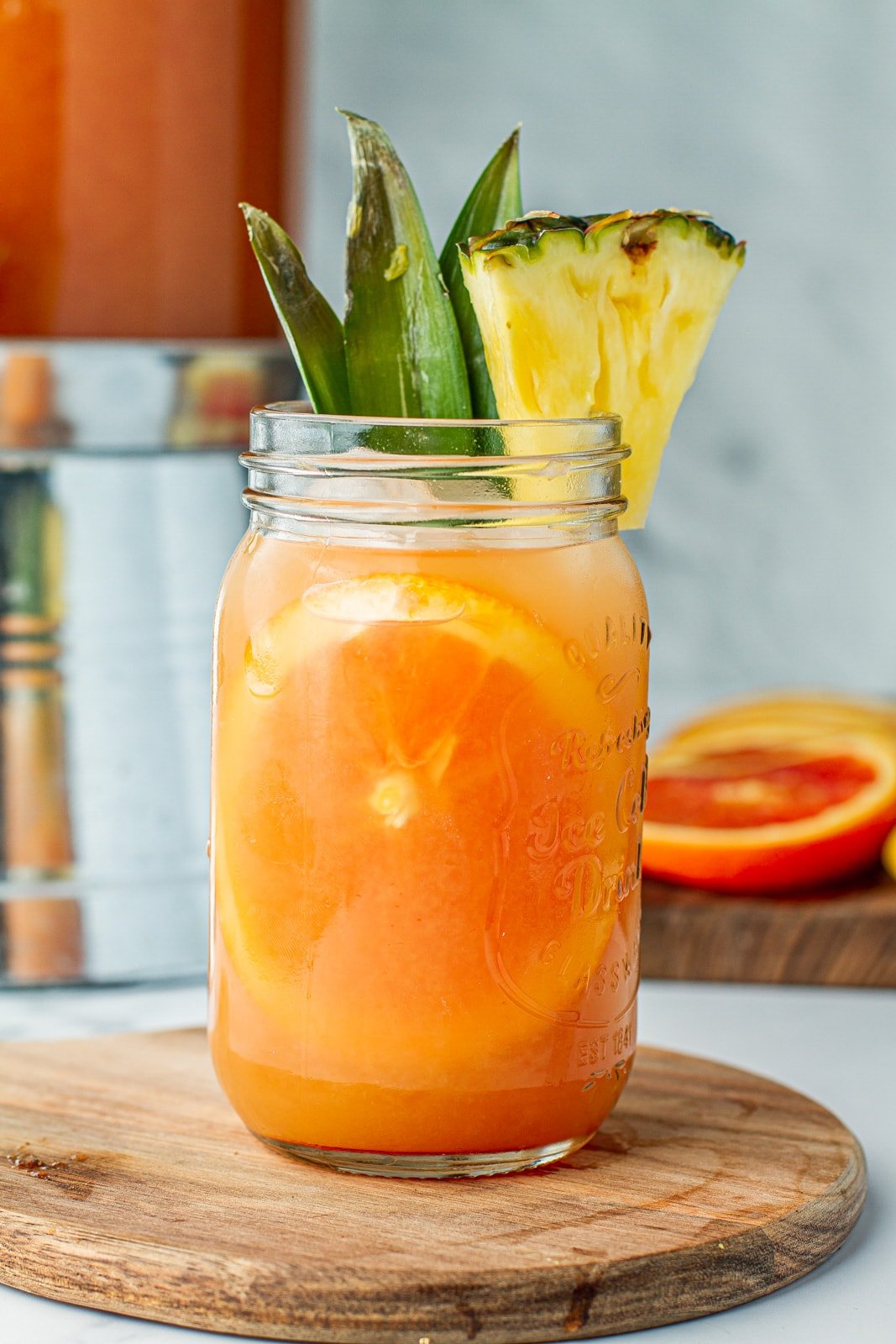 Jungle Juice
What's more perfect for a party than Jungle Juice? This refreshing blend of fruit juices, sodas and alcohol will keep your guests coming back for more! You can mix up this delicious beverage in just 15 minutes so it doesn't matter if you want to prepare everything beforehand or not. One batch makes nearly 2 gallons (or 4 liters) – enough punch to entertain any size group all night long without getting too tired from drinking too much at once.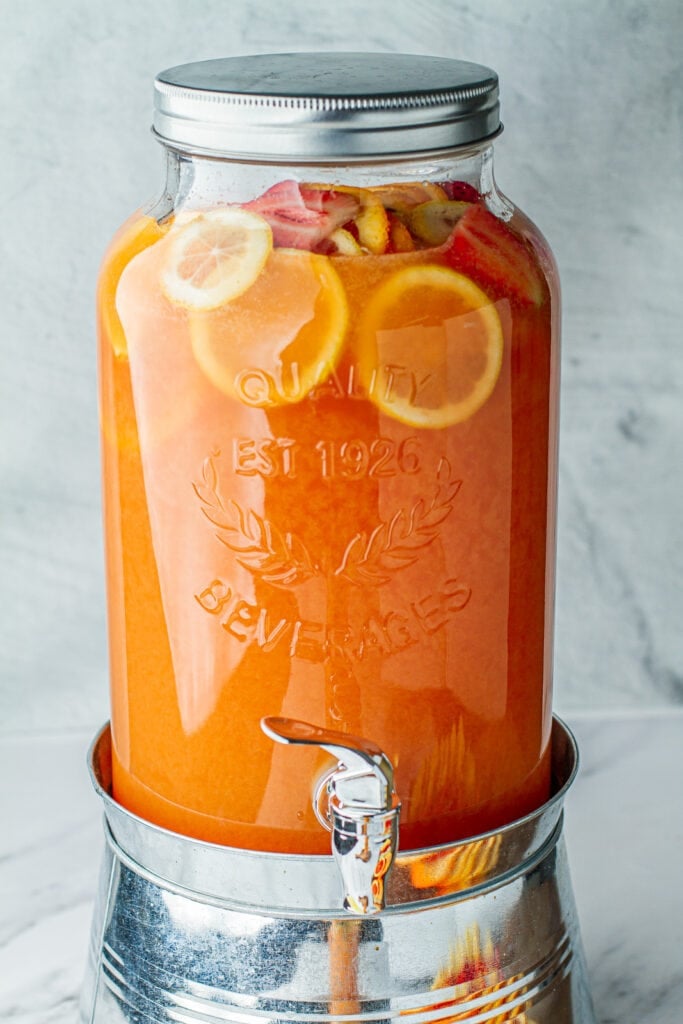 Key Ingredients
To make this lively party punch, you're going to need the key ingredients discussed below.
Rum: This is the liquor of choice for most tropical-inspired cocktails. I recommend opting for a white rum like Bacardi or Cruzan.
Vodka: This doesn't add anything to the flavor, but it's what makes jungle juice so dangerous. Practice portion control or you might just end up on the floor!
Triple Sec: An orange-flavored liqueur, triple sec works great in fruity cocktails like this party punch. You can swap it out for Cointreau or Grand Marnier if needed.
Fruit Punch: Any fruit punch brand works fine, just make sure to choose one you really like because this is one of the key flavors in the cocktail.
Frozen Concentrate: You will need orange concentrate and lemonade concentrate. I like to use frozen concentrate in place of fruit juice here because it keeps the punch cold for way longer.
Pineapple Juice: What would jungle juice be without some tropical flair? I love the vibrant and tropical flavor that pineapple juice adds to the mix.
Lemon-Lime Soda: You can use any lemon-lime soda that you like. Sprite, 7Up, and Sierra Mist are all popular choices.
How to Make the Best Jungle Juice
Jungle juice is the best way to liven up any social gathering, whether you're hosting a backyard barbecue or the big super bowl party. Best of all, it's incredibly easy to make! All you have to do is grab a bowl or bin and follow the instructions below.
Step 1: Add the sliced fruit to the bottom of a beverage dispenser or punch bowl.
Step 2: Pour in all of the liquor, juices, concentrates, and soda, then stir.
Step 3: Refrigerate the punch and allow it to sit for 3 to 12 hours/overnight.
Recipe Tips
Here are some of my top jungle juice recipe tips to make the best party punch for your next big party:
My secret trick for keeping the punch cool for the duration of any big party is using frozen concentrate instead of regular fruit juice.
If you're serving a crowd, make sure you have a large container handy. A regular pitcher won't cut it. Jungle juice is typically served in a cooler or large bin.
Not sure how much you need? I generally estimate that each partygoer will drink around 12 ounces of jungle juice per hour. Using this number, you can do the math and make a logical guess about how much you'll need in total. Keep in mind this jungle juice recipe makes a little over 2 gallons of punch.
For a stronger cocktail, feel free to add more vodka or rum as you see fit.
Make sure to prepare your jungle juice roughly 3 to 12 hours ahead of time. This gives the flavors time to develop and gives the fruits time to soak up the liquor.
I don't typically wind up with leftovers, but if you do you can store them in an airtight container in the fridge for up to 2 weeks.
You can also freeze leftover jungle juice. One of my favorite ways to do this is by freezing it in an ice cube tray so I have jungle juice ice cubes for my next party.
Jungle Juice Variations
Want to switch things up? You've come to the right place! This jungle juice recipe is incredibly versatile, so you can easily customize it to make it your own. Here are some of my favorite jungle juice variation ideas:
Make blue jungle juice. You can make blue jungle juice by leaving out the lemonade and swapping out the fruit punch for Blue Hawaiian Punch.
Make green jungle juice. To make green jungle juice, use equal parts lemonade and Blue Hawaiian Punch.
Change up the fruit. Feel free to use any fresh fruits you want in your jungle juice. More great options include kiwis, grapes, berries, limes, pineapples, and mangoes.
Switch up the juices. You can add or remove fruit juices depending on your flavor preferences. Some of my favorite add-ins include cranberry juice, apple juice, orange soda (for extra fizz!), lime juice, and grapefruit juice.
Jungle juice with candy. For a cocktail Willy Wonka would approve of, swap out the fruit with candies like gummy bears or worms. These are great for soaking up liquor and make for a fun, unique twist. You could also try half fruit, half candy.
Make it kid-friendly. Speaking of candy… If you're looking to make a kid-friendly jungle juice recipe, just leave out the alcohol and swap out some of the juices for sugar-free versions to keep the sugar content down.
FAQs
Here are the answers to some of the most common questions about jungle juice:
What is jungle juice?
Years ago, jungle juice was the name given to a concoction of various alcohols and fruit juices first created by American soldiers in the Southwest Pacific. For soldiers who were literally stationed in the jungle, they had to get creative when they wanted to enjoy an evening cocktail, thus led to the creation of the now-famous jungle juice.
There is no set recipe for jungle juice, so it can vary from state to state. The punch is most commonly served in a large container (like a cooler) at big parties and is known for being highly potent.
Can you taste the alcohol in jungle juice?
No! That's what makes this party punch such a dangerous concoction. With this is mind, it's important to drink responsibly whether you're whipping up jungle juice for your next super bowl party or neighborhood potluck.
How long to let jungle juice sit?
After making jungle juice, I recommend refrigerating it and letting it sit for 3 to 12 hours before enjoying it. While you can absolutely enjoy it right away, I've found that this cocktail is way tastier when you give the flavors time to develop. It also gives the fruit slices time to soak up the liquor. Trust me, it's worth the wait.
More Refreshing Cocktail Recipes
Now it's your turn!
If you enjoy the recipe, please share it with your friends and family. And don't forget to give me some five-star love down below. And if you have any comments or questions, leave them below too, and I'll be sure to get back to you as soon as possible.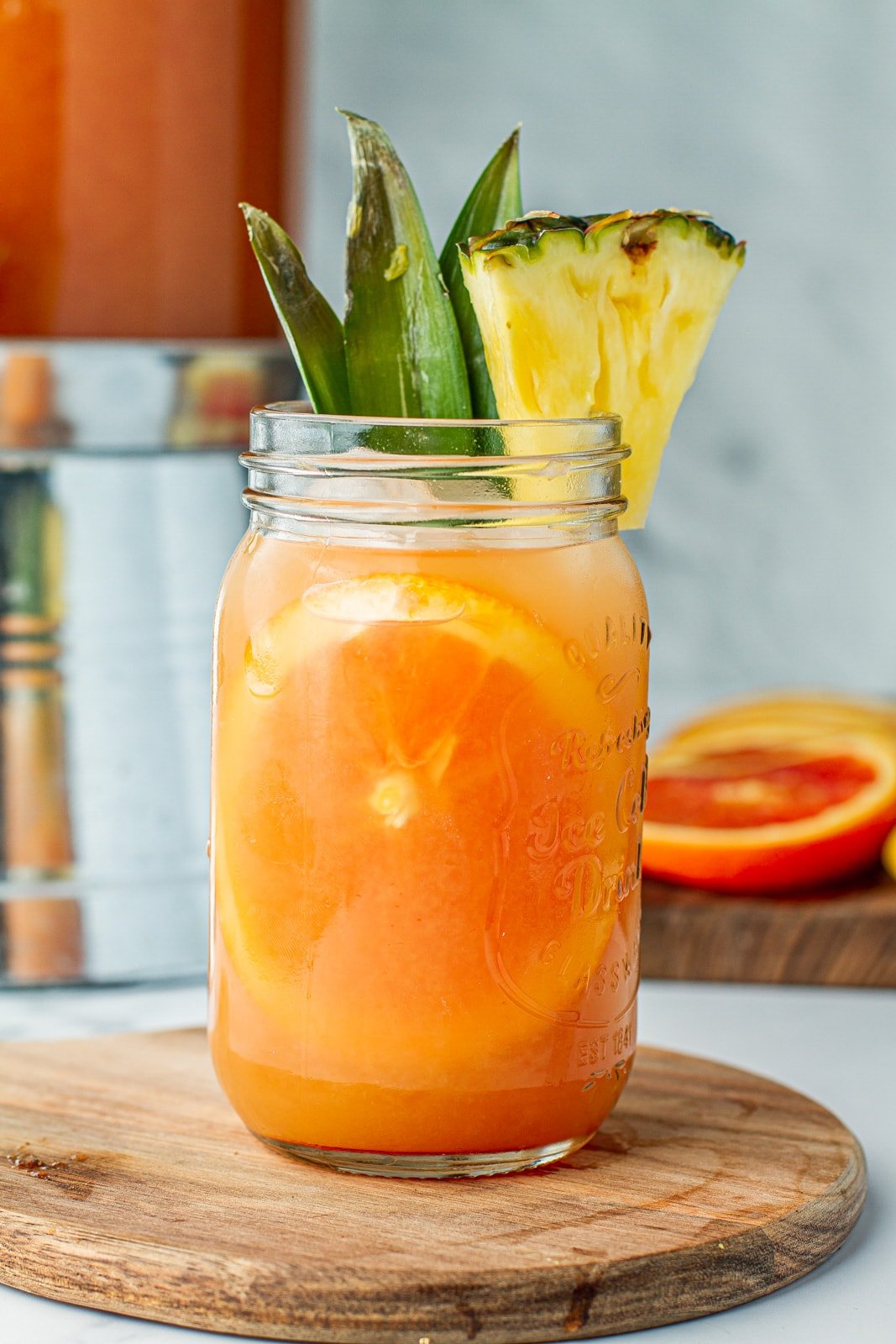 Ingredients
Granish
1

orange

sliced

1

lemon

sliced

1

8oz pack strawberries

sliced
Jungle Juice
2

cups

(16 oz) rum

2

cups

(16 oz) vodka

½

cup

(4 oz) triple sec

1

(12 oz) can frozen orange concentrate

1

(12 oz) can frozen lemonade concentrate

6

cups

(56 oz) fruit punch

2

cups

(16 oz) pineapple juice

2

cups

(16 oz) lemon-lime soda

1

cup

(8 oz) cup water
Instructions
Add the sliced fruit to the bottom of a beverage dispenser or punch bowl.

Then pour in all of the liquor, juices, concentrates, soda, and stir.

Refrigerate punch and allow it to sit for 3 to 12 hours/overnight.
Nutrition
Calories:
159
kcal
|
Carbohydrates:
14
g
|
Protein:
1
g
|
Fat:
1
g
|
Saturated Fat:
1
g
|
Polyunsaturated Fat:
1
g
|
Monounsaturated Fat:
1
g
|
Sodium:
6
mg
|
Potassium:
106
mg
|
Fiber:
1
g
|
Sugar:
12
g
|
Vitamin A:
14
IU
|
Vitamin C:
6
mg
|
Calcium:
11
mg
|
Iron:
1
mg
*Nutrition information is a rough estimate.
**The equipment section above contains affiliate links to products I use and love. As an Amazon Associate I earn from qualifying purchases.