With their tart, honeyed and flowery taste, Minneolas are a cross between grapefruit and tangerine, making them the perfect alternative for Paloma cocktails.
---
THIS RECIPE IS SPONSORED BY DARLING CITRUS
---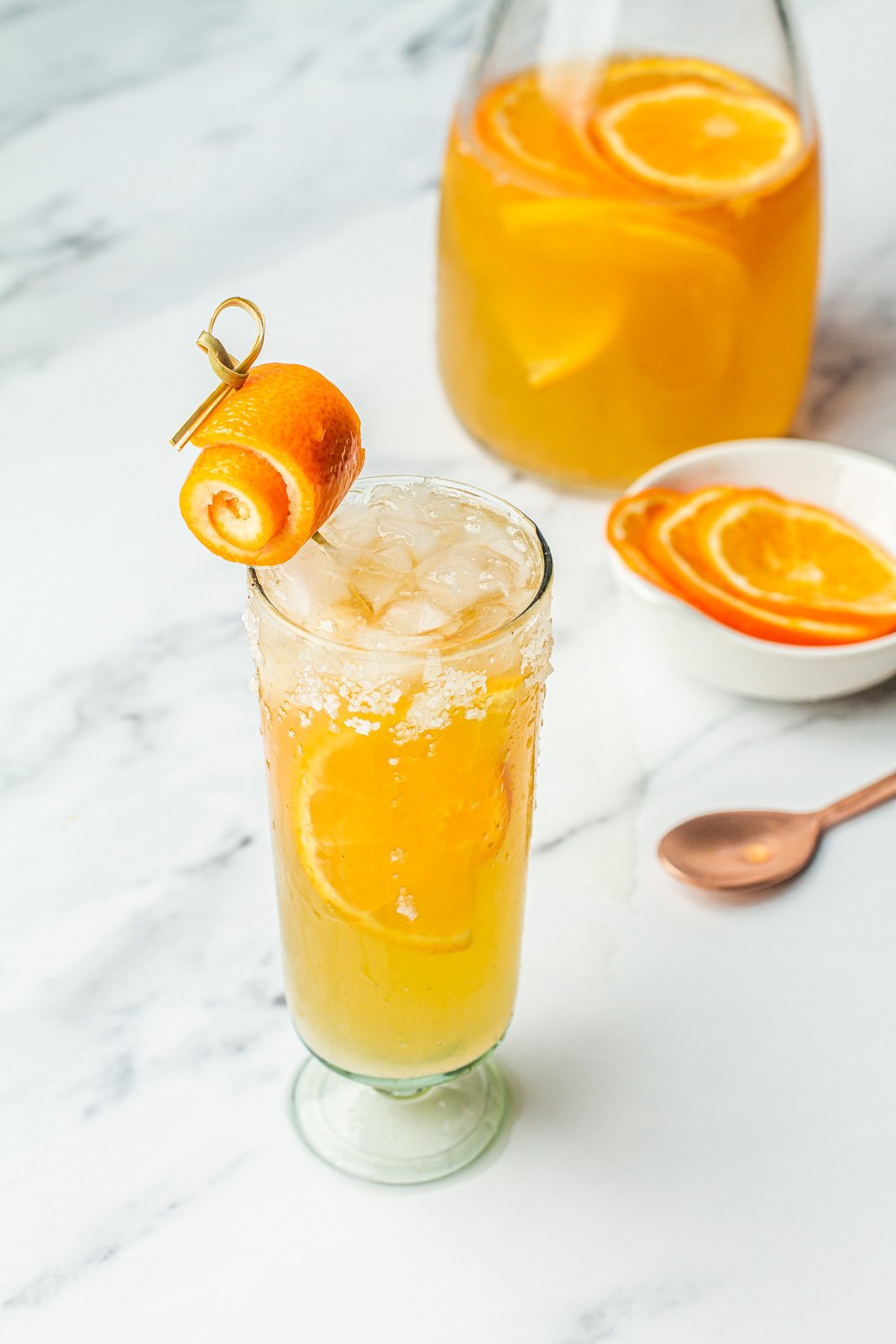 I'm kind of juiced (pun intended) to share this Minneola Paloma recipe with you. Not too long ago, the hubby came home from the grocery store with what he thought was an oblong-shaped orange. He said the shape stopped him in his tracks, so he had to bring some home to try them out.
Little did he know that as we spoke, my friends at Darling were already sending me a shipment of Minneolas. They taste so good that the more, the merrier!
Darling Minneolas® are bright orange to orange-red, super juicy, seedless, and easy to spot because of their fun bell shape, making them easy to peel and juice for these Palomas.
Ingredients for Minneola Paloma
Ready to make a bar-worthy cocktail recipe guaranteed to impress all your friends? You're going to need the following key ingredients:
Tequila. Any silver tequila of your choice will work for this recipe.
Minneola juice. This sweet and tangy juice is the key to this refreshing cocktail. If you can't find minneola juice, you can use grapefruit juice instead.
Sparkling water. My personal preference is Topo Chico, but any kind of sparkling water will work well. You can also use club soda in a pinch.
Lime juice. The acidity in lime juice adds a freshness that enhances the flavors of the rest of our ingredients.
Agave nectar. This all-natural ingredient adds just the right touch of sweetness to the beverage. Feel free to swap it out for simple syrup if needed.
Minneola Paloma Recipe
This delicious and refreshing cocktail is super easy to make and takes just a minute to throw together. All you have to do is follow these simple steps:
Salt the rim of a glass by rubbing a grapefruit wedge around the edge and dipping it firmly onto a small plate of coarse sea salt.
Add the tequila, minneola juice, sparkling water, lime juice, and agave nectar to the glass. Mix the ingredients together and fill the remainder of the glass with ice.
Adjust the sweetness to taste and garnish with a minneola wedge. Enjoy!
Tips for the Best Minneola Paloma Cocktail
Here are some of my top tips to help you make the best Minneola Paloma cocktail:
To make the best cocktail, it's important to use the freshest ingredients you can find. This means using fresh limes and, if possible, fresh minneolas as well.
Make sure to use a high-quality Blanco tequila to ensure the best-tasting results.
You can easily make your own simple syrup from scratch by mixing equal parts water and sugar, bringing them to a boil, and then letting the mixture cool.
Frequently Asked Questions
Below are the answers to some of the most frequently asked questions about this refreshing cocktail recipe:
What are minneolas?
Good question! Minneola isn't just a city in Florida; it's also a fruit. To be more specific, it's a cross between a tangerine and a grapefruit. It's the perfect combination of tart and sweet, with the sweet fragrance of a tangerine and the tangy acidity of a grapefruit.
What is a Paloma?
A Paloma is a tequila-based cocktail made with grapefruit and lime juice. It's typically served on the rocks and often with a salt rim. The popular Mexican beverage is sweet, sour, mildly bitter, and salty.
What's the best tequila for a Paloma?
When it comes to the Paloma, you can't really go wrong with any decent silver tequila. Some of my top recommendations include 1800, Milagro, Don Julio Blanco, and Patron Silver. I've even used Mezcal for a smokier variation.
How to store Darling Minneolas®?
Looking to make your own minneola juice from scratch with Darling Minneolas®? No problem. You can easily store leftovers at room temperature for up to 7 days or in the fridge for up to 2 weeks.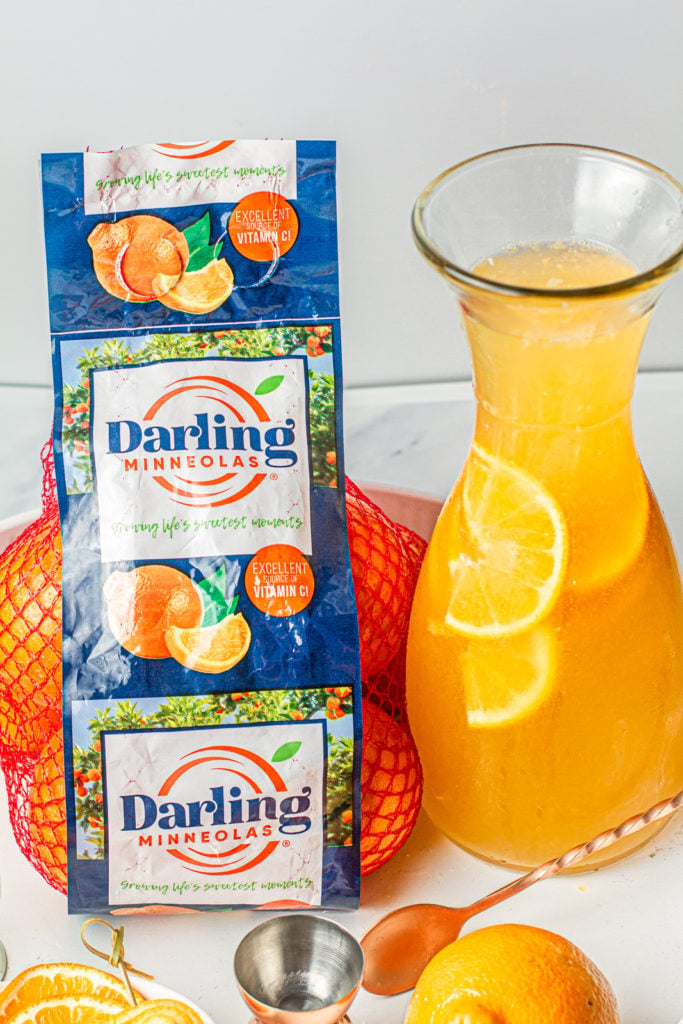 It's 5 o'clock somewhere!
Is it happy hour yet? I've said it before, and I will say it again – you gotta get creative in the kitchen. A slight tweak can make an ordinary drink extraordinary. Case in point? The Paloma. This Mexican classic has long been one of my favorites because it tastes like summertime! And now this version made with minneola juice just takes it up another notch!
Try it yourself! If you love it, don't forget about me. Come back and leave me a 5-star review in the comments and/or share a photo and tag me on Instagram using @meikoandthedish and #meikoandthedish. I absolutely love 👀 snooping out how creative you get with these recipes!
Ingredients
2

ounces

tequila

½

ounce

lime juice

½

ounce

agave nectar or simple syrup

or to taste

3

ounces

fresh minneola juice

plus additional juice or wedge for rim of glass

1

oz

topo chico or sparkling water

Coarse sea salt

for the rim of the glasses

Ice

Minneola Wedges
Instructions
Dip the rim of the glass in extra minneola juice or rub a wedge around the edge. Then dip the rim firmly into a small plate of course salt to coat the edges.

Mix the tequila, lime juice, agave nectar, and minneola juice, into the glass. Fill the glass with ice. Top off with sparkling water and stir carefully.

Adjust sweetness to taste. Garnish with minneola wedge.
Nutrition
Calories:
218
kcal
|
Carbohydrates:
21
g
|
Protein:
1
g
|
Fat:
1
g
|
Sodium:
9
mg
|
Potassium:
157
mg
|
Fiber:
1
g
|
Sugar:
19
g
|
Vitamin A:
13
IU
|
Vitamin C:
27
mg
|
Calcium:
10
mg
|
Iron:
1
mg
*Nutrition information is a rough estimate.
**The equipment section above contains affiliate links to products I use and love. As an Amazon Associate I earn from qualifying purchases.