My momma makes the best mac n cheese. This deep dish mac and cheese recipe brings me back to my childhood everytime.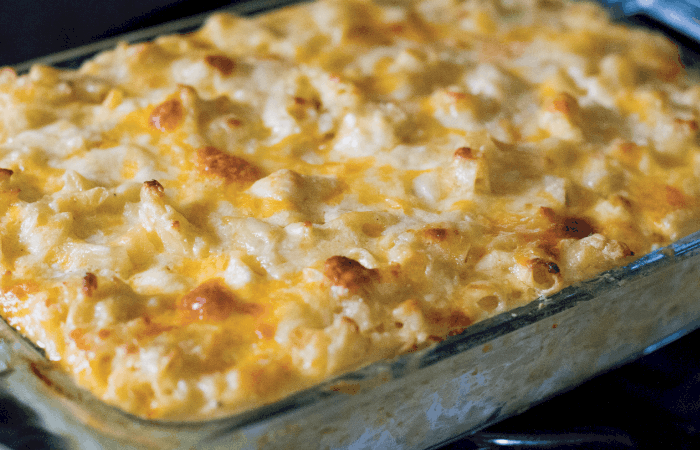 The Best Cheeses for Homemade Mac and Cheese
Your cheese selection is a huge factor in determining if your mac and cheese will taste like the heavens or downright meh! Some of my favorites are:
Sharp Cheddar
Whole Milk Mozzarella
Smoked Gouda
Gruyere
Monterey Jack
Pepper Jack
Butterkase
Oaxaca
Parmigiano-Reggiano
Fontina cheese
Tips For Making Homemade Mac and Cheese?
Choose the right cheeses; check out some of my favorites listed above. 
Avoid pre-shredded cheese as they contain preservatives that make them hard to melt.
If you are using glass bakeware, lower your oven temperature by 25 degrees F glass transfers more heat than metal.
Don't be afraid to add a bit of flair by incorporating some of your favorite herbs and spices.
Is It Okay To Make Mac and Cheese Ahead?
Of course! I would recommend making all the components and adding them to the baking dish as instructed; however, wait to bake it. Allow it to cool, seal tightly, and refrigerate until you are ready to bake and serve. When ready, remove from the fridge, let it get to room temperature, and then pop it into the oven. That way, you still get a fresh and cheesy mac, and the work will already be done.
How To Store Mac and Cheese?
Dinner was a success, but now there's leftover mac and cheese. Does it go to waste? Do you throw it out? No way! Put your mac and cheese in an airtight container and place it in the refrigerator. Mac and cheese can last 4-5 days in the fridge.
Ingredients
16

oz

pack large elbow noodles

2

eggs

whisked

2

cups

sharp cheese

shredded and divided

1

cup

smoked gouda

shredded and divided

1

cup

whole milk mozzarella

shredded and divided

3

tablespoons

butter

1

teaspoon

salt

½

teaspoon

pepper

¼

teaspoon

garlic powder

¼

teaspoon

onion powder

? teaspoon cayenne pepper

1

cup

cottage cheese

1

cup

sour cream

water to boil noodles

1

10.75 oz. can cheese soup or cream of mushroom

¼ - ½

cup

milk
Instructions
Preheat oven 325 degrees

In a large pot, boil water and prepare pasta as package instructs for al dente. Once pasta is al dente remove the pot off the heated burner. Pour pasta into strainer to remove water then add it back to the warm pot. Let the heat of the pot steam out any excess water off the noodles. Heat should be turned off.

Add in butter to the pot and stir, the the residual heat melt the butter until it is completely dissolved and has coated all the pasta.

In a separate bowl add together sour cream, cottage cheese, 1 cup of sharp cheddar, ½ cup gouda, and ½ cup of mozzarella, cheese sauce, milk and all of your seasonings and whisk well. Add the mixture to your pot of al dente noodles and make sure they are fully coated. This is the perfect time to taste the pasta mixture to ensure it is seasoned well. Feel free to add more salt and pepper if needed.

By this time your pot should have cooled down. If so, this is a good time to add in your whisked eggs and lightly stir. No more tasting after the eggs have been added.

In a generously greased baking pan (I used 11x7') pour in half of you pasta mixture. Top that layer with half of your remaining cheeses but make sure to save half. Then add in the remaining pasta mixture and top it evenly with the remaining three cheeses.

Cover baking dish with aluminum foil and bake it for 30 minutes. After 30 minutes, increase the heat to 425 degrees, remove the aluminum foil and bake for an additional 10 minutes or until the cheese bubbles start to turn golden brown. Watch the oven closely to prevent burning. Serve warm!

**I recommend that you purchase block cheese and shred it yourself. Pre-shredded cheeses tend to have a flour coating that prevents melting.
Notes
I recommend that you purchase block cheese and shred it yourself. Pre-shredded cheeses tend to have a flour coating that prevents melting.
Nutrition
*Nutrition information is a rough estimate.
**The equipment section above contains affiliate links to products I use and love. As an Amazon Associate I earn from qualifying purchases.