This Mushroom and Onion Galette is the perfect dish for any occasion. The pastry is filled with delicious sautéed mushrooms and onions, making it a perfect appetizer or main course. Whether you're looking for something to serve at a dinner party or you just want a quick and easy meal, this galette is sure to please.
A galette is a staple dish in French cuisine. It consists of a round pastry with the edges folded in that is filled with a savory or sweet filling. Galettes are essentially free-form tarts and are preferable to many home chefs because they don't require a tart pan or pie dish. To keep the delicious filling inside, all you need to do is simply fold the edges over themselves.
Common savory galette filling ingredients include meats, cheeses, herbs, and vegetables. Many people add fresh fruits, sugar, and jams for sweet galettes. Some people make their own dough, while others opt for puff pastry as a quicker and easier alternative. Both ways are delicious, but I like to use puff pastry for this galette recipe and focus my efforts on the mouth-watering mushroom and onion filling.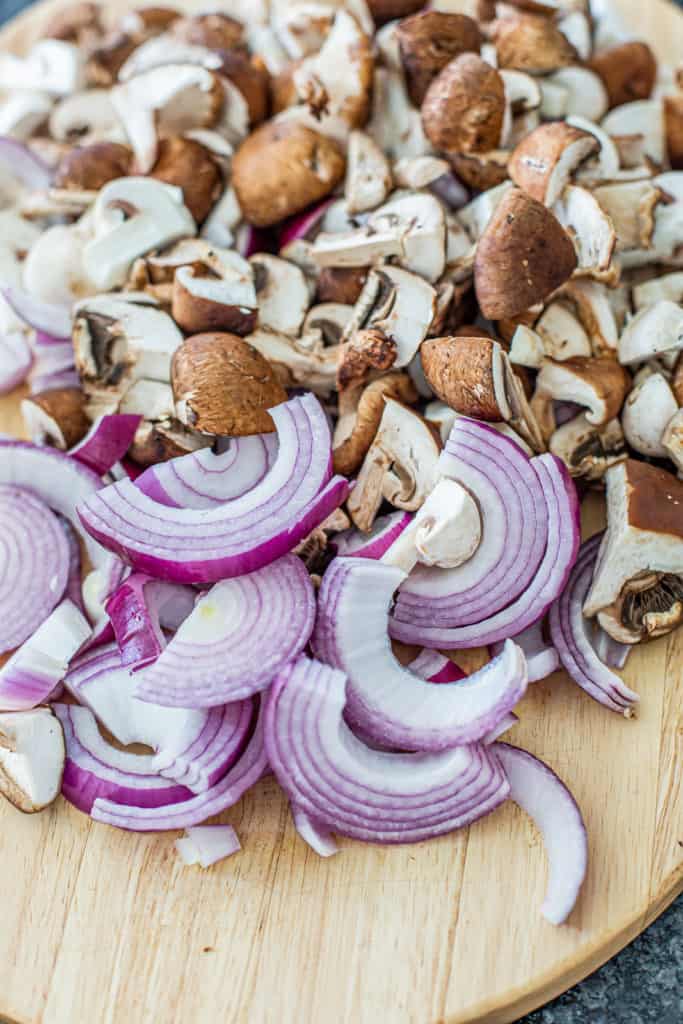 To bring this mushroom and onion galette recipe to life, you will need the following key ingredients: 
Mushrooms. Porcini and chanterelle mushrooms both work great in this dish. I like to use a combination of portobello, shiitake, and white button mushrooms. However, feel free to add in your favorites. 
Onions. Not only do red onions add a stunning pop of color to this dish, but the sharp flavor adds a beautiful contrast to the richness of the butter and cheese.
Puff pastry. This is my secret weapon! Feel free to make your own dough from scratch if you wish, but I recommend using puff pastry. It's ten times easier and just as delicious. 
Boursin cheese. I love using the garlic and herb Boursin cheese as the base for this galette. The flavor is seriously incredible when paired with the mushroom and onion mixture. 
Shredded cheese. My favorite types of cheese to pair with this dish are shredded gruyere and smoked gouda, so feel free to use whichever you prefer. 
Balsamic reduction. You'll need balsamic vinegar and sugar to make a simple balsamic reduction that adds a ton of wonderful flavor to the dish. You can use a store-bought balsamic glaze if you want to save some time.
How to make this Mushroom and Onion Galette recipe
If you've never made a homemade galette before, don't worry—it's easier than you might think! All you need to do is prepare your filling, arrange your galette, make your balsamic reduction, and garnish the final product. Soon enough, you'll have the holiday appetizer of your dreams! Follow these simple steps on how to make a galette:
Preheat the oven to 400°F. Then, add butter to a large pot and melt over medium-high heat. Add the onions, mushrooms, salt, and pepper, then cook out the liquid for about 10-15 minutes. 
Stir in thyme, garlic, and white wine. Reduce the liquid for about 10 minutes, stirring occasionally. Remove from heat and stir in 1 cup of shredded cheese, then set aside to cool. 
Flour your surface. On a lightly floured surface gently roll out the puff pastry to fit the size of your pan and transfer the puff pastry to the pan. 
Spread the Boursin cheese spread around the center of the puff pastry, leaving around 2 inches of space on the edges, then top it with the sautéed mushrooms and caramelized onions mixture. Fold up the sides of the puff pastry around the mixture. 
Sprinkle the remaining shredded cheese over the top of the mixture, then brush the exposed crust with egg wash. Transfer to the oven and bake the galette for 40 minutes. Then, transfer to a baking rack and let the galette cool for 10 minutes.
While the galette is baking, add balsamic vinegar and sugar to a small skillet over medium-high heat. Bring it to a boil and reduce the liquid by half to a thick syrup for approximately 10 minutes, stirring occasionally.
In a small bowl, toss the arugula with extra virgin olive oil. Once the galette has cooled, top it with arugula and drizzle with the balsamic reduction. 
Galettes are known to be the easiest kind of pies to make because there are no stringent rules around how to fold them. Simply distribute your filling evenly atop the puff pastry dough, leaving about 2 inches of space on all sides. Then, fold the edges up and over the filling, and gently press to seal your folds. It's truly that easy! 
It's important to wash your mushrooms before cooking them, but there's always been speculation on how exactly to do this in the cooking community. On one hand, mushrooms are typically dirty and need to be washed. On the other hand, washing them under running water can result in bland, watery mushrooms. No, thank you!
I have found that you can properly clean mushrooms in one of two ways. You can either wipe them down with a damp paper towel or rinse them quickly and then wipe them off. As long as you don't let them soak in water during the cleaning process, you'll be fine.
Foraging for wild mushrooms
When it comes to making dessert recipes with a graham cracker crust, the options are endless. Don't be afraid to get creative! If you need a little help, here are some of my favorite ways to serve graham cracker crust:
Cheesecake. This is easily one of the most iconic recipes with a graham cracker crust and for a good reason! The crunchy, buttery crust pairs beautifully with sweet and creamy cheesecake filling.
No-bake pies. People often ask, 'do you have to bake graham cracker crust?' The answer is no! Because it's not made with eggs, you can enjoy this crust as the base of any no-bake pie recipe. Just make sure to let it chill in the fridge for several hours first.
Ice cream pie. Speaking of no-bake pies, how about taking it a step further with an ice cream pie? Simply press in your favorite ice cream, add your toppings of choice (sprinkles, chocolate syrup, etc.), and enjoy!
Holiday pies. This crust is the perfect base for all of your favorite holiday pies. From a decadent Goat Milk Pie to a more traditional pumpkin pie to sweet apple pie, just pre-bake your crust and load in your filling, then bake to perfection.
This mushroom and onion galette is filled with sautéed mushrooms, caramelized onions, and fresh herbs. This savory galette is the perfect appetizer or main course!
If you enjoy the recipe, please share it with your friends and family. And don't forget to give me some five-star love down below. And if you have any comments or questions, leave them below too, and I'll be sure to get back to you as soon as possible.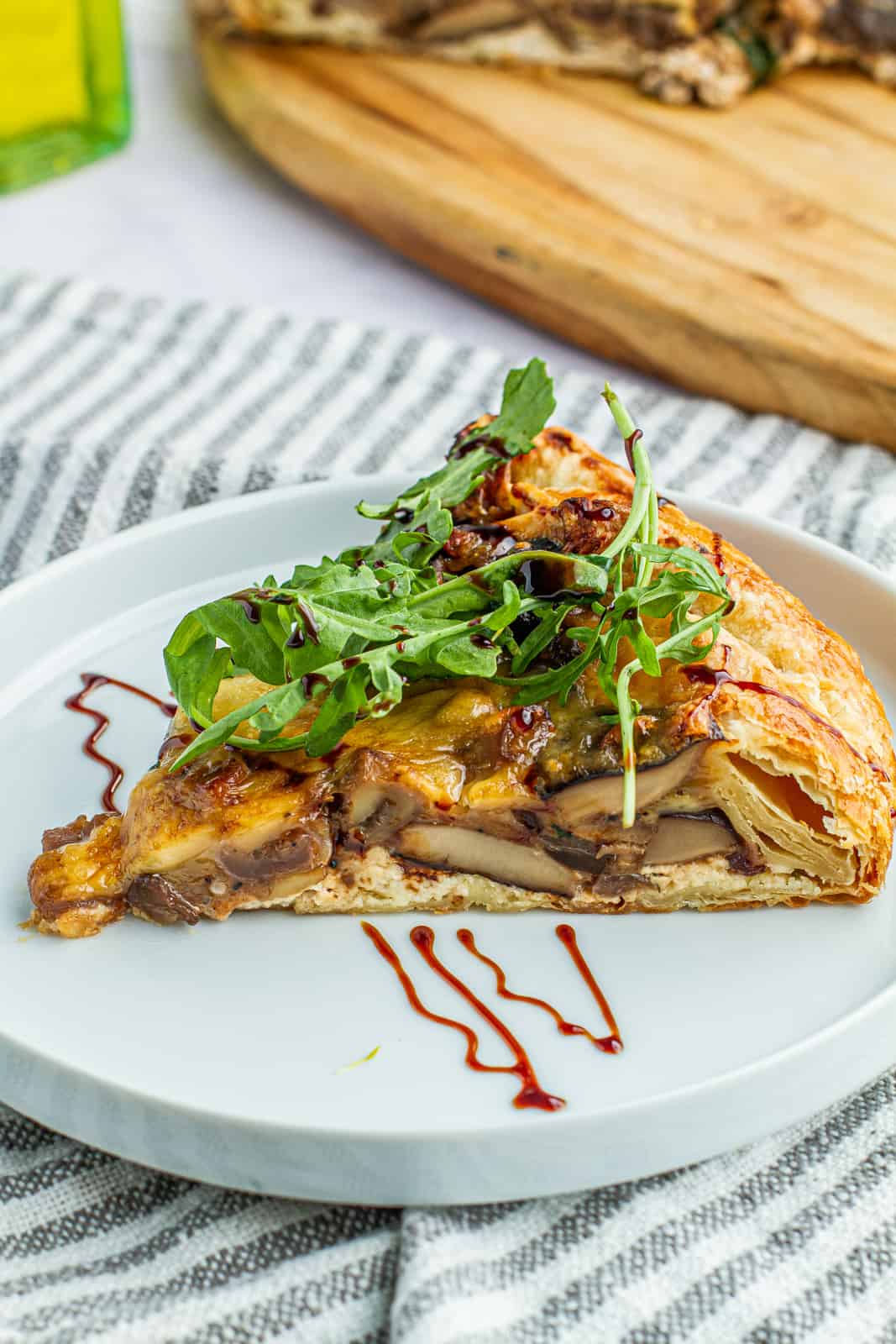 Ingredients
Mushroom & Onion Galette
2

tablespoons

unsalted butter

8

oz

shiitake mushrooms

quartered

8

oz

white button mushrooms

quartered

8

oz

mini portobello mushrooms

quartered

2

red onions

sliced thick

½

teaspoon

kosher salt

½

teaspoon

black pepper

3

sprigs fresh thyme leaves

woodsy stems removed

3

cloves

garlic

minced

½

cup

white wine

Flour for surface

1

puff pastry sheet

room temperature

1

5.2 oz garlic & herb boursin cheese, room temperature

2

cups

shredded gruyere or smoked gouda

divided
Balsamic Reduction
½

cup

balsamic vinegar

2

tablespoons

sugar
Garnish
1 ½

cups

arugula

1

teaspoon

olive oil

extra virgin
Nutrition
Calories:
492
kcal
|
Carbohydrates:
28
g
|
Protein:
20
g
|
Fat:
32
g
|
Saturated Fat:
15
g
|
Polyunsaturated Fat:
2
g
|
Monounsaturated Fat:
13
g
|
Trans Fat:
1
g
|
Cholesterol:
96
mg
|
Sodium:
728
mg
|
Potassium:
469
mg
|
Fiber:
2
g
|
Sugar:
10
g
|
Vitamin A:
560
IU
|
Vitamin C:
4
mg
|
Calcium:
446
mg
|
Iron:
2
mg
*Nutrition information is a rough estimate.
**The equipment section above contains affiliate links to products I use and love. As an Amazon Associate I earn from qualifying purchases.