Indulge in a sweet and creamy breakfast with this recipe for New Orleans-style Bananas Foster oatmeal. This dish features a velvety rolled oats base topped with a decadent sauce of caramelized bananas, brown sugar, and cinnamon. Even without the addition of rum, each spoonful of this alcohol-free oatmeal is a delicious tribute to the flavors of the Big Easy.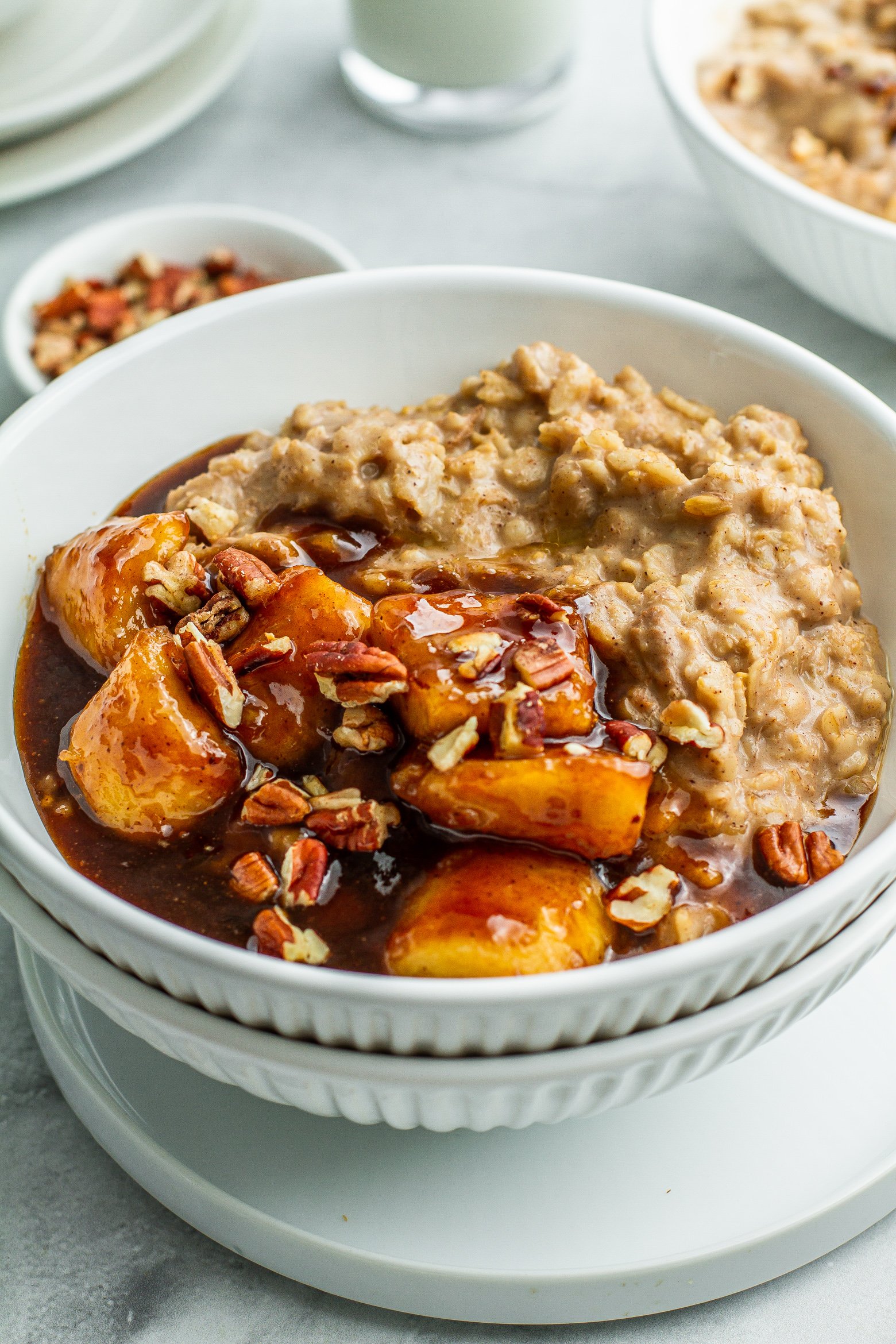 *This recipe is sponsored by Bob's Redmill
Bananas Foster Oatmeal Recipe
Friendly Disclaimer: This is not your typical breakfast. This bowl of decadence is better classified as a breakfast dessert. Imagine enjoying the rich, caramelized flavor of Bananas Foster in a warm and ultra-creamy bowl of oatmeal. With its blend of brown sugar, cinnamon, and nutmeg, this recipe captures all the indulgent flavors of the classic dessert without the addition of alcohol. This oatmeal is perfect for those looking for a breakfast that's a little more special, reminiscent of a dessert but still nutritious. It's also a great option for a brunch recipe that will impress your guests. Now that you've been warned, let's jump into the recipe!
Sweet and Creamy Oatmeal with a New Orleans Twist
Bananas Foster is a popular dessert that originated in New Orleans, Louisiana. It's made by sautéing bananas in butter, brown sugar, and cinnamon, then adding a splash of alcohol (usually rum) and lighting it on fire to create a caramelized sauce. The dessert is often served with vanilla ice cream and is known for its rich, decadent flavors. In this recipe, the classic dessert is transformed into a delicious and healthy breakfast oatmeal, without the use of alcohol.
What's even better is that this creamy oat recipe comes together in less that 20 minutes using old fashioned rolled oats. We all know the importance of quality ingredients which is why we are using the best of the best: Bob's Red Mill Old Fashioned Rolled oats! The only oats you'll find in my pantry because I find them to produce a superier nutty flavor and soft and chewy texture.
Fun Facts & Culinary History – Bananas Foster was created in 1951 by the famous chef Paul Blangé at Brennan's Restaurant in New Orleans, Louisiana. While Chef Blangé is no longer alive, Brennan's Restaurant still exists and continues to serve the iconic dessert.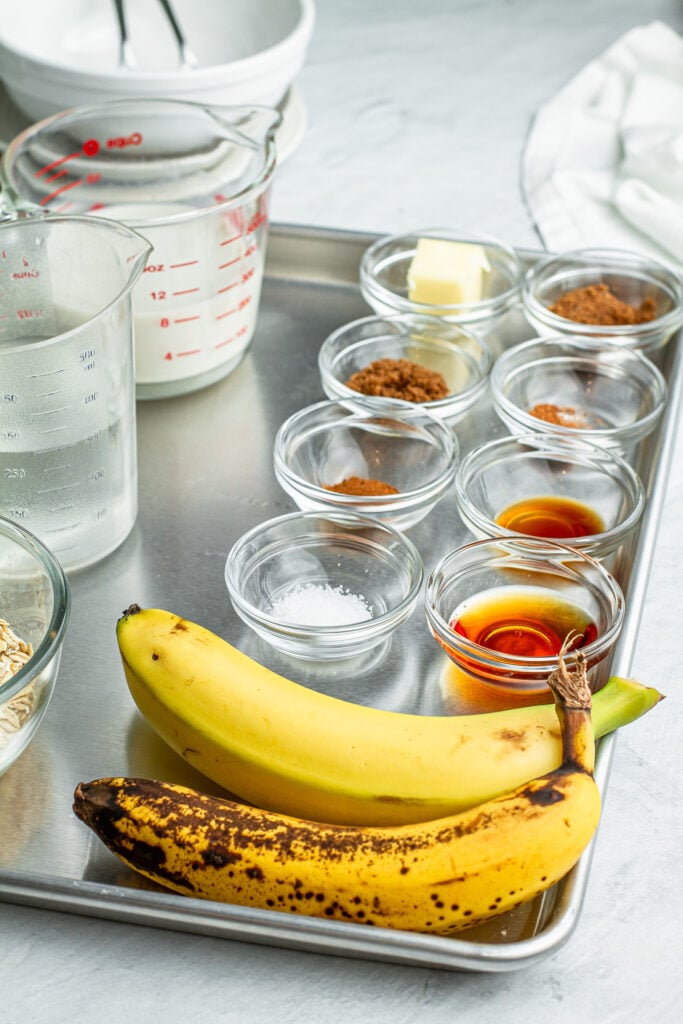 Ingredients Needed
To make this New Orleans-style Bananas Foster oatmeal, you'll need the following ingredients:
Banana: For this recipe, we are using both mashed and sliced bananas. Ripe mashed bananas help infuse extra banana flavor throughout the oats. Sliced firm bananas are caramelized to create the perfect bananas foster sauce.
Bob's Red Mill Old Fashioned Rolled Oats: This type of oatmeal creates a creamy and satisfying texture.
Brown Sugar: Adds sweetness and caramelizes with the banana.
Cinnamon & Nutmeg: These warming spices add a rich depth of flavor to the oatmeal.
Butter: Melts into the oatmeal to create richness and flavor.
Salt: Enhances the flavor of the oatmeal.
Milk & Water: A blend of these two help to add extra creaminess to the oatmeal. You can use any type of milk you prefer, such as whole milk, almond milk, or oat milk.
Pecans: Toasted pecans add crunch and nuttiness to the oatmeal but you can add any nut you like or completely omit this ingredient.
Maple Syrup: Stands in for the rum adding a depth of flavor and natural sweetness that complements the caramelized banana flavor.
Tip for Creamier Oatmeal: For a creamier oatmeal texture, try using a blend of milk and water. I recommend using a 3:1 liquid-to-grain volume ratio. Adding more liquid and cooking time than instructed on the package helps the grains burst and create a creamier texture. This tip can be applied to any oatmeal recipe and can be adjusted based on personal preference for thickness and creaminess.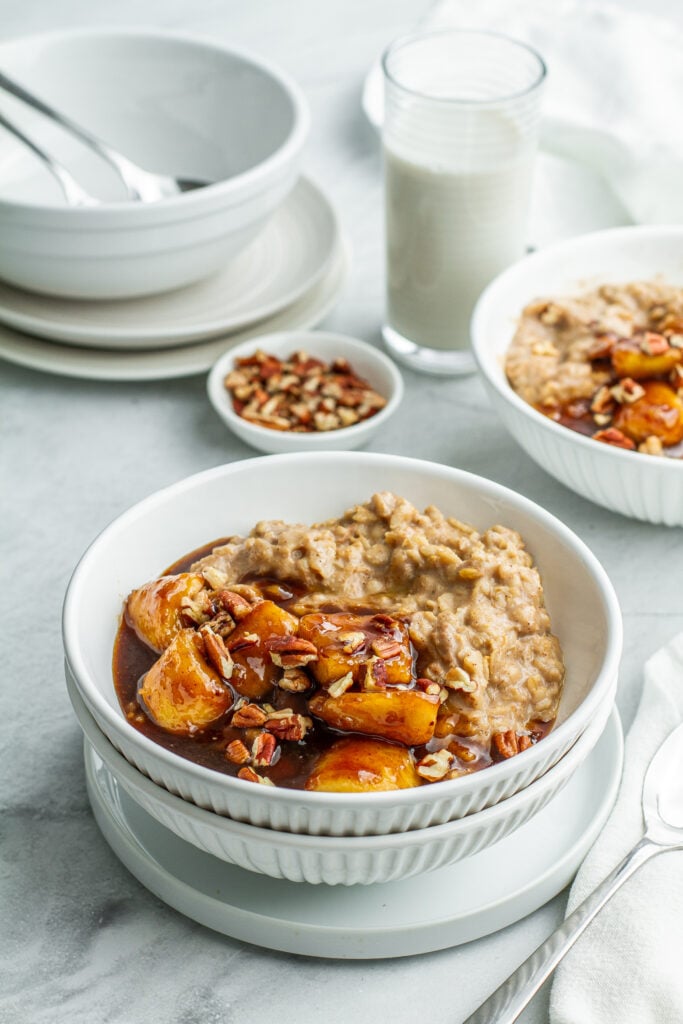 Common Recipe Questions
Can I make this recipe ahead of time?
Yes, you can make a batch of this oatmeal ahead of time and store it in the refrigerator. When you're ready to eat it, simply reheat it in the microwave or on the stove with a splash of milk or water to loosen it up.
Can I use instant oats instead of rolled oats?
Instant oats will work, but the texture won't be as creamy and satisfying as rolled oats. If you're in a pinch, you can use them, but we recommend using rolled oats for the best texture.
Can I make this recipe vegan?
Yes, you can easily make this recipe vegan by using a plant-based milk and swapping the butter for coconut oil.
Can I use a different type of nut instead of pecans?
Sure! Walnuts, almonds, or hazelnuts would all be delicious substitutes.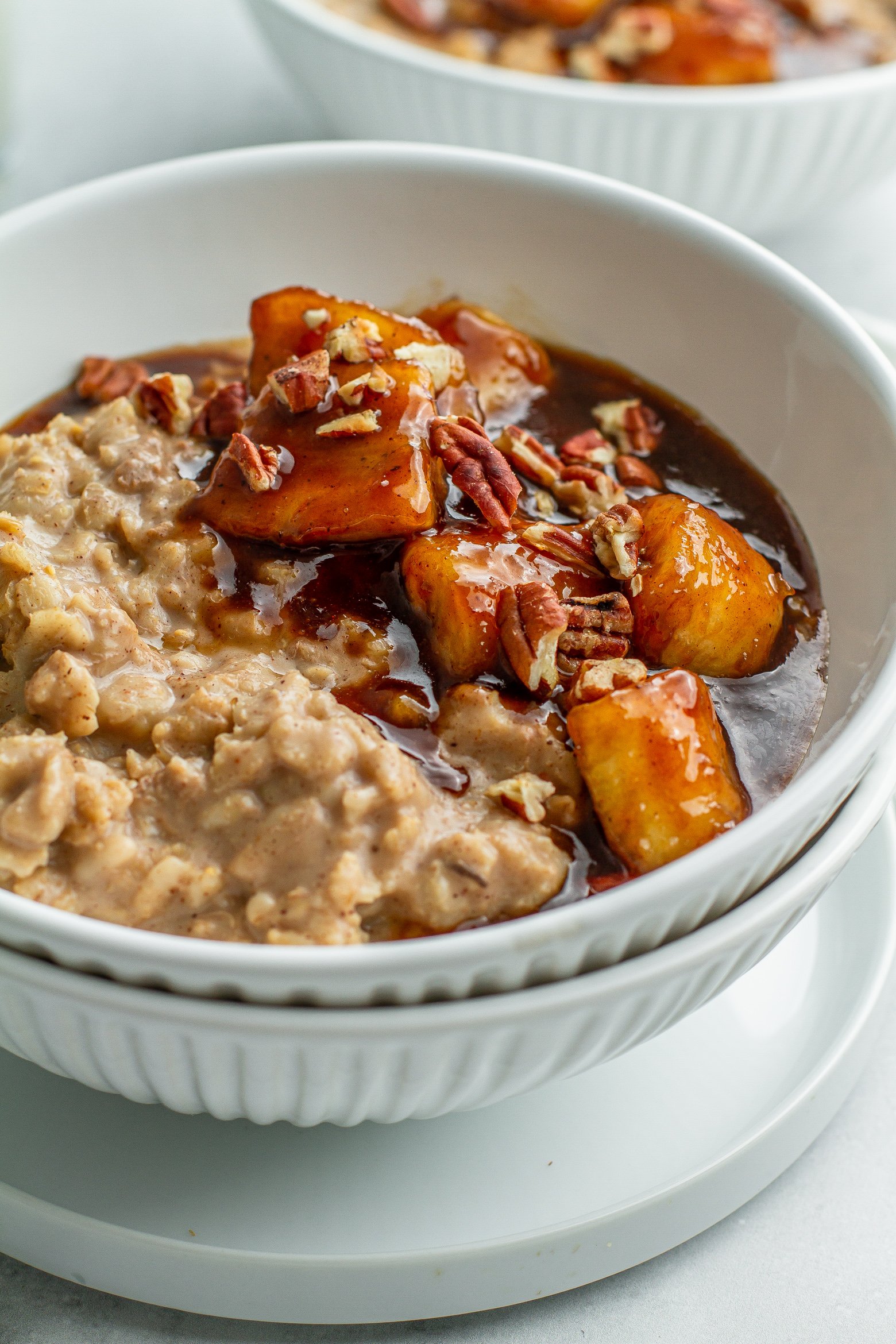 Ingredients
Creamy Banana Oatmeal
1

medium banana

mashed

2

tablespoons

unsalted butter

divided

2

tablespoons

dark brown sugar or brown sugar alternative

1

teaspoon

cinnamon

¼

teaspoon

nutmeg

¼

teaspoon

kosher salt

1 ½

cups

unsweetened milk of choice

1 ½

cups

water

½

teaspoon

pure vanilla extract

1

cup

Bob's Red Mill Old Fashioned Oats
Bananas Foster Sauce
1

medium banana

sliced as desired

¼

cup

unsalted butter

¼

cup

dark brown sugar

¼

cup

maple syrup

1

teaspoon

pure vanilla extract

¼

teaspoon

cinnamon

⅛

teaspoon

kosher salt

⅛

teaspoon

nutmeg
Additional Toppings
Chopped toasted pecans or walnuts

optional
Instructions
Creamy Banana Oatmeal
In a small bowl, mash 1 banana.

In a saucepan over medium heat, melt 2 tablespoons of butter. Stir in dark brown sugar until dissolved. Add the bananas, cinnamon, nutmeg, and salt and cook for 1 minute, stirring constantly.

Add milk, water, vanilla and oats and bring to a boil for 1 minute. Reduce the heat to medium-low and continue to simmer for about 7-10 minutes, stirring occasionally, until the oats swell and burst and creates a creamy and thick consistency.
Bananas Foster Sauce
While the oatmeal cooks, slice banana as desired.

In a skillet, over medium heat, melt 2 tablespoons butter then stir in 2 tablespoons of brown sugar until dissolved.

Add in maple syrup, vanilla extract, cinnamon, salt, and nutmeg and stir.

Bring sauce to a bowl and add in sliced bananas and toss in toss. Lay each slice flat on cut side. Cook for 1 minute undisturbed. Turn over the slices and cook for 1 minute
Assembly
When oatmeal is finished cooking distribute into 2 bowls and top with bananas fosters sauce and toasted pecans.
*Nutrition information is a rough estimate.
**The equipment section above contains affiliate links to products I use and love. As an Amazon Associate I earn from qualifying purchases.