Alright, let's get into this "Light & Sparkling Peach Bellini Cocktail", y'all! This recipe is as easy as pie – no, even easier. We blend peaches with a hint of lemon into a luscious puree, that's as smooth as butter and sweet as a Georgia sunrise. Then, we invite Prosecco to the party, and oh boy, does it turn up! The bubbles dance on your tongue, offering a fizzy contrast to the peachy paradise. Ugh, obsessed just ain't the word!
Need Some Serving Suggestions?

If you're planning a brunch or a lazy summer afternoon get-together and wondering what to serve alongside our star, the "Light & Sparkling Peach Bellini Cocktail", say no more, I've got you covered. Here's a lineup of delicious dishes that will complement your bellinis like a dream.

Appetizer: Homemade Buttermilk Biscuits - Buttery, flaky and oh-so-scrumptious, these biscuits are the comforting start to your menu. Slather them with some honey butter, or some left over peach puree and you've got an appetizer that will have your guests saying "more, please!"

Salad: Stone Fruit Salad - Sweet nectarines, plums, peaches, and apricots, oh my! Tossed in a jalapeno & prosecco vinaigrette, this salad is a fruity fiesta that's refreshing and vibrant, mirroring the sun-kissed flavors of our Peach Bellini.

Entree: Brick Chicken with Garlic and Rosemary - With crispy skin and tender, juicy meat, this chicken is a total showstopper. The garlic and rosemary infuse it with fresh, herby flavors that are a delightful contrast to the sweet, fizzy bellini.
Hey Big Head! I'm buzzing to share with you our latest obsession: the Light & Sparkling Peach Bellini Cocktail. When developing the recipe I decided to up my game and make a homemade peach simple syrup. You're probably thinking, 'that sounds like a whole project!' But y'all, it was easier than it was as easy as sliding into a pair of comfy slippers! A few peaches, a smidge of sugar, a touch of water, and a squirt of lemon juice – it's as simple as that!
Instead of fresh peaches, I've been using frozen ones for my syrup. Why, you ask? Frozen peaches are like little bundles of sunshine, harvested at their juiciest peak so we can savor that sweet, vibrant flavor any time of the year. But when the farmers' market is brimming with fresh, ripe peaches, that's when this cocktail really shows up and shows out. This cocktail ain't just a drink, it's a whole vibe! So prepare yourself, fam, because this bellini is about to make a splash at your next brunch!
What Is A Peach Bellini?
What's the tea on a Peach Bellini, you ask? Here's the 411. Imagine we're in the 1930s. Picture our main man, Giuseppe Cipriani, at Harry's Bar in Venice, crafting this blush-colored beauty. This drink's pinky hue? Inspired by the color palette of Venetian artist Giovanni Bellini, hence the name. The classic Peach Bellini recipe is made with ripe peaches, a burst of Prosecco, and possibly a smidge of peach schnapps for that extra oomph. It's like Venice in a glass, y'all. And while I've never been to Venice, I'm always down for a classic cocktail that includes my favorite summer fruit, peaches!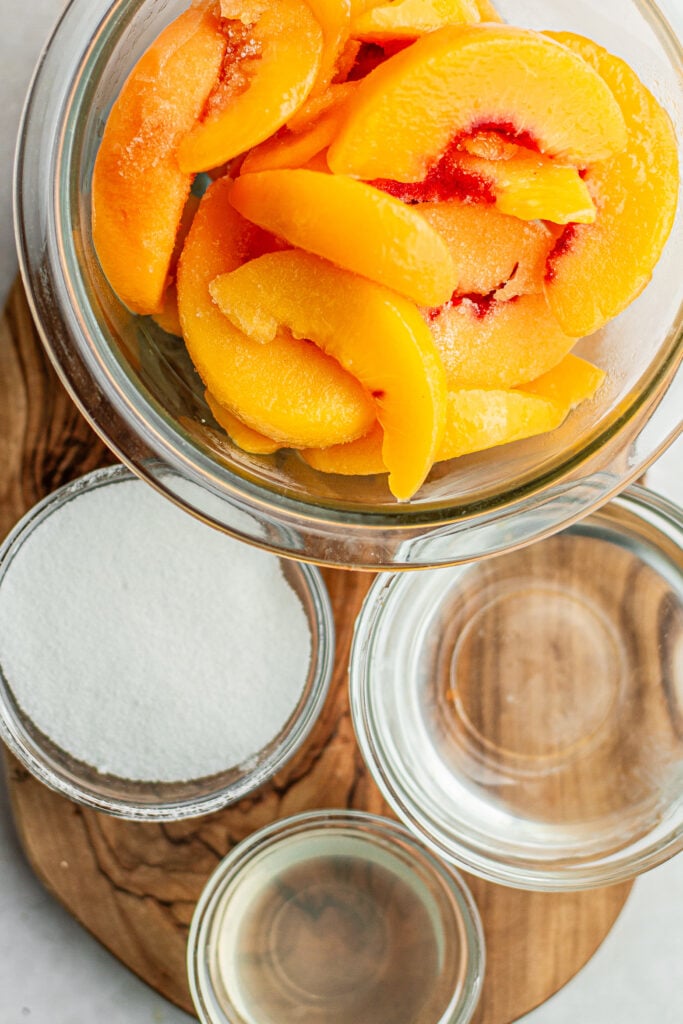 Key Ingredients
Frozen Peaches: These are my go-to for this cocktail! Frozen peach slices are processed at their peak ripeness, so I can enjoy a Peach Bellini anytime I want. If it's peach season and I've got some fresh ones on hand, I don't hesitate to use those instead. Either way, I blend them into a velvety smooth peach puree.
Sugar and Water: I combine these two to make a sweet simple syrup that blends perfectly with the peaches. It's so simple to make, and it takes the peach purée to a whole new level of deliciousness.
Fresh Lemon Juice: I squeeze in a bit of this to kick up the peach flavor and add a touch of tartness to balance out the sweet. The burst of freshness it brings is unbeatable. Obsessed just ain't the word!
Chilled Prosecco or Champagne: This gives my Bellini that bubbly lift. I always make sure to chill it before mixing it into the cocktail. I love going all out with this one!
How To Make A Peach Bellini
Combine peaches, sugar, water, and lemon juice in a pot. Bring to a boil and cook for 5 minutes. Strain peach syrup and allow to cool to room temperature before transferring to an airtight container.
Blend peaches and ¼ cup peach syrup in a blender or food processor until smooth.
Fill champagne flute a quarter of the way with peach puree. Top off with Prosecco.
What's The Difference Between A Mimosa And A Bellini?
Both the mimosa and the Bellini are beloved sparkling brunch cocktails that offer a delightful and refreshing experience. Here's how they differ:
The Bellini is a cocktail that features peach puree, prosecco and sometimes peach schnapps. It boasts a luscious and slightly sweeter taste, with a creamier texture derived from the pureed peaches.
On the other hand, the mimosa combines orange juice with champagne or sparkling white wine. It offers a zesty and citrusy flavor that brings a refreshing burst to your palate.
Did You Know … Traditionally, this exquisite cocktail is crafted with fresh white peaches, giving it that delicate pale pink hue. However, in modern variations, you'll often find yellow peaches taking the stage. Why, you ask? Well, they're more widely available and tend to ripen faster and better, making them a fantastic choice for creating your own Bellini masterpiece.
Make It Your Own: Recipe Variations
Alcohol-free Mocktail: Craving a booze-free sip? No worries, I got you! Whip up a Peach Bellini Mocktail by swapping out the sparkling wine with refreshing lemon lime soda like sprite, gingerale, sparkling cider, or carbonated water. It's a bubbly delight that keeps things light and enjoyable, perfect for those moments when you want all the flavor without the buzz.
Swap The Sparkling Wine: Prosecco is the OG choice for Bellinis, but hey, let's get fancy with our choices! Pop open some champagne, or grab your favorite sparkling white wine, and let the magic flow.
Fruity Blend: Want to take your taste buds on a fruity rollercoaster? Swap out some of those peaches for your other favorite summer fruits, like strawberries, raspberries, apricots, and kiwi to make a blended fruit puree.
Frozen Bellini: Give your bellini a frozen twist! Blend frozen peaches, a touch of simple syrup and prosecco until it's creamy and smooth, then serve these icy delights in plastic flutes.
Bellini Popsicle: Transform your Bellinis into delightful popsicles that scream summer vibes. Pour that Bellini goodness into popsicle molds, freeze, and get ready to taste pure adult celebration on a stick.
Amped Up Bellini: Looking to add some extra oomph to your Bellinis? Splash in some peach schnapps or your favorite peach-flavored vodka, and get the party started.
Add Some Color: Wanna bring the pretty pink vibes? Add a smidge of raspberry juice , cherry juice raspberry liqueur like Chambord, to give your Bellinis that lovely rosy hue.
More Fruity Cocktails To Try
Storage Recommendations
To Store: Planning ahead? Whip up that irresistible peach puree in advance and chill it in an airtight container in the fridge. It'll stay fresh and peachy for up to 1 week, ready to be transformed into delightful Bellinis whenever you desire. Just remember to add the prosecco right before serving to keep those bubbles dancing!
To Freeze: Need a little more time before serving? If you're not planning to sip on those Peach Bellinis within a week, pop that peach puree into the freezer. It'll stay perfectly preserved for up to 3 months. Just thaw it out and let the peachy magic unfold!
Frequently Asked Recipe Questions
Can I use peach nectar instead of fresh puree?
If you don't have fresh peaches on hand, peach nectar is a fantastic substitute. Just remember, it might give your Bellini a sunny yellow color instead of that signature "Bellini" blush. No worries, though—it's still gonna taste divine!
What glass should I use for Peach Bellinis?
Traditionally, I sip my Peach Bellinis in tall champagne flute-style glasses. Those bubbly drinks love that elegant flute shape. But no worries if you don't have one handy! A thin tall highball glass or a classy white wine glass will do the trick.
How can I make a large batch of Peach Bellinis for a party?
To make a big ol' batch of Peach Bellinis, prepare the peach puree in advance and keep it chilled. When it's time to serve, add the prosecco to individual glasses with a dollop of puree. This way, everyone gets their fresh and bubbly Bellini experience. And remember, each bottle of prosecco serves makes about 6 bellinis.
Can I use canned peaches for my Peach Bellini?
I would lean more into fresh or frozen but if you are in a pinch canned peaches are a super convenient option. Just make sure to choose unsweetened canned peaches or you may need to adjust the recipe for sweetness.
Prep Your Tools & Ingredients
Here is a quick list of things to do before the recipe to ensure everything goes smoothly. This list may contain affiliate links which won't change your price but will share some commission to help support this blog.
Gather Your Tools:
Blender or food processor
Medium saucepan
Recipe Prep
Always read the recipe through at least 1 time before you start. It helps you move faster when you already know what step is coming next.
Measure out all of your ingredients.
Now It's Your Turn!
Time to unleash your inner mixologist and shake up your own Light & Sparkling Peach Bellini Cocktail! This sip of pure sunshine combines the juicy essence of ripe peaches with the lively fizz of prosecco. Simply blend those peaches, add a splash of peach syrup, and crown it with chilled prosecco for a flavor explosion that will transport you straight to a sunny Italian cafe. Don't forget to share your fabulous creations by tagging @meikoandthedish on social media. Give this recipe a rating and leave a comment below to show some love.
Ingredients
16

oz.

frozen peaches

½

cup

sugar

1

cup

water

2

teaspoons

fresh lemon juice

1

bottle chilled Prosecco or champagne
Instructions
In a medium pot, combine the peaches, sugar, water, and a squeeze of fresh lemon juice. Bring it all to a boil and let it simmer for 5 minutes. Once it's done, strain the syrup and store it in an airtight container for up to 30 days.

Add the peaches and ¼ cup of peach syrup into a food blender. Blend it on high speed until it's smooth as silk.

Pour the peach puree into the flute, filling it about a quarter of the way. Top it off with chilled Prosecco.
Nutrition
Calories:
96
kcal
|
Carbohydrates:
24
g
|
Protein:
1
g
|
Fat:
0.3
g
|
Saturated Fat:
0.01
g
|
Polyunsaturated Fat:
0.1
g
|
Monounsaturated Fat:
0.05
g
|
Sodium:
12
mg
|
Potassium:
94
mg
|
Fiber:
1
g
|
Sugar:
23
g
|
Vitamin A:
247
IU
|
Vitamin C:
4
mg
|
Calcium:
4
mg
|
Iron:
0.3
mg
*Nutrition information is a rough estimate.
**The equipment section above contains affiliate links to products I use and love. As an Amazon Associate I earn from qualifying purchases.