Ok, so boom! This Peach Syrup? It's like a sun-drenched orchard at peak ripeness got all cozy in a bottle. Every pour is a flavor party, with the sweet, sunshine-soaked notes of juicy peaches dancing with a little zesty lemon tang, all wrapped up in silky, syrupy bliss. Whether you're drizzling it over fluffy pancakes, transforming your iced tea, or giving your cocktails a sweet twist, this syrup is serving up all the peachy goodness, all the time.

Need Some Peach Inspired Brunch Ideas?

This right here, is for all my brunch lovers out there. Don't be caught in 4k without brunch plans! I've got you covered with a lineup that's just peachy. Here are a few dishes that will absolutely shine when they team up with this easy peach syrup recipe.

Entree: Fluffy Buttermilk Pancakes – This is where our Peach Syrup shines the brightest. Just picture sopping it up with a perfectly golden pancake.

Side: Greek Yogurt Parfait – Layer this with fresh fruits and a generous drizzle of Peach Syrup for a side that's as healthy as it is delicious.

Drink: Peach Bellini – A splash of Peach Syrup in your prosecco creates a Bellini that's just bursting with fruity notes.

Fruit: Grilled Peaches – Keep the peach theme going with some grilled peaches, cream and a drizzle of this delicious peach syrup.

What You'll Need For This Recipe
Frozen peaches: These luscious, frozen peaches bring the essence of summer to your syrup. Pro tip: You can also use fresh peaches or canned peaches if you prefer.
Sugar: Sweetness is the name of the game, and this sugar adds the perfect amount of indulgent sweetness to your syrup.
Water: This liquid gold is the base of the syrup, providing the necessary consistency and balance to the flavors.
Fresh lemon juice: The zesty touch of fresh lemon juice adds a tangy brightness that complements the sweetness of the peaches. Squeeze it in for a burst of flavor!
How To Make Homemade Peach Syrup
In a medium saucepan, combine your peaches, sugar, water, and a squeeze of fresh lemon juice. Bring the mixture to a rolling boil and let it cook for a blissful 5 minutes.
Strain your peachy elixir to remove any solids and let it cool to room temperature.
Transfer the divine syrup into an airtight container, pop it in the fridge, and it'll keep its deliciousness for a whole month.
What Is Simple Syrup?
Alright, fam, let me break it down for you. Simple syrup? It's like that secret sauce that takes your drinks and dishes from ordinary to extraordinary. This sweet elixir is flexible, versatile, and the perfect way to add a deliciously sweet kick without diluting your beverages or dealing with grainy sugar.
And when we're talking about peach simple syrup, oh baby, it's magical convenience of simple syrup packed full with the mouthwatering flavor of juicy summer peaches. Get ready to take your sips and bites to a whole new level of tasty goodness!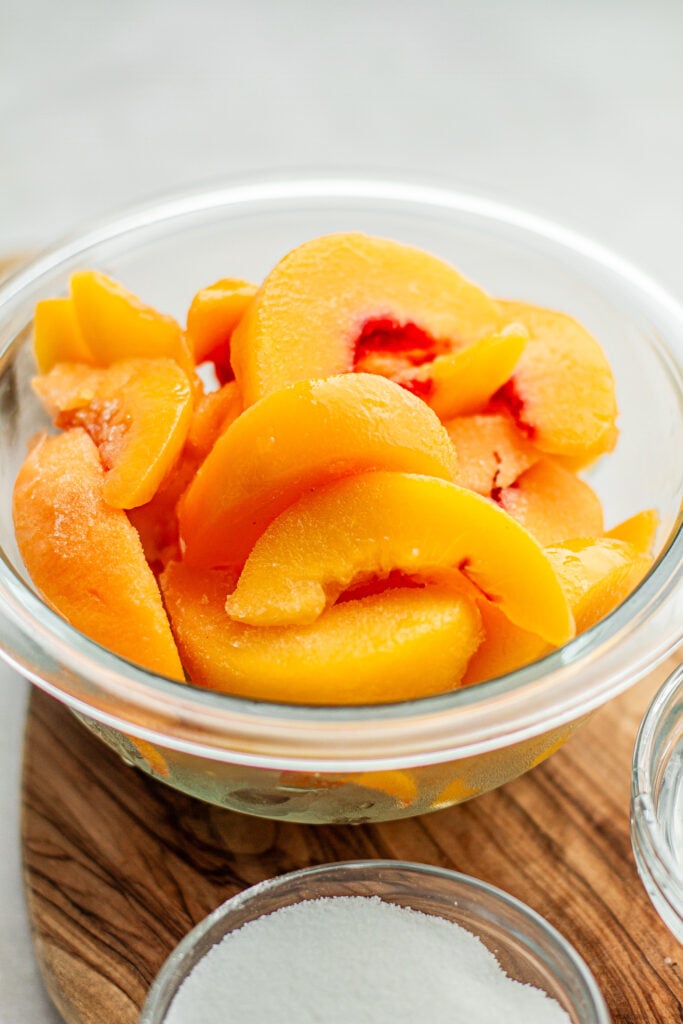 Can You Use Fresh Peaches Or Canned Peaches?
When it comes to making this peach syrup, you have the freedom to choose between using canned, fresh or frozen peaches. Each option works like a charm in creating this delicious elixir. If you opt for canned peaches, here's a little insider tip: swap the water for the luscious canned peach syrup. It adds an extra punch of peach flavor and you can even reduce the amount of sugar by half since the peaches are already sweetened. So, whether you're all about the fresh-picked goodness or rocking those convenient canned peaches, this syrup is ready to embrace the peachy deliciousness either way. The choice is yours, peeps!
Recipe Tips
Adjust the sweetness: Feel free to customize the sweetness of your syrup by adjusting the sugar ratio. A traditional 1:1 sugar-to-water ratio creates a classic simple syrup, while a richer 2:1 ratio adds more depth. Find your sweet spot!
Play with the peachiness: Don't be afraid to experiment with the amount of peaches you use. Adding more peaches intensifies the flavor, giving you that extra oomph of peachy goodness.
Texture matters: There are two ways to go about this peach syrup game. First, you can keep it smooth and strain out any solids for a traditional simple syrup. Alternatively, embrace the texture by mashing the peaches and blending them in, creating a thicker, more textured syrup/sauce.
Embrace the variation: Depending on the type of peaches, whether fresh or frozen, and other factors, your syrup's consistency, color, taste, and transparency may vary. Embrace the uniqueness of each batch!
Low and slow: Keep things simmering gently. High heat might lead to caramelization, which isn't what we're aiming for here. Take it easy and let those flavors meld together.
Give it time: Don't rush the cooling stage. Let the peach simple syrup cool down before straining it. Not only does it prevent burns, but it also allows the flavors to further develop. Patience is a virtue, my friends.
Frozen peaches? No problem: If you're using the frozen variety to make peach syrup, no need to thaw them beforehand. Toss 'em straight into the pot with the sugar and water. Easy peasy.
Skin is in: Skip the peeling process and keep those peach skins intact. They add a lovely depth of flavor to the syrup.
Herb it up: Switch things up by adding a twist of freshness with herbs. Once your syrup reaches a low boil, throw in 3-4 sprigs of thyme or rosemary. Strain them out along with the peach solids, and enjoy the infusion of Peach Thyme or Peach Rosemary goodness.
Chill out: Before you craft your next cocktail or mocktail, make sure to chill your syrup. Adding hot or warm syrup to a drink can cause the ice to melt quickly, diluting the flavors. Keep it cool for maximum enjoyment.
Recipe Variations
Check out these tantalizing ideas to take your syrup game to the next level:
Minty Fresh: Drop a small handful of mint leaves into the pan with your peach slices for a burst of refreshing flavor. Feel free to experiment with other herbs like rosemary or basil too!
Peach Honey: Use your favorite local honey instead of sugar to infuse the syrup with a natural sweetness and depth.
Berry Fusion: Mix things up by substituting some of the peaches with raspberries or sliced strawberries. It's a fruity explosion of flavors!
Coconut Dream: Substitute some or all of the water with coconut water for a deeper, more complex syrup with a subtle hint of coconut flavor.
Sugar-Free Delight: If you prefer a sugar-free option, replace the sugar with your favorite sugar substitute such as Stevia or coconut sugar.
Vanilla Bliss: Take it to the next level by adding a sliced vanilla pod to the simmering skillet. Let that vanilla goodness infuse into the syrup for a touch of extra indulgence.
Almond Extravaganza: Enhance the delicate peach flavor with a hint of almond extract. It's a match made in flavor heaven!
Bourbon Twist: Swap out a splash or two of water with a splash of bourbon to add a touch of sophistication and richness to your syrup.
Floral Elegance: Introduce the light floral notes of rosewater or edible grade lavender to complement the peachy goodness. Add just a teaspoon at the end, then adjust to your liking.
Ginger Zing: Add a touch of ginger powder or finely chopped ginger to bring a delightful zing to your syrup. Start with just a pinch and adjust to your taste preferences.
Nutmeg Lovin': Pair cinnamon with a teeny pinch of nutmeg for an extra cozy and aromatic twist.
Cinnamon Warmth: A pinch of cinnamon brings a comforting warmth to the syrup, elevating the overall experience.
Lemon Burst: Squeeze in some lemon or lime juice at the end to infuse the syrup with a bright and tangy kick.
More Peach Recipes You'll Love
Storage & Reheating Recommendations
To Store: To keep your peach syrup in its prime, store it in an airtight bottle or container in the refrigerator. This ensures its freshness for up to 4 weeks (or 14 days if you left the peach pulp in it). Don't forget to give it a little shake before each use.
To Freeze: If you have a surplus of peach syrup or want to save some for later, transfer it to a freezer-safe jar/container or pour it into an ice cube tray and freeze it for up to 4 months. Due to its high sugar content, the syrup won't freeze solid, allowing you to conveniently use it shortly after removing it from the freezer.
Temperature Matters: When it comes to storing this syrup, we don't recommend keeping it at room temperature. To maintain its freshness and quality, it's best to store it in the refrigerator. By doing so, you'll ensure that your syrup stays delicious for longer. Remember, my peeps, freshness is key!
Frequently Asked Recipe Questions
Can I use fresh peaches instead of frozen? I absolutely recommend making fresh peach syrup when fresh peaches are in season. Just chop 'em up, then follow the rest of the recipe.
Do I need to peel the peaches? Nope, no peeling required for fresh peach simple syrup! The peaches will be strained after simmering, so leave those skins intact. Plus leaving the peals on help give the syrup that wonderful pink-orange color.
Can I use something besides white sugar? Oh yeah! Brown sugar, honey, agave or maple syrup make awesome substitutes for that traditional white sugar. Just remember, flavors and sweetness levels may vary, my peeps.
Can you use sugar-free sweeteners? Absolutely! You can use monk fruit sweetener, erythritol, or stevia, but remember, the syrup won't thicken the same way. Adjust the amount to your desired sweetness 'cause those levels can vary, my peeps.mac2782
What to do with the leftover peaches? Oh, we got options, peeps! Blend 'em into smoothies, toss 'em into muffins or quick breads, turn 'em into peach leather, or spoon 'em over vanilla ice cream, oatmeal, or yogurt. Get creative, my friends!
How to thicken the syrup? If you want a thicker syrup without added sugar, grab some cornstarch. Make a slurry by mixing one teaspoon of starch with a small amount of water. Whisk that into the syrup and let it simmer until it thickens over the heat.
Can I use white peaches for peach syrup? Absolutely! White peaches bring a delicate flavor to the game. Adjust the sugar as needed 'cause those sweet levels can vary.
How do I use peach simple syrup? You can use it to make peach iced tea, sweeten up your lemonade, or get fancy with Easy Peach Margaritas.
Can I use another type of fruit? Oh yeah, you can get creative with other fruits like strawberries, raspberries, or blueberries. Adjust the sugar to match the sweetness of the fruit, and you're good to go!
Prep Your Tools & Ingredients
Here is a quick list of things to do before the recipe to ensure everything goes smoothly. This list may contain affiliate links which won't change your price but will share some commission to help support this blog.
Gather Your Tools:
Medium saucepan
Fine mesh strainer
Recipe Prep
Always read the recipe through at least 1 time before you start. It helps you move faster when you already know what step is coming next.
Measure out all of your ingredients.
Now It's Your Turn!
Whether you're pouring it over pancakes, stirring it into your favorite cocktails, or drizzling it on ice cream, this peach syrup is pure magic. So, what are you waiting for? Give it a go and let your taste buds dance with joy! And hey, if you do try it, don't forget to tag @meikoandthedish on social media because I'm all about seeing your incredible creations. Oh and do me a favor, and I'd love for you to rate the recipe and drop a comment below to let me know how it turned out for you. Let's spread the peachy love together, my friends!
Ingredients
16

oz.

frozen peaches

1

cup

sugar

1

cup

water

2

teaspoons

fresh lemon juice
Instructions
In a medium pot combine peaches, sugar, water and lemon juice. Bring to a boil and cook for 5-7 minutes.

Strain peach syrup and allow to cool to room temperature. Transfer to an airtight container and store in the refrigerator for 30 days.
Nutrition
Calories:
481
kcal
|
Carbohydrates:
123
g
|
Protein:
2
g
|
Fat:
1
g
|
Saturated Fat:
0.04
g
|
Polyunsaturated Fat:
0.2
g
|
Monounsaturated Fat:
0.1
g
|
Sodium:
36
mg
|
Potassium:
284
mg
|
Fiber:
3
g
|
Sugar:
119
g
|
Vitamin A:
740
IU
|
Vitamin C:
11
mg
|
Calcium:
14
mg
|
Iron:
1
mg
*Nutrition information is a rough estimate.
**The equipment section above contains affiliate links to products I use and love. As an Amazon Associate I earn from qualifying purchases.