Pumpkin Spiced Whipped Cream is the perfect topping for all of your fall sweet cravings. See how easy this pumpkin spiced whipped cream is to make in 5 min and you'll never buy store-bought again.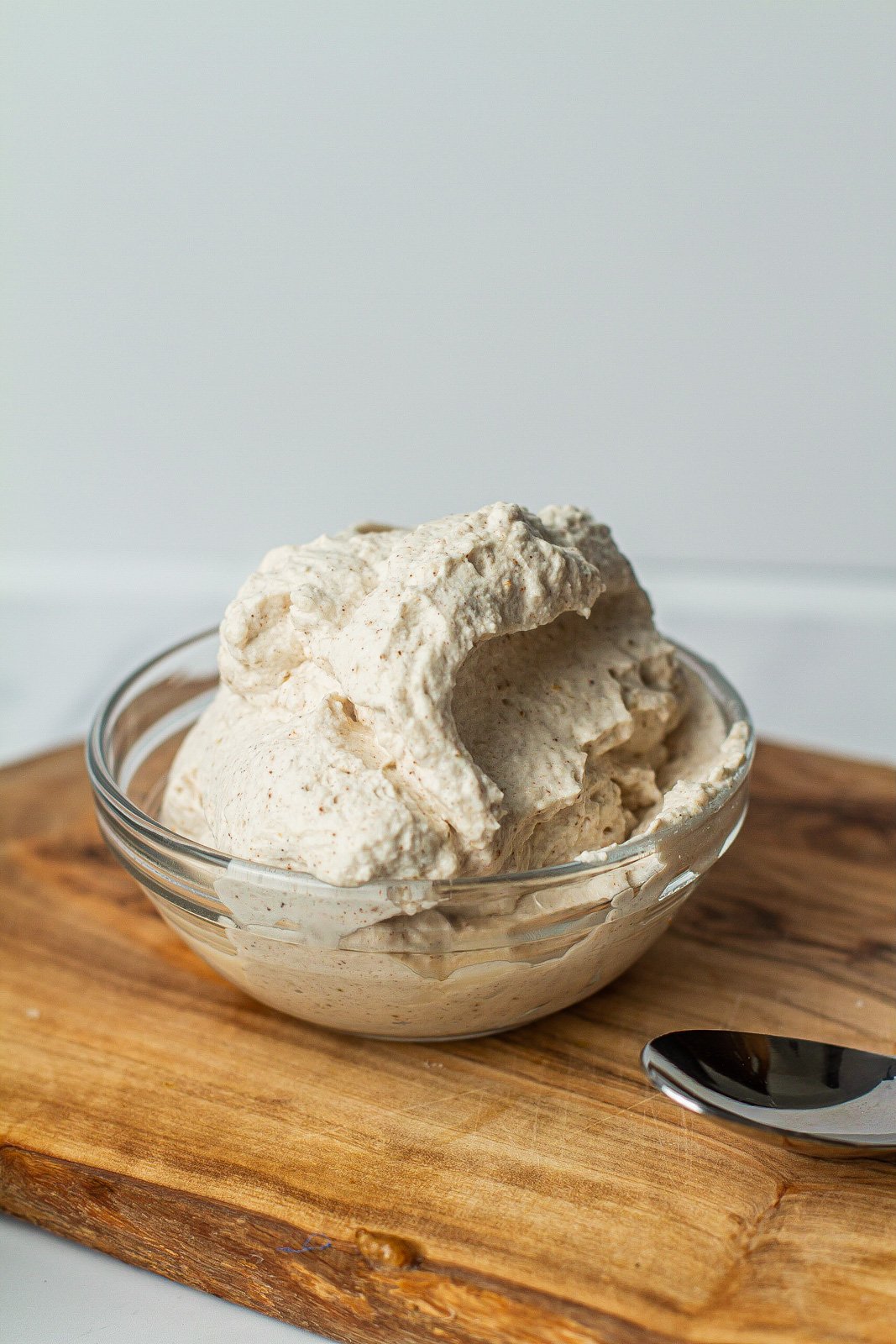 Easy Pumpkin Spiced Whipped Cream
From September through November, I hear the phrase just about; the only thought that goes through my head is: what pumpkin recipes can I come up with this season? Pumpkin Flavored Whipped Cream is exactly what we all need for fall! Top off all of your favorite desserts (pumpkin pie, pumpkin cheesecake, pumpkin anything) with this Pumpkin Spice Whipped Cream recipe.
Pumpkin Spice Whipped Cream Ingredients
To make this delicious dessert topping, you will need the following key ingredients:
Heavy cream. This is the main ingredient in any whipped cream recipe. For a vegan-friendly and dairy-free whipped cream, you can try using coconut milk instead.
Powdered sugar. When whipped with heavy cream, powdered sugar helps turn the mixture into the fluffy masterpiece that is ~whipped~ cream.
Pumpkin spice. You can use a store-bought blend or make your own from scratch. It's totally up to you!
Vanilla extract. Don't underestimate this one. Vanilla extract goes a long way in enhancing the flavor of our other ingredients.
Kosher salt. It might sound strange to add salt to a dessert recipe, but trust me on this one. A tiny amount of salt enhances all the delicious sweet flavors in the dish.
How to Make Pumpkin Spice Whipped Cream
If you've never made your own whipped cream from scratch, you've been seriously missing out. Not only is it delicious, but it's incredibly quick and easy to make! Simply follow the steps below:
Using a mixer fitted with a whisk, whip the cream, sugar, pumpkin spice, vanilla, and salt on medium-low speed until foamy, about 1 minute. Increase the speed to high and whip until stiff peaks form, 1 to 3 minutes.
Serve immediately or cover and refrigerate until ready to use.
Fool-Proof Homemade Whipped Cream Tips
Here are some of my top tips and tricks to help you make this recipe:
For best results, chill both your bowl and whisk before making your homemade whipped cream. If your tools are warm, they could heat up the cold heavy cream and alter the final product's texture.
To store homemade whipped cream for later, transfer it to an airtight storage container and keep it in the fridge for up to 5-7 days or in the freezer for up to 1-3 months.
Want to try out a dairy-free whipped cream? Swap out the heavy cream for unrefined coconut milk instead.
If you want to make plain whipped cream, feel free to leave out the pumpkin spice. You can also switch up the flavor profile a bit by replacing the spice blend with cinnamon or nutmeg.
Be careful not to overmix the whipped cream; otherwise, you run the risk of turning it grainy. If you end up overmixing it, add a touch more cream and mix by hand with a spatula.
Frequently Asked Questions
Below are the answers to some of the most common questions about this delicious fall-inspired recipe:
How do you make homemade pumpkin spice?
If you can't find store-bought pumpkin spice, don't worry. You can easily make your own pumpkin spice from scratch. All you need is 2 tablespoons of ground cinnamon, 3 teaspoons of ground ginger, 1 ½ teaspoons of ground allspice, 1 ½ teaspoons of ground cloves, and ½ teaspoon of ground nutmeg.
How do you serve pumpkin spiced whipped cream?
So glad you asked! This delicious fall-inspired whipped cream can be used in any dish you would normally add whipped cream to. Try pairing it with vanilla ice cream, pumpkin or pecan pie, French toast, pancakes, or even coffee.
Can you make dairy-free whipped cream?
Yes, you can. Many people use coconut milk in place of heavy cream for a dairy-free and vegan-friendly whipped cream. While I haven't tried this myself, let me know how it turns out if you do.
More Pumpkin Spice Deliciousness To Love!
If you love pumpkin spice everything then you're going to obsess over these recipes:
Now it's your turn!
I know you're going to love this recipe. I can't wait to see what you come up with when you realize this salsa can go with almost everything, like grilled meats or fish, tacos, tamales, taquitos, salads, etc.
If you enjoy the recipe, please share it with your friends and family. And don't forget to give me some five-star love down below. And if you have any comments or questions, leave them below too, and I'll be sure to get back to you as soon as possible.
Ingredients
1

cup

heavy cream

cold

¼

cup

powdered sugar

1/2 – 1

teaspoon

pumpkin spice

1/4

teaspoon

pure extract

⅛

teaspoon

kosher salt
Instructions
Using a stand mixer fitted with a whisk or an electric mixer with a whisk attachment, whip heavy cream, powdered sugar, pumpkin spice, vanilla, and salt on medium-low speed until foamy, about 1 minute. Increase speed to high and whip until stiff peaks form, 1 to 3 minutes.

Use immediately or cover and refrigerate for up to 4 hours until ready to use.
Notes
For the best results, start with cold heavy cream as well as a chilled bowl and whisk (or attachment if you're using an electric mixer).
One tweak—my favorite tools here are an immersion blender and mason jar, so I can cap any leftovers.
Nutrition
Calories:
317
kcal
|
Carbohydrates:
13
g
|
Protein:
2
g
|
Fat:
29
g
|
Saturated Fat:
18
g
|
Polyunsaturated Fat:
1
g
|
Monounsaturated Fat:
8
g
|
Cholesterol:
109
mg
|
Sodium:
128
mg
|
Potassium:
65
mg
|
Fiber:
1
g
|
Sugar:
10
g
|
Vitamin A:
1168
IU
|
Vitamin C:
1
mg
|
Calcium:
56
mg
|
Iron:
1
mg
*Nutrition information is a rough estimate.
**The equipment section above contains affiliate links to products I use and love. As an Amazon Associate I earn from qualifying purchases.