Red Wine + Chocolate – who would have thunk it. But this combo is exceptional. Rich, creamy, bold, and steamy this boozy hot chocolate is the perfect bevy for your winter get-togethers.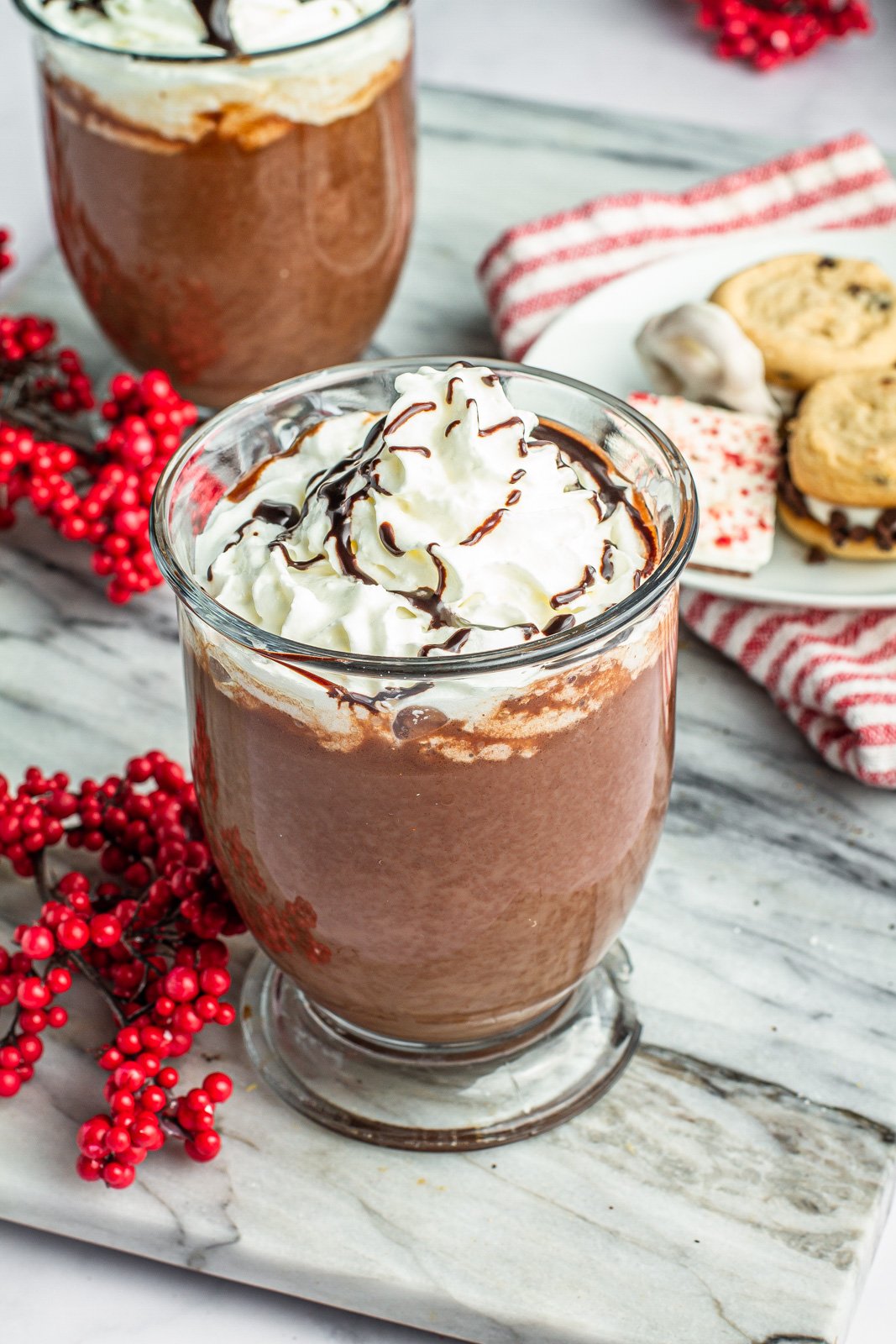 Red Wine Hot Chocolate
Have I mentioned that I'm obsessed with warm cocktails? I love them so so much. Unfortunately, they're as regarded as they should be. Sometimes it feels like pulling teeth to get one served up at restaurants. So I'm campaigning for more warm cocktails, especially during fall and winter and this red wine hot chocolate falls right in line with the brigade.
What is Red Wine Hot Chocolate?
If you like wine and you also like chocolate, then you absolutely need Red Wine Hot Chocolate in your life. In the past few years, this signature fall beverage has gained a ton of popularity for being this generation's Hot Toddy.
Red Wine Hot Chocolate is made by first making your own hot chocolate from scratch using ingredients like chocolate morsels, cocoa powder, milk, and sugar. Once you've applied heat to melt everything together, it's time to add the red wine. Then, the concoction is cooked in a slow cooker to give the flavors time to come together.
The result? A seriously incredible fall and winter beverage that you won't believe you've never tried before. It's perfect for cozy nights at home or dinner parties with friends.
Red Wine Hot Chocolate Ingredients
To make this deliciously cozy fall treat, you're going to need the following key ingredients:
Red wine. My top picks include Merlot, Shiraz, and Cabernet Sauvignon. Because the wine is going to heavily influence the flavor of your hot cocoa, make sure you choose a brand you really like.
Chocolate chips. I like to use semi-sweet chocolate morsels, but you can use any kind of chocolate chips you prefer. If you're more of a dark chocolate lover, feel free to use bittersweet chocolate instead.
Cocoa powder. You can either use hot chocolate powder (I like Ghirardelli!) or regular unsweetened cocoa powder. This is entirely based on preference, so just use whatever you have at home.
Sugar. I use a combination of granulated sugar and light brown sugar, because I love the rich maple-molasses flavor that the brown sugar imparts. It's totally up to you, so feel free to use only granulated sugar if you prefer.
Milk. This recipe calls for whole milk, but you can absolutely use any kind of milk you like. Whole milk, low-fat milk, and dairy-free alternatives like almond milk or cashew milk will work great.
Spices. Cinnamon and nutmeg add the perfect touch of warm fall flavors, while salt goes a long way in enhancing the sweetness of the hot chocolate.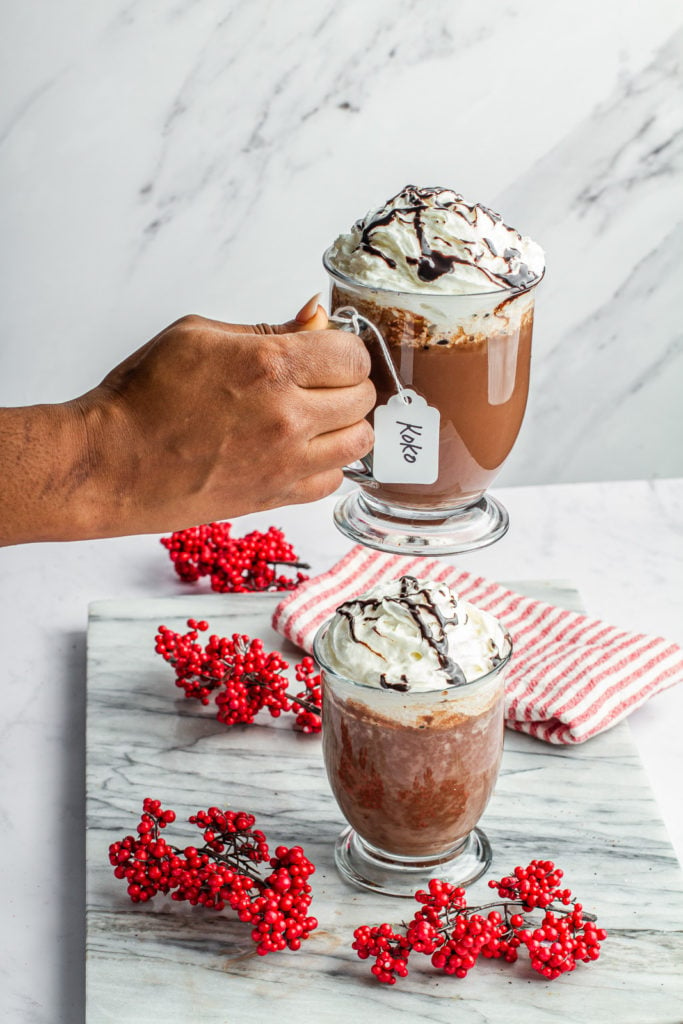 Red Wine Hot Chocolate Recipe
Believe me when I tell you that this recipe is as easy to make as it is delicious. All you need to do is follow these simple steps:
In a slow cooker, combine chocolate morsels, sugar, cocoa powder, salt, milk, and red wine, then stir.
Cover and cook on High for 1 hour, whisking after every 15 minutes or so.
Serve in mugs and sprinkle on your favorite toppings.
Hosting a party? If you plan on leaving this hot chocolate out so people can serve themselves, make sure to give it a stir every hour to keep the chocolate from settling to the bottom. Keep your slow cooker on the warm setting and serve it up alongside a grazing board of toppings for the ultimate hot chocolate bar!
Storing leftovers? You can store leftover hot chocolate in an airtight container in the fridge for up to a week. Simply warm it up in the microwave or on the stove before enjoying it again.
Arrange all of your ingredients on the board as you see fit or according to what looks aesthetically pleasing.
More Warm Winter Beverage
Ingredients
1

bottle red wine

Merlot, Shiraz, or Cabernet Sauvignon

2 ½

cups

semisweet chocolate morsels

¼

cup

unsweetened cocoa powder

¼

cup

granulated sugar

¼

cup

packed brown sugar

¼

teaspoon

ground cinnamon

¼

teaspoon

ground nutmeg

7

cups

whole milk

¼

teaspoon

salt
Instructions
In a slow cooker, combine chocolate morsels, sugar, cocoa powder, salt, milk, and red wine and stir.

Cover and cook on HIGH for 1 hour, whisking after every 15 minutes or so.

Serve in mugs and sprinkle on your favorite toppings.

Make sure to stir the hot chocolate every hour to keep the chocolate from settling to the bottom.

Keep on the warm setting if you're serving it hot chocolate bar style with toppings on the side. Leftover hot chocolate can be refrigerated for up to one week and warmed in the microwave before serving.
Notes
*Once the hot chocolate cooks, you want to try and serve this within 1 hour. *You can also make this on the stove if you don't have a slow cooker. Follow the same instructions over medium heat until it begins to simmer (approx 15 minutes). Make sure the hot chocolate doesn't boil. Pour it into a carafe to keep warm.
Nutrition
Calories:
471
kcal
|
Carbohydrates:
45
g
|
Protein:
9
g
|
Fat:
23
g
|
Saturated Fat:
13
g
|
Polyunsaturated Fat:
1
g
|
Monounsaturated Fat:
7
g
|
Trans Fat:
1
g
|
Cholesterol:
20
mg
|
Sodium:
141
mg
|
Potassium:
613
mg
|
Fiber:
4
g
|
Sugar:
36
g
|
Vitamin A:
301
IU
|
Vitamin C:
1
mg
|
Calcium:
235
mg
|
Iron:
4
mg
*Nutrition information is a rough estimate.
**The equipment section above contains affiliate links to products I use and love. As an Amazon Associate I earn from qualifying purchases.