This super simple roast chicken with Southern giblet gravy recipe is a must-have. The combination of flavorful spices will make your mouth water. Follow these tips from this tried-and-true recipe to get juicy, tender meat without much effort!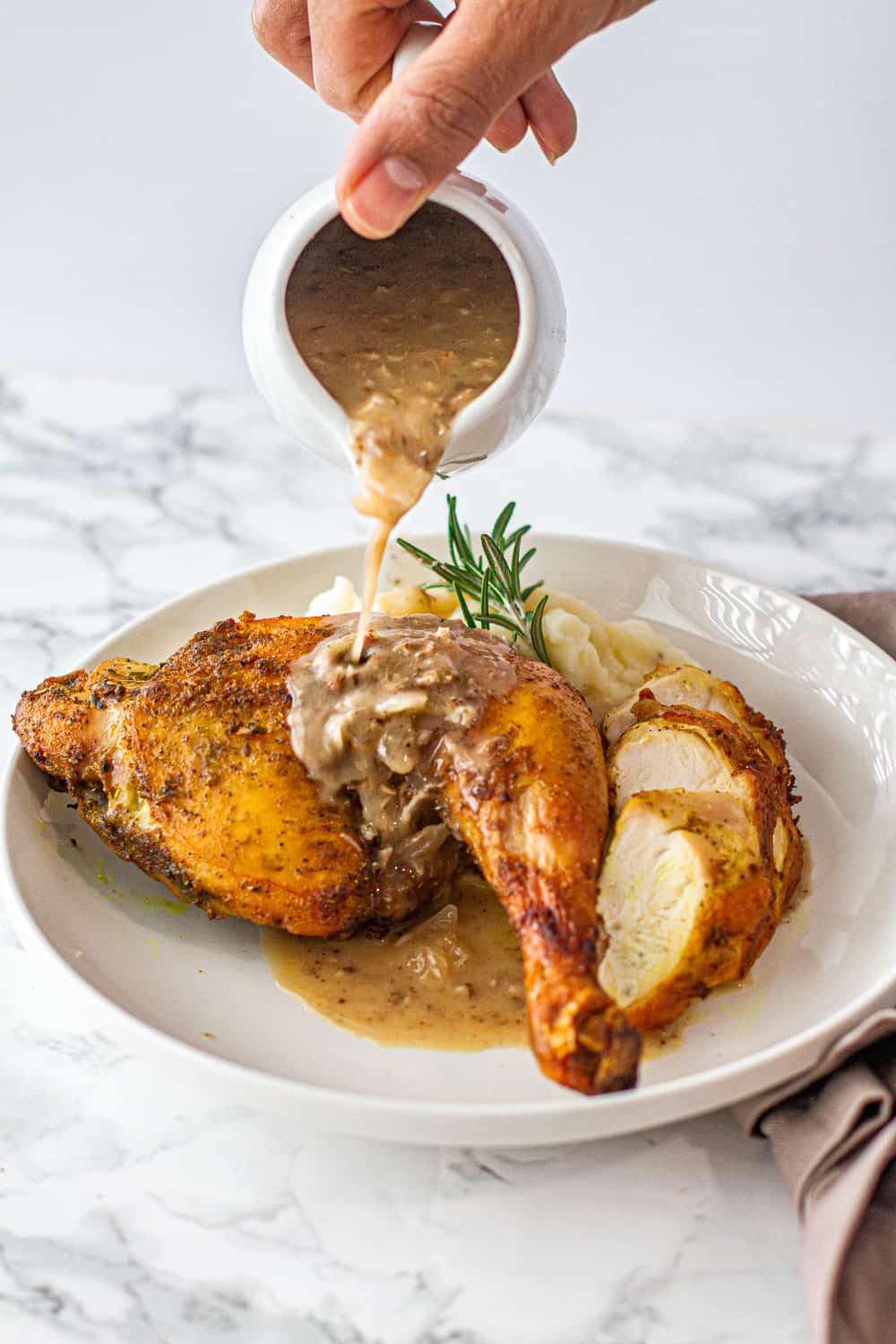 Good & Faithful Roast Chicken Recipe
A wise man once said, "if you can cook a good roast chicken, you can take on the world." That wise man may have been me, but who's counting? The moral of the story is, everyone should have a good and faithful roast chicken recipe in their arsenal. This is the perfect recipe to start with if you don't.
Tasty Recipe Video:
I was taught to use everything, so I love a good zero waste recipe. And in this recipe, that means using the innards and the backbone. Even though I cut out the backbone to spatchcock the chicken, you can reserve it to make homemade stock later.
This roast chicken is the quintessential family meal and is packed with flavor. Just follow these tips to get the perfect, crispiest, juiciest, all-in-one roast chicken every time.
How to make the perfect roast chicken?
Whether it is a Sunday dinner, weeknight meal, or a romantic occasion, a classic roast chicken is always suitable. To achieve a perfect roast chicken, there are a few key steps that I take every time:
Dry. Pat the bird dry to get rid of excess moisture. And if I have time, I throw it in the fridge for a few hours to dry it out even more.
Spatchcock. Split the chicken open to remove a chicken's backbone so that it lays flat and cooks evenly.
Season. Every crevice of the bird should have visible flavor. Season for the gods.
Temperature. Keep an instant-read thermometer close by. You're looking for 150 F for the breast and 170 F for the thigh. Always test by inserting the thermometer at the thickest part of the thigh but NOT touching the bone.
What is spatchcocking?
Spatchcocking comes from the phrase "dispatch the cock" and means to split the whole bird open, breaking its backbone, and pressing its breast to flatten it. Spatchcocking has several benefits starting from even cooking, faster-cooking, juicier meat, easy to spruce, and tastier gravy.
What is giblet gravy?
A classic gravy made with the innards or giblets (neck, liver, heart, gizzard) from the chicken or turkey. This giblet gravy recipe was super common in my house growing up, especially during the holidays and is the perfect flavor enhancer to pair with the roast chicken.
When purchasing a whole chicken, they have come with a pack of innards or giblets on the inside. You may be inclined to throw them away but think again. This organ meat is packed with flavor and is the perfect addition to gravies and stuffings. Way to use the entire chicken!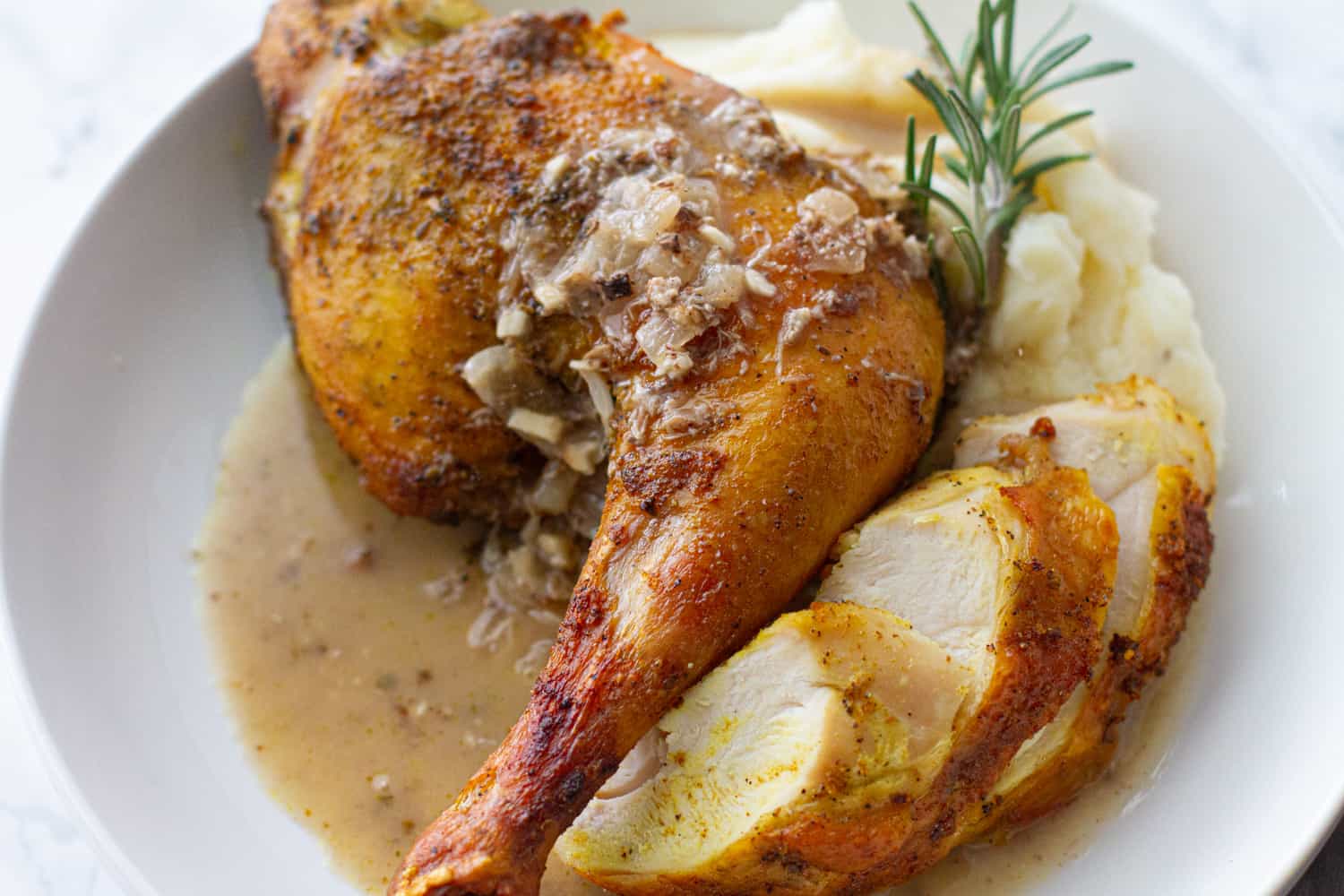 Now it's your turn!
Preparing the best roast chicken is one thing but eliminating waste while doing it is a whole nother ball game. What's great about this recipe is that you can use everything.
If you enjoy the recipe, please share it with your friends and family. And don't forget to give me some five-star love down below. And if you have any comments or questions, leave them below too, and I'll be sure to get back to you as soon as possible.
More Yummy Chicken Recipes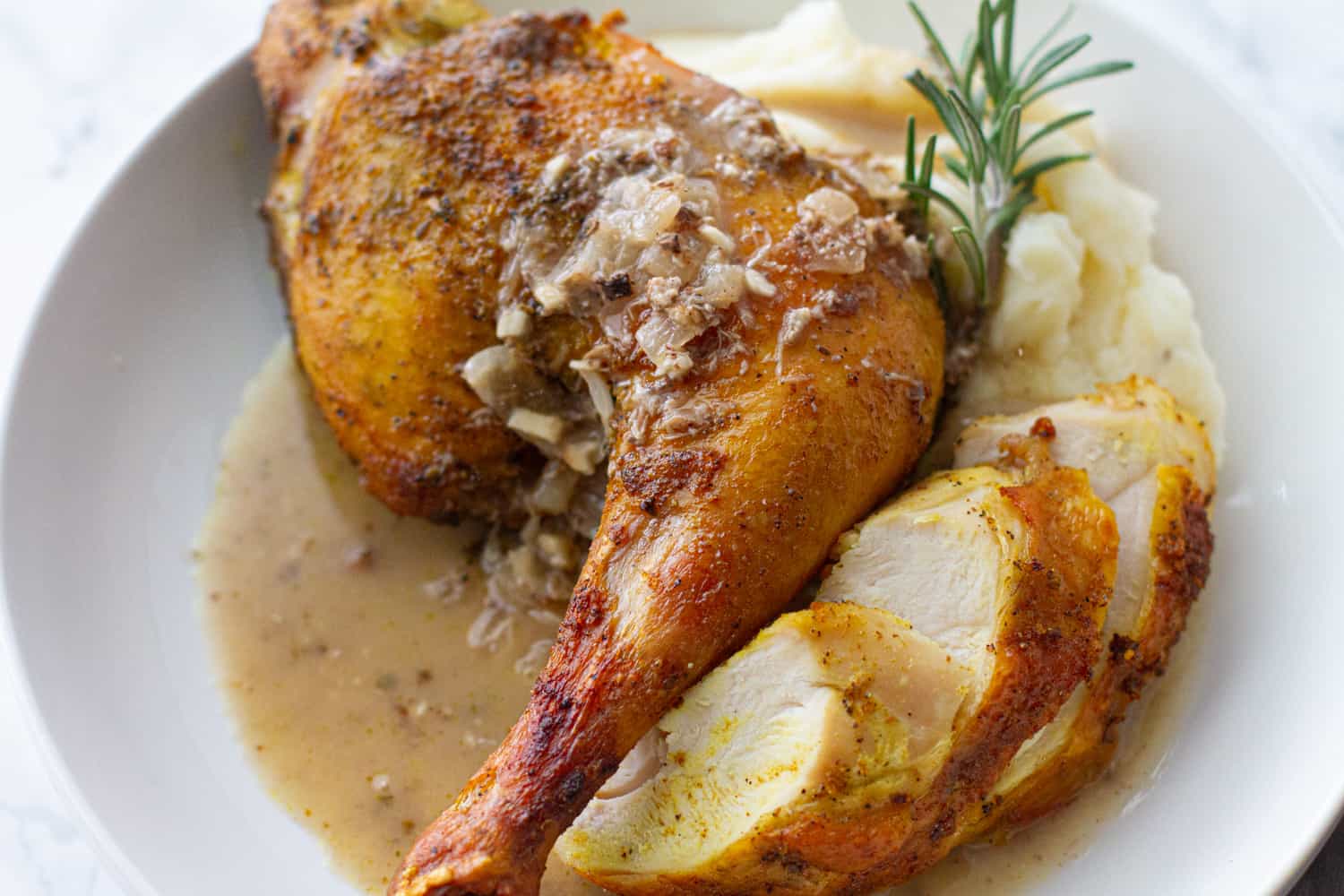 Ingredients
Homemade Adobo Spice Brine
4-5

teaspoons

kosher salt

1 teaspoon per pound

2

teaspoons

garlic powder

2

teaspoons

onion powder

2

teaspoons

ground black pepper

2

teaspoons

dried oregano

1

teaspoon

ground turmeric
Roast Chicken
4-5

pounds

whole chicken

air-chilled

4

tablespoons

clarified butter

room temperature

1

tablespoon

canola oil

1

teaspoon

adobo seasoning
Chicken Stock
1

chicken carcass, backbone, & giblets

neckbone, liver, heart, tail

2

stalks

celery

halved

1

onion

quartered

1

carrot

peeled & halved

1

teaspoon

whole black peppercorns

4

cloves of garlic

halved

4

sprigs

thyme

2

sprigs

rosemary

2

bay leaves

1

teaspoon

white wine vinegar

3

quarts

water
Giblet Gravy
3

tablespoons

unsalted butter

1

medium

onion

thinly sliced

4

cloves

garlic

chopped

3

tablespoons

unbleached all-purpose flour

2

cups

chicken stock

2

bay leaves

Kosher salt & ground black pepper

to taste
Instructions
Adobo Spice
Add all ingredients to a food processor on a blend until combined. Divide spices into half for seasoning.

Take one tablespoon of seasoning and mix with the clarified butter.
Roast Chicken
Remove innards from the chicken and set aside. Butterfly the chicken placing the chicken on a cutting board breast side down. Use kitchen shears or a sharp knife to cut out the backbone of the chicken. Set backbone to the side.

Turn the chicken over breast-side up. Place your hands on top of each in between the breast. Applying downward pressure to the breastbone to flatten the bird. Transfer and position the chicken in the center of a wire rack set in a rimmed baking sheet.

Pat chicken dry with a paper towel and dispose of the towel. Turn chicken breast-side down and liberally season the back cavity.

Turn the chicken breast-side up and poke chicken skin with a skewer. Use a hand to separate the skin and add clarified butter under the skin.

Liberally season the top of the bird with the rest of the seasoning mix.

Transfer chicken (uncovered) to the refrigerator for 1-hour to 24 hours.

Preheat over 475 degrees F. Remove chicken from the fridge and set at room temperature for 45 minutes. Add chicken to oven and roast until an instant-read thermometer reads 150 F for the breast and 170 F for the thigh.

Cook for 30 mins, might turn down – testing
Giblet Gravy
Remove giblets and bones from cheesecloth then remove any meat from bones, discard skin/fat/bones and finely chop meat.

Melt butter in a medium saucepan then add onions and garlic and cook for 1 minute or until onions have softened. Sprinkle in flour while stirring the onions. Allow the flour to cook for 2-3 minutes or until golden brown while stirring continuously.

Stir in chopped giblet meat and cook, stirring frequently. Use a whisk it slowly whisk in broth until all the flour is dissolved. While whisking scrape all the brown bits off the bottom of the pan.

Bring the gravy to a boil then reduce to low and add in bay leaves. Cook until thickened and season to taste with kosher salt and black pepper.
Nutrition
Calories:
832
kcal
|
Carbohydrates:
23
g
|
Protein:
46
g
|
Fat:
62
g
|
Saturated Fat:
25
g
|
Polyunsaturated Fat:
9
g
|
Monounsaturated Fat:
23
g
|
Trans Fat:
1
g
|
Cholesterol:
228
mg
|
Sodium:
2719
mg
|
Potassium:
849
mg
|
Fiber:
4
g
|
Sugar:
6
g
|
Vitamin A:
3294
IU
|
Vitamin C:
13
mg
|
Calcium:
128
mg
|
Iron:
4
mg
*Nutrition information is a rough estimate.
**The equipment section above contains affiliate links to products I use and love. As an Amazon Associate I earn from qualifying purchases.