One of my good-good girlfriends decided to shift gears and after nine years of living in the great state of Minnesota, has decided to embark on a new adventure in California. Santa Monica to be exact. Jealous much? I know I am.
As we discussed her move and tried to ease her nerves, another friend and California native (like me) encouraged her by saying, "be ready for the best Mexican food of your life". My response, "#FACT!!!!!!!." Please excuse my excitement with my favorite genre of food but I can't contain myself when I think about things like carne asada chips, California burritos, fish tacos, carnitas, chile relleno, pico de gallo, juevos rancheros and chilaquiles. Thinking of all this goodness just takes me back to my days in San Diego. Speaking of chilaquiles, I just made a delicious batch yesterday.
If you haven't had chilaquiles before the best way I can describe them is to imagine a Mexican lasagna. Hearty layers of oozing cheese, meat, and tortillas are usually drenched in a peppery red sauce. But with this dish you get to the top, it will all types of fun stuff to kick it up a notch. And y'all know of love kicking up a notch, lol.
I traditionally make them with shredded chicken, but I decided to venture out a bit and make them with chorizo and eggs; a decision I do not regret. The flavorful and fatty juices of this sausage go great with the smoky chipotle sauce I made to go with it.
What I love about this dish and most Mexican dishes is the flexibility. So if chorizo is not your "thang" you can add any type of protein like carnitas (oink, oink), mushrooms (hey vegetarians), or chicken (#basic but still uber delicious). You can even make it completely without a protein and it still will be extra on point.
After blending up the sauce the preparation is quite simple. You just add the tortilla chips and the sauce to a bowl and toss them with your hands to make sure that they a generously covered. I usually put the chips in my favorite cast iron skillet because it is easy to transfer from the stovetop to the oven but you can also use a baking dish. I layer in the cheese and chorizo and place it in the oven to get the cheese nice and melted.
Once I remove it from the oven the fun starts and I get into the toppings. This time I used cilantro, avocado, red onion, jalapeno, roasted corn, and a chipotle cream made with greek yogurt. Yes, greek yogurt. This dish is clearly not that healthy so I took the liberty of using greek yogurt because it doesn't make me feel as bad. NO JUDGEMENT.
When it is taste time I like to make sure to try a spoonful with each of the recipe elements in one bite and when I took a bite of this dish I literally had an orgasm in my mouth, I kid you not. Listen, if I can't live in Southern Cali I can for damn sure at least reminisce through my food. Right?!!
3.5.3226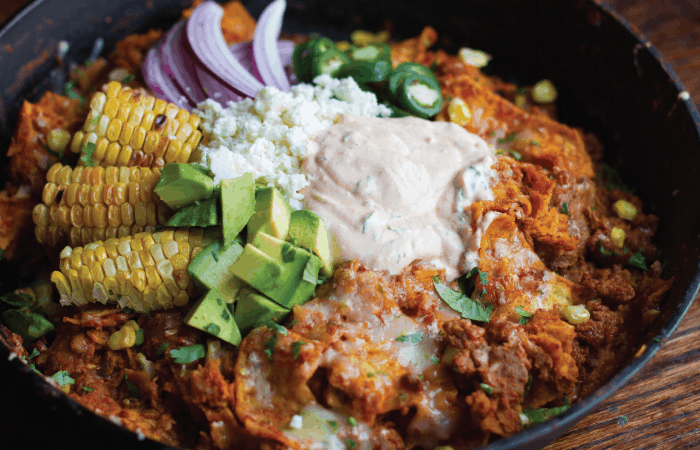 Ingredients
Chilaquiles
16

oz

soy chorizo

casing removed if necessary

5

eggs

5-6

cups

of tortilla chips

1

ear of corn

28

oz

fire-roasted tomatoes

1

cup

pepper jack

¾

cup

orange juice

3

chipotle peppers in adobo

¼

cup

onion

chopped

½

teaspoon

olive oil

½

teaspoon

onion powder

½

teaspoon

lemon pepper

¼

teaspoon

salt

Optional toppings: fresh cilantro

sliced onions, queso fresco, avocado, chipotle cream, jalapeños
Chipotle Cream
½

cup

greek yogurt

2.5

teaspoons

of chipotle adobo sauce

2

tablespoons

cilantro

finely chopped
Instructions
Chilaquiles
Preheat oven to 425 degrees. Pull husk back from corn but try to keep husks in tact. Remove the silk, wash corn and pat dry. Brush on olive and rewrap husk around ear of corn. If the husk falls off just wrap the corn in alumni foil. Place corn on the cob directly onto the rack and bake for 25 minutes (remove covering last 5 mins if you want to achieve a char). Remove the corn from the oven and let cool until you can handle with your hands. Use knife to shave corn off the cob.

Meanwhile, in a blender or food processor, add the fire-roasted tomatoes, chipotles chilies, orange juice, onion powder, lemon pepper and salt and blitz until smooth.

In a large skillet on medium high heat, add the onion and soy chorizo and roasted corn until cooked through, breaking up with back of spoon, for approximately 5 minutes. Whisk eggs in a bowl then add to the chorizo mixture and stir until very softly set, about 1 minute. Pour in 1½ cups of the tomato mixture and simmer about 7 more minutes to let the mixture slightly thicken.

Place the tortilla chips in an extra large bowl, pour over the remaining tomato mixture, and toss with your hands to make sure they are well coated. Place half of the tortilla chips in a large cast iron skillet or baking dish, then layer with half the soy chorizo mix and half the shredded pepper jack. Repeat with remaining chips, soy chorizo mix and pepper jack. Place back in the oven until the cheese is melted.

Remove from the oven and top with corn, cilantro, avocado, queso fresco, jalapeno, onion and chipotle cream. Serve immediately.
Chipotle Cream
In a medium bowl whisk greek yogurt, adobo sauce and cilantro until combined. Refrigerate until ready to serve.
*Nutrition information is a rough estimate.
**The equipment section above contains affiliate links to products I use and love. As an Amazon Associate I earn from qualifying purchases.